We have one more hot afternoon to work through before we finally get a break from the 90s and record heat we've been experiencing much of this month.
It's been an extremely hot and dry month across the region. Denver's average temperature for the month is running 5.4°F above the longterm average through the 26th. With an average temperature of 78.4°F this month, this would be the hottest August on record if it were to end today. The next couple of days will help knock back that average a little, but perhaps not enough to get us to the previous record warmest which was 77°F set back in 2011.
Denver has hit 90 degrees or hotter 24 times this month, which is a new record for August. The old record of 22 days was set in 1960, 1995, and 2011. The city will break 90°F again today, and perhaps on Sunday, so even with the cooler end to the month we will only add to this record. Finally, this brings our year-to-date number of 90-degree days to 66, trailing only 2012 for the most on record with still plenty of time to accumulate more 90-degree days before the end of the warm season.
For precipitation, we are currently experiencing the 9th driest August on record if we were to receive no rain between now and Tuesday. Fortunately there are some rain chances in the forecast, so perhaps we can claw our way out of the top 10 after only receiving 0.24" month to date at Denver International Airport.
Storm chances will increase to 50% chances or so for your Friday and Saturday behind the first of two notable cold fronts to end the month. Here are Denver's probabilities for the next three days:

With some chance we'll even see something measurable from some of these storms: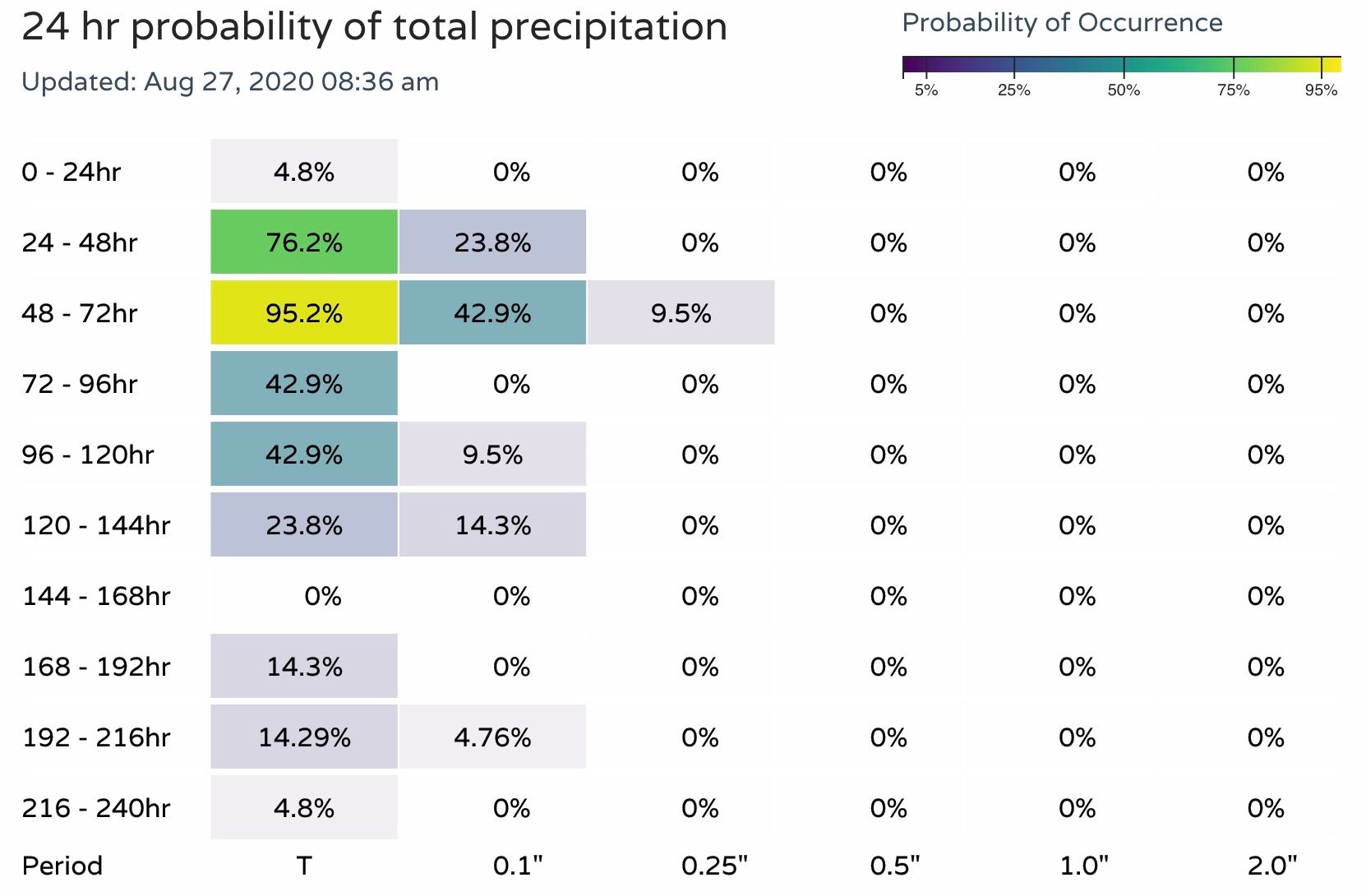 Temperatures will drop from the mid to upper 90s today into the mid 80s for highs on Friday along with that chance of storms. Saturday we'll top out around 80°F, before seeing slightly warmer temperatures again on Sunday.
A more substantive cold front is forecast to fly through here Sunday night and will bring with the coolest temperatures we've seen around here in some months. Here's a look at temperature anomalies overnight Sunday into Monday, with the cooler than average temperatures in blue up across the Northern Rockies and High Plains crashing southward for your Monday: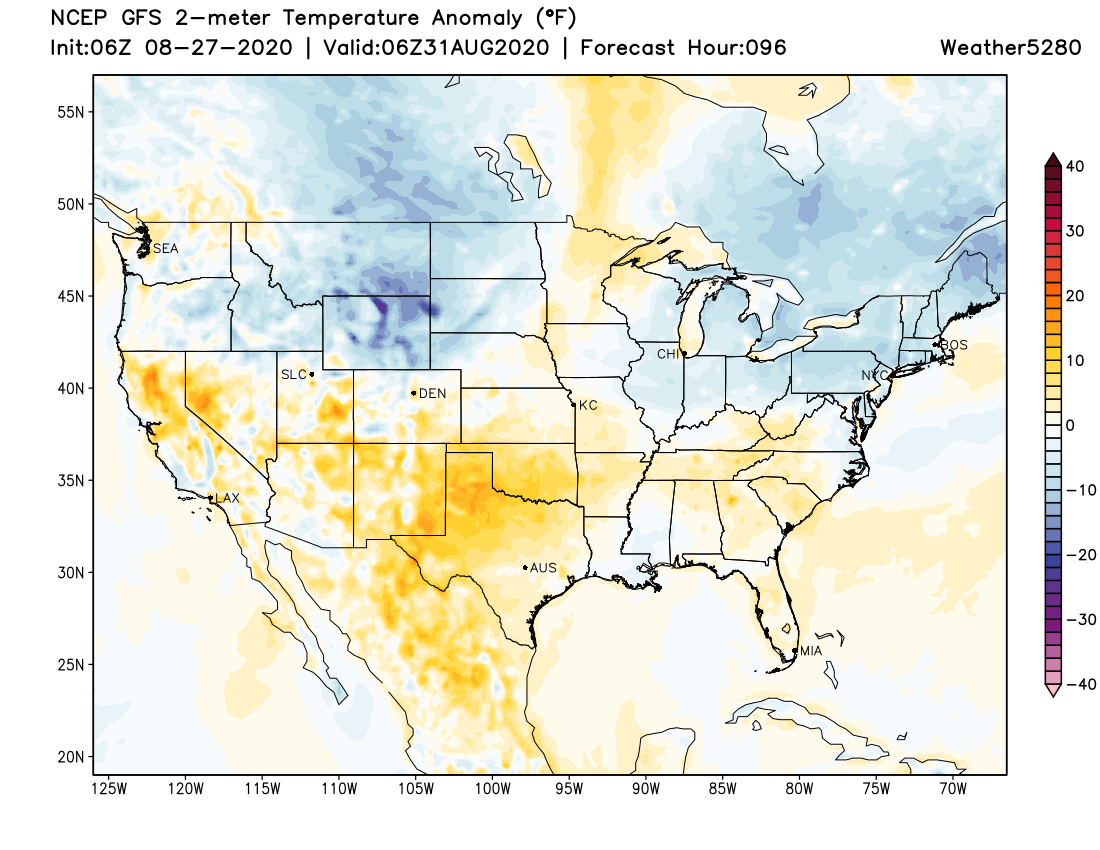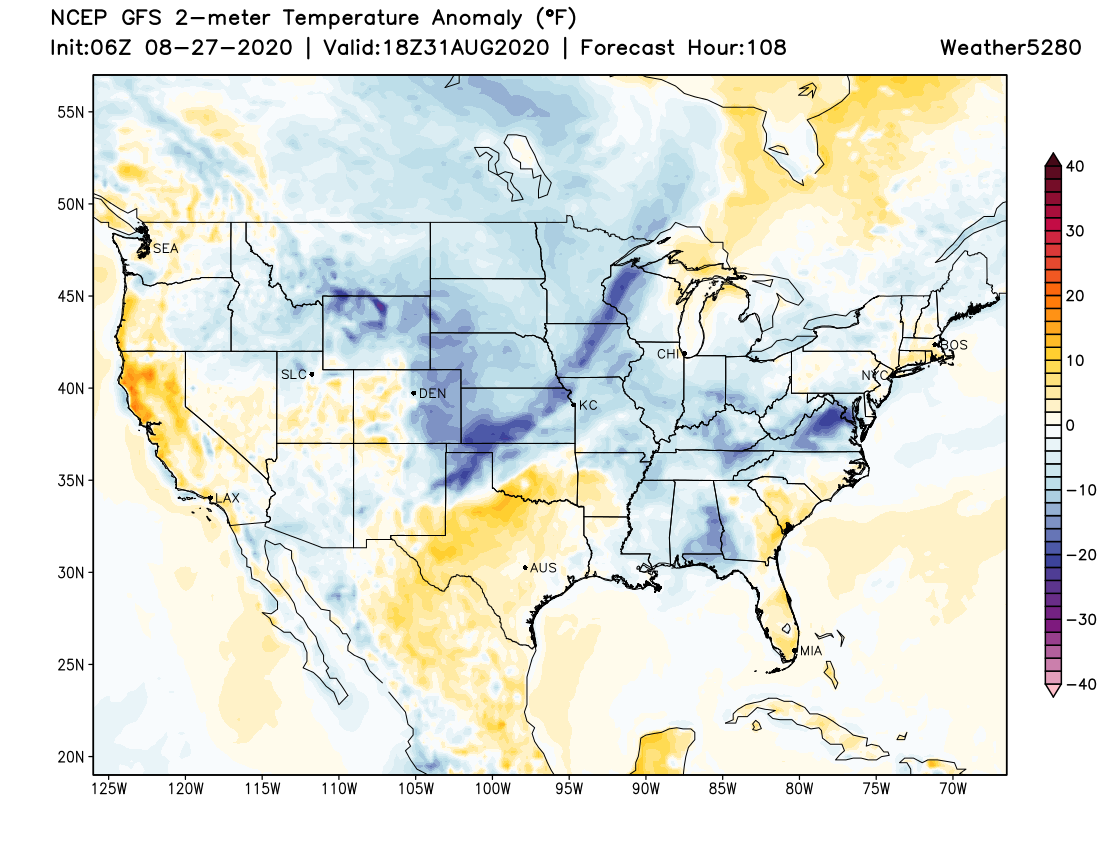 GFS MOS guidance has lows in the 40s both Monday and Tuesday for Denver, with highs in the low 70s for your Monday. Not exactly frigid, but will be a HUGE change compared to the relentless heat we've seen so far this month.

These overnight lows are cooler than many models have for their 2-meter temperature forecasts. Most model consensus is the city will bottom out somewhere in the 50 to 54-degree ranger rather than down into the upper 40s. We shall see, it's certainly possible some communities along the Front Range urban corridor will see some 40s for lows next week, a sign of the seasonal change that will (eventually) come.
The European ensemble mean for Denver has a low of 52°F Monday, and 53°F on Tuesday. Some members are as a cool as 47°F for Stapleton, with others as warm as 57°F. In any event, much cooler than where we are coming from, and should put together a nice stretch of lows in the 50s vs 60s for the mid range outlook: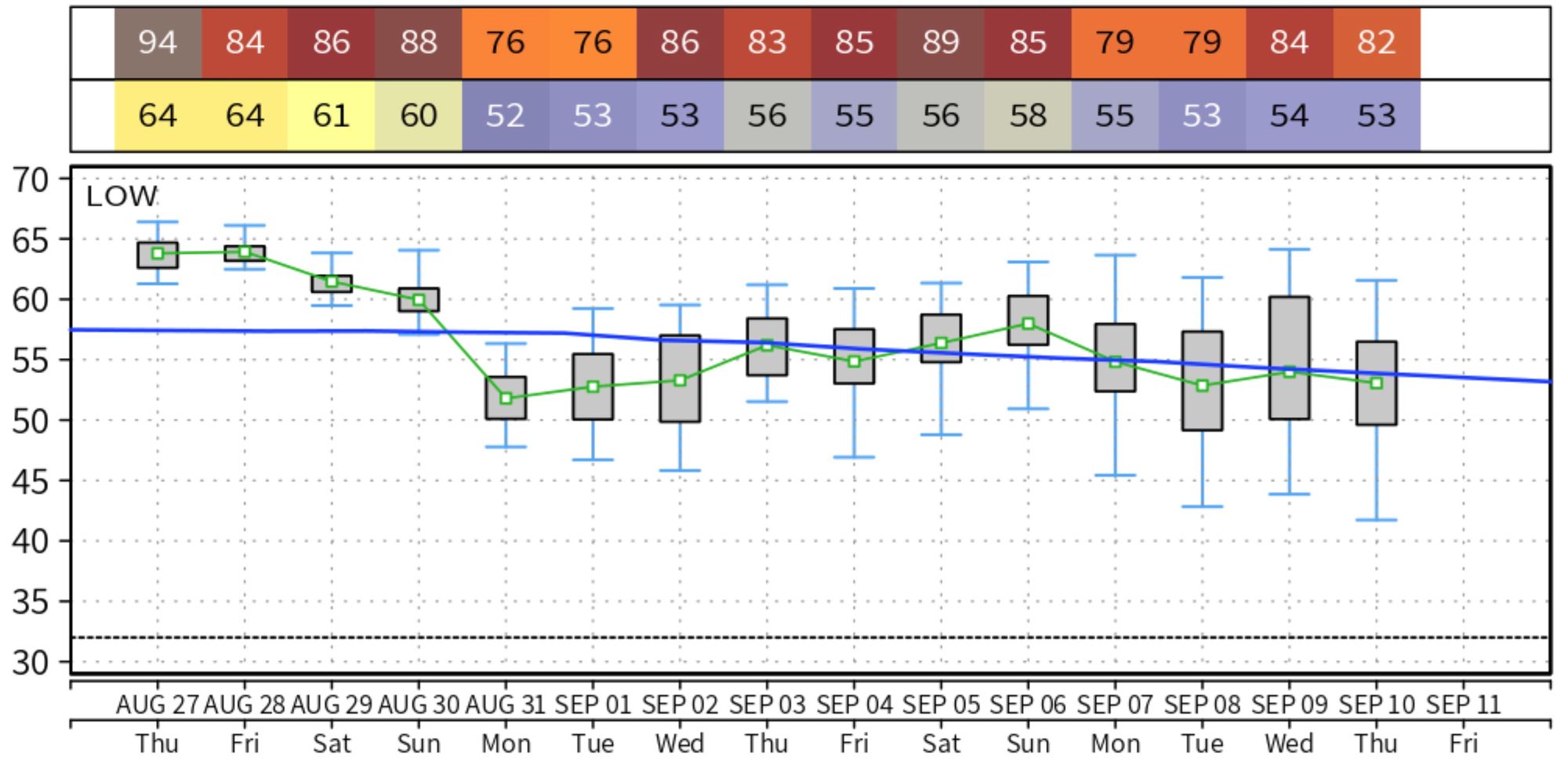 Here's a look at the latest forecast for the Denver area, good riddance upper 90s!

And finally, just for fun and since we've had several people ask... how about snow next week? Perhaps for some of the highest peaks of Colorado! A few model runs were a bit more bullish than we are seeing today, but the Euro ensemble has a solid Trace to 1" for the highest passes early next week: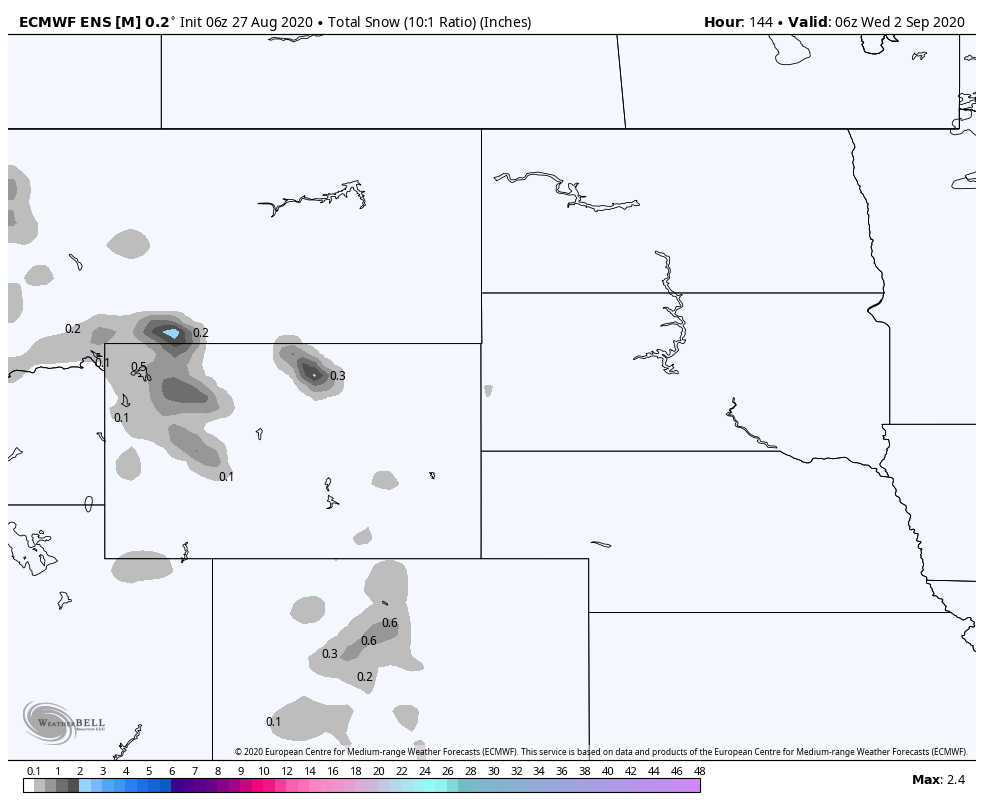 And here's a look at our first gamblers run of the season, lookout Boulder...lol!