After a beautiful Saturday, temperatures have quickly rebounded today, with afternoon highs expected in the low 90s along the urban corridor, along with gusty winds and increased fire danger across Northern Colorado.
Saturday's high of 79°F in Denver was the coolest reading since July 15th, when the temperature also topped out at 79°F. Even with a couple of cooler days Friday and Saturday, this remains the hottest August on record for Denver, with an average of 77.6°F through the 29th, beating out the old record of 77.0°F set back in 2011.
As we discussed in our update last week, the big question we know everyone has is if we'll see any temperatures in the 40s along the urban corridor tonight as another push of cooler air moves in to start the work week.
Right now our forecast is a YES, with an expected low of 49°F in the Mile High City Monday morning. The last time Denver saw a low in the 40s was way back on June 20th, when the city dropped to 46°F. Here is a look at forecast lows over the next week across the region:

It could be harder than we think to get there, but we think some areas in and around Denver have a good shot at the 40s tonight. GFS MOS guidance has a low of 46°F for DIA, while NAM MOS has a low of 48°F. Hedging a few degrees warmer still gets us below 50°F, but plays a warmer forecast than guidance.
Afternoon highs Monday and Tuesday will be just about perfect. Both afternoons are forecast to top out at about 80°F, with overnight lows Tuesday and Wednesday in the low 50s.
An early look: What may be in store for winter 2020-21 on Weather5280 Insider
The chart below shows forecast highs as a departure from average. As you can see, a good mix in the seven day outlook. Cooler than average Monday and Tuesday, a warmer afternoon Wednesday, back near average on Thursday, before perhaps a good warmup on the way for next weekend once more:

The cool start to the week unfortunately doesn't come with much of a chance of moisture, at least not for the Denver metro area. The best chance for showers and storms will come on Monday this week it appears, and for that to equate to anything appreciable looks like a low chance at best. For the Palmer Divide south of Denver that may be a different story, with several high res models showing better rainfall potential there, as well as across the central mountains.
Here's a look at precipitation probabilities for Denver (these charts are available here for Insiders, by the way).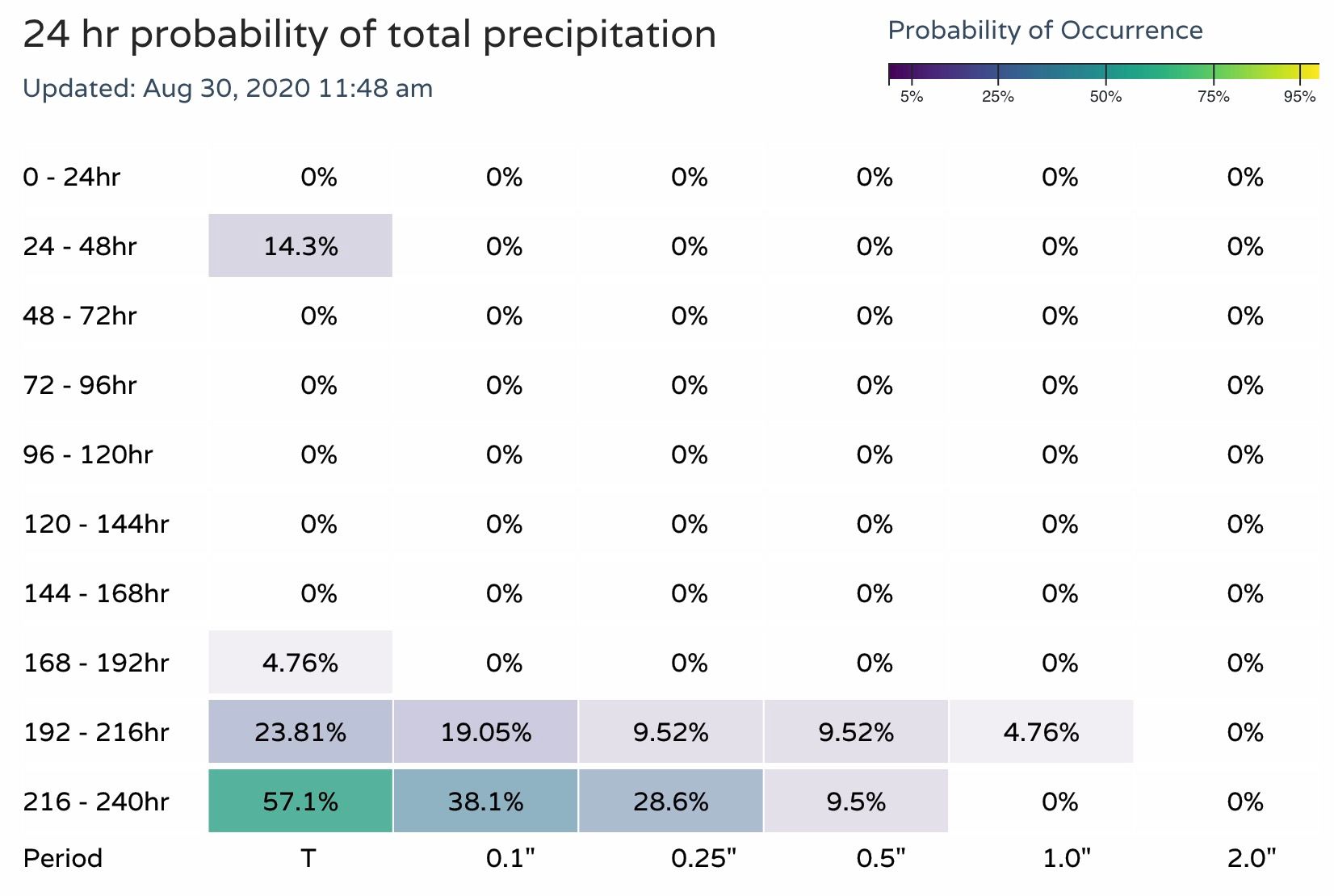 For the Palmer Divide, probabilities are slightly improved: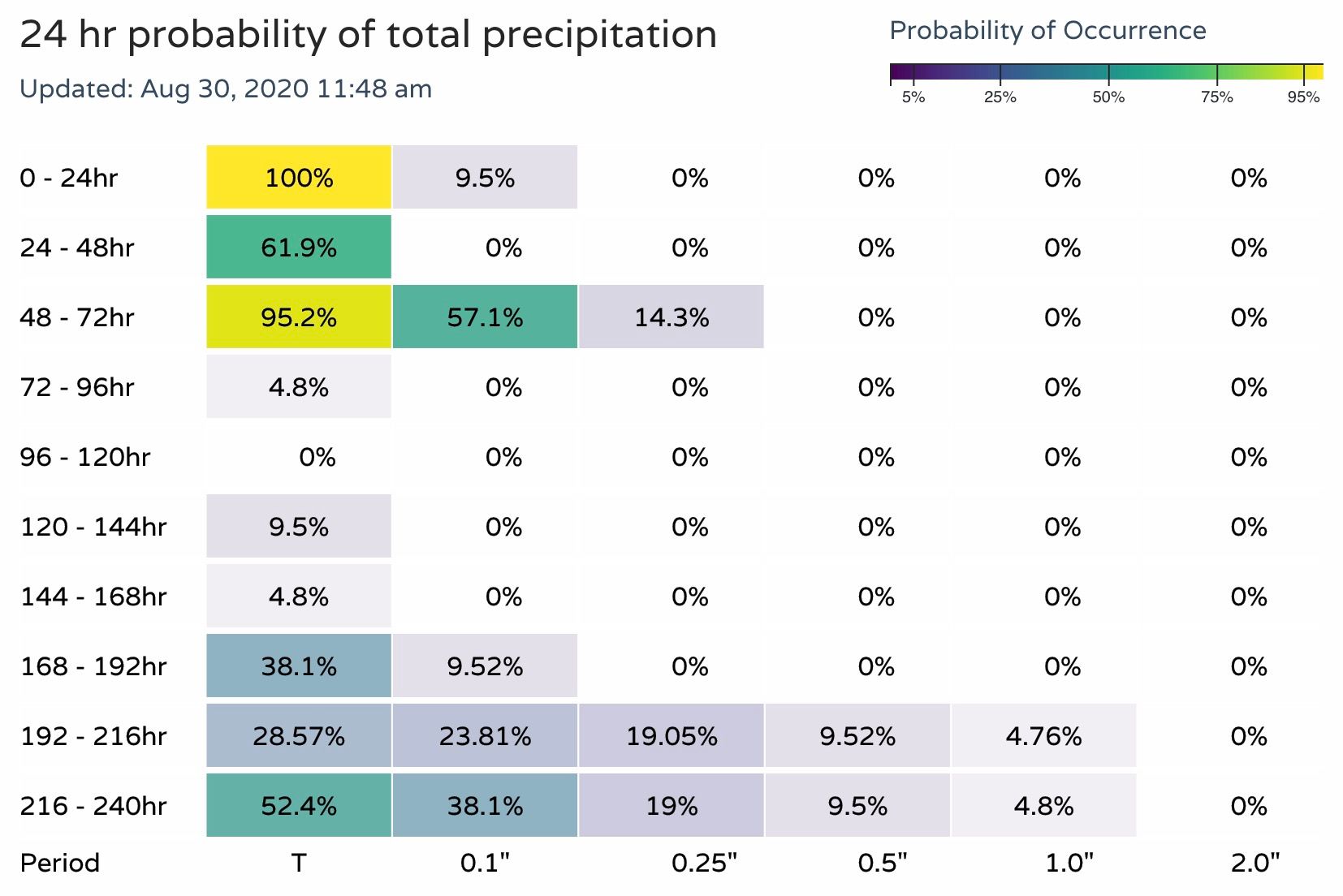 In short, look for a mix of cooler than average and warmer than average days in the week ahead balancing out to a week that's probably about average for temperatures along the urban corridor. It could be some areas see their first temperatures in the 40s tonight since June, and perhaps a bit of rain too – especially for those living across the Foothills and Palmer Divide.
Here's a look at forecast temperature anomalies over the next five days: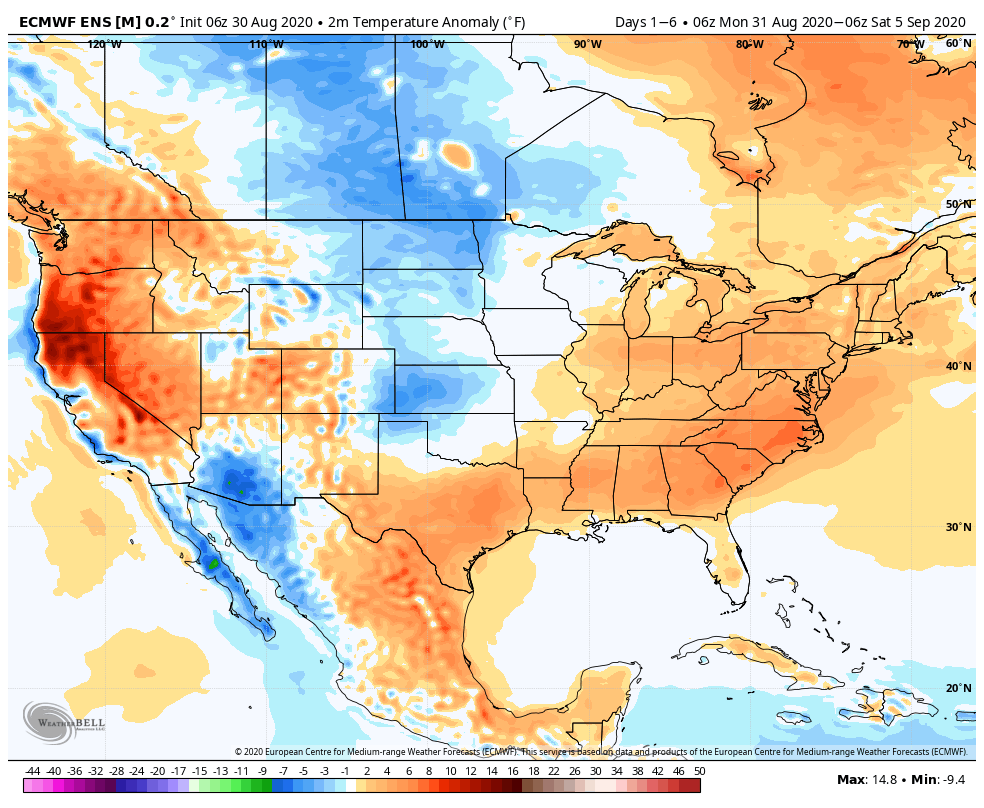 And here are precipitation anomalies. Mostly drier than average across Colorado, with the greatest precipitation positive anomalies stretching across Northern Texas, Oklahoma, and points east: