It's back! And, this year the chance to participate will only last for a brief window of time.
The First Measurable Snowfall Prediction Contest 2020 starts today, and runs through midnight Sunday. That's it! Four days to get your ducks in a row and think SNOW.
Why now? Well, there's not a zero chance that it might snow next week. (We'll have more on that later today). Why else? 😀 It's been a long, hot summer.
Yes, we know we're coming off a tie for the hottest August on record, with Denver's average temperature last month coming in at 77.0°F, matched only by 2011. We also know that four of the next five days are likely to be in the 90s for Denver. And yes, we know the city hasn't seen measurable snow in September in 20 years, despite the longterm average for the month being 1 inch.
Early next week, however, a strong cold front will drop through Eastern Colorado and bring with it some chilly air and perhaps a bit of precipitation. Might some of that fall in the form of snow, even at lower elevations? Perhaps! It's not exactly a done deal, and there's certainly a good chance that we don't see measurable snow in the city, but these are crazy times... so let's have some fun.
Check out this temperature roller coaster in the latest GEFS forecast for Denver. The red line indicates the model's mean temperature forecast for the next 10 days (red line), with the bottom falling out early next week: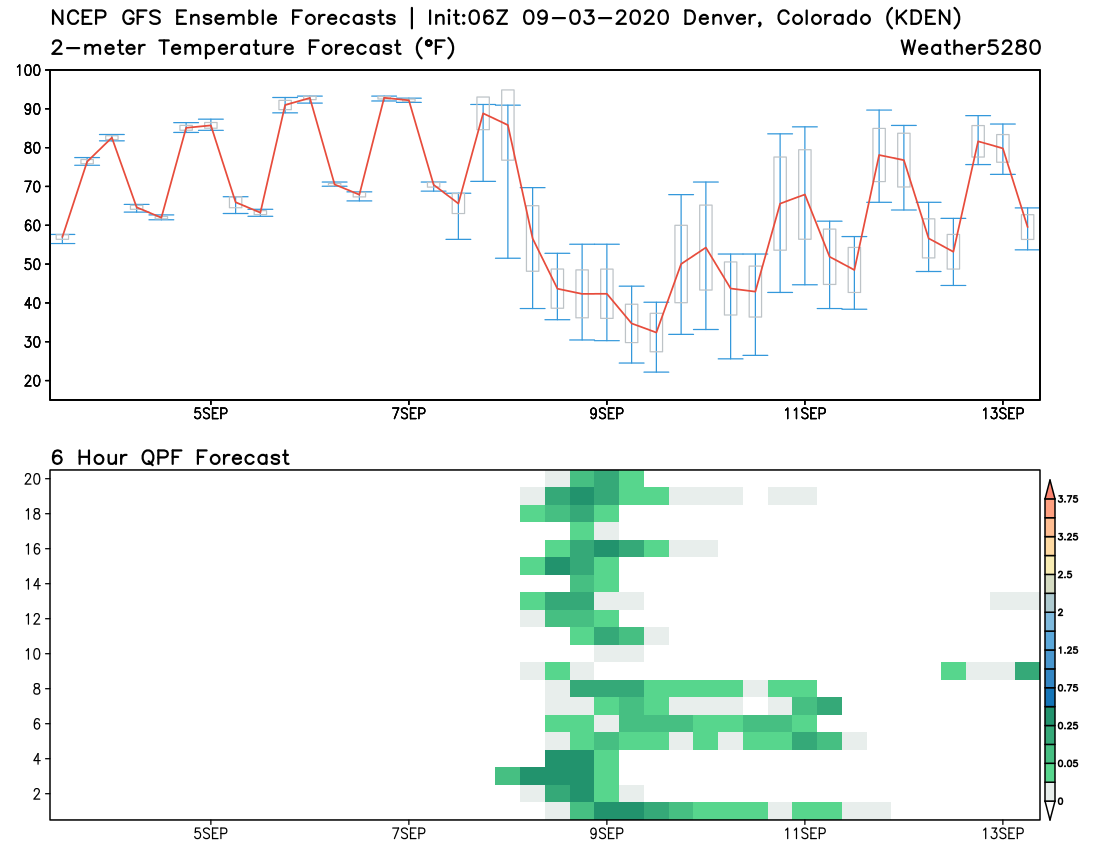 Denver's average first measurable snowfall isn't until October 18th, and we haven't seen a measurable snowfall event in September for two decades, still, I suspect some of you will be bold enough to go with early next week as your date!
If you're feeling more cautious, you can see when recent years saw their first measurable snowfalls on the contest page. Each of the last three seasons it has come early, but nowhere near this early. The earliest measurable snow on record for Denver occurred on September 3rd, 1961.  
Help for Insiders:
- 10 day precipitation probabilities
- Snowfall probabilities
The contest page lives here:
Enter before midnight Friday to be considered!