We thought we'd take a few minutes tonight to show some of the latest data as we wait for the cold air to arrive and eventual rain and snow.
The first wave of cooler air moved through mid afternoon across Northern Colorado, with colder air starting to take hold at this hour. Overall we don't see much of a need to change from our forecast issued earlier today, but instead beat the drum of low-confidence when it comes to snowfall totals.
We've known all along there was going to be nothing easy about this snow forecast. We're coming off 100-degree heat, models are literally all over the place, and trying to decide just how much snow will manage to stick and to what surfaces... isn't fun.
Latest high resolution models are a mixed bag of goods. Some remain quite bullish on the snowfall potential up and down the urban corridor, while others show virtually no accumulation for Denver and points north along I-25. Frankly either solution is believable at this point. It'll come down to how much moisture we actually see with this system (is it as wet as models are saying), how cold temperatures actually get, and how much snow we see tomorrow NIGHT vs during the day tomorrow.
A wet system, on the cool side, with a heavy round of snow tomorrow night and this will be a storm long remembered at lower elevations. If everything is off by just a few hours or tenths of an inch... a dramatic cool down and start to fall, but no epic snow stories.
The total bust | 30% chance
The latest HRRR model says no-go, and frankly I wouldn't dismiss it. For the HRRR it's largely a temperature issue, with still heavy snow forecast for areas with greater elevation surrounding the Denver metro area. This is its latest snowfall forecast through 4am Wednesday: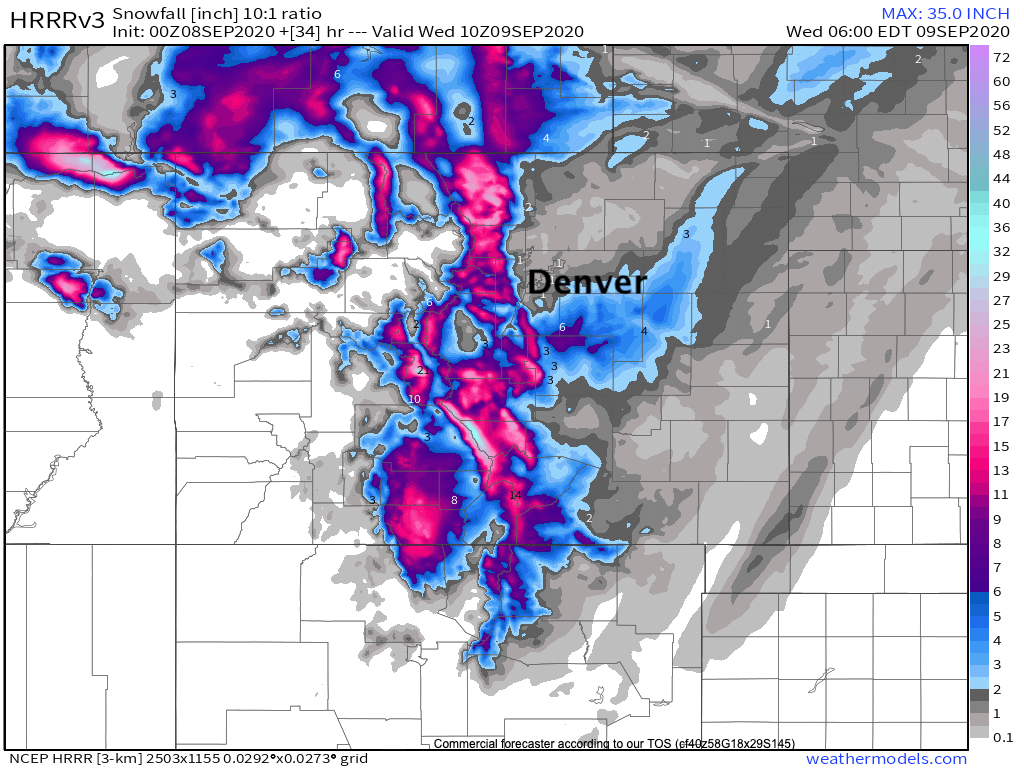 And no, it's not dry. It's got 1 - 2" of QPF for Denver, right in line with many of the wetter model solutions we've been tracking in recent days.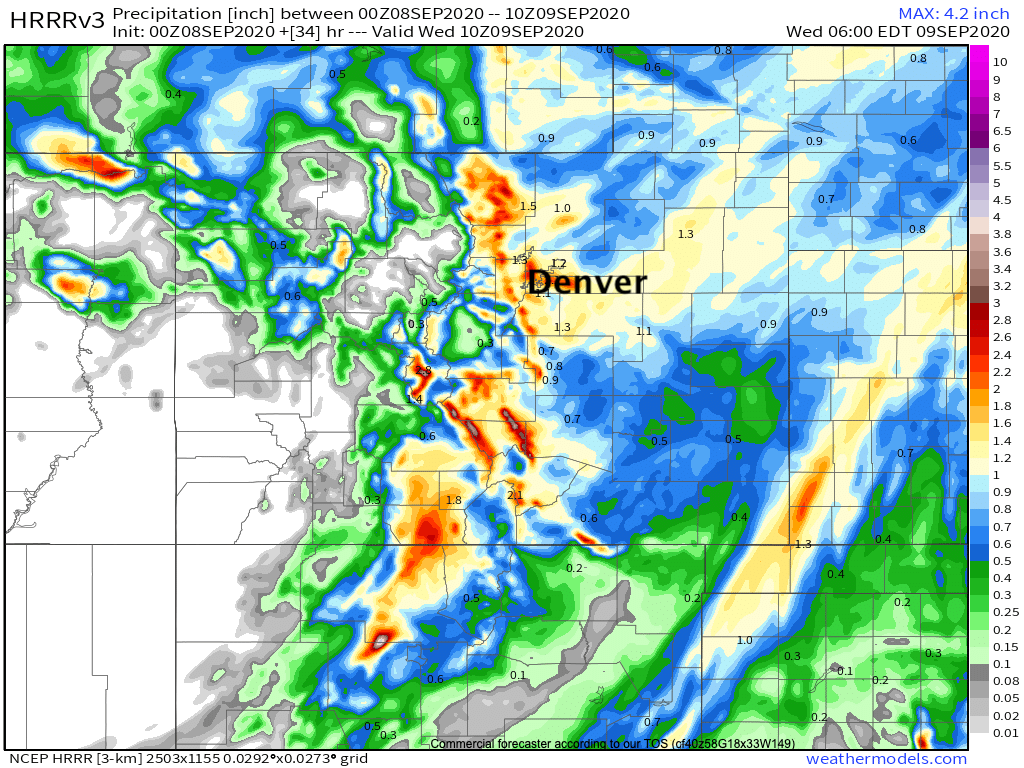 The NAM and Euro show | 60% chance
The 3km NAM looks a lot like the European model and therefore offers some confidence in its outlook. Factoring in melting, this looks a lot like our snowfall forecast. Foothills to get hammered with this solution, and a heavy wet snow for the greater Denver metro area. It also extends snow east across the Northeast Plains as we have in our forecast, likely accounting for the potential for a period of heavier snow out there Tuesday night.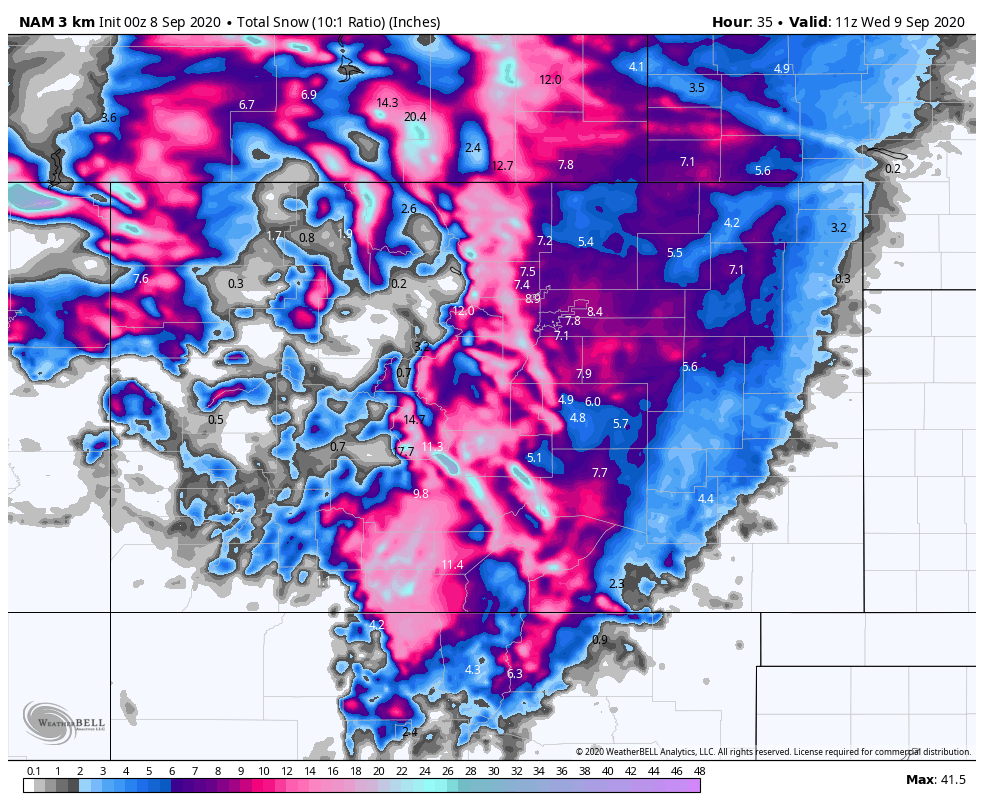 The European, especially its ensemble, has been very steady. It's 10:1 snowfall forecast shows Denver in the 5 - 8" range, the foothills at 10"+, and 2 - 6" east/northeast. If you factor in melting, I think this gets us pretty close to our current forecast.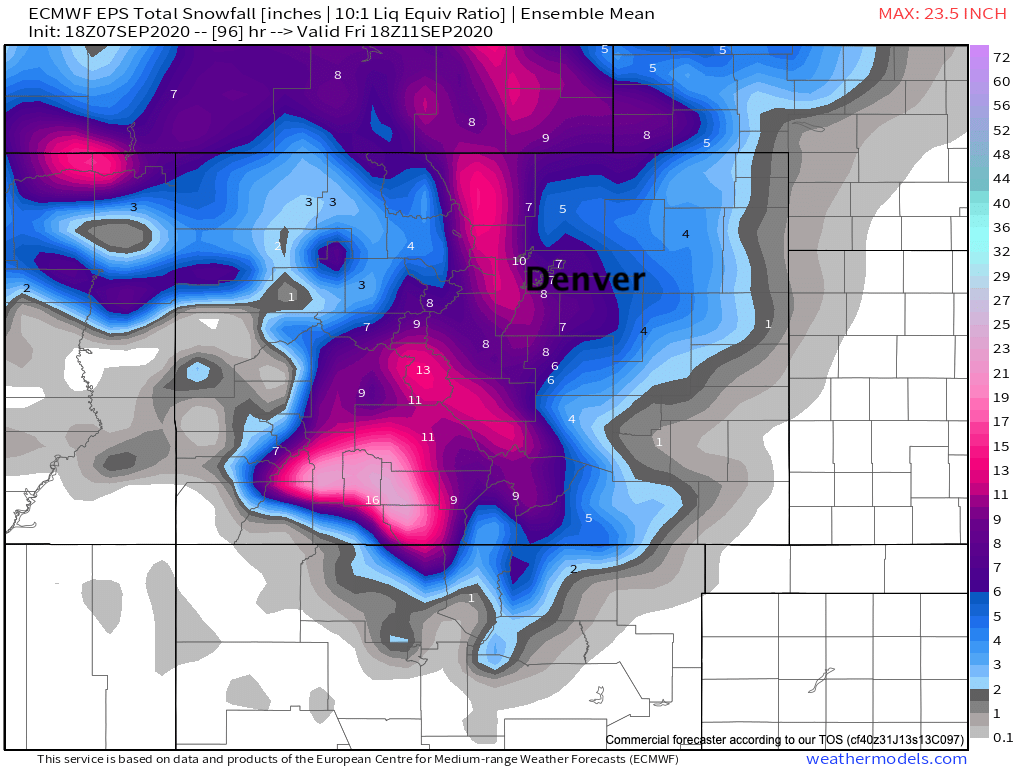 Added confidence in that its probabilities back up these totals.
Euro model probabilities for 3" of snow or more: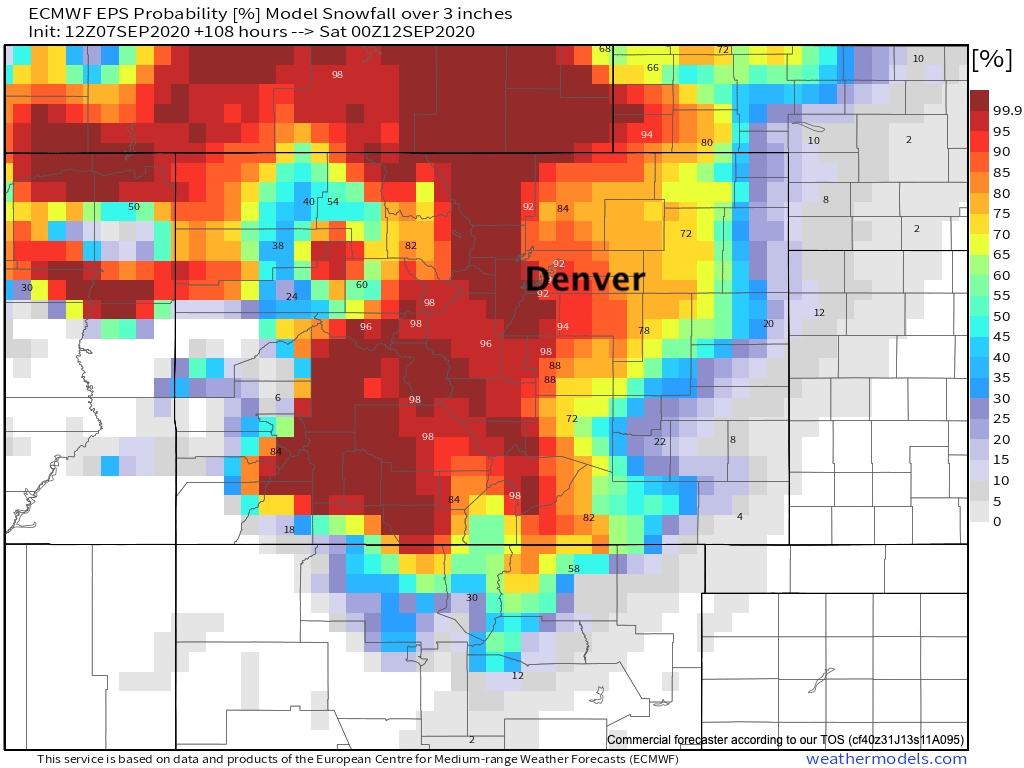 Euro model probabilities for 6" of snow or more: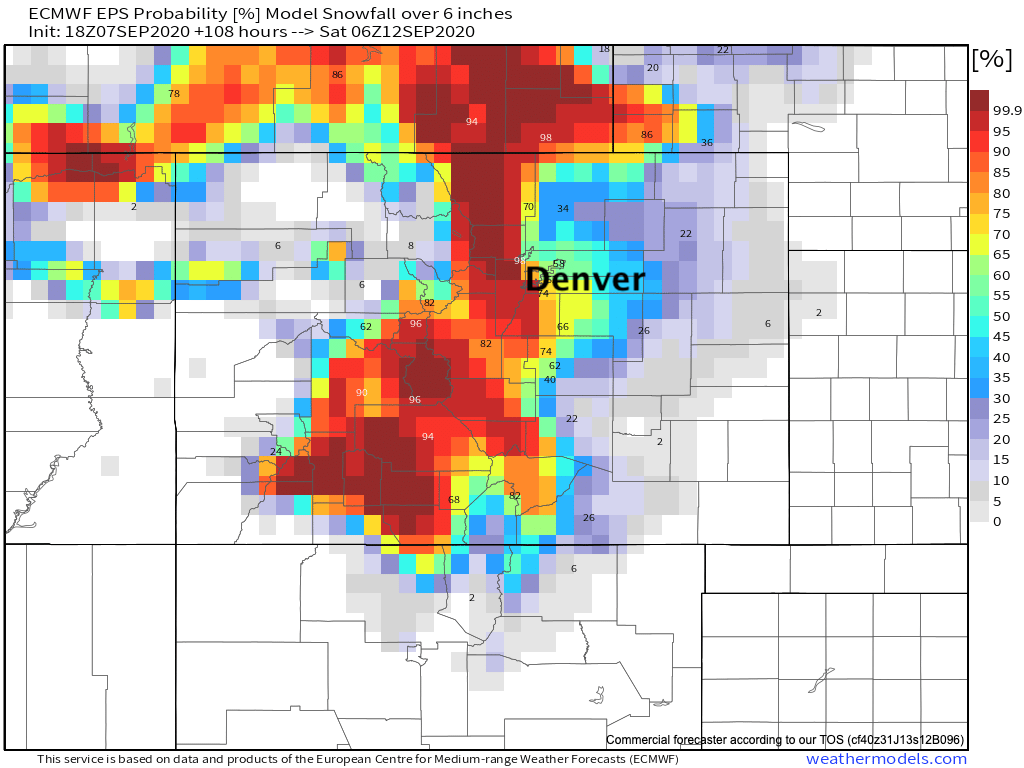 Factor in melting and our 2 - 7" range (perhaps bias to the low end) looks okay for the urban corridor/Denver metro.
A southern CO boom and urban corridor bust | 10% chance
Ah the GFS. This might be it's best forecast of the last two days, and it's a long shot at being anywhere close to right. At least for the Palmer and Colorado Springs area. I mostly wanted to share because tonight it's showing a pretty glaring snow hole for Denver and points north. That's new, and given the HRRR above – maybe it's finally figuring out something about this storm?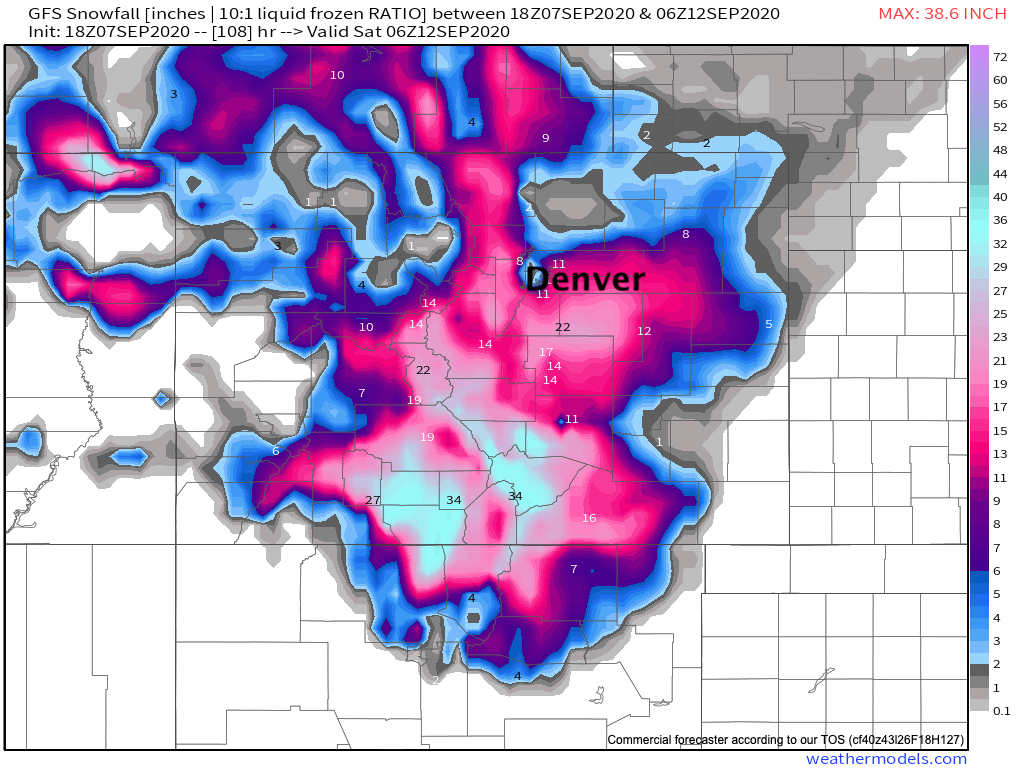 At first glance it seemed as though it was picking up on today's dry front. It appears as though it's more of a temperature issue as well, however, with 1 - 2" of QPF for Denver/Boulder/Fort Collins. Could it possibly be right about precip/snow totals along and south of the Palmer? We're hedging our bets that the answer is no – but if it's anywhere in the ballpark, this would be an enormous tree disaster for our southern cities. For what it's worth, it's been pumping out huge snowfall totals for southern Colorado for days now, it'd be an amazing upset if it happens to be right.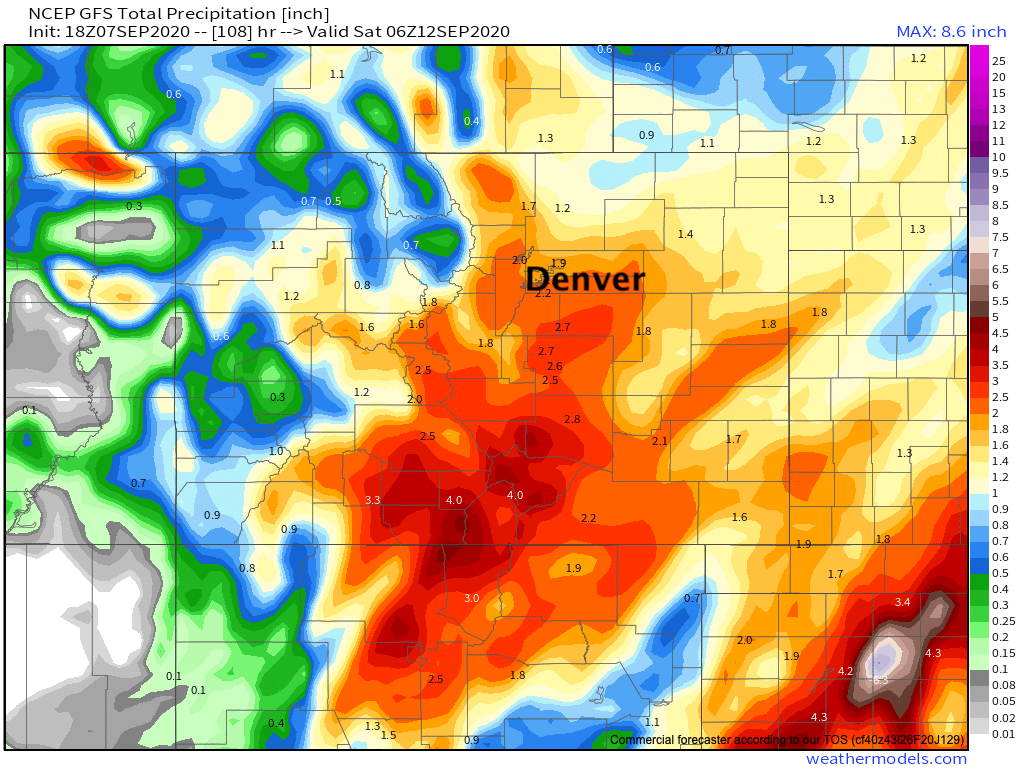 So, there you have it – anywhere from 0 to 12" for most of us from late tonight through Wednesday. Easy enough, right?
As a reminder, here's the forecast we issued earlier. High confidence? No. And there's not much confidence that even if it's right we'll have a good chance at measuring given melting and compaction. That said, it's enough of a blend of the data shared above that we don't see enough reason to change anything tonight.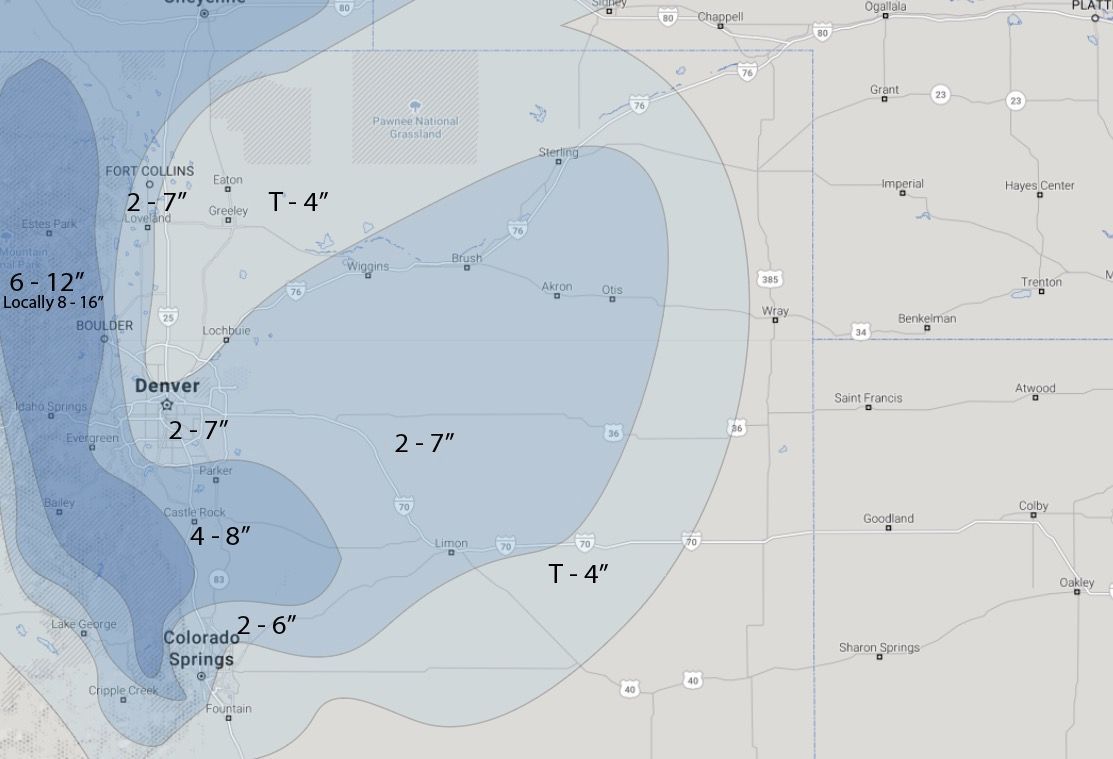 I'll reiterate one last time before signing off for the night... you won't wake up to this much snow tomorrow. IF we are going to see impactful accumulating snow, it's most likely to come later Tuesday and Tuesday night. With the low cutting off to our west and not really going anywhere for awhile look for rain and snow showers to remain in the forecast well into Wednesday, with the potential for additional showers Thursday as the storm exists.
Below is the latest timeline for Denver, the surrounding areas are similar. Let's see what RECORD LOWS we break now that we've crush most of the record highs so far this month!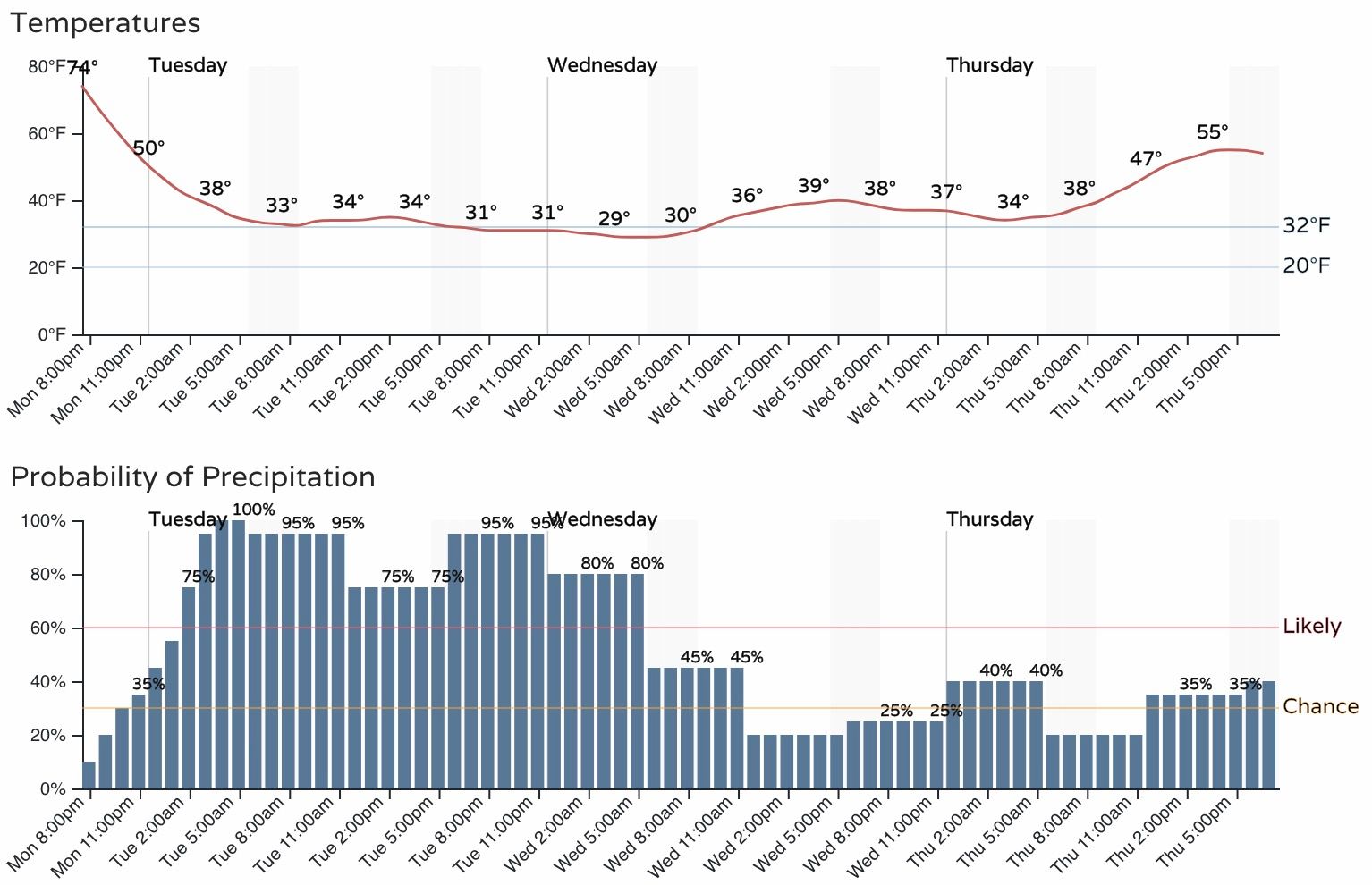 Please keep us posted on conditions at your place!