Everything remains more or less on track, as cold air, rain, and snow have transformed our area from summer's smoky grip to a damp, wintry day. With over 0.5" of precipitation so far at DIA, this has become one of Denver's wettest days of the year, a strong tell of what kind of summer it's been!  
Temperatures in Denver have been in the low to mid 30s this afternoon, some 60°F cooler than our highs across the city yesterday. Looking at the change in temperature over the last 24 hours is remarkable, with virtually all of Eastern Colorado running more than 40°F colder than this time yesterday – literally off the chart!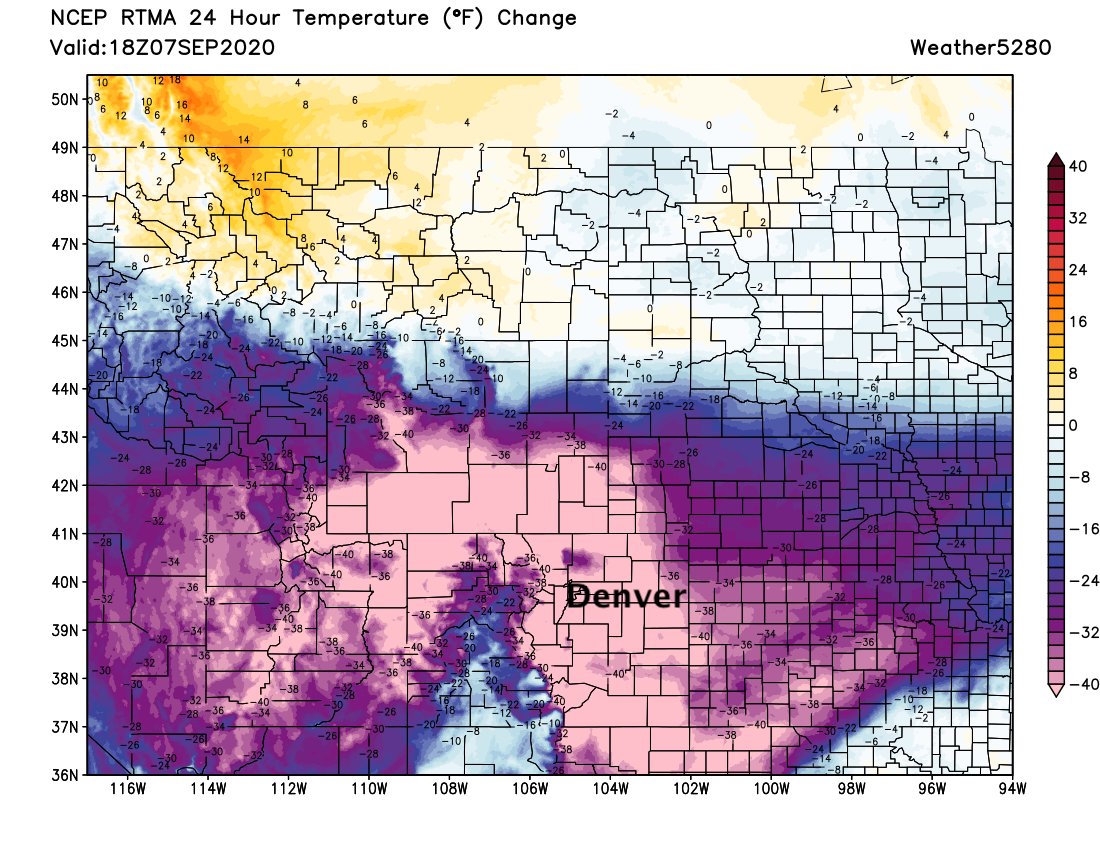 A national look at temperatures this afternoon shows the cold air in place across the Northern Rockies and High Plains. A sharp cold front divides the nation to our southeast: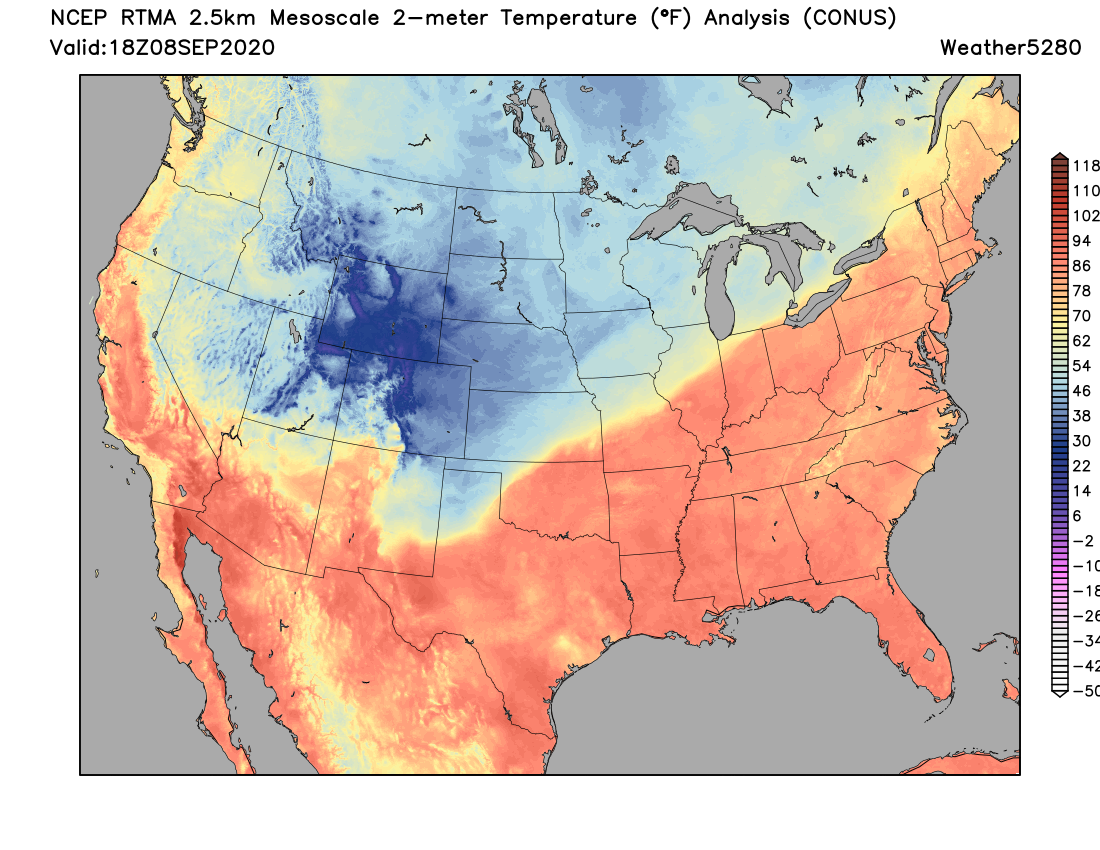 And at 500mb the low is positioning itself just as expected over Eastern Utah: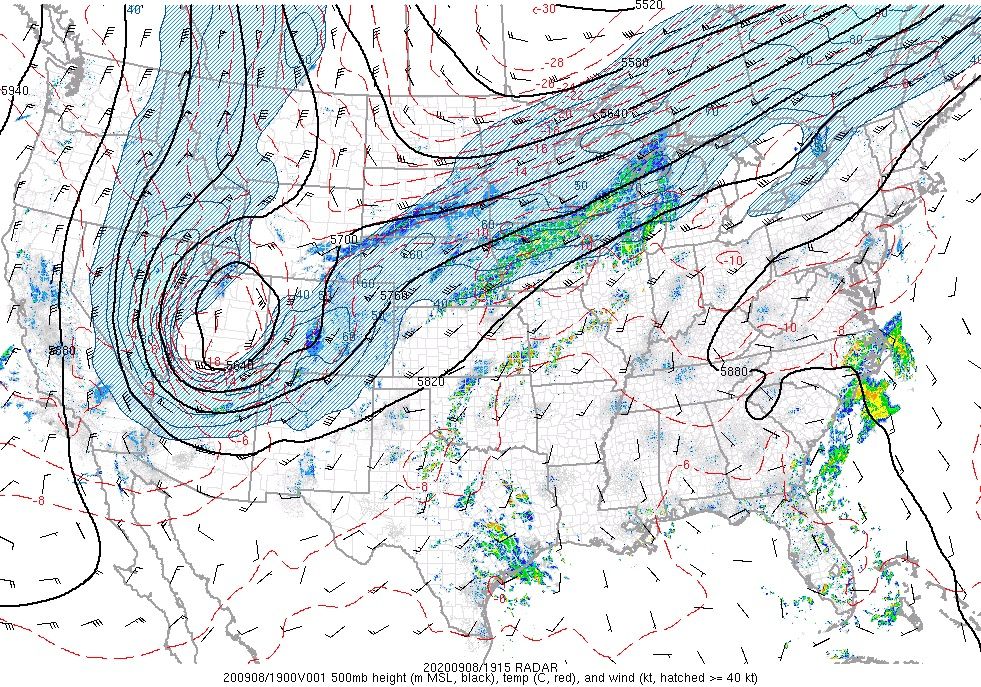 So where's our snow?
It's coming.
Maybe.
The HRRR model's outlook we shared last night may be leading the pack right now for the Denver/Loveland/Fort Collins area, as temperatures have limited any potential for us to see snow accumulate today.
Still, we see surge of heavier precipitation coming for later this afternoon and evening, which will be our main window for snow accumulation along the urban corridor IF we are to see any. It's most likely that we will be too high for totals in many cases, but the impacts remain the same if you do see that snowfall – and the potential for an early season "bust" at lower elevations has been well couched.
The HRRR shows the next push of moisture moving through Southwest Colorado by 2 or 3pm – this is confirmed by radar at this time.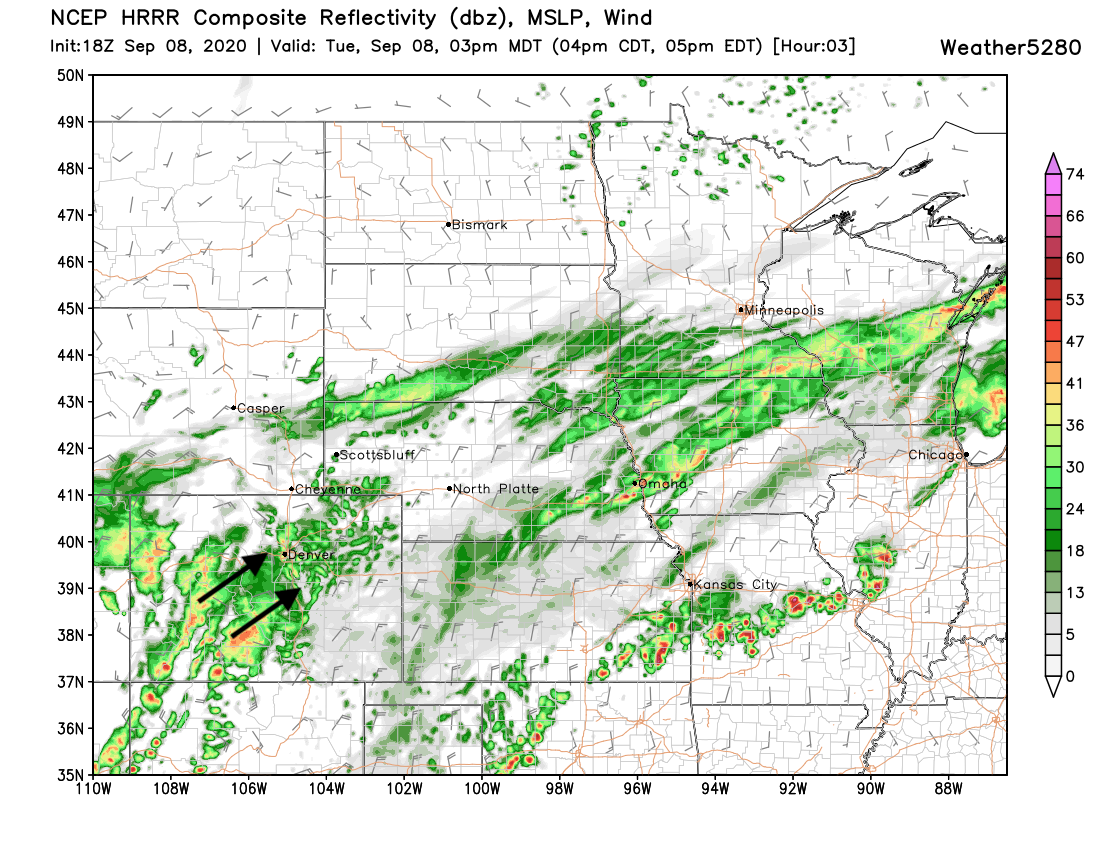 It pulls the heavier snow across the I-25 corridor between 4pm and midnight or so before it moves east late tonight/early Wednesday morning. Here's the HRRRs simulated radar for 8pm tonight, showing snow from Colorado Springs north through Fort Collins: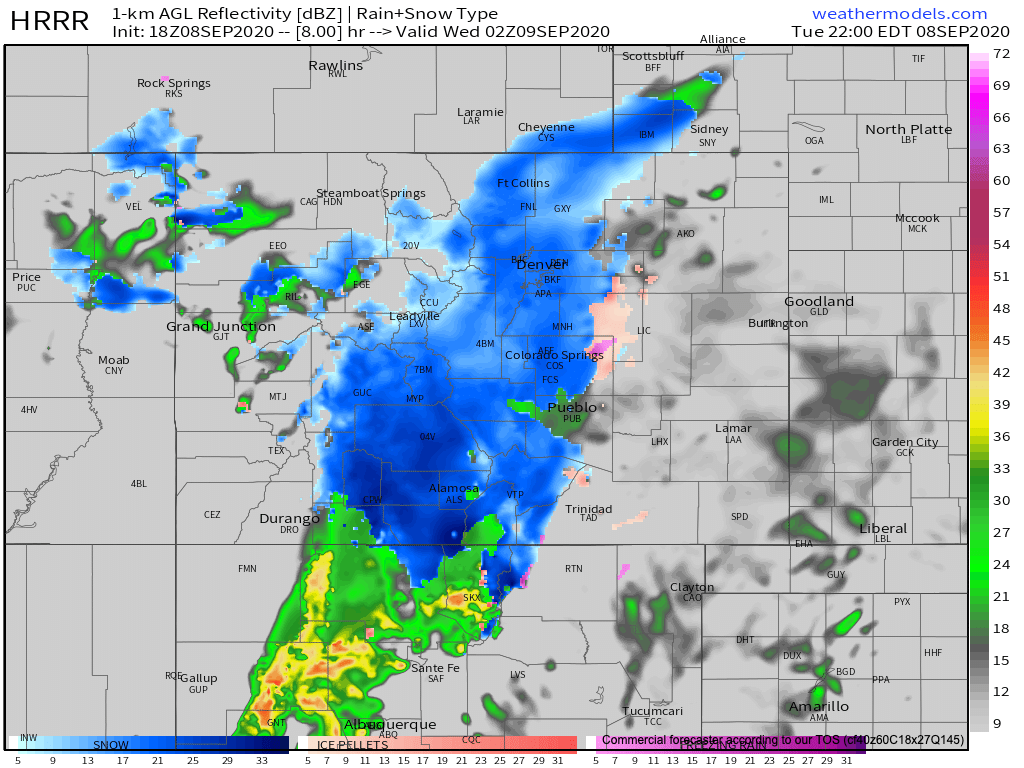 How much of that will actually accumulate? That remains a big question, the answer to which could be not much at lower elevations. Still, even some accumulation on fully leafed trees could cause tree damage tonight, so our messaging remains the same as for potential impacts.
The latest HRRR looks very much like it did last night – several additional inches for the foothills through tonight, with 2 - 4" for the Palmer Divide. That's a far cry from the GFS's 25" it had yesterday morning!
For Denver this particular model shows only a trace to 1" – fully within the realm of possibility, but let's see just how heavy this snow ultimately is as it moves through this evening. It could be we do better than this, but between temperatures and the potential for the best jet dynamics to slide too far south for a good setup in Denver – it's a bit of an uphill battle at this point.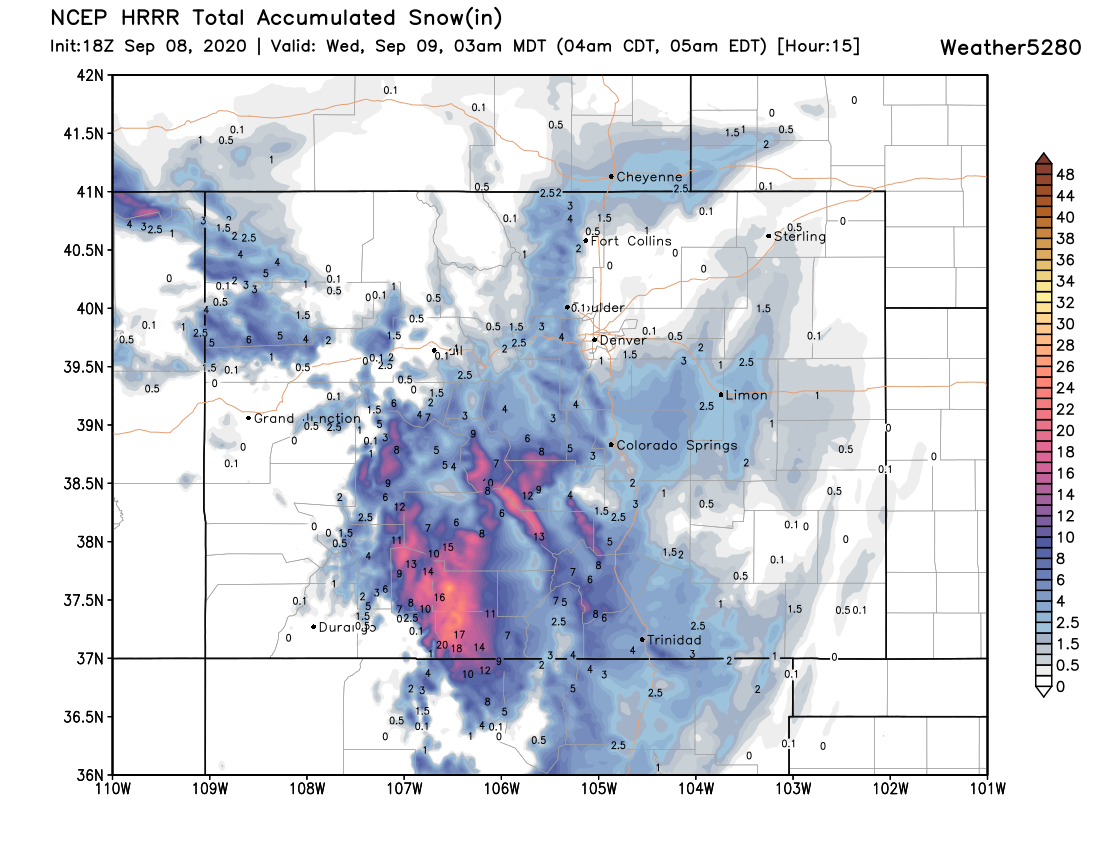 For the snow lovers in the group, the 3km NAM still shows several inches from Denver north, with much of that coming late tonight. We'll see how long the snow carries through this evening, how fast the heavier precipitation pushes east.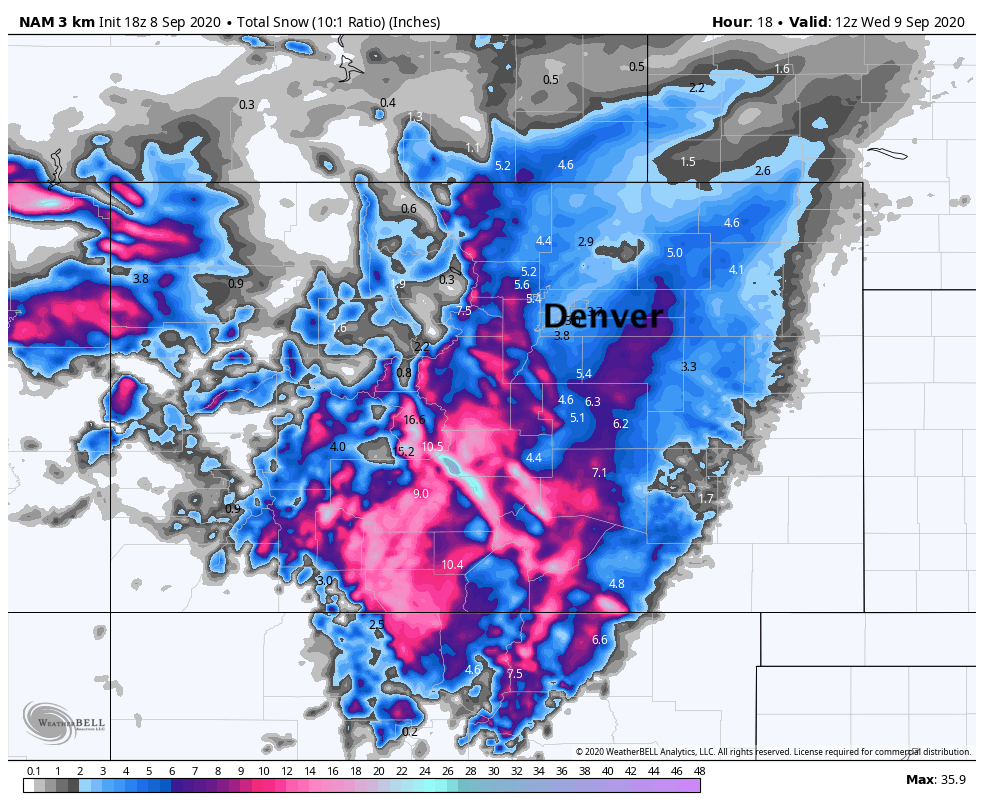 Overall, accumulation potential is definitely down, but our target window for when we may see accumulating snow remains the same as it has for days now – so we'll see how we do this evening/tonight.
Accumulating snow or not, we still expect many record lows to be set tonight/early Wednesday morning. Denver will bottom out around 30°F, perhaps even into the upper 20s if this snow clears quick enough. Daytime highs will be a bit warmer tomorrow in Denver, but not by much! Cool and unsettled will be the word through Thursday before a warming trend for the weekend.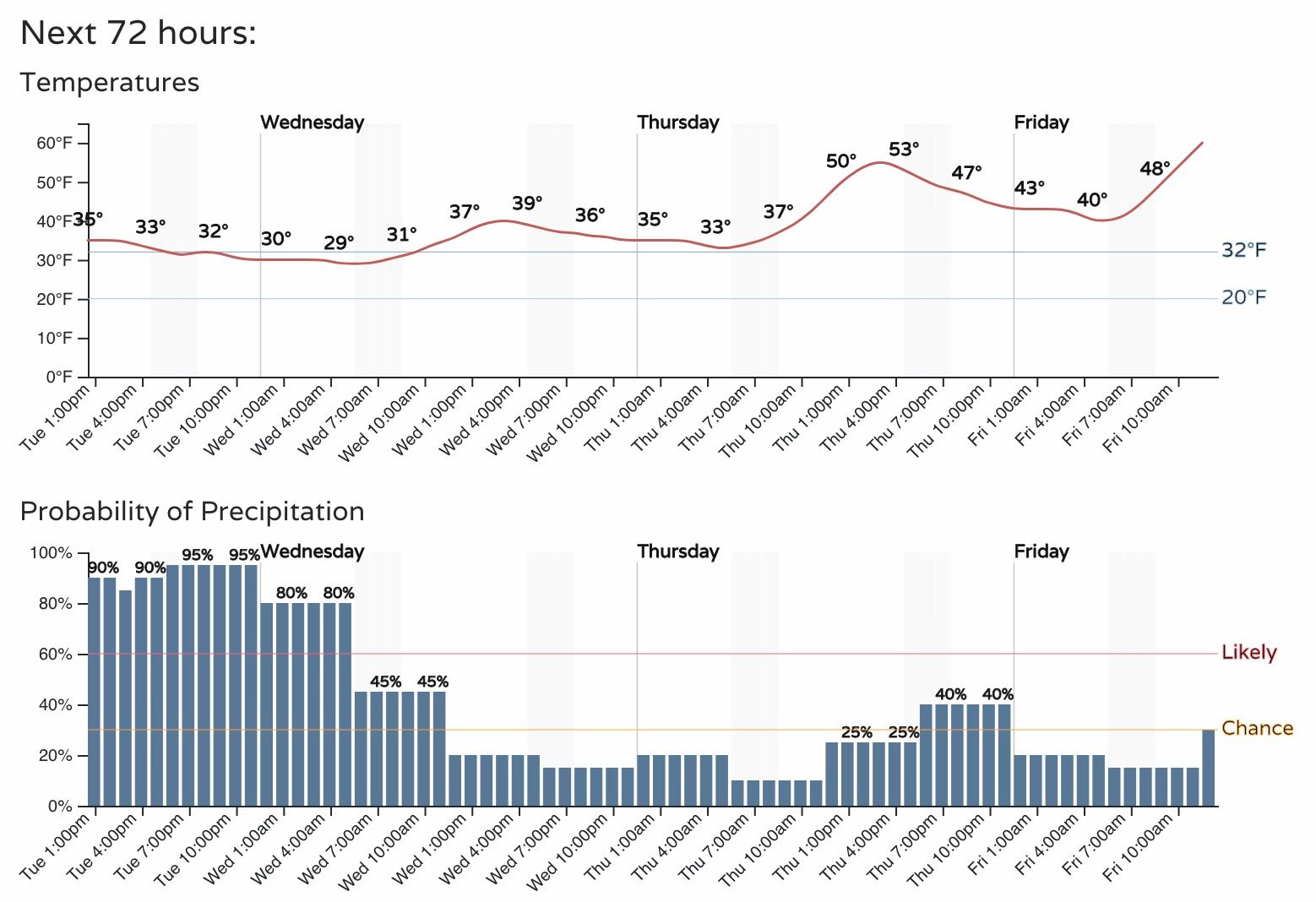 Let us know if you actually see SNOW, and if so... how much!