As we discussed in our last update, today's warm temperatures will be replaced by another shot of colder air to end the week. Thursday's highs aren't likely to top 60°F in Denver, with overnight lows Thursday into Friday likely to dip into the 20s across the metro area. If you still have irrigation on, you'll want to protect those exposed pipes over the next couple of nights.
Below is a look at forecast highs across the region over the next seven days. Quite warm today for most locations, with Cheyenne running cooler as it'll be under the influence of the cooler air headed our way. By tomorrow look for highs in the 40s and 50s for most of the region:

Overnight lows will also cool quite a bit from where we have been. Tonight we'll see lows drop into the low 30s for Denver, with lows by Friday morning in the upper 20s for the city. More chilly nights ahead in the extended outlook as well:

A look at the hourly planner for Denver shows those mild temperatures in store for this afternoon across the metro, followed but a much cooler day on Thursday.
Ahead of the cooler temperatures will be yet another afternoon of strong winds and high fire danger across the state. Gusts in excess of 40 mph will be possible today, with a Red Flag Warning in effect through this evening for much of eastern and southern Colorado.

What's missing from this front?
Moisture!
You'll note in the hourly above a slight chance for showers(?) tonight into Thursday... but hard to even call it that.
A look at the GEFS ensemble forecast you'll note good agreement in the temperature drop headed our way (red line on top), but nary a green box in the bottom chart over the next couple of days!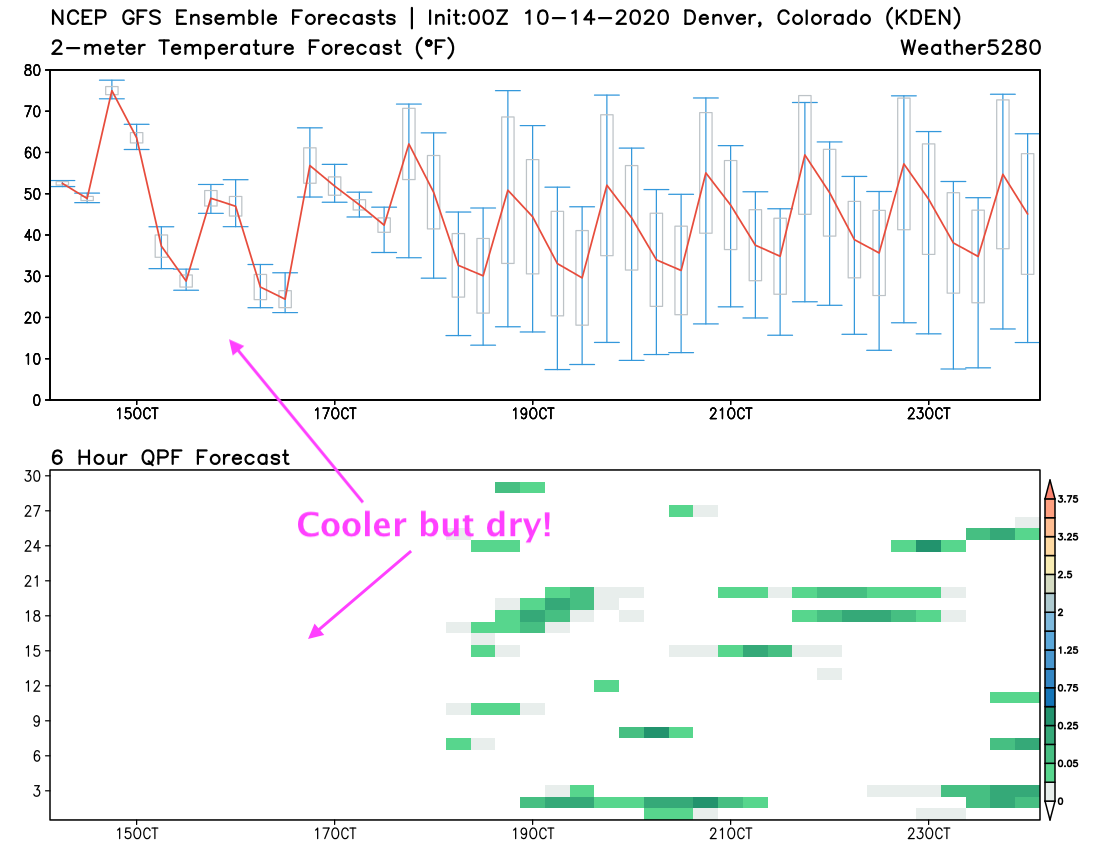 By next week models are split on whether we see more troughing and thus a cooler (perhaps wetter??) outlook, or more ridging. Models have, at times, shown a slightly more organized system move through early next week with perhaps some rain and snow for the region – but not consistently or convincingly so. Looking at the chart above, we see some greens showing up by next week, but certainly no agreement between ensemble members or any clear indication of a much-needed, well-organized system headed our way. Even with cooler temperatures in the forecast next week, a notable spread in possible solutions there with very little agreement in the day.