The snow eventually made its way to Eastern Colorado, but plenty of dry air in place and a southerly track of the low has kept snowfall totals on the low side across the region as we opined in multiple updates this week it may.
Totals through midday Friday have been largely in the Trace to 2" range, with a few spotty 3" totals reported but nowhere near widespread. The immediate Denver area has mostly been in the Trace to 1" range, so in many cases falling short of the 1" low-end range we had. That said, light snow is expected to continue off and on into tonight across the region, with another 0.5" to 1" possible for some areas before a brief lull in the snow chances early Saturday ahead of round two.
Here's a look at the latest HRRR modeled snowfall through 12am tonight. Impressive additional snowfall totals? Not at all. Enough to keep us feeling like winter and the occasional slick spots on the roadways? Absolutely.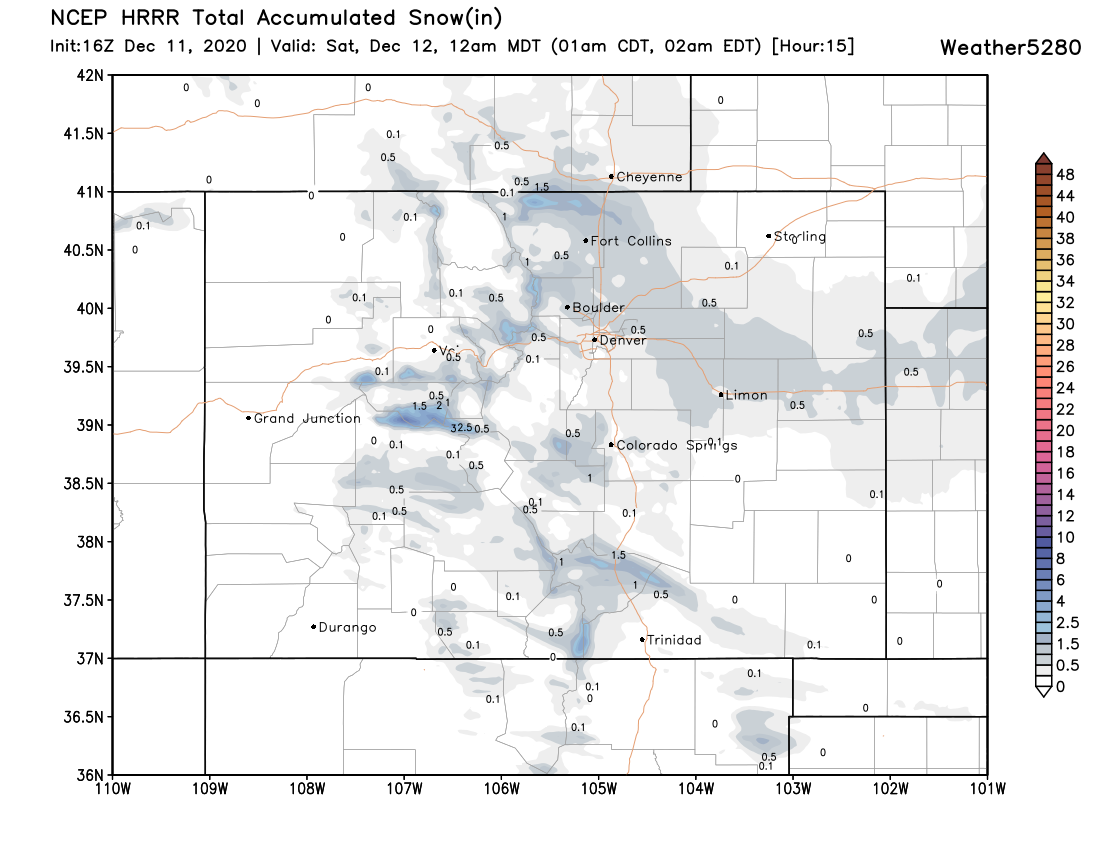 Wave two!
The big question at hand is if wave two will go the way of wave one and largely underperform. The short answer is there's a chance it does – especially for those of us north of the Palmer.
The current forecast track will favor heavier snow across Southeast Colorado into the Oklahoma and Texas Panhandles, with data less supportive of heavier totals across the northern urban corridor. Given drought, La Niña, overall pattern, and how this first wave panned out – I'm not feeling particularly thrilled about our chances at a boom on Saturday, but unlike wave one, there's a bit more potential still for the Saturday setup.
The GFS remains most bullish with snow for the Denver area, but even it tracks the surface low pretty far south for much confidence there. Here's its current forecast for Saturday night, with the low over east central New Mexico: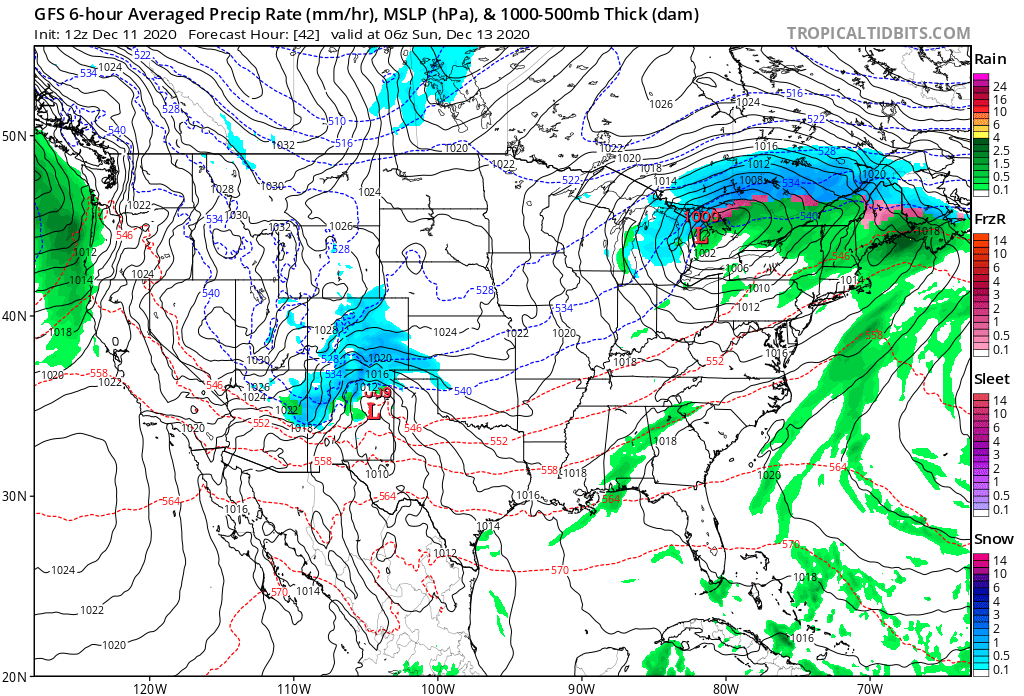 At 500mb the low digs pretty far south for us as well: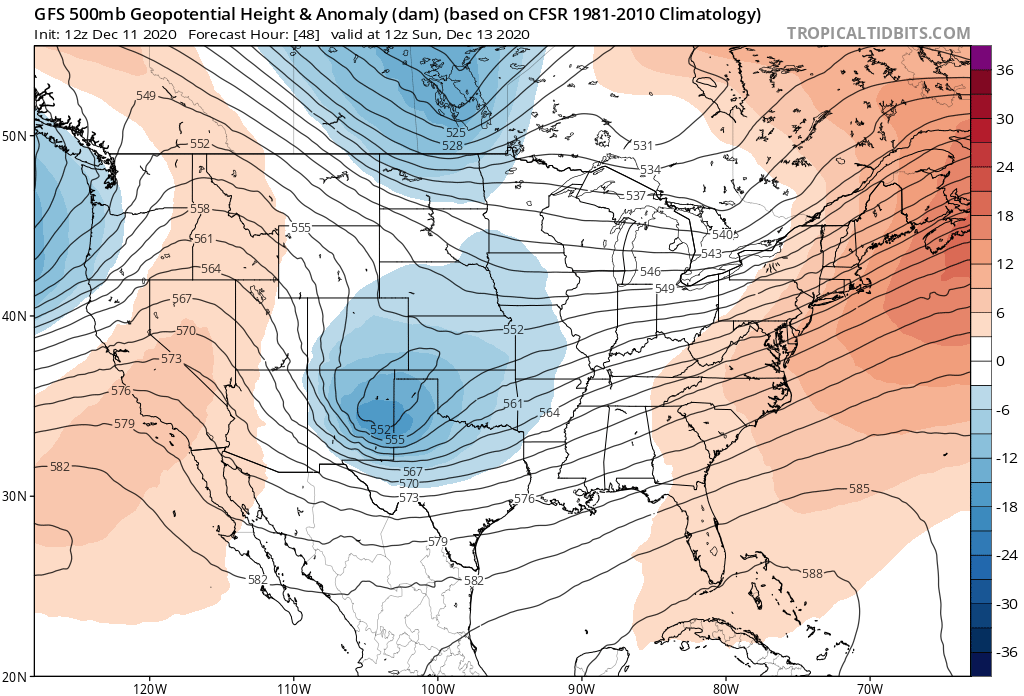 Not surprisingly with this track, the heaviest totals end up across Southern Colorado and the panhandles. Below is a look at the GFS forecast through the weekend: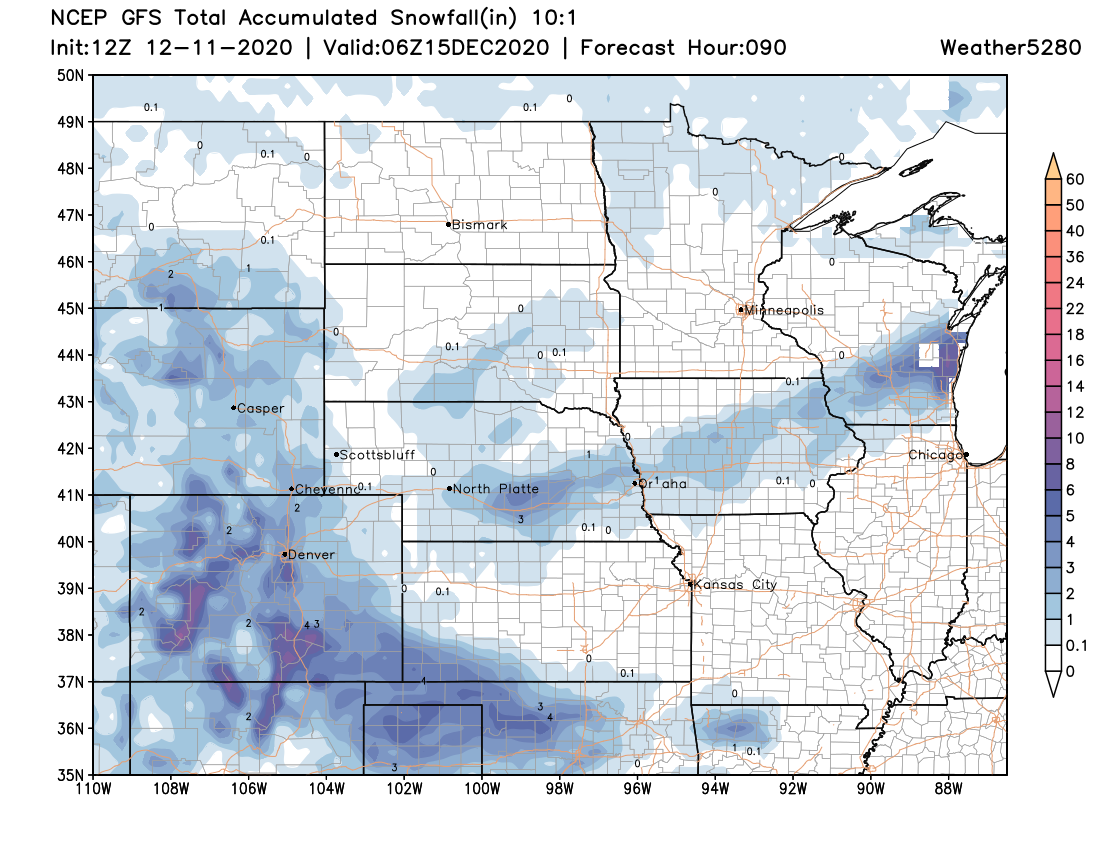 The European model is even more pronounced on this scenario.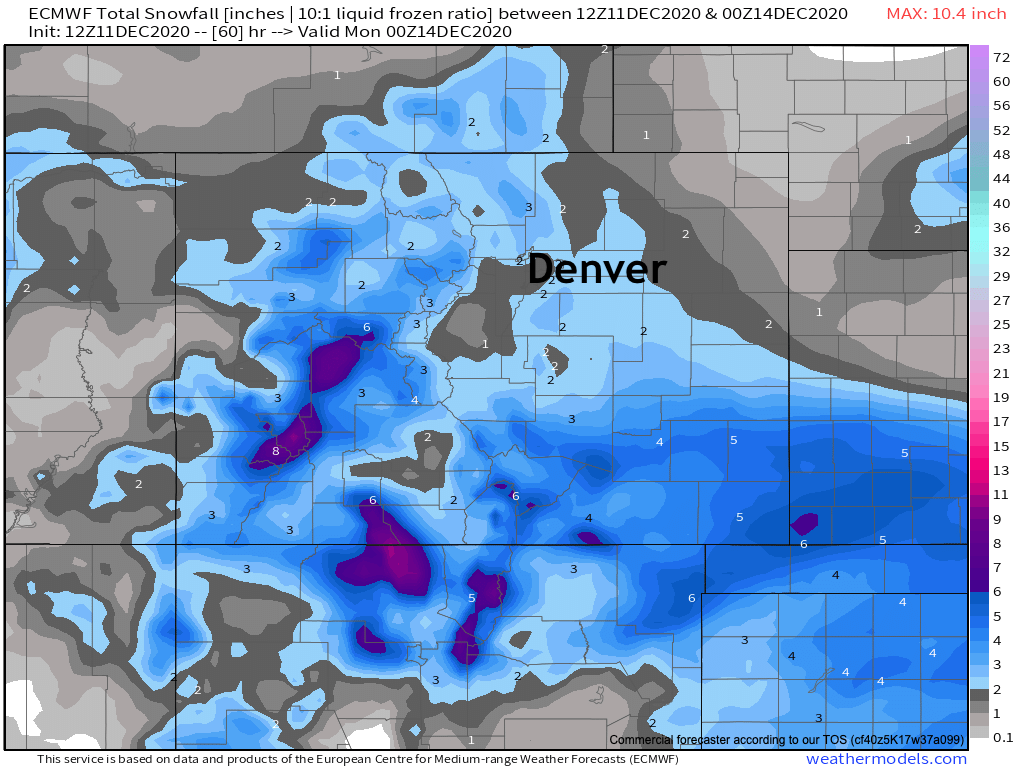 Still, another round of snow on Saturday looks likely, a few of us could see several inches before things clear out late Saturday night and Sunday. For the Denver area, it looks like the best chance of snow Saturday comes between noon and midnight, with chances dropping off quickly early Sunday: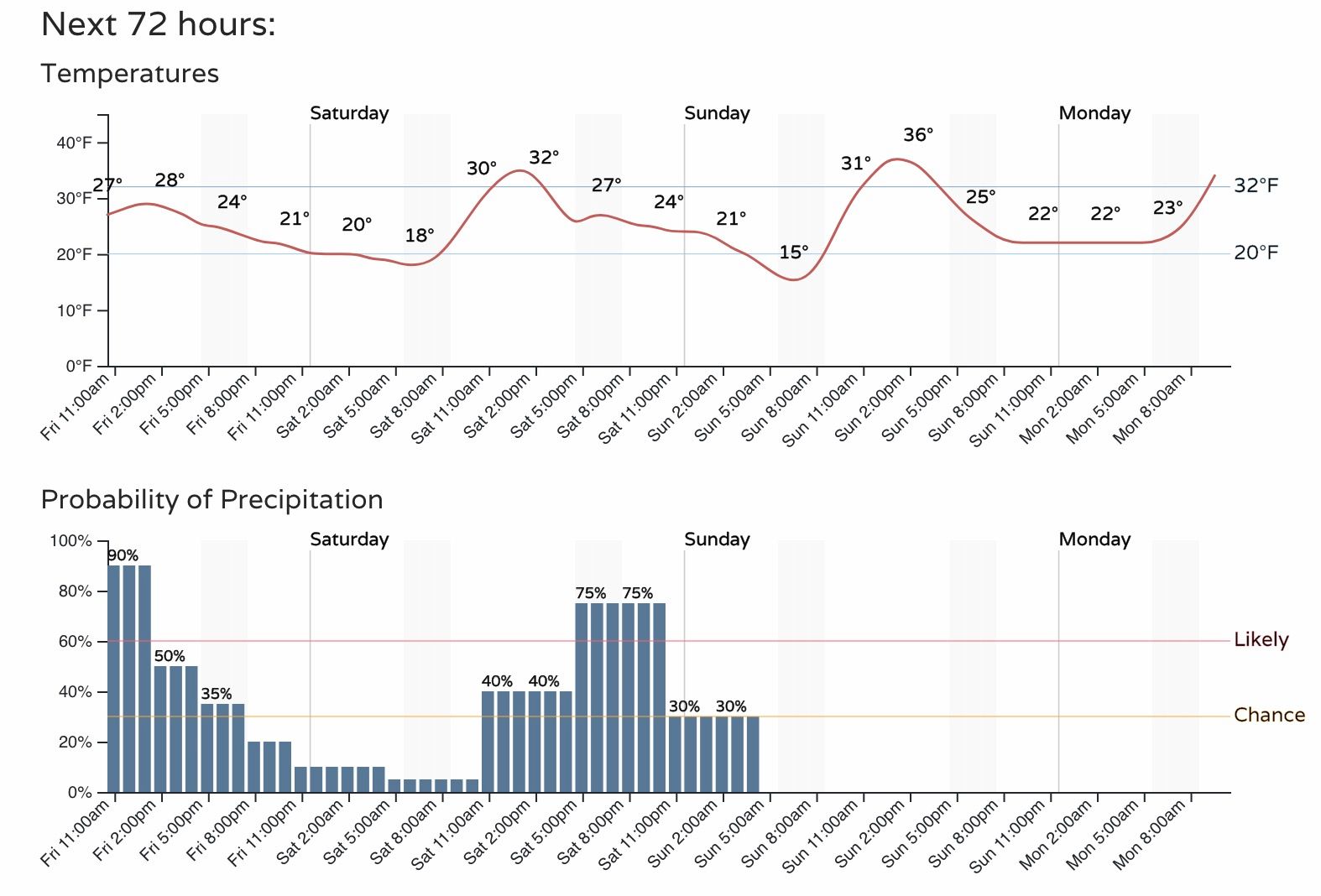 Saturday system snowfall forecast:
For the northern metro areas it looks largely like another 1 - 4" event, with pockets of 2 - 5". West of town we may see a bit more, with greatest probabilities for the heavier snow looking to focus on areas south of interstate 50 across Southern Colorado. It is across the Southern Colorado that we find the Winter Weather Advisories in place for Saturday, with no highlights for Northeastern Colorado at this time.
Like we've said for a few days now, there is a slightly higher boom potential for the northern metro area with this setup Saturday evening, BUT, that potential appears to be lower than it was yesterday, and little reason to think that trend won't continue. Time will tell.
Again, some models are a bit more bullish for snow north of the Palmer tomorrow, but given the overall pattern it's hard not to think they will come down in their totals as we get closer to the event much as they did with this latest system. The European probabilities we like – with odds of 3" or more of snow greatest the further south you go. For Denver, this model has odds at about 30% or so for hitting or breaking 3" –– that's not zero!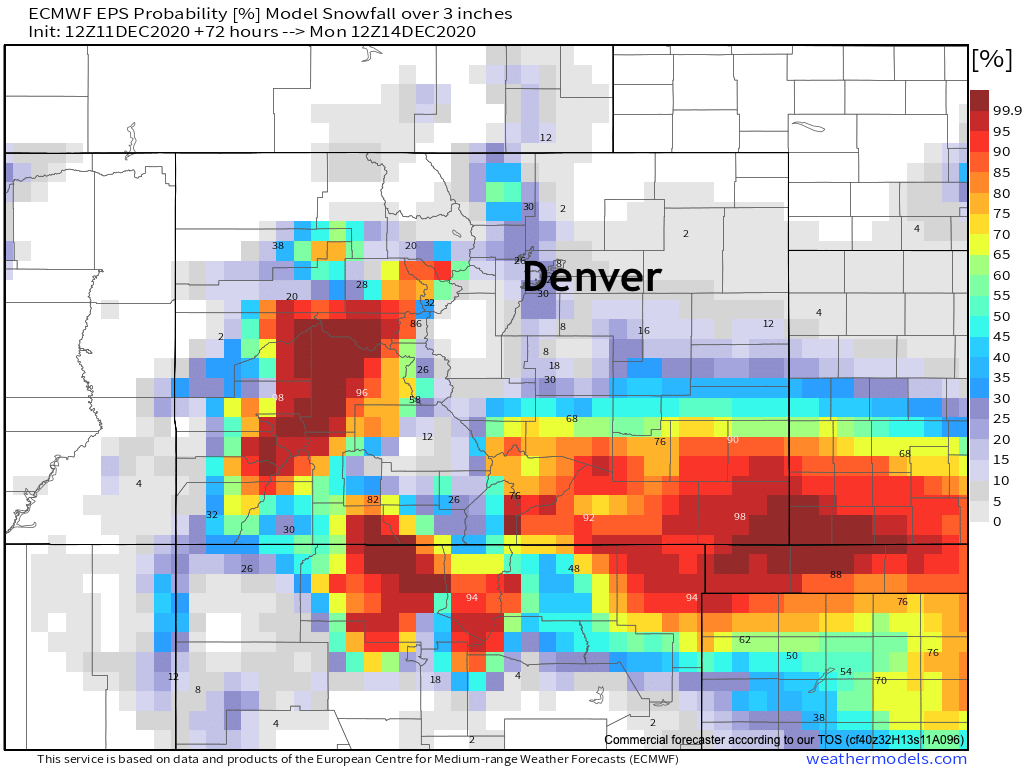 And here are our latest gamblers: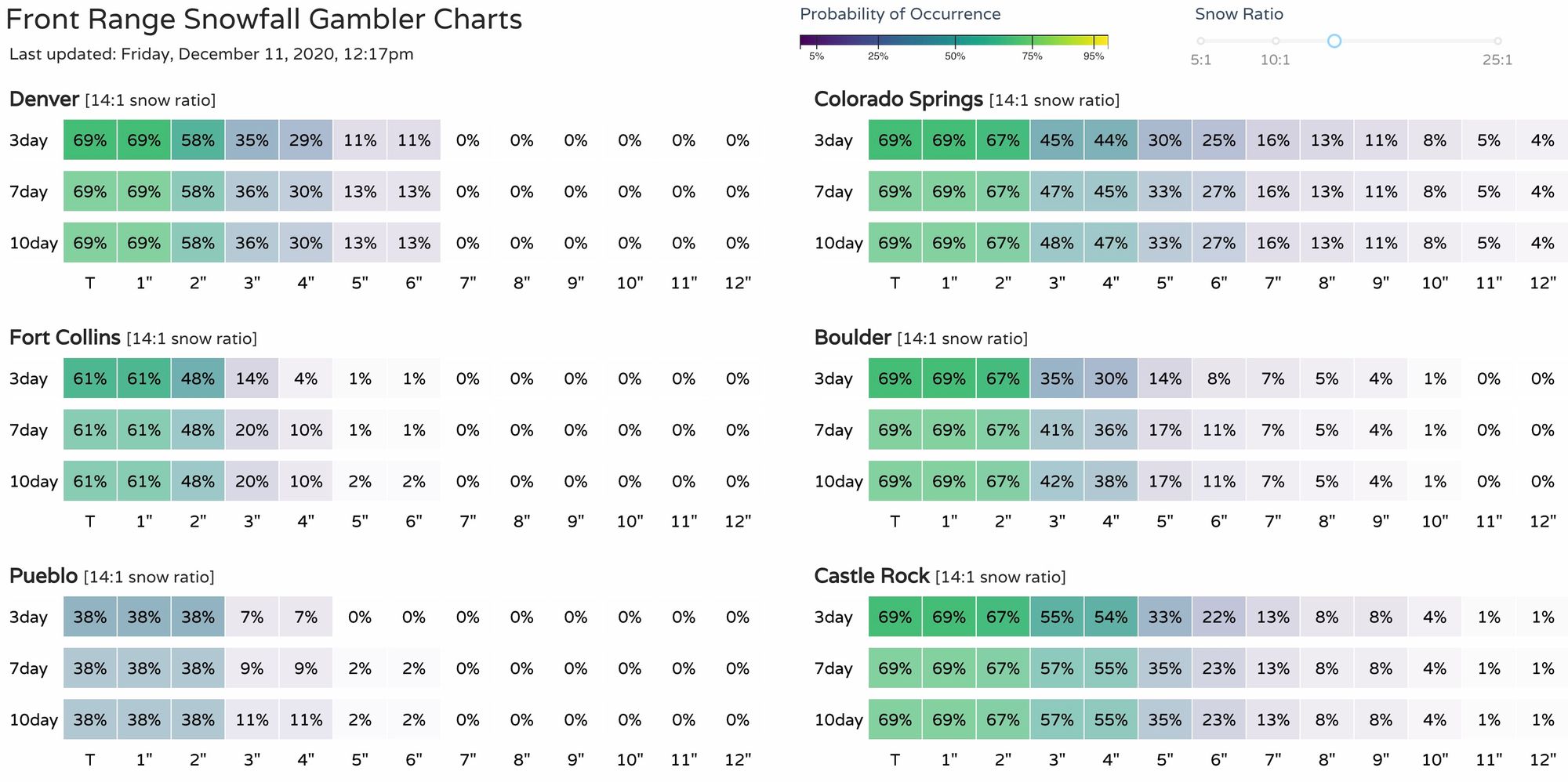 And finally our snowfall forecast (does not include the Trace to 1" expected through the remainder of today, but Saturday/Saturday night only):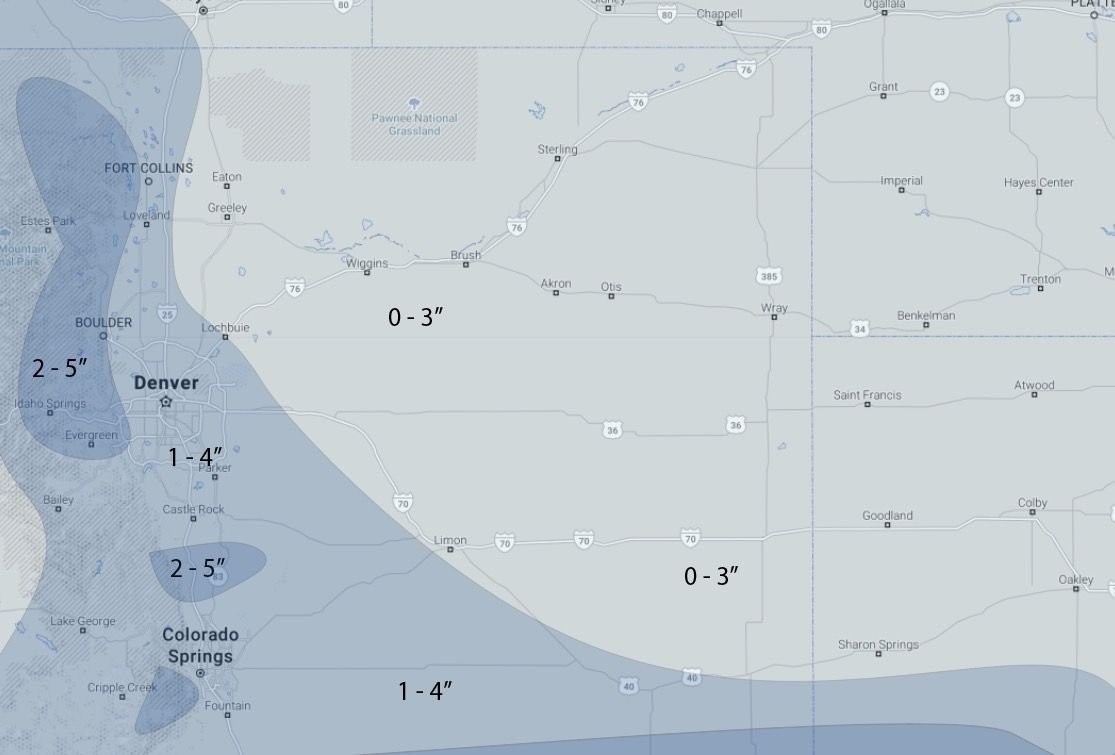 Stay warm! Drive safe. And let's see if we can do a bit better on totals tomorrow! We'll see how data trends overnight and update as needed.