It's hard to believe, but this is the last State of the Atmosphere of 2020. The last days of the month will feature another turn toward cold after Christmas Day warmth and Saturday's absolutely beautiful weather across the region.
A large trough off the West Coast will move inland tonight and early Monday, then into the Great Basin by Monday evening.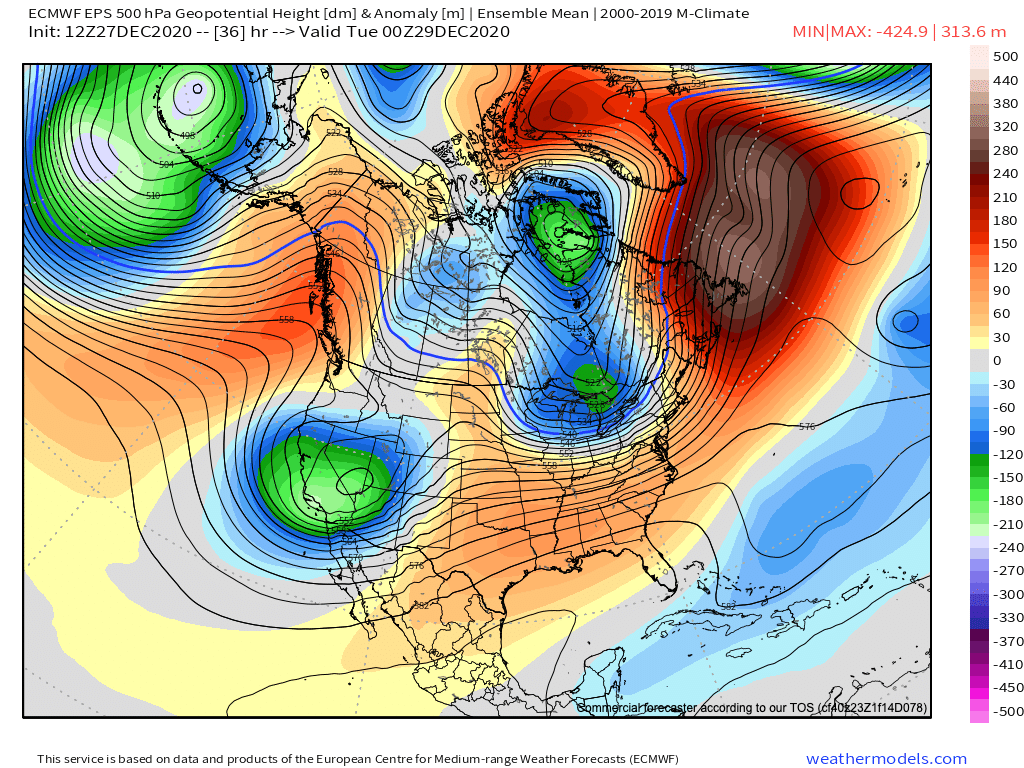 Overnight Monday and through the day Tuesday the trough moves overhead: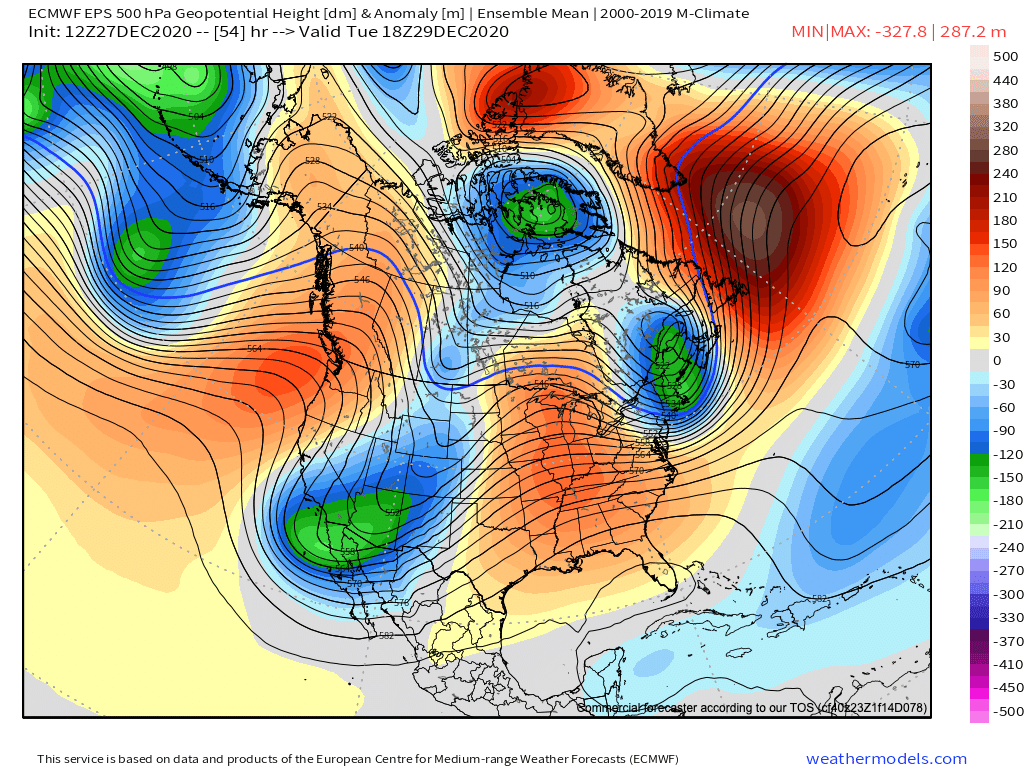 Before eventually intensifying south and east of our area Wednesday and Wednesday night.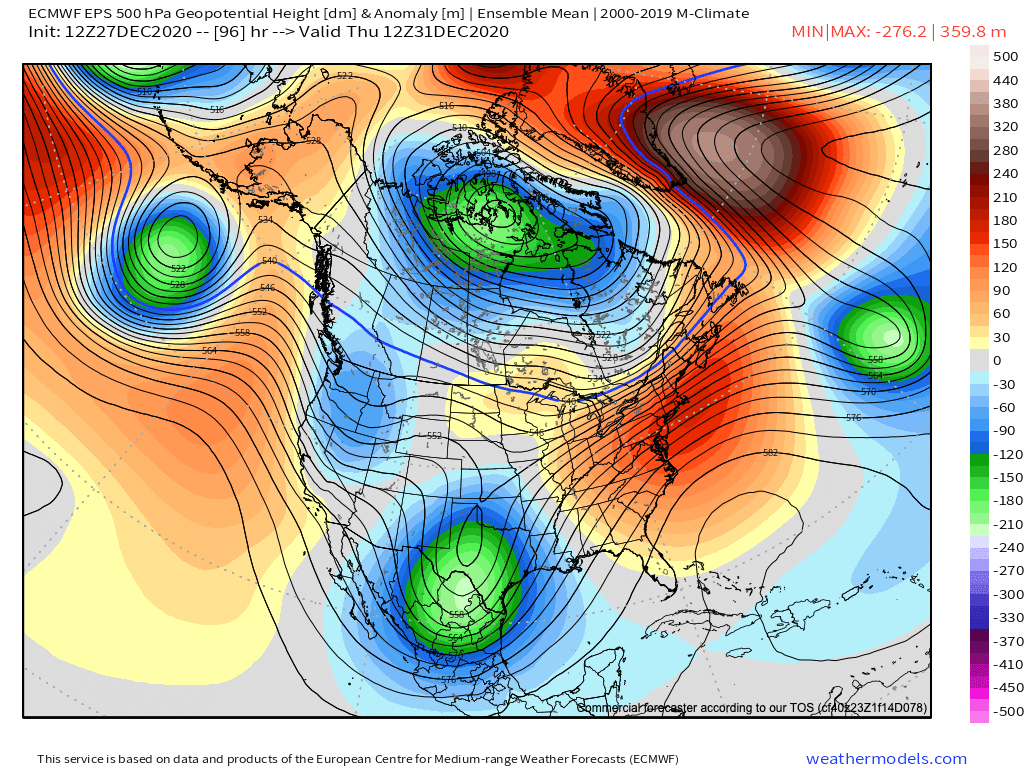 All this equates to an extended period of light snowfall chances for the Denver area, with perhaps pockets of heavier snow at times across the metro area should jet-enhanced banding setup overhead. As you can see below, the chance for snow in Denver picks up Monday afternoon, and will stay in the chance range through much of the day Tuesday with the presence of the upper level trough, jet, and forthcoming cold front keeping us unsettled for several days.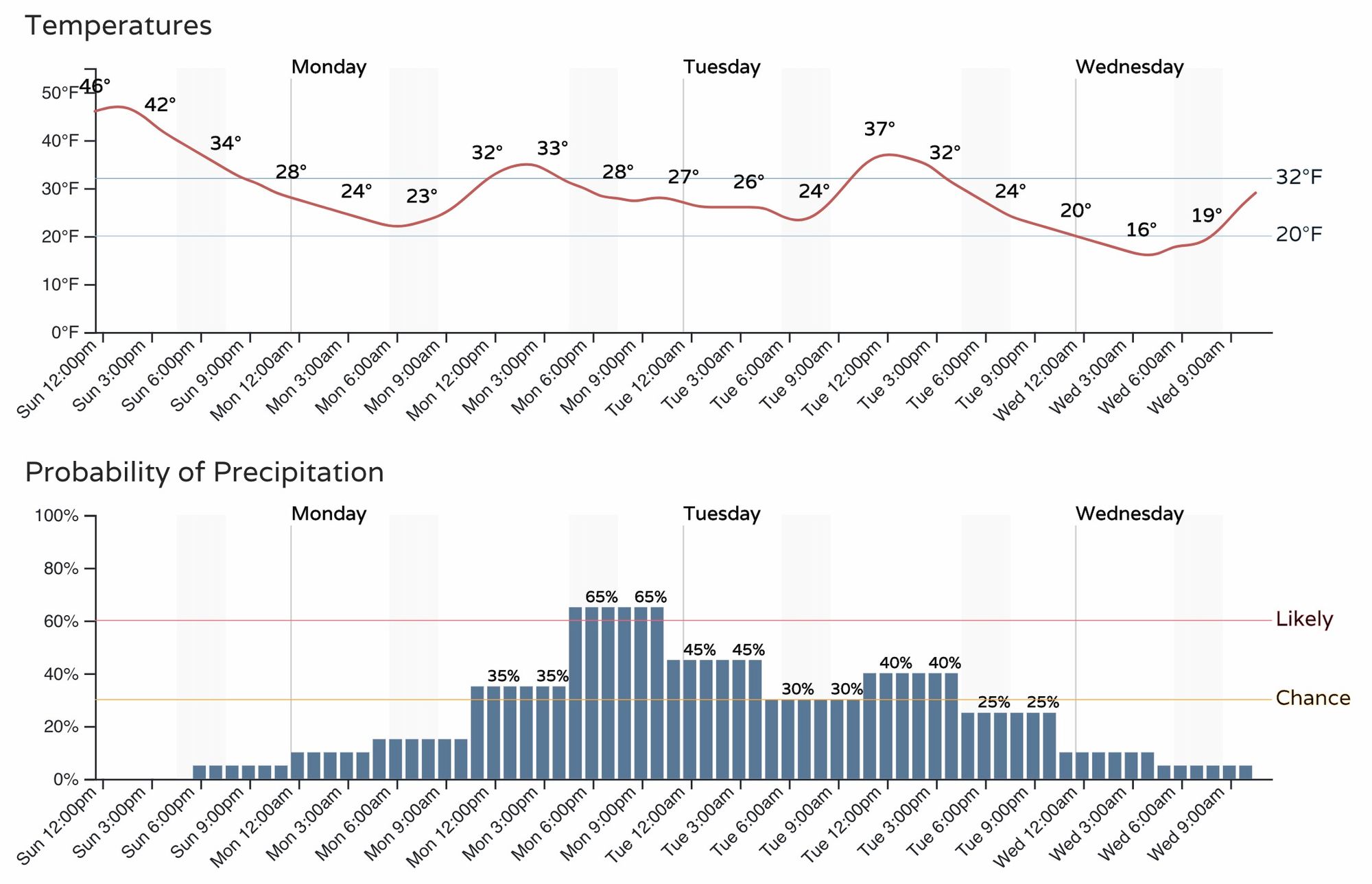 Snowfall totals for the Denver area aren't expected to be all that much, even with the extended chance of snow we see above. This of course changes a bit should we see banded snowfall develop over the city, but as it looks as of midday Sunday the odds are lower for the Denver metro area this go around.
Cities that may see a bit more in the way of snow out of this setup are Fort Collins and Colorado Springs. In general, the further north of Denver you go Monday into Tuesday the greater chance you'll see a couple inches of snow, and again is trough along the south side of the Palmer Divide where a southeasterly flow could enhance snowfall for a time Monday night into Tuesday.
As a comparison, here's the timeline for the Fort Collins area, showing a greater chance of snow Monday and Monday evening as compared to Denver:

Needless to say, for those working this week we could see a couple of slick commutes, the the greatest odds for seeing snow impact your drives coming Monday evening and Tuesday morning.
Snowfall forecast
At this time, our gamblers show the greatest confidence in a Trace to 3" for all of the urban corridor, with varying probabilities for greater totals depending on your locale.
For Denver we see only about a 20% chance at bettering 2" over the next three days, while Fort Collins sits at a 72% chance at hitting 2" or better, and a 50% chance for 4" of snow. Colorado Springs shows perhaps the greatest potential for a "boom" snowfall, but also a huge amount of uncertainty. As you can see, some high-end probabilities showing up for the city, but not a huge amount of certainty that its achievable. For what it's worth, the latest European model run has a good 4 - 8" for COS, while others are in the 1 - 4" range – quite a spread.
Boulder is showing up with some good potential as well, but tough to say how well this will work out. It could be the greater snowfall ends up north of Boulder as well.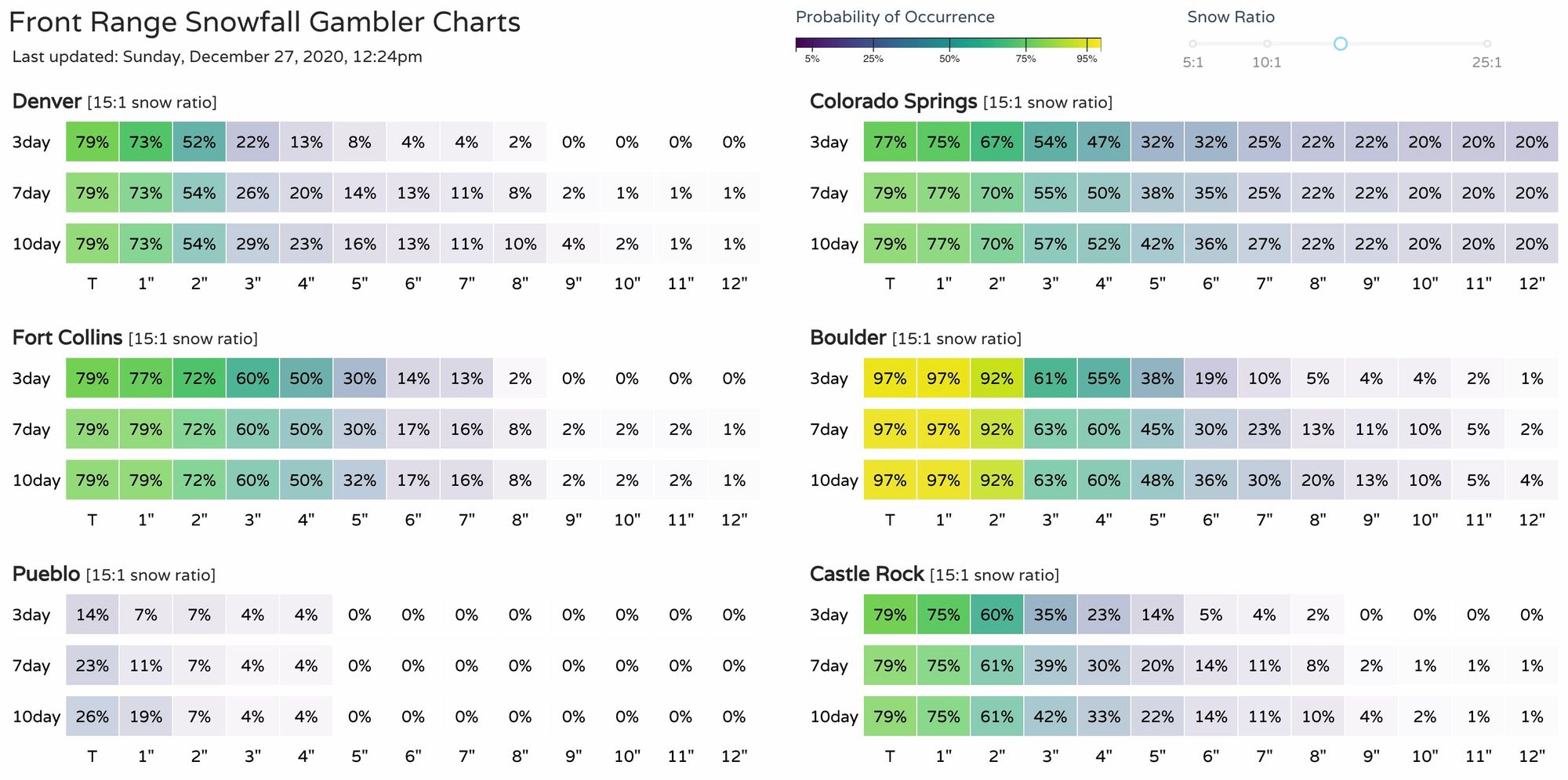 With that, here's our snowfall outlook for Monday and Tuesday. Low end Trace to 2" across the board, high end 4 - 5" totals possible. Again, greatest uncertainty is if there really is a boom scenario on the table for COS, and where that snow across northern Colorado ends up parking itself for a few hours Monday and Monday night.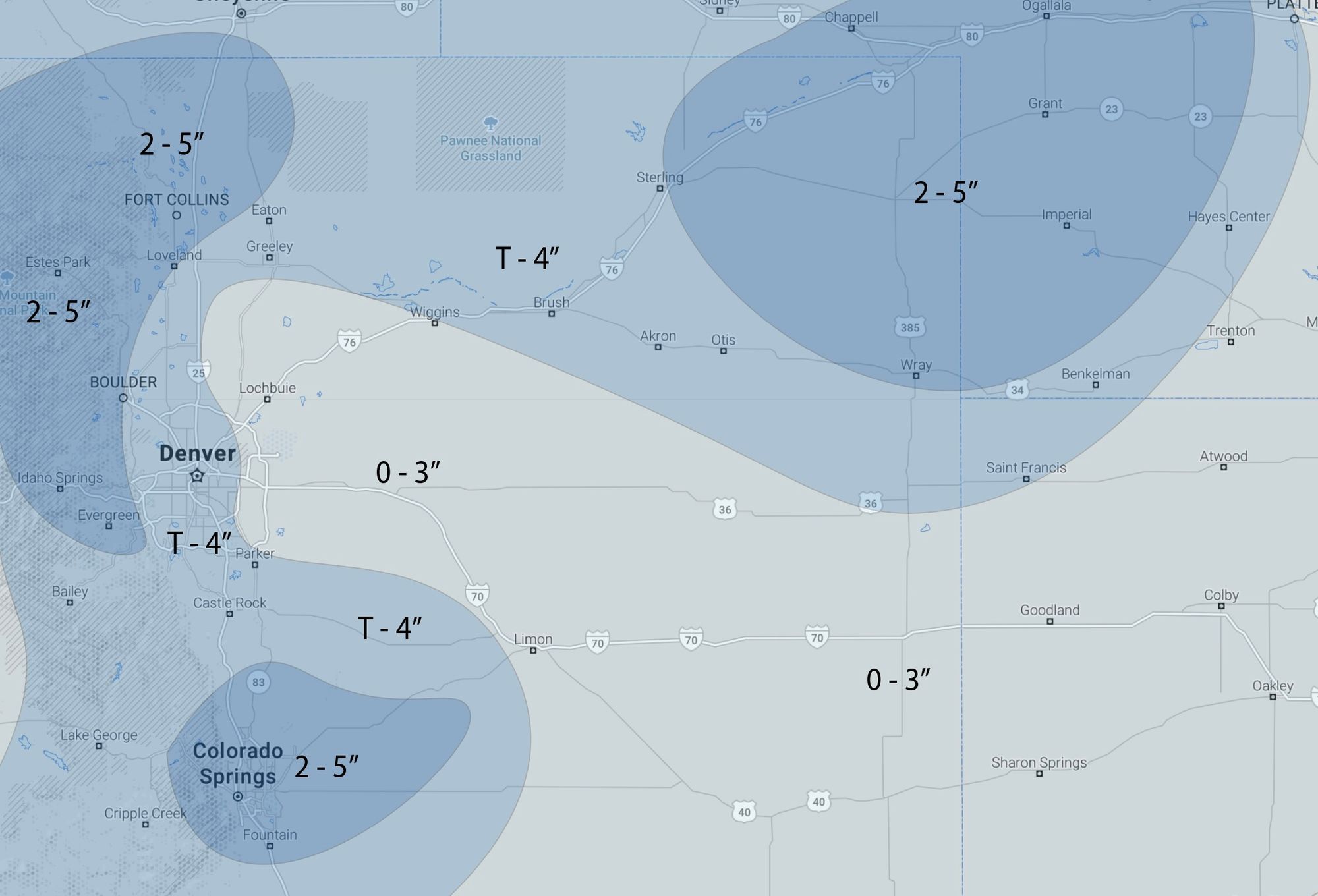 Cold too
The other half of the equation for the final week of December and 2020 is a more sustained cold period as well. No, we won't be talking record cold for this time of year, but it will be chilly across the state for the next several days, with Wednesday shaping up to be the coldest day regionally:

Overnight lows will also be cold, but again, nowhere near the sub-zero record cold we can see this time of year. Overnight lows will be in the teens and 20s through the week, with some single digit lows possible for a few locations Wednesday night into Thursday as well.

Stay tuned!
More data to work through today and tonight, so we'll keep an eye on things and update as needed. Right now not expecting a huge shift in the forecast between now and Monday afternoon, but given the upside potential in a few spots, and the dreaded "banded" word, enough uncertainty in the outlook to keep us on our toes today.