A wind event through the end of the week will spread across the Rocky Mountain and Northern High Plains regions to bring some wind gusts over 80 mph.
The most significant wind will be in Colorado's northern mountains, as well as parts of Wyoming, Montana, Nebraska, and the Dakotas.
Cumulative wind gusts are shown here: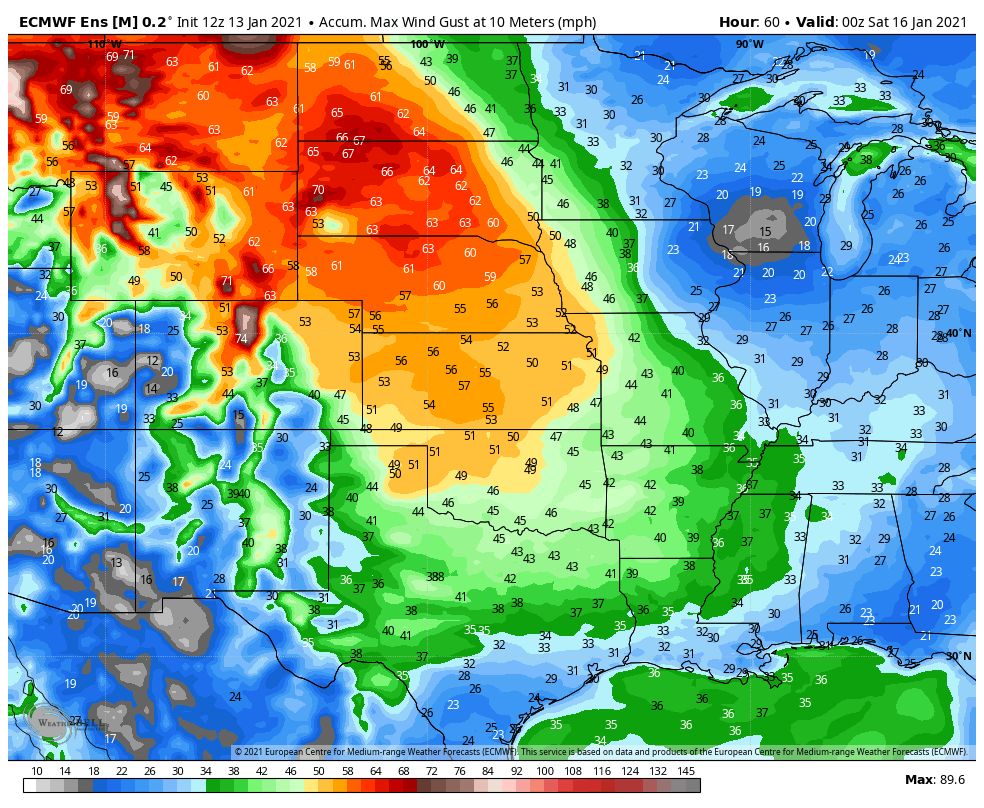 Clearly the wind will be worse as you head north, with some pretty remarkable wind gusts forecast for the Front Range mountains as well in the coming days.
Text from the NWS alert pertaining to Northern Colorado, including parts of the metro areas:
* WHAT...NORTHWEST WINDS 35 TO 45 MPH WITH GUSTS UP TO 75 MPH EXPECTED. * WHERE...THE NORTHERN FRONT RANGE FOOTHILLS, THE SOUTHERN FRONT RANGE FOOTHILLS, LARIMER COUNTY BELOW 6000 FEET AND NORTHWEST WELD COUNTY AND BOULDER AND THE WESTERN SUBURBS OF DENVER. * WHEN...FROM NOON TODAY TO NOON MST FRIDAY. * IMPACTS...STRONG WINDS WILL BLOW UNSECURED OBJECTS AROUND. TREE LIMBS COULD BE BLOWN DOWN AND A FEW POWER OUTAGES MAY RESULT. TRAVEL WILL BE DIFFICULT FOR HIGH PROFILE VEHICLES. * ADDITIONAL DETAILS...THERE MAY BE A TEMPORARY LULL IN THE STRONG WINDS THURSDAY MORNING, BEFORE PICKING UP AGAIN IN THE AFTERNOON.
With the wind will be a couple of other components: temperatures return to nearer average and some areas of rain and snow.
Temperatures along with and following the wind will be nearer average, meaning 20s to 30s for most of the mountains and 30s to 40s for the metro areas.
The forecast highs for some regional locations is shown via our WeatherBoard:

As far as the precipitation forecast, there will be some moisture on the way for some of us, but not all that much.
Thursday's potential precipitation totals: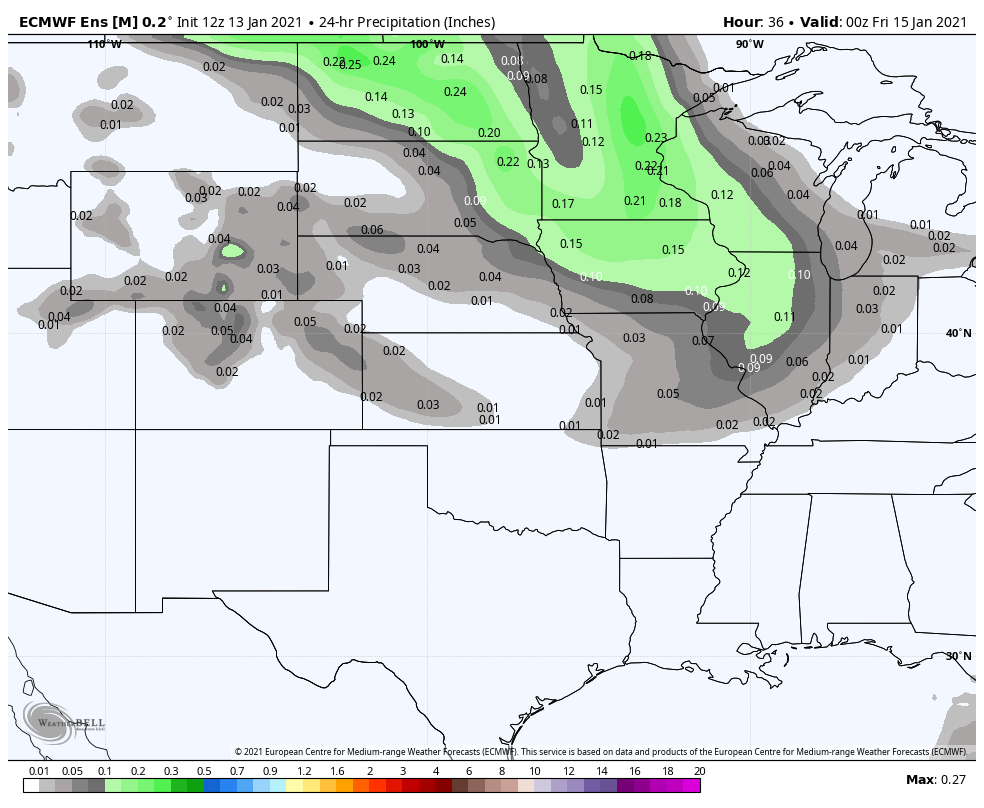 A look at the hourly precipitation chances shows a bit the chance for those showers tonight/Thursday, as well as another chance for more showers on the way to start the weekend.
Denver:

Fort Collins:

Colorado Springs:

In other news, the 2020 climate data is in. In case you missed our latest climate article on 2020 being the 2nd driest on Colorado's 126 year record, here is the link: 2020 was Colorado's 2nd driest year on record, a progression in images. Another is Colorado's top weather and climate events of 2020.