As we anticipated in yesterday's State of the Atmosphere, this morning's round of snow largely missed the greater metro area, but delivered a slick commute to those south and southeast of the city.
A look at the radar from just before 7am this morning shows the snow pulling away from the I-25 corridor. It continues to pull east this morning, and diminish in intensity. Great to see some folks getting some moisture, but for the northern urban corridor, another miss!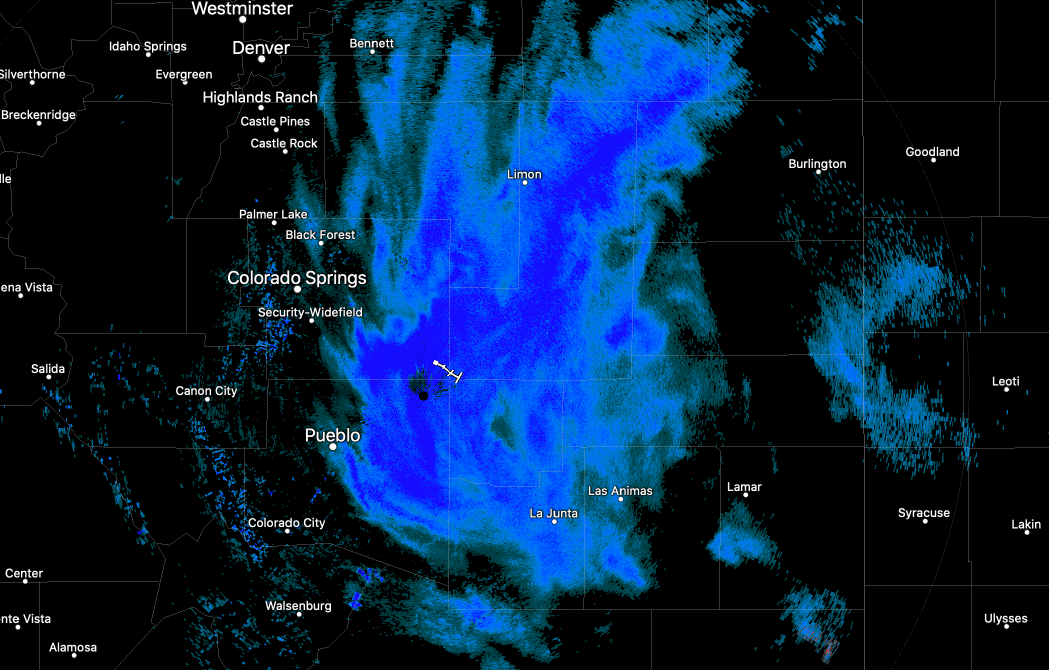 For folks that missed on this morning's snow, we continue to track more wet weather headed for the state later this afternoon, overnight, and Tuesday. It continues to look like coverage east of the Rockies will be hit and miss, but a better chance, generally speaking, for more of us to see snowfall between Monday PM and Tuesday PM.
A look at the initialization of the GFS this morning shows our morning snow across the Eastern Plains, heavier snow across Kansas, and the next round waiting in the wings over the Southwest United States: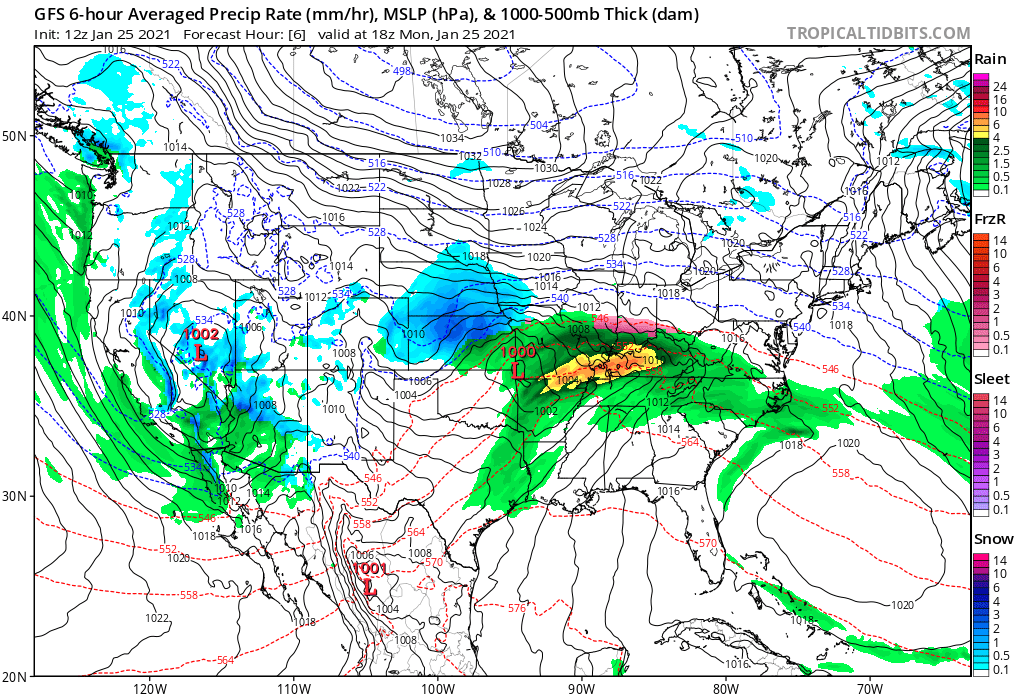 So, we'll see the chance of snow remain on the low side through early Monday evening, before picking up again along the I-25 corridor. For Denver, this equates to about a 50% chance of snow tonight, continuing well into the day Tuesday. Here are the latest hourly probabilities for the metro area:

And here are the probabilities for Colorado Springs, which actually did manage some snow early this morning! Look for snow showers to push off the mountains again this afternoon, with a push of heavier snow possible Tuesday morning, moving in from the southwest:

Even with the chance of snow continuing, totals are expected to remain largely light for those that do see the snow. Enough to cover the roads and make for a slow commute for some on Tuesday? Probably. Still, totals will only be in the Trace to 3" range or so, with again some models continuing to keep most of the northern urban corridor well under an inch for total snow through Tuesday afternoon. Ho-hum.
Some data, however, shows some pockets of more appreciable snow. This is mainly true for the Front Rang foothills and Palmer Divide, where some 3 - 5" totals will be possible in addition to what fell this morning. The HRRR is pretty bullish in this regard, showing just a Trace to 2" for Denver proper, but totals upward of 4" for elevations to our west and south: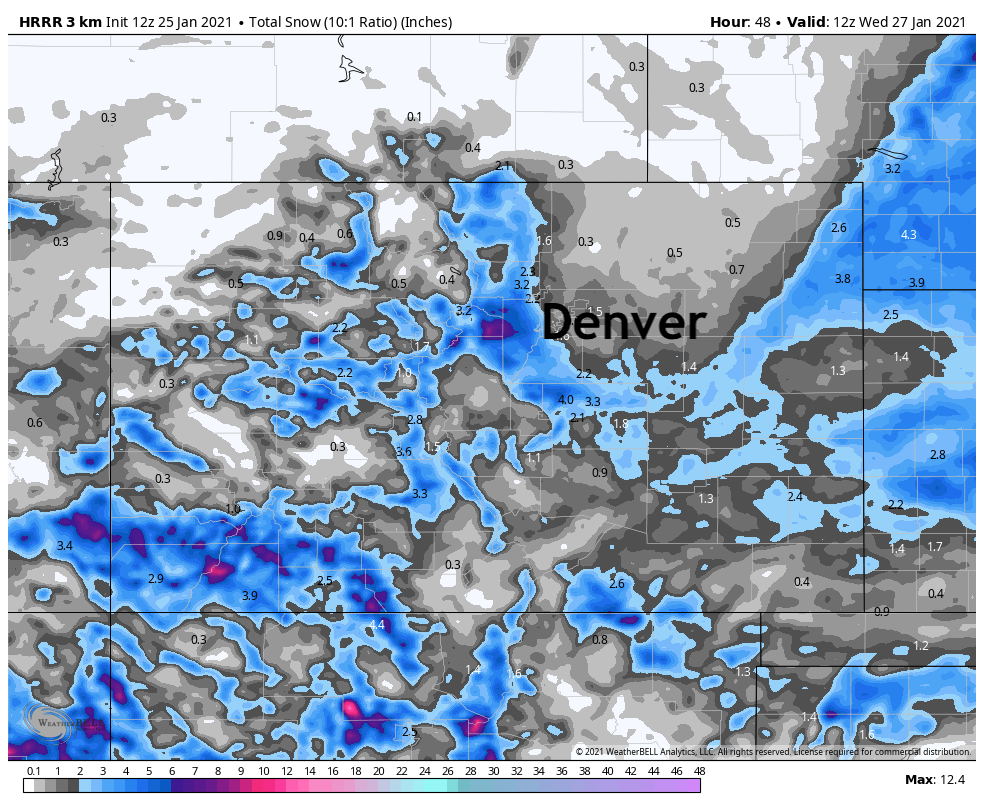 And here's a look at our gamblers: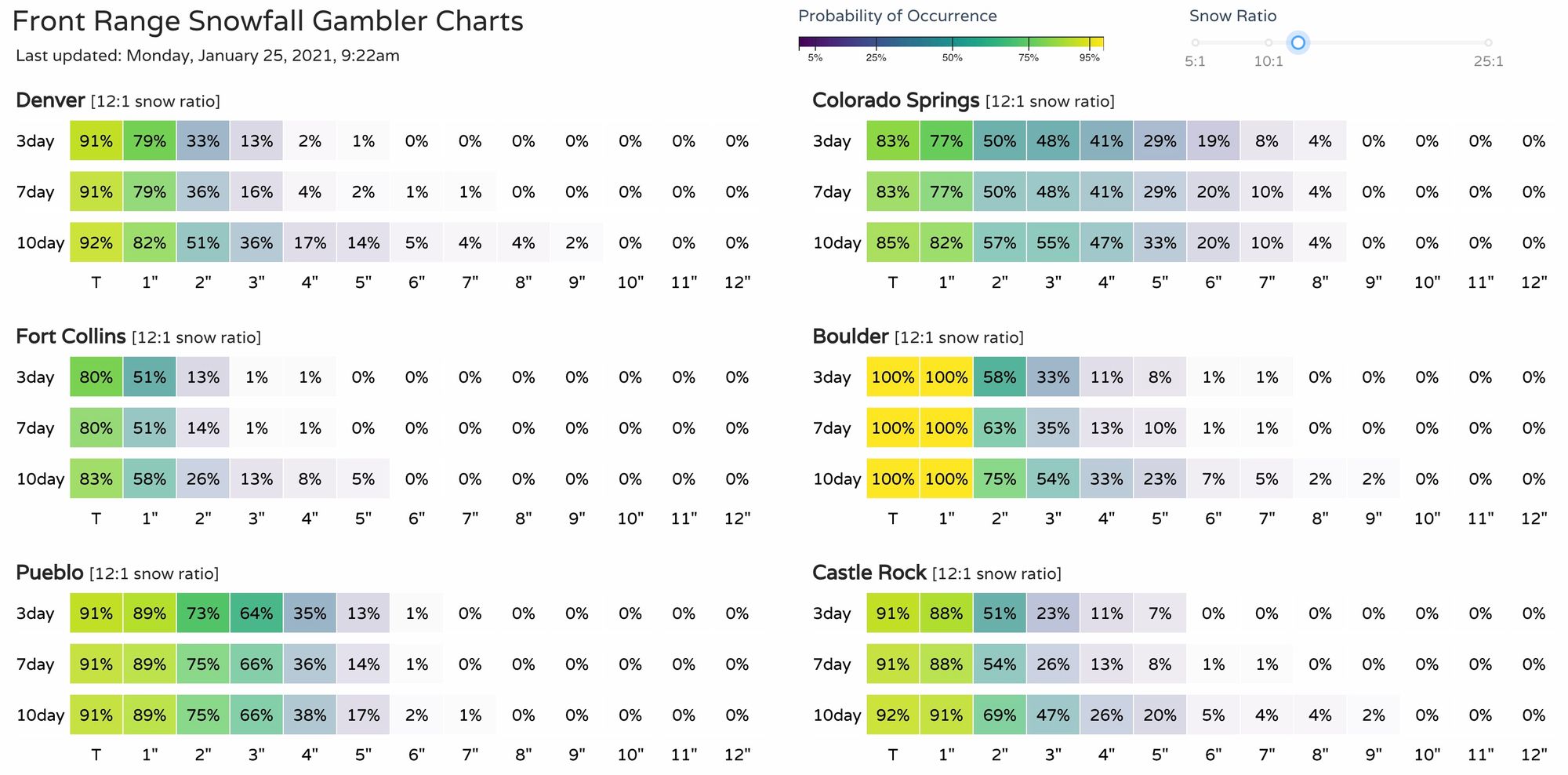 Again, in all a better chance of snow for most of us coming up, but also another round of haves and have-nots. Let us know if you see any snow with the next round!
Tuesday remains COLD, but temperatures moderate thereafter. Look for highs back into the 40s for most of us on Wednesday, with a lot of 50s back in the forecast by Thursday: