As we outlined for Insiders last night, it's become increasingly difficult to see a path to any widespread meaningful snowfall across Northeast Colorado in the coming days, as all long-discussed systems seek to underperform it seems. Still, some rain and snow remain in the forecast beginning Wednesday afternoon and continuing overnight, with perhaps a bit more light snow Friday as well.
The hourly outlook shows another very mild day Wednesday, but changes will arrive quickly Wednesday afternoon and evening. Below you can see the precipitation probabilities for the Denver area over the coming days:

What rain and snow we do see tomorrow and tomorrow night will mark a change in our weather pattern as well, with chilly more February-like weather forecast for the region through the weekend. Here are the forecast highs across the region for the coming days, with Saturday still looking to be the chilliest of the lot:

As for how much snow we're likely to see Wednesday night? Perhaps not a lot. There will be a fairly strong jet overhead which will provide some energy to this system – and with that a band of heavier snow may develop Wednesday night providing at least a period of heavier snow for someone – but, we don't think it'll be all that widespread, it looks to be over a pretty focused area, and totals will likely end up in the 1 - 4" range should it materialize.
For the northern and central mountains a nice snow is on tap, and thank goodness. Totals for the higher peaks will range from 6 - 12", with snow increasing early Wednesday morning and continuing Wednesday night.
Across the plains the best chance for precipitation looks to arrive after 5pm. IF the Denver area is to see accumulating snow, it won't come until later in the evening as we're likely to be dealing with rain and mixed precipitation before it'll cool enough for snow.
The area with the best chance at seeing that heavier snow band set up (could we see some thunder even somewhere in Colorado tomorrow night maybe?) looks to be on Denver's south side. The European model continues to pull some of that snow accumulation over the city proper as well, but for the most part consensus is this will be south of Denver across the Palmer if anywhere.
Here's a look at snowfall potential through Thursday. Generally a Trace to 1/2" for the urban corridor, with 1 - 4" if and where that heavier band sets up. As you can see, this DOES include much of the city, but highest probability for the greater totals will increase as you move further south from downtown.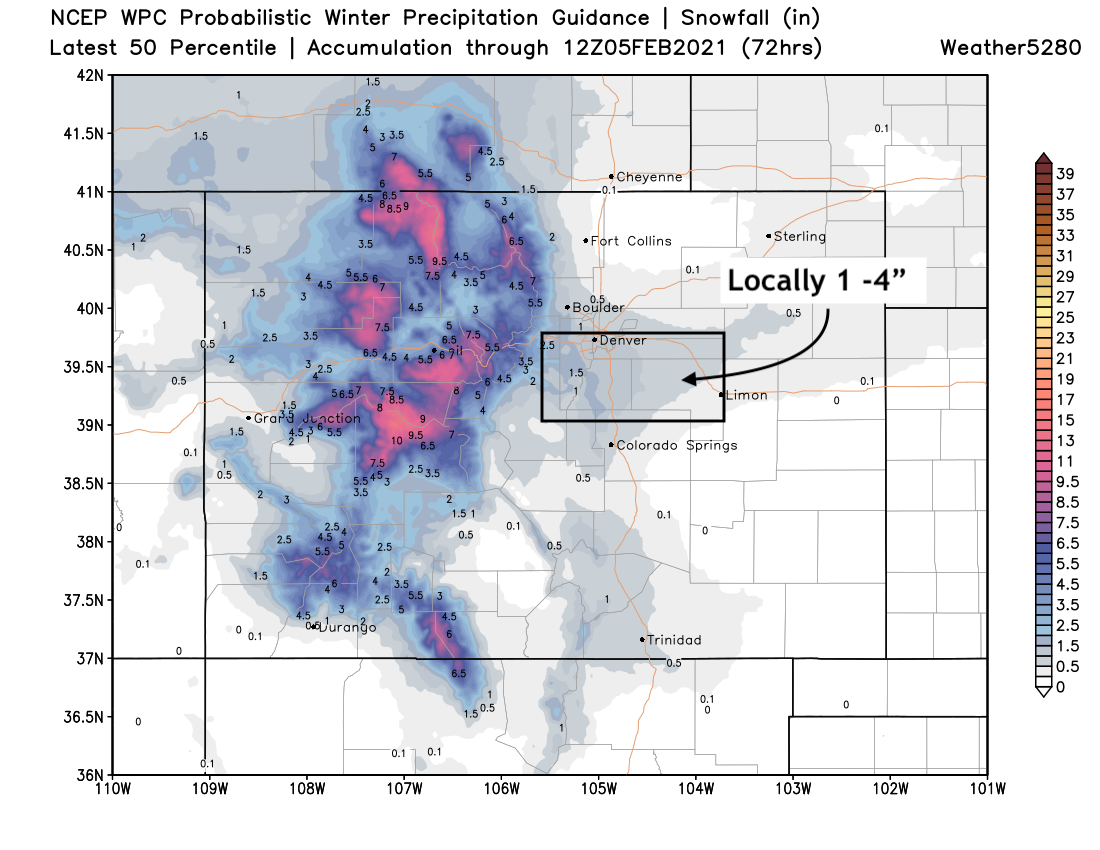 We'll see how it shakes out. It doesn't seem unreasonable to think there will be some fun weather around here for a few hours Wednesday evening/overnight. Rain, sleet(?), snow – all will be possible, but how much of something frozen will manage to accumulate will be interesting to see!