It's funny, we're so focused on the cold that is coming (or might be coming) but meanwhile it's really cold out there already for a lot of folks.
A look at temperatures mid afternoon show highs below zero across the eastern two-thirds of Montana, with only single digits east of the hills across the High Plains.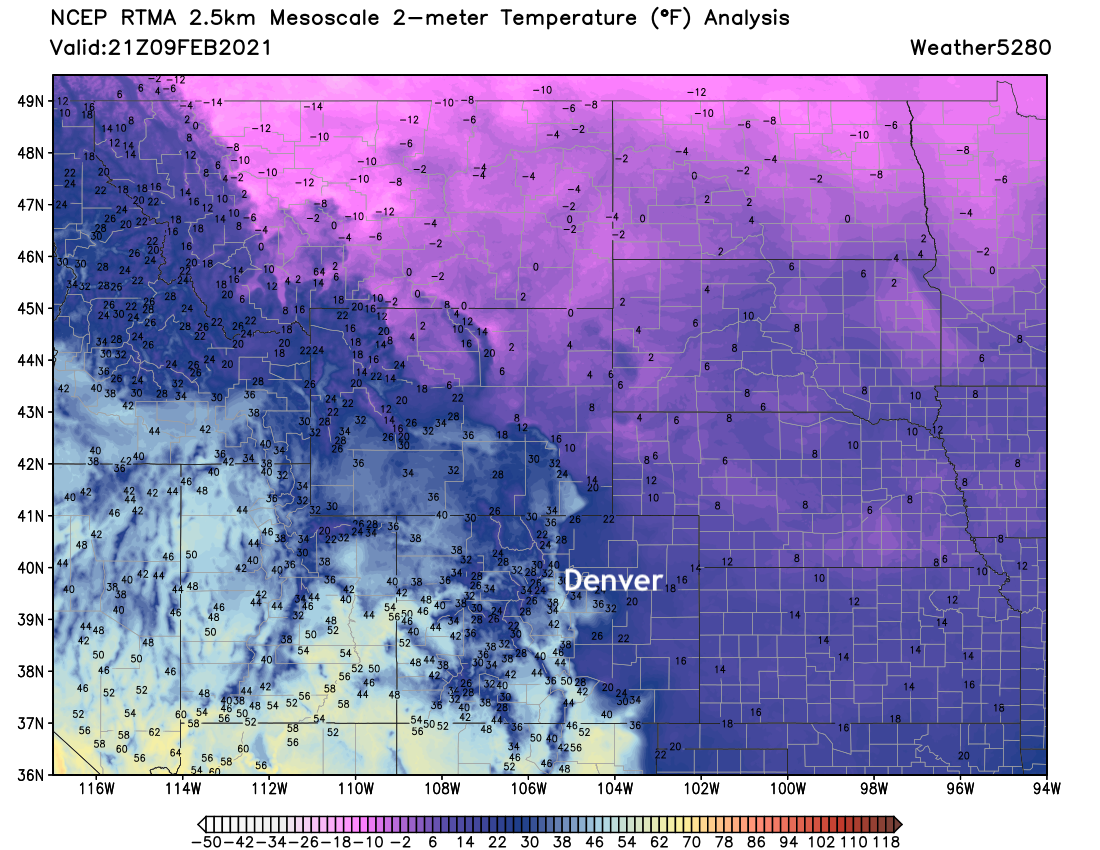 Across Eastern Colorado the word of the week has been "slosh", as we've watched the bitter cold temperatures entrenched across the plains slosh around – up against the foothills, then backing off.
Temperatures this afternoon are quite cold, with many folks again stuck in the teens this afternoon, and only slightly warmer for many of us closer to the foothills along the urban corridor: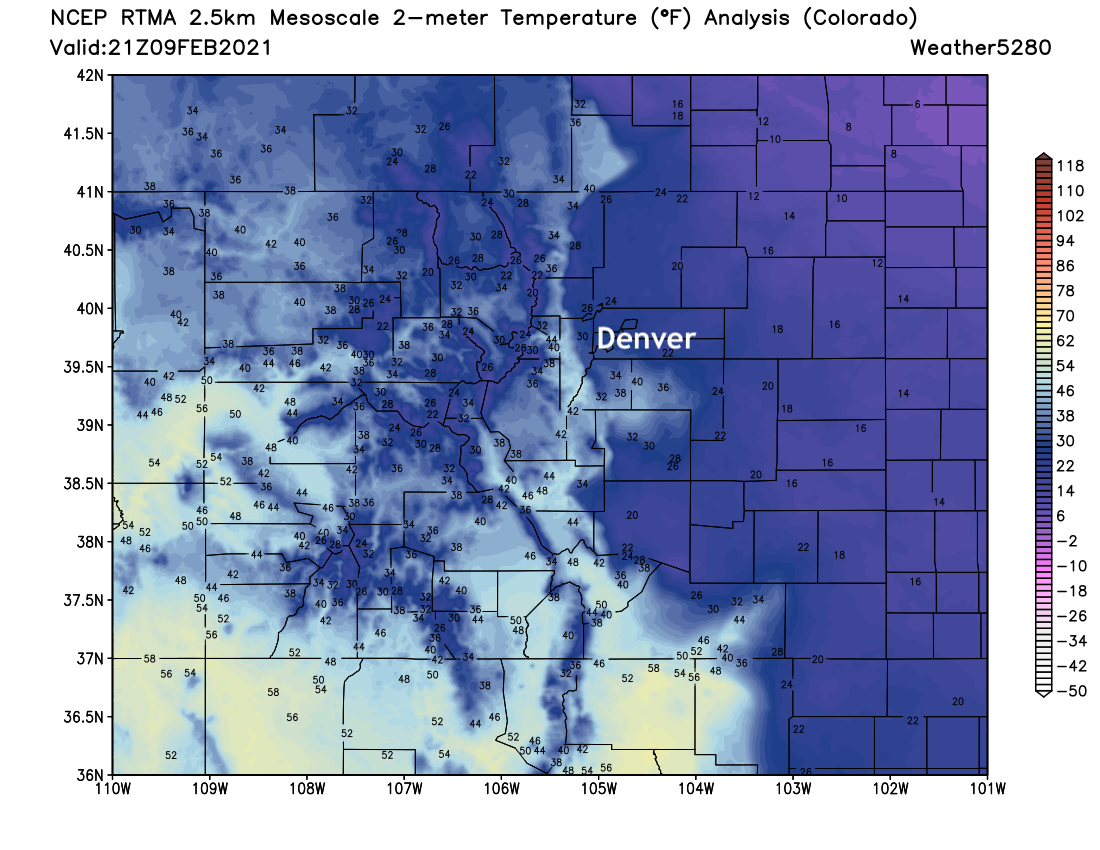 At a broad level, we can track 2 meter temperature anomalies from today through next Tuesday morning. You'll note just a relentless push of colder and colder air from the north that is forecast to push further south and eventually east with time. The coldest anomalies (in light purple) are forecast to begin to really take hold this Friday and will be with many of us through the weekend and even into next week.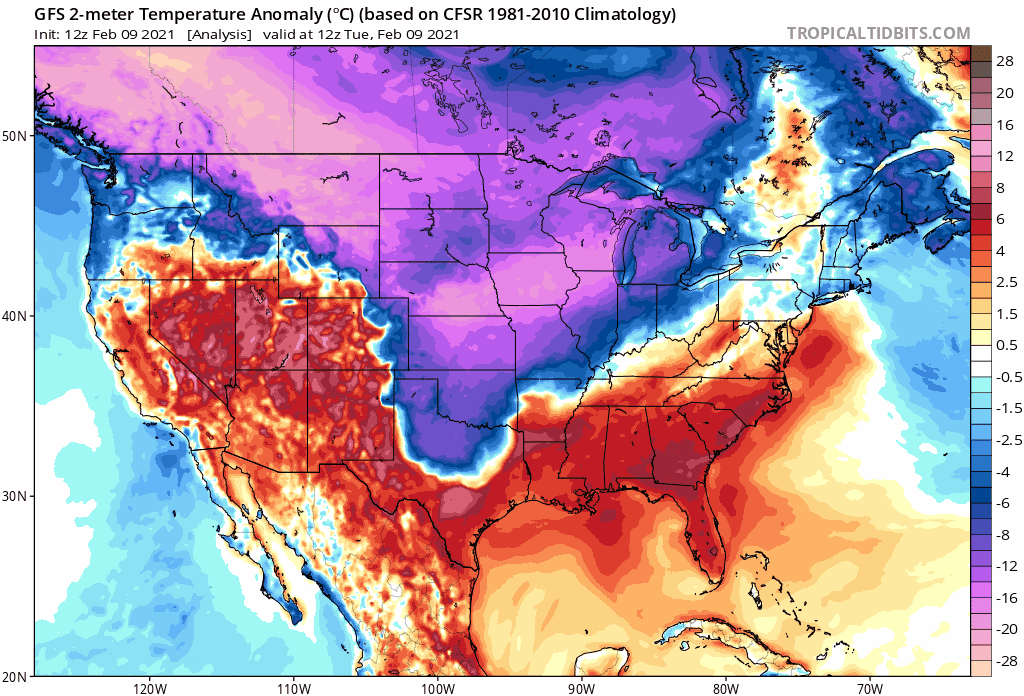 If you look at those of us along the Front Range you'll see that back and forth in cold continues. This particular model was MUCH deeper with the cold, which meant more of it would push into the higher terrain of Colorado in previous runs. Today we see it's further east, more progressive with the cold. So, still COLD for the urban corridor, but perhaps a trend toward less extreme?
What does this equate to for surface temperatures? Well, a LOT of folks are going to spend a considerable amount of time below zero over the next week/week and a half. This is especially true for the northern plains and upper midwest.
Here's a look at the 2 meter temperature forecast for Saturday morning from the GFS: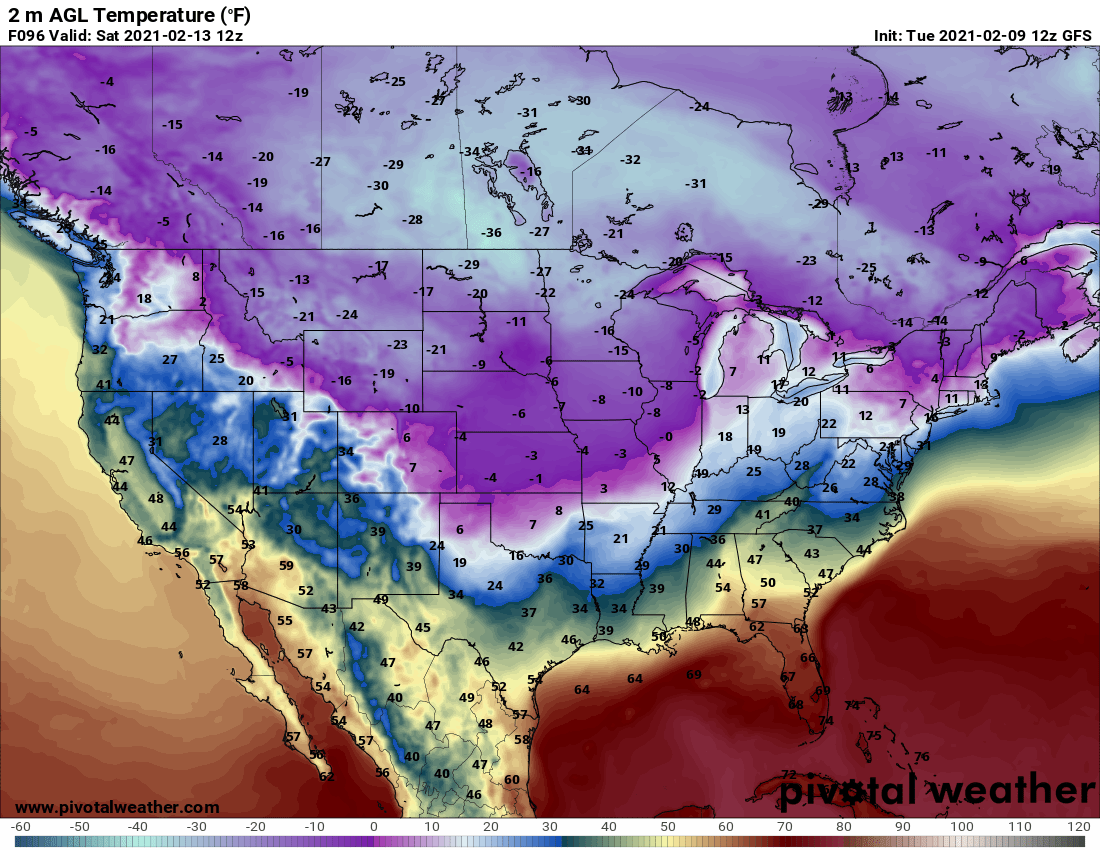 The same model for early Monday next week: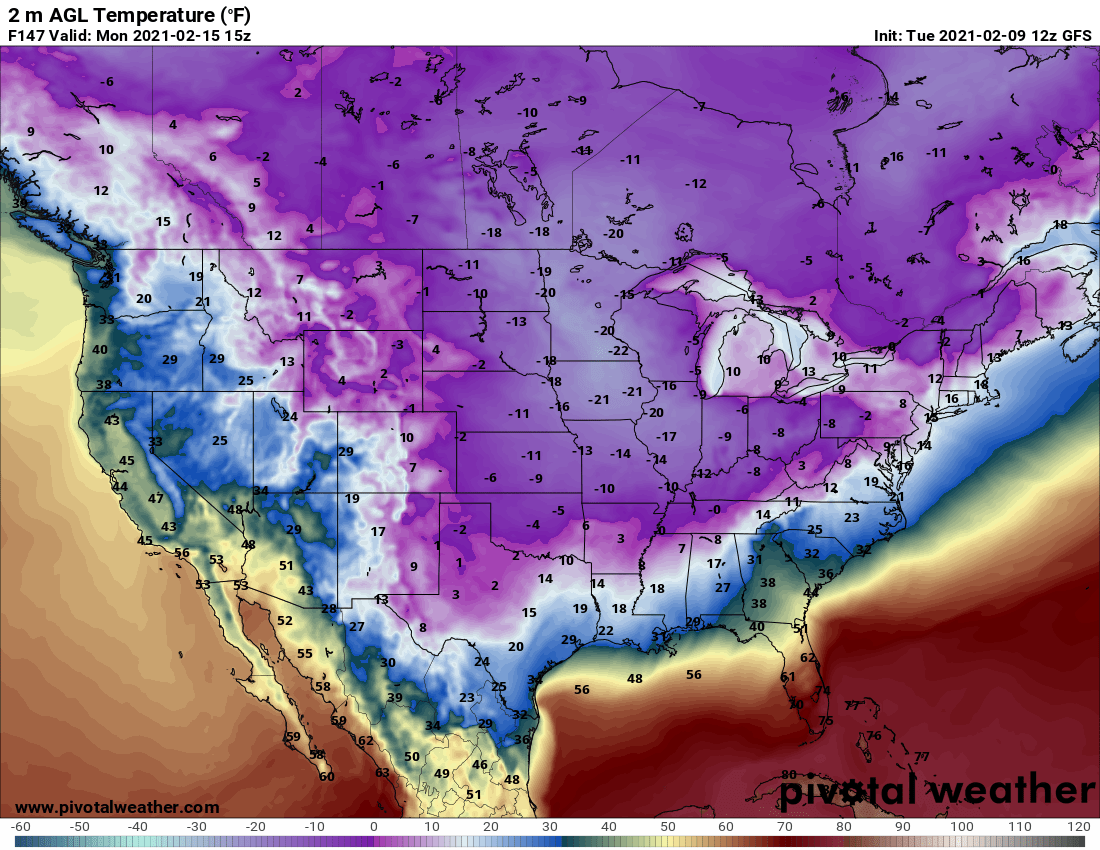 Brutal!
So, for Eastern Colorado, and pretty much all of the Plains states the cold is a done deal. The devil is in the details for the Front Range and urban corridor. It all depends on the depth and western extent of the coldest air, which could struggle to get as far west as models have indicated given the lack of snow and rather progressive nature of the current pattern. Latest model runs have trended further east with the greatest cold anomalies.
Take a look, for example, at the forecast anomalies for Sunday morning from the GFS. Each image is valid at the same time. We see in previous runs the cold is much more widespread, and includes MUCH more of the western/southwestern United States, with more recent runs consolidating that cold further north and east: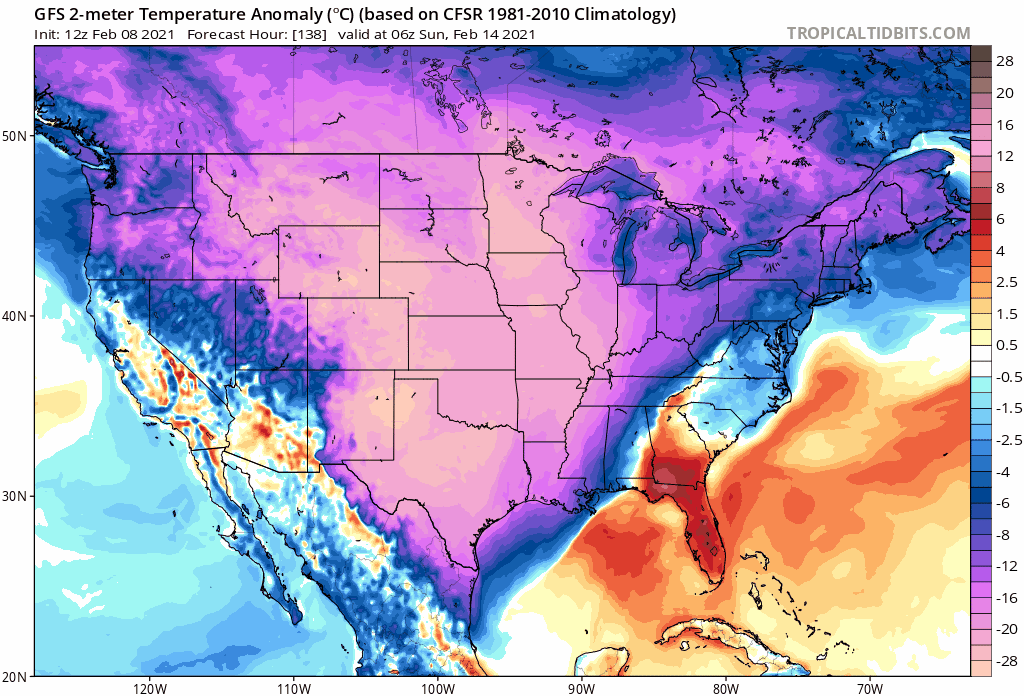 With that, what we see is better agreement between the GFS and Euro (and their ensembles) today on temperatures, but still plenty of time for things to shift back and forth as we've been stressing all week. Models are struggling mightily, and forecasting extreme events isn't their strong suit to begin with!
A quick look at the latest temperature forecasts from the GEFS for some select locations shows the expected cold. Could we end up colder or warmer than this – yep! But here's how things look as of mid afternoon Tuesday.
Denver: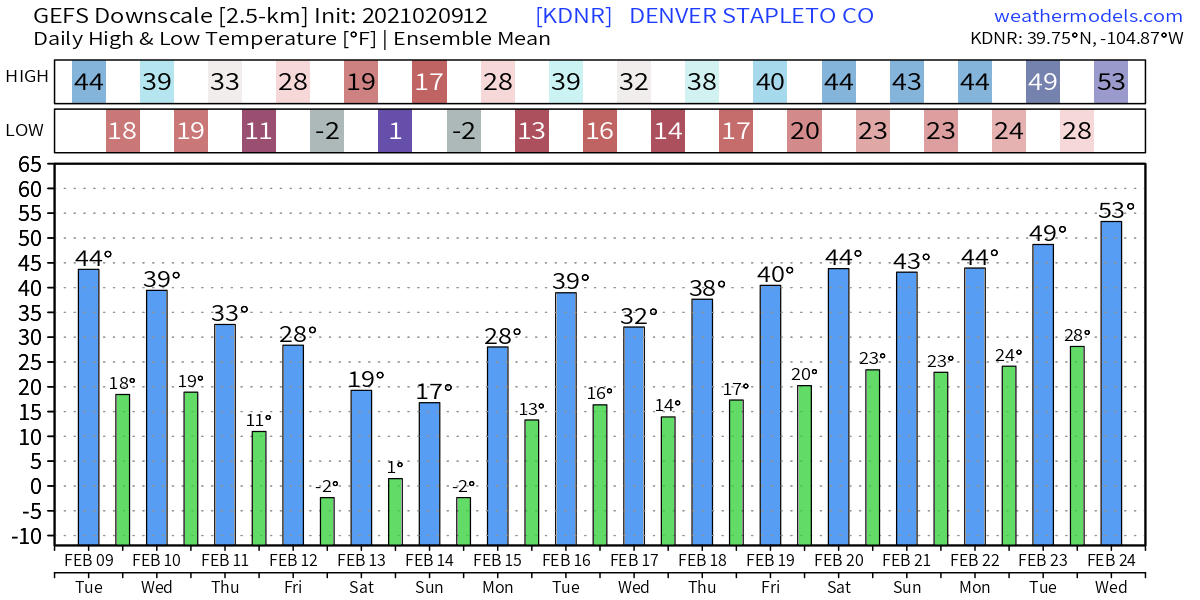 North Platte, NE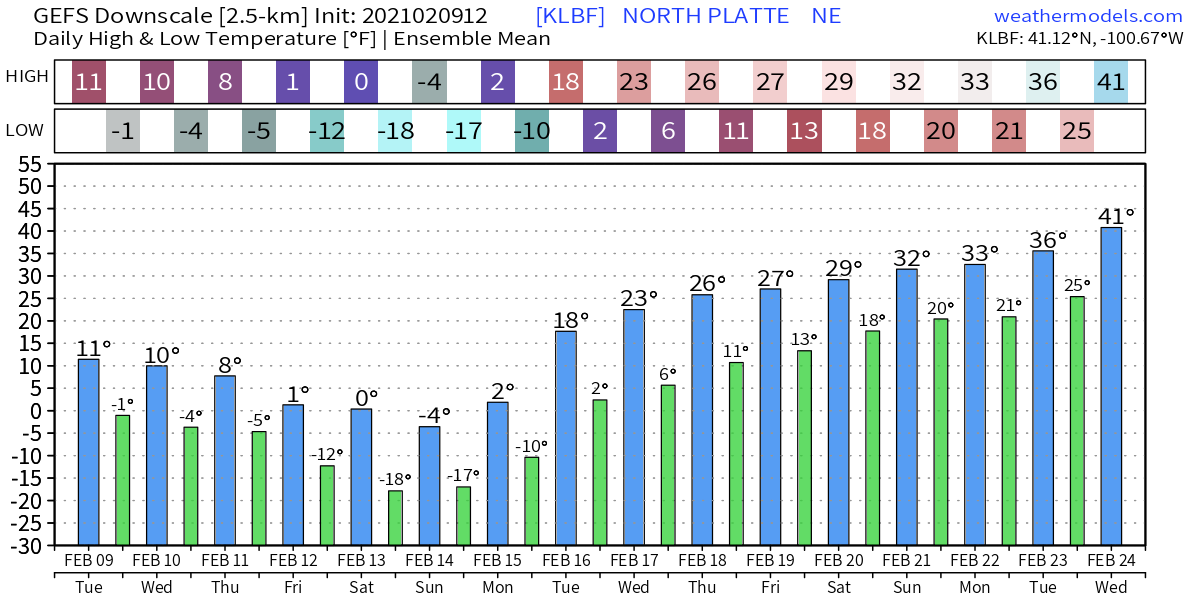 Amarillo, TX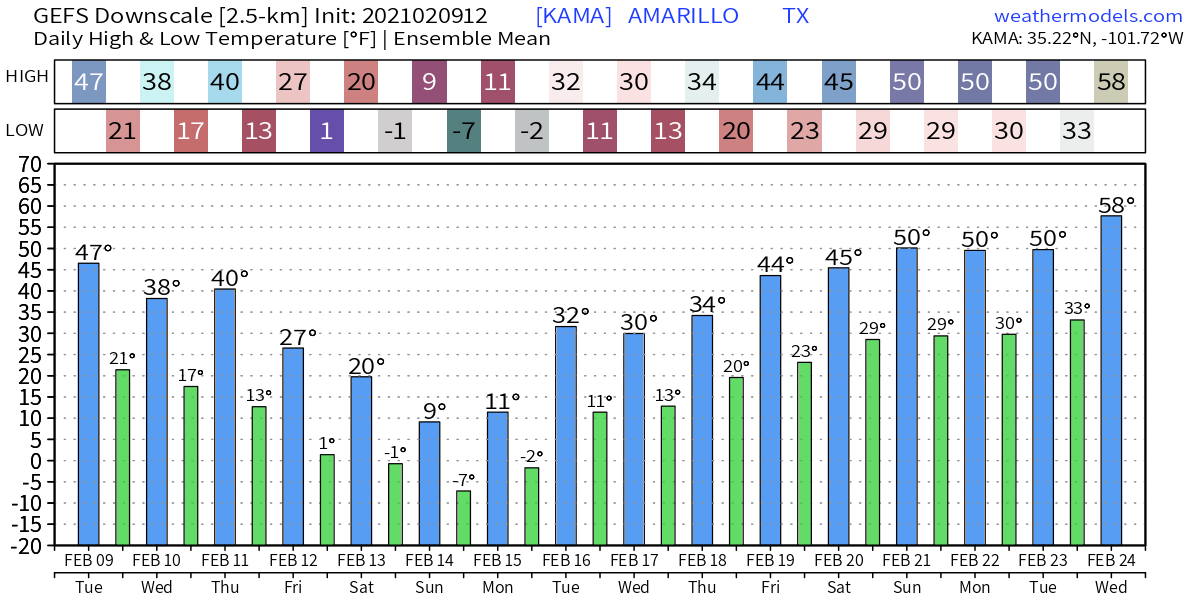 Cold, cold, cold!
There will be some snow as well. We'll address this further in future updates. For Eastern Colorado specifically, it's hard to be all that excited about potential. It looks more like cold than snow for us, but we'll see. Some models indicate a better chance later in the weekend, but it feels overdone.
We'll leave you with this probability map from the Euro, showing odds for 3" of snow or more through Monday evening next week. Great mountain snow across the intermountain west, accumulating snow likely for the western High Plains, with lower probabilities on on the lee side of the Rockies across Colorado. Time will tell.