From Castle Rock north through Fort Collins the best chance for accumulating snow later today and night will be along and west of I-25. Little accumulation is expected as you move further east away from the Front Range foothills.
For Colorado Springs we see a bit better upslope developing later in the day, which could enhance snowfall for a time. Here there is a Winter Weather Advisory in effect for 2 - 7" – heaviest totals on the north and west sides of the Springs metro area.
For Denver the hourly planner is as follow:

With a similar timeline for Colorado Springs:

In general we think our forecast from yesterday holds up just fine. Generally a Trace to 3" event, with favored areas seeing 2 - 5" possibly. The 7" or even 8" totals mentioned in the Advisory posted south of Denver is possible, but pinpointing exactly who will capitalize on the heaviest snow remains challenging as some of the heavier snow later today will be convective in nature. We will watch and see if that bullseye is Perry Park, Larkspur, Monument, Castle Rock, Manitou, USAFA, Elbert, etc.
A look at the most probabilistic totals from the WPC shows good agreement with where we had the heaviest totals in our forecast map yesterday. It's also clear to see how much snow potential drops off as you move east of the interstate.
Fort Collins (west), Boulder, Golden, Castle Rock, Monument, Colorado Springs – all see that chance of several inches of snow this afternoon and into tonight before the snow tapers off after midnight. The snow will be heavy at times. Downtown Denver is a bit of a toss up, so the T - 3" holds well here, a bit of potential to see a quick couple of inches, but greatest odds remain for a low-end event in the city proper.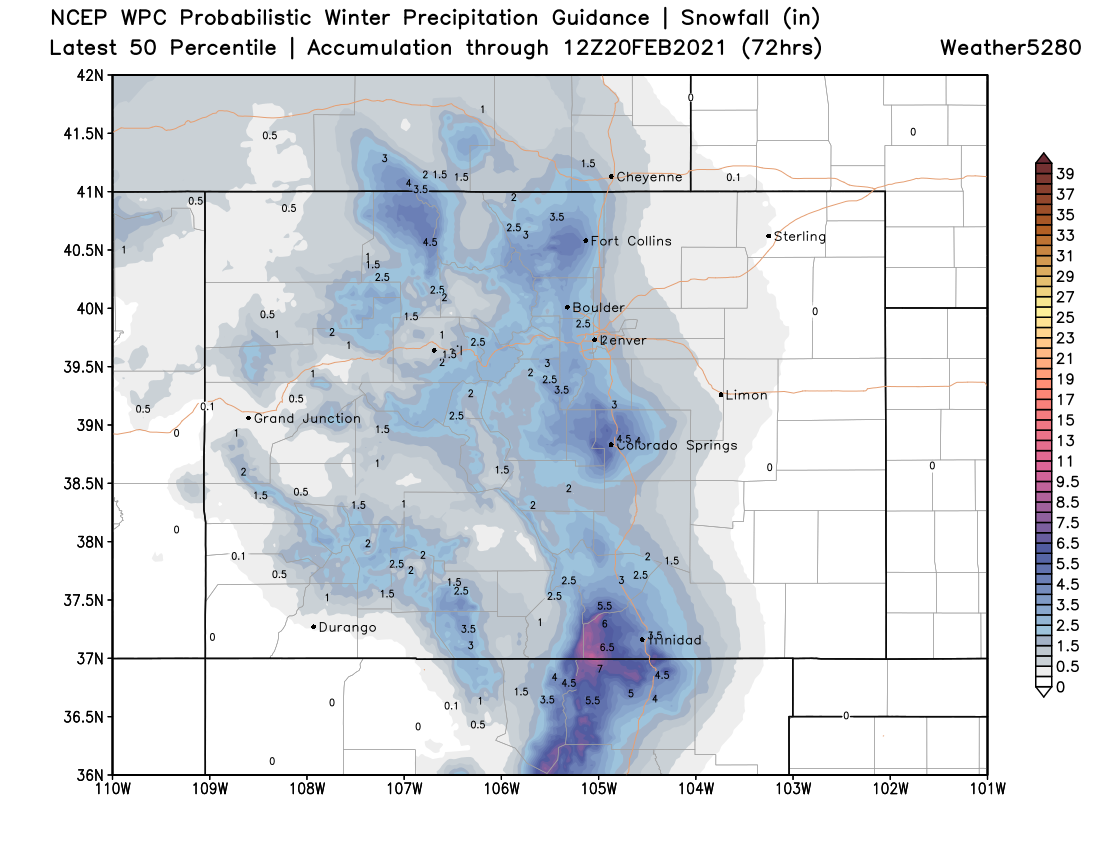 As for probabilities, look for the greatest potential for 3" of snow or more to line up with where we've been discussing – west of I-25, and across the Colorado Springs metro area. The map below shows those odds as forecast by the European ensemble model, with >50% odds for most of the Front Range foothills, and >70% odds for the COS area (favoring areas west and north).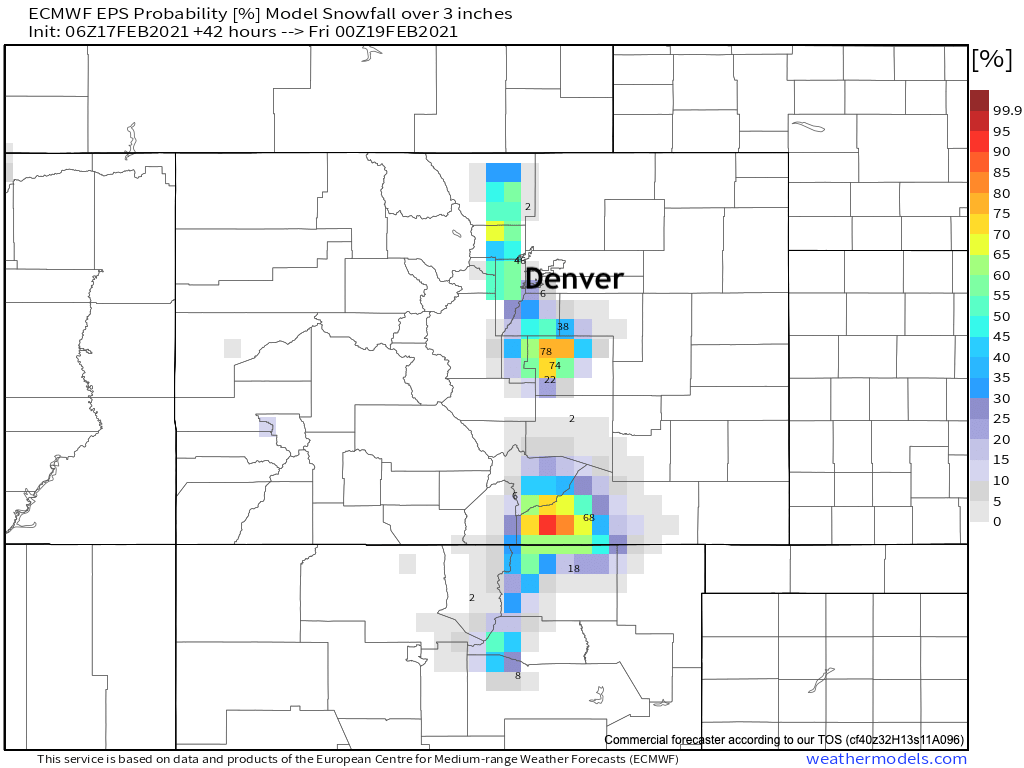 It'll be another hit-and-miss snow event. Some will have some good snow for a couple hours this evening, while others will miss out again. Hard to ignore the potential for a few areas to pick up several inches of snow, even if by and large it's seen as a "bust" for for other folks. Please plan to avoid travel this evening, especially if those plans take you into the foothills or south across the Palmer Divide and Colorado Springs area.