Some great rules of thumb this week has highlighted: models nearly always overdo QPF with arctic outbreaks, and never underestimate the power of upslope!
Last night was pretty much textbook upslope for a several hours, the result of which was a great snow event for some foothill and some immediately adjacent communities. Totals from 6 - 10" were common across the Boulder area, the western Palmer Divide picked up 6 - 12", with even some areas of western and northern Colorado Springs doing quite well!
Here's a look at surface observations yesterday evening, with winds across the northern metro area out of the east/northeast, with winds across the Colorado Springs area out of the southeast – both upslope flows for their respective areas.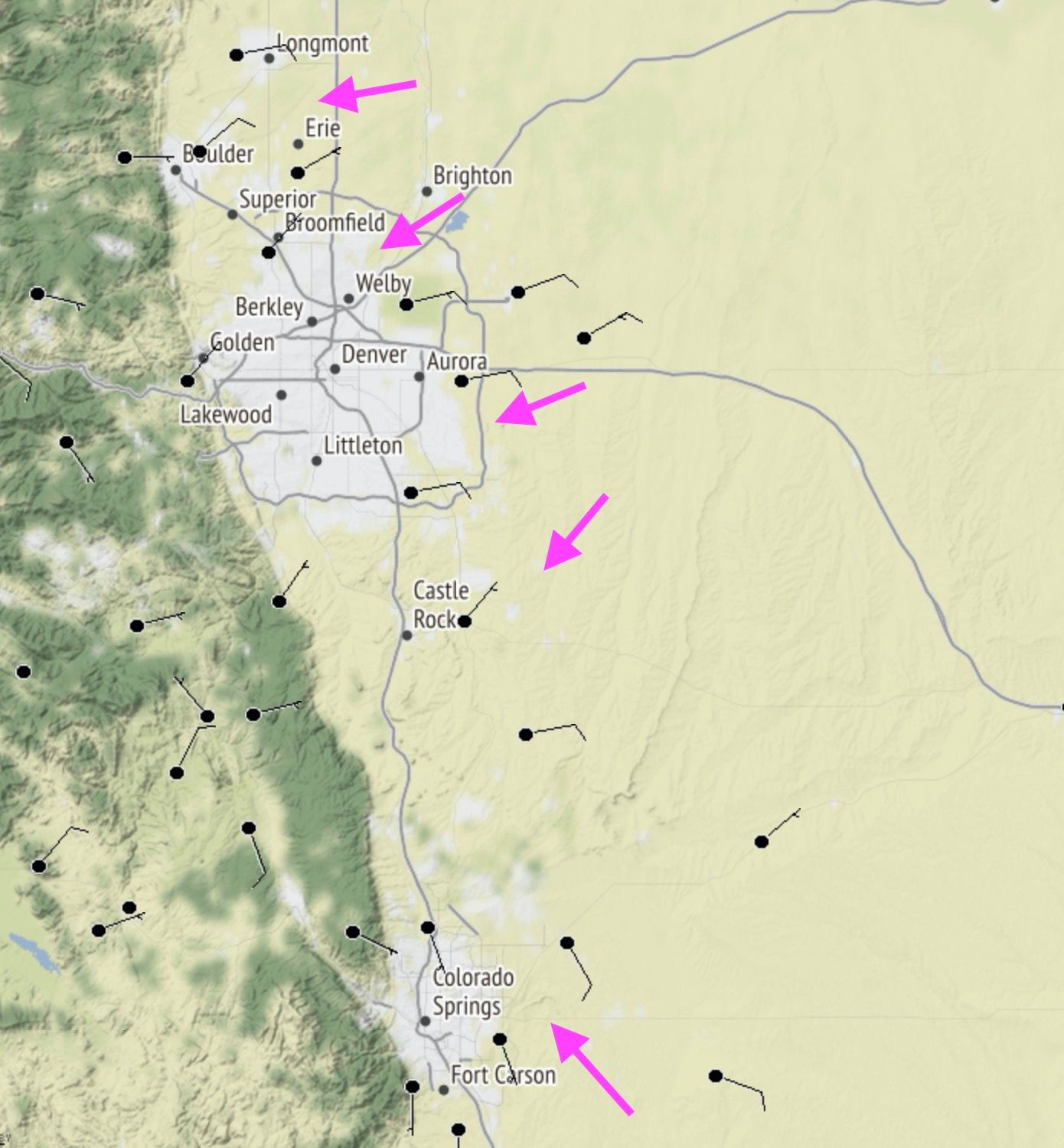 The heaviest snow really was limited in coverage, hugging the Front Range foothills. At our station in Denver West we picked up 3.5" of powdery snow. Further east totals ranged from a Trace to 2.5" or so. Denver officially logged 1.6" of snow at Denver International Airport.
Models did great with placement of the heaviest snow, but under did some of the potential – as did we. We knew someone was likely to do quite well (specifically calling out Palmer Lake which again broke 10"), but missed on the boom in the Boulder area even after placing the city in our higher-end total area.
Here's the GFS forecast for Wednesday evening: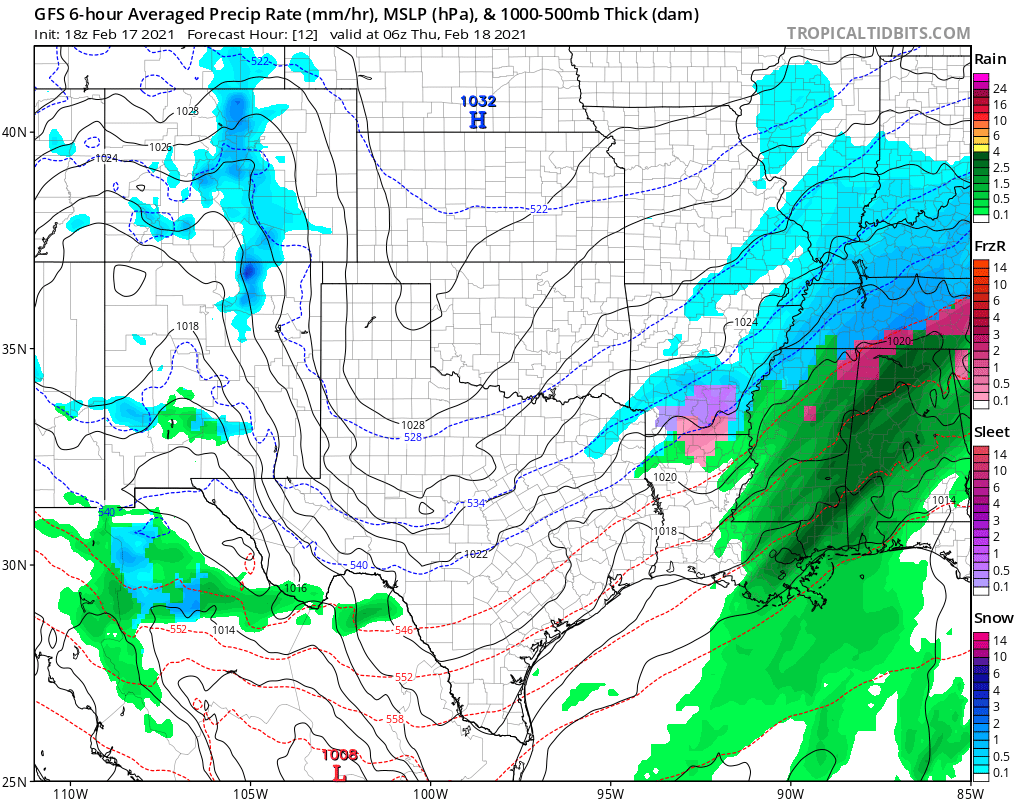 And here's the radar for about the same time, just as a heavy snow shower moved through Fort Collins delivering about 2" in under an hour. Note the heaviest precipitation really hugging the hills: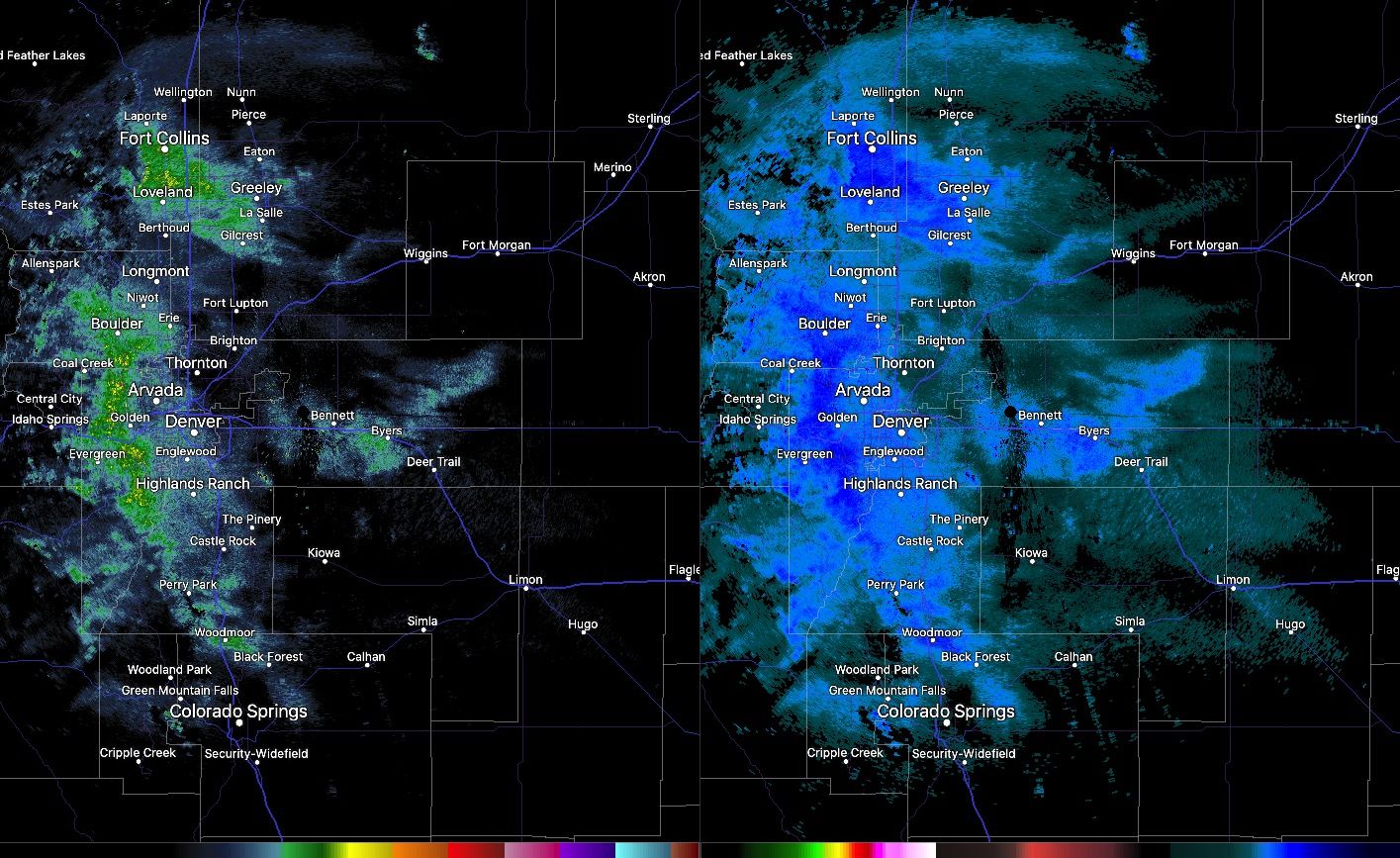 With all that said, the snowfall totals map shouldn't come at all that much of a surprise. The totals out east around Fort Morgan/Akron were actually mostly from the snow earlier in the day. Some great totals for the immediate foothills, but a quick drop off as you hit I-25 and head east!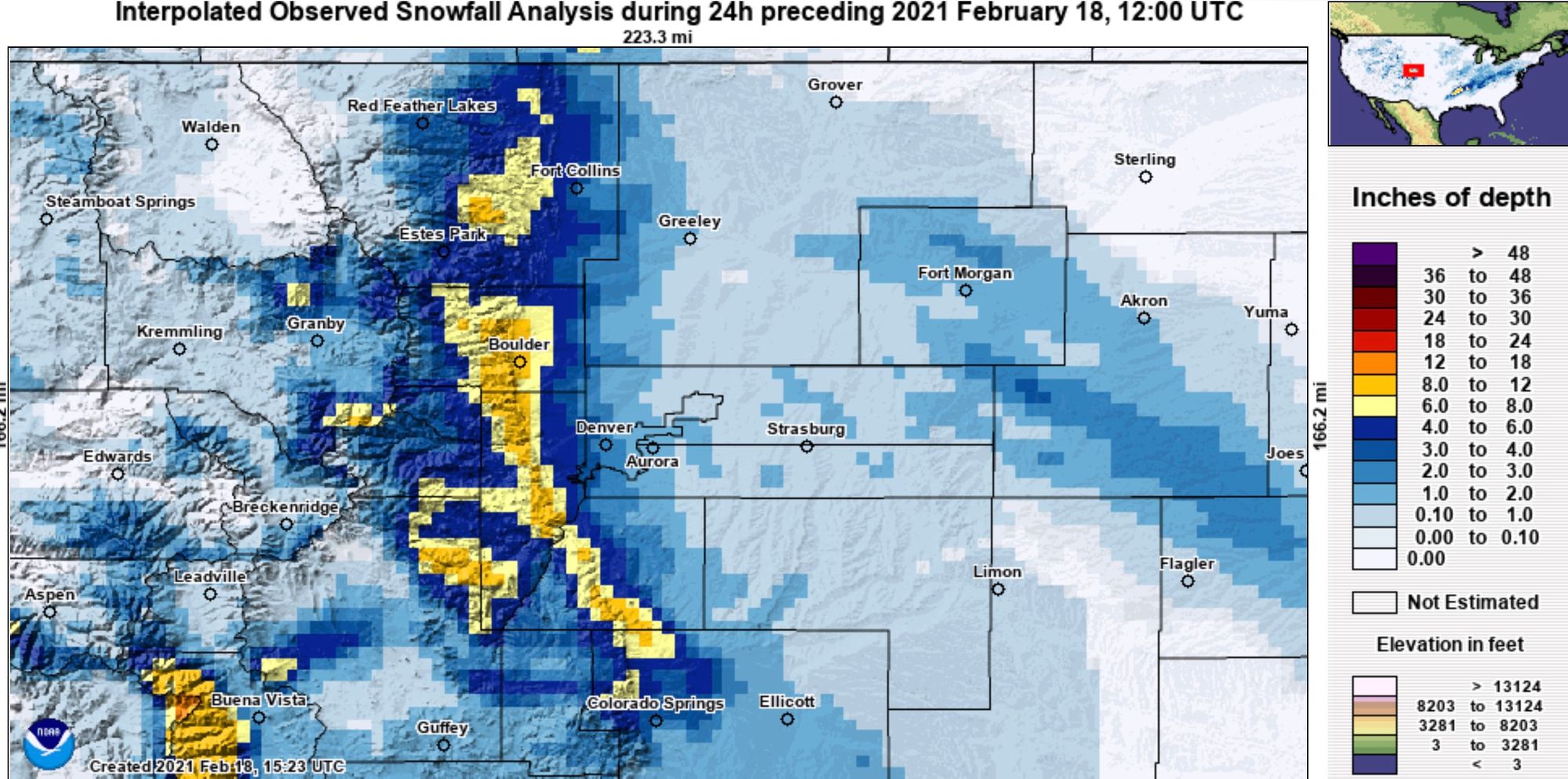 And finally our snow totals map: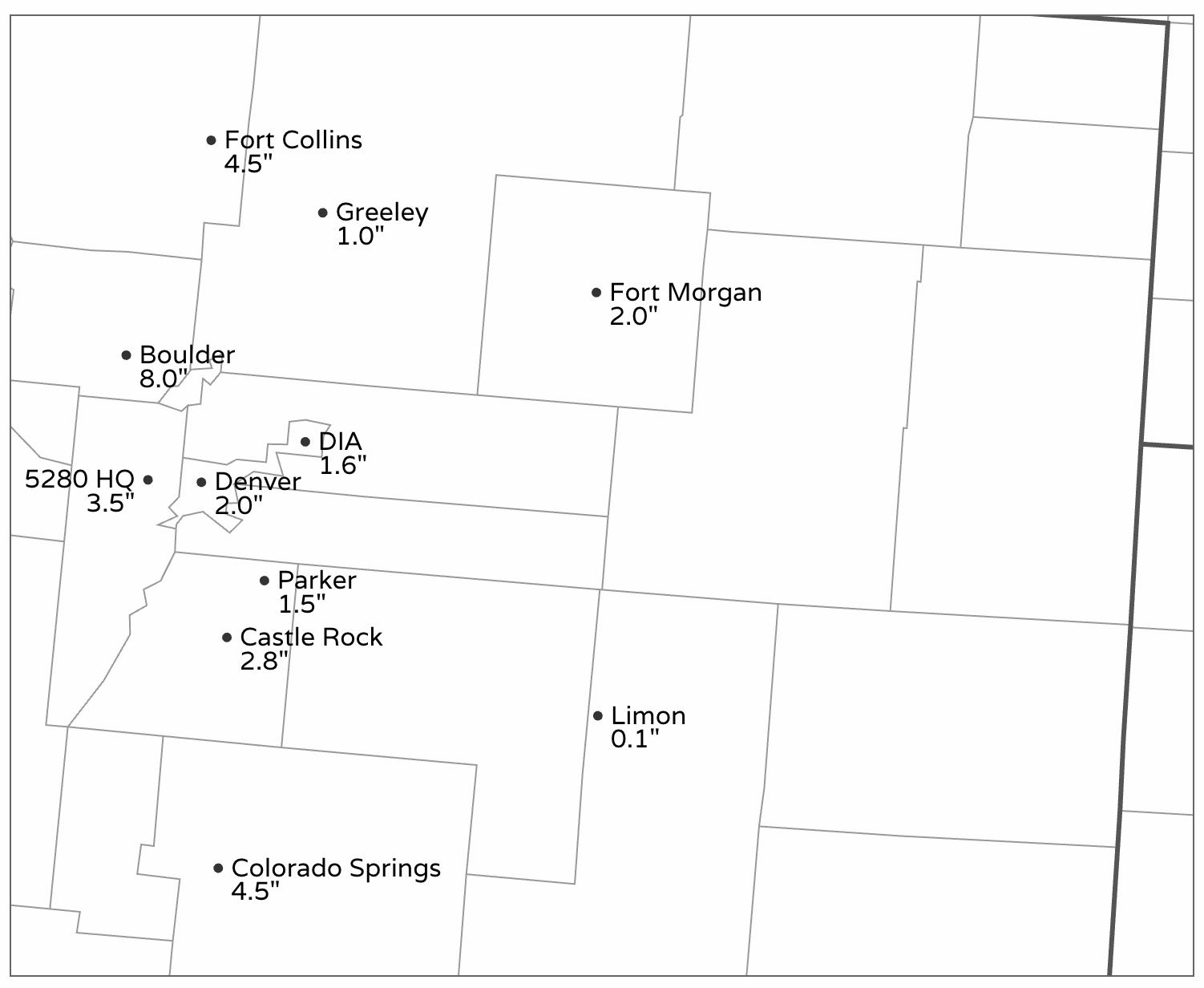 The outlook
Today remains on the chilly side, but most of us will see a good amount of sun. Highs will be near freezing, with overnight lows back in the single digits and low teens Thursday night into Friday morning.
Friday will be milder, some folks will push that 50°F mark.
Saturday another system flies through, and with it we may see some rain and snow showers once more. For Denver we've got about a 30% chance of snow on Saturday at this time, with highs in the 40s both Saturday and Sunday.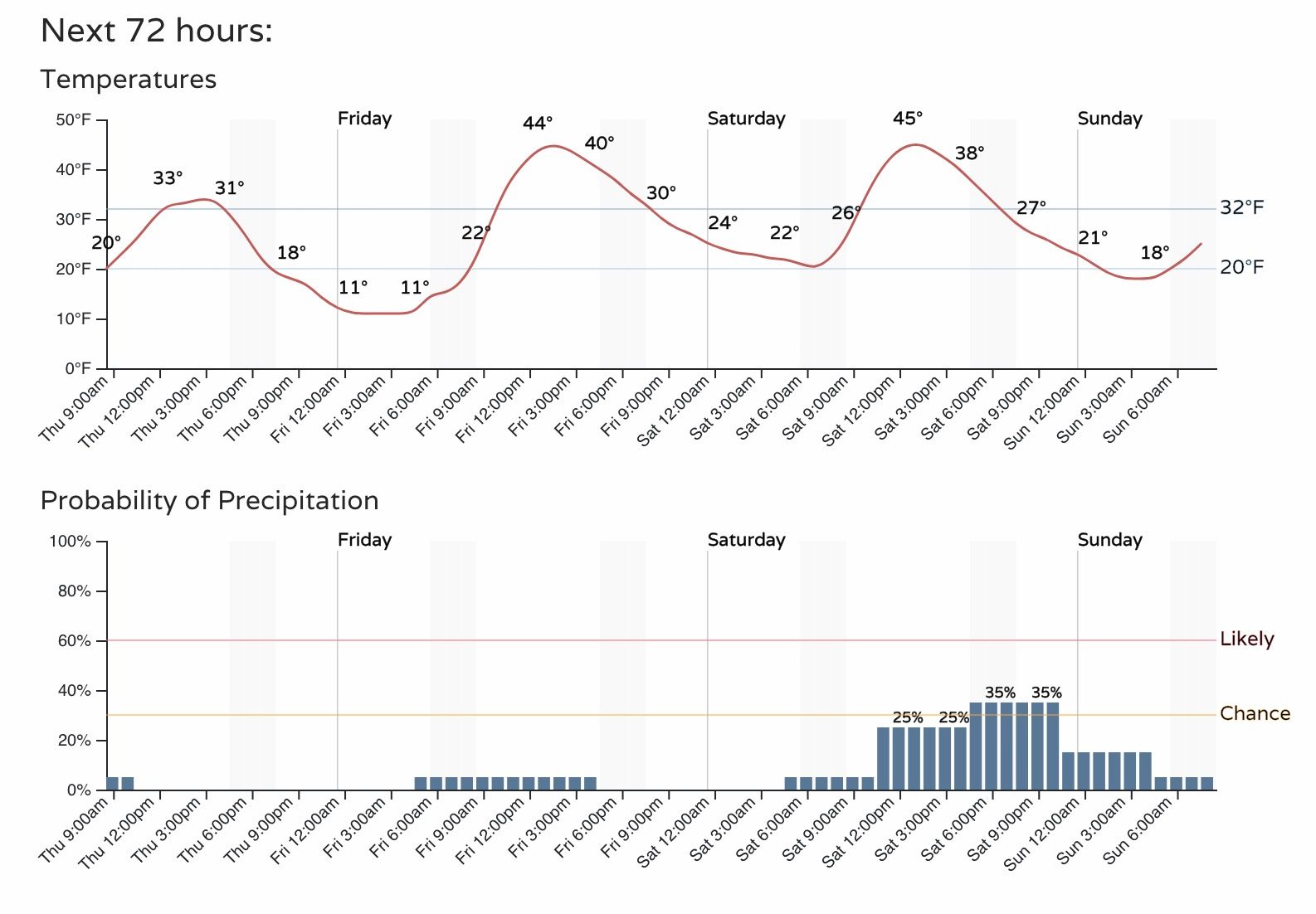 How much snow might we see this weekend? The signal isn't quite a strong for this event as it was with yesterdays – meaning some accumulation is possible, but right now it looks like most areas will see very little if any. The European shows a Trace to 1" of snow for the area Saturday/Saturday night, with most guidance in agreement with this idea. We'll see if that looks any different as we get closer and keep you posted!