It's certainly been a March to remember, as 2021 will end up one of the wettest and snowiest on record for Denver – though not likely to take first place in either. Still, the final days of the month will feature, you guessed it, another sharp cold front and chance of rain and snow across the state.
With 3.67" of precipitation so far this month at Denver International Airport, we know the month will end as at least the 2nd wettest March on record. With the record wettest being 4.56" (set in 1983) it's not likely we'll finish in the top spot this year. For snow, we've seen 32.5" of so far this month, which is second only to 35.2" (2003), and tied with March 1944. This is thanks in large part to the 4th biggest snowfall on record for the city earlier this month, but it's been an active month overall as well.
The week ahead
As we wrap up the final days of March we have one more system to track. It'll be quick-hitting, but will feature some chilly temperatures, and at least a chance of rain and snow as well. Outside of this system moving through – Monday night/Tuesday – and a still-cool day on Wednesday, the seven day looks quite nice for temperatures across the region.

You read that right, guidance is suggesting mid to upper 70s will be possible by late this week and next weekend for Denver!
Ahead of our next system Monday will be quite mild, but also pretty windy. The Front Range foothills will be under a High Wind Warning from late tonight through Monday with gusts to 60 mph possible. Gusty winds across the plains will mean a Red Flag Warning for many (especially across Southeast Colorado), with gusts from 30 to 40 mph out east.
A look at temperature anomaly forecasts for tomorrow shows temperatures across the state well above average – but colder air looming to our northwest: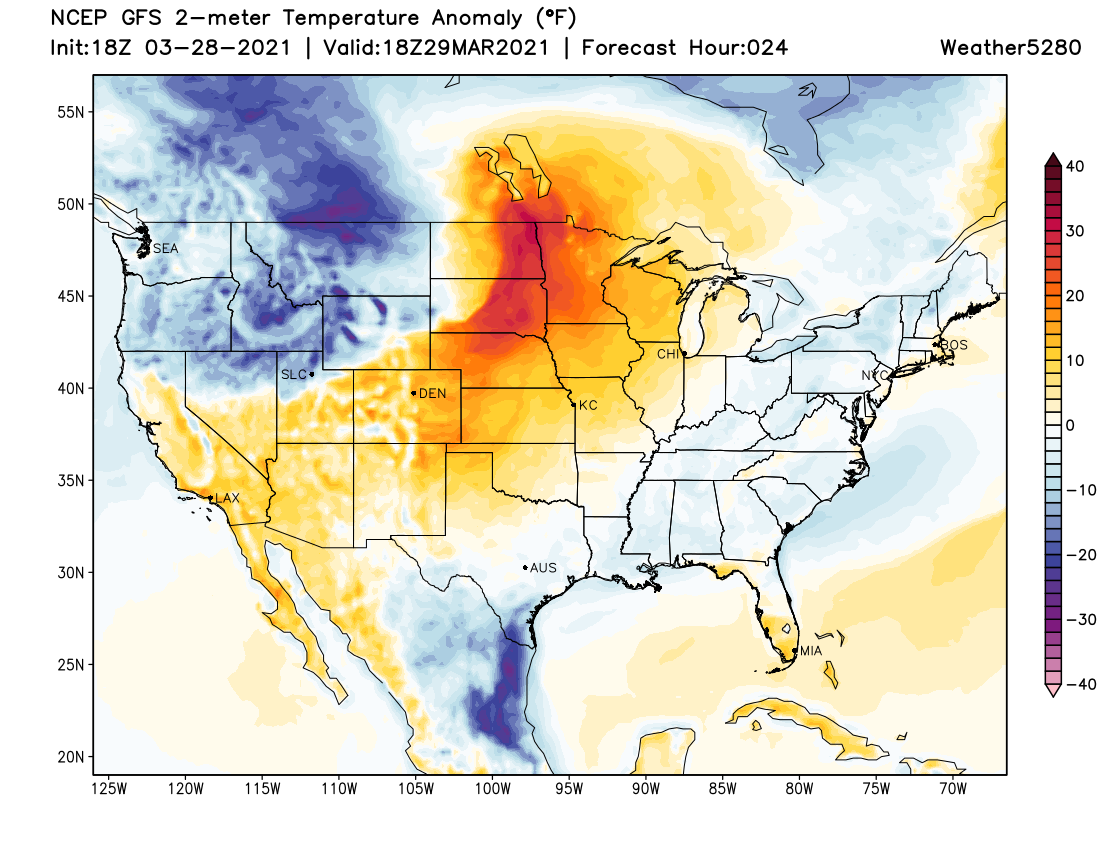 The cold front arrives late in the afternoon for Northern Colorado, and Monday evening for Denver. By Tuesday colder than average temperatures are in place across the region: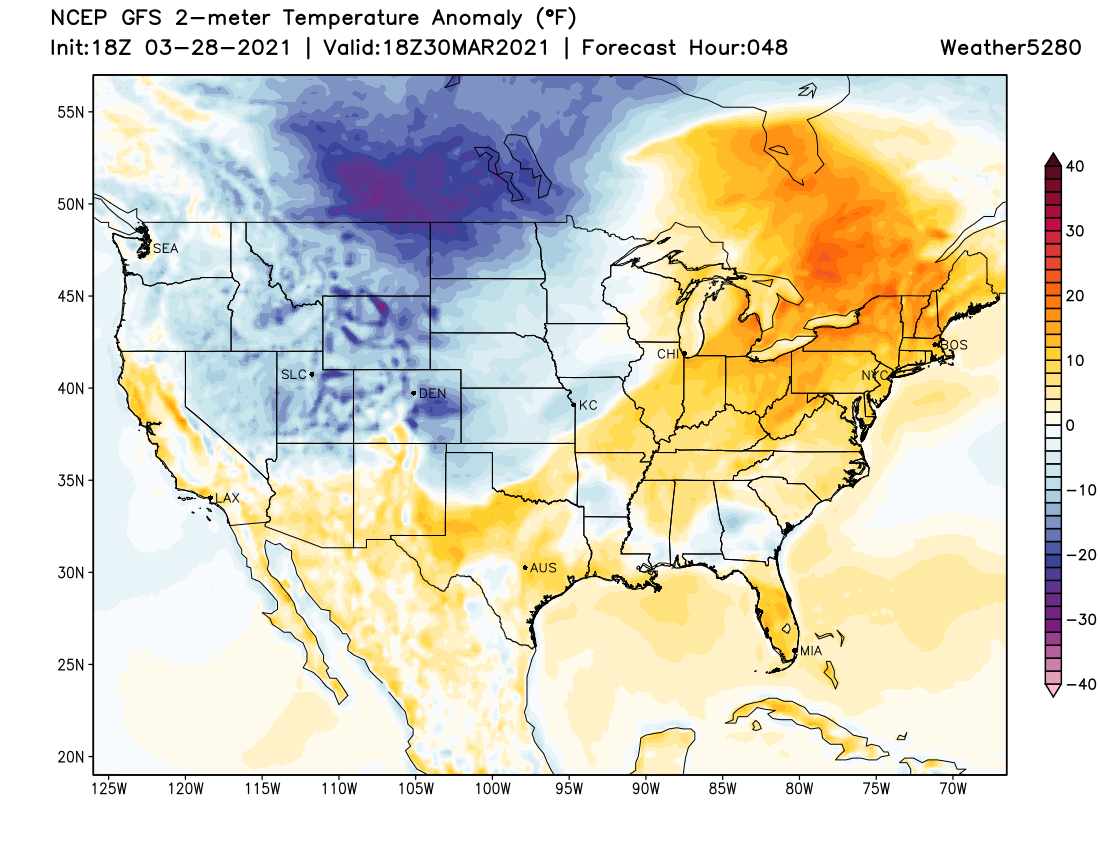 For as sharp as this cold front looks to be, it doesn't look to bring all that much moisture for us, as you can see in the animation below which takes us from Monday evening through Tuesday: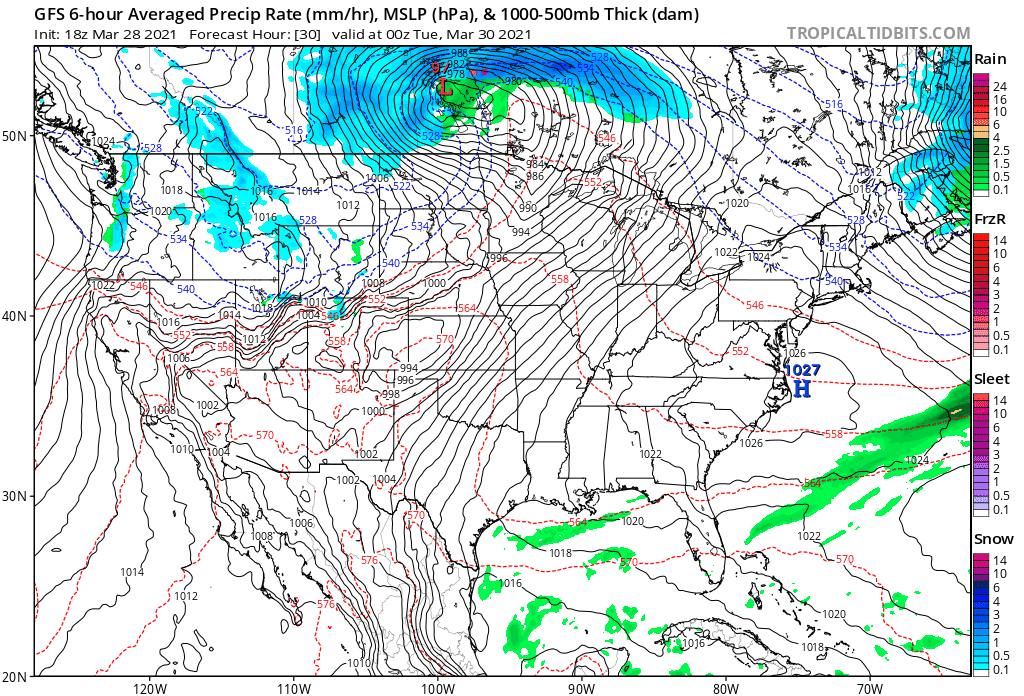 Rain and snow showers will be likely, but nothing that looks all that sustained or impressive at this time.
So, for the hourly, look for those mild temperatures to leave us in a hurry Monday evening, with highs around 40°F on Tuesday in Denver.
Rain and show chances will be around 50% late Tuesday night, and dropping gradually through the day Tuesday.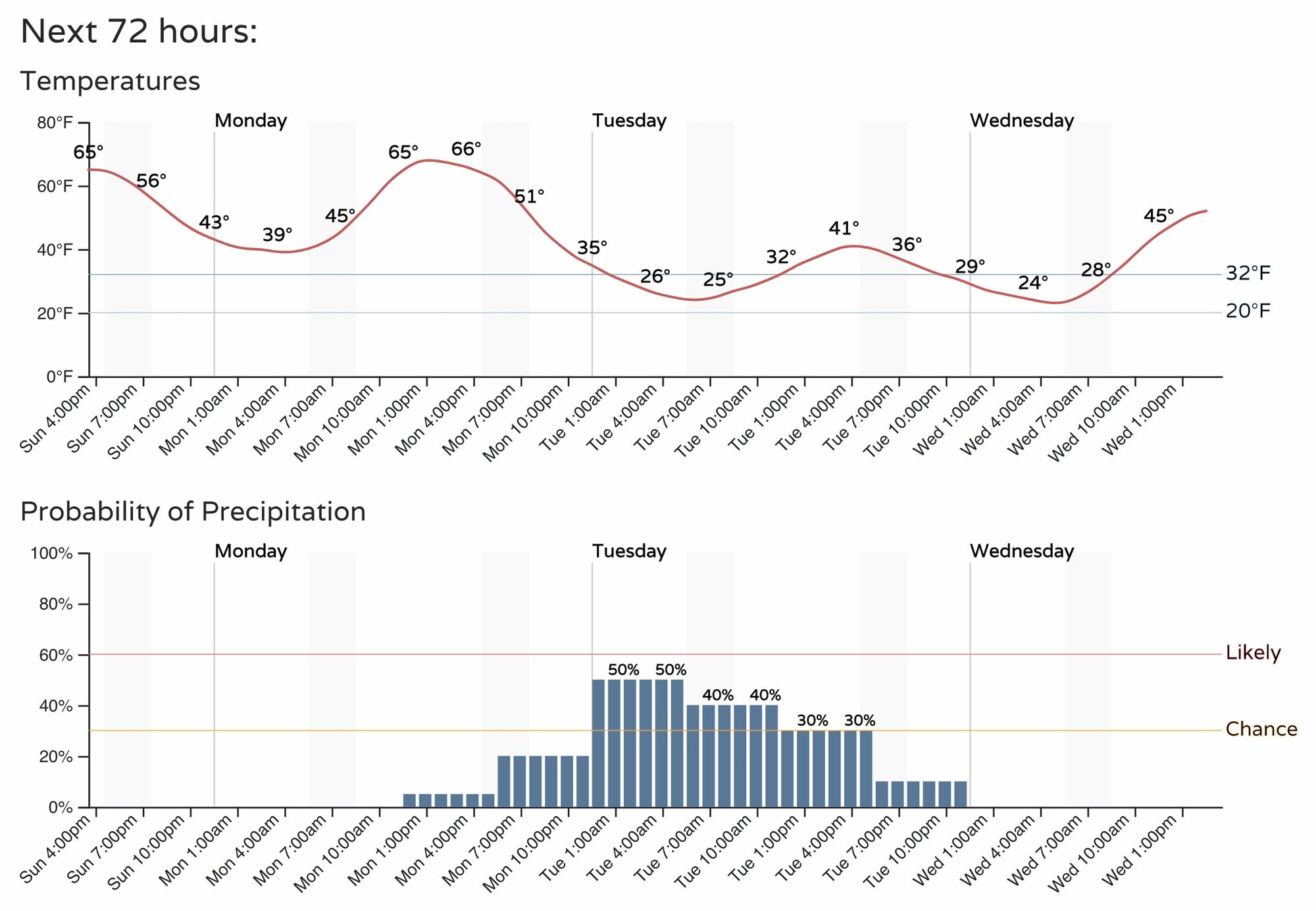 As for how much snow we might see?
We like chances a bit more for those west of Denver and south. Totals will likely range from just a Trace to perhaps 3 or 4 inches.
Here are your low end totals (yep, that's virtually no snow for Denver/Boulder/Fort Collins: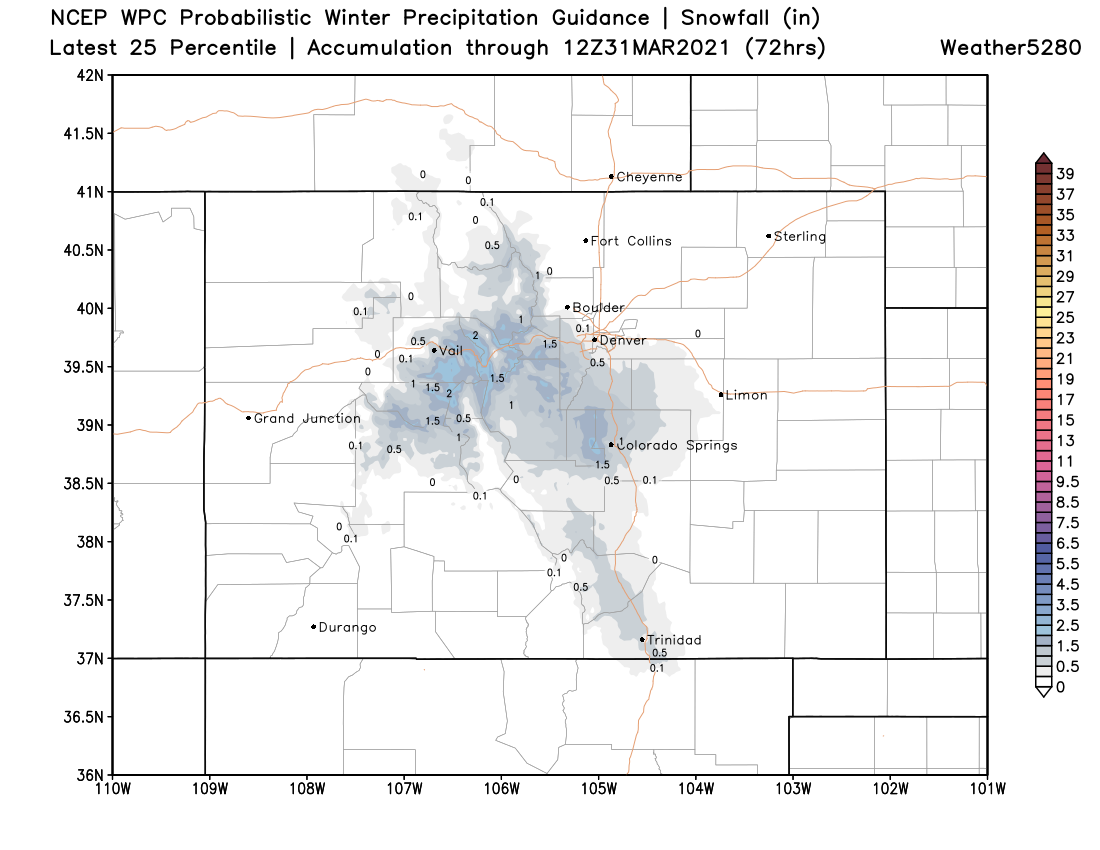 And here's what we see for high end – a 0.5" to 1" for Denver/Boulder, and 1 - 3" for the western Palmer Divide, and perhaps 1 - 2" for Colorado Springs: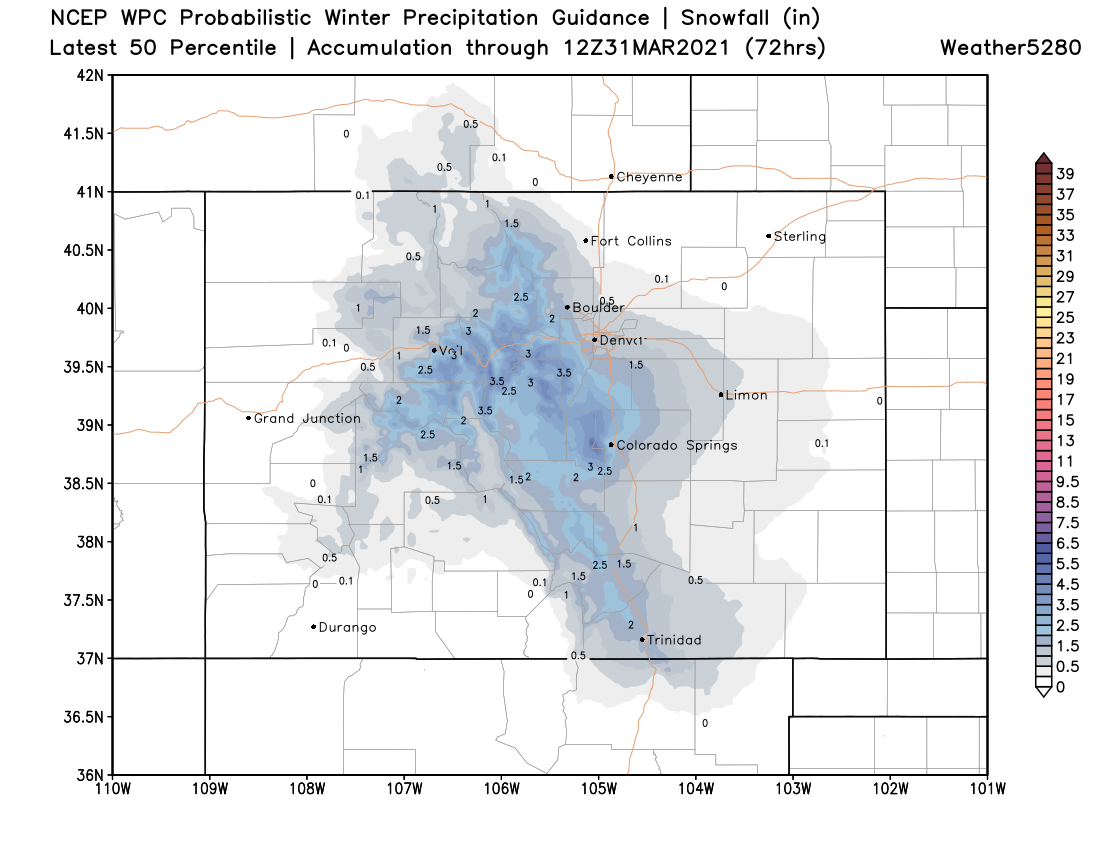 We'll keep an eye on things and adjust as needed, but models have been pretty consistent in the handling of this next system. Fronts like this can overproduce, so you'll want to stay tuned to the forecast in case!
Next weekend
It looks like ridging will move back overhead quickly following this next system. We'll warm from Wednesday through next weekend.
Here's the latest GFS 500mb forecast for Saturday, showing a strong ridge overhead: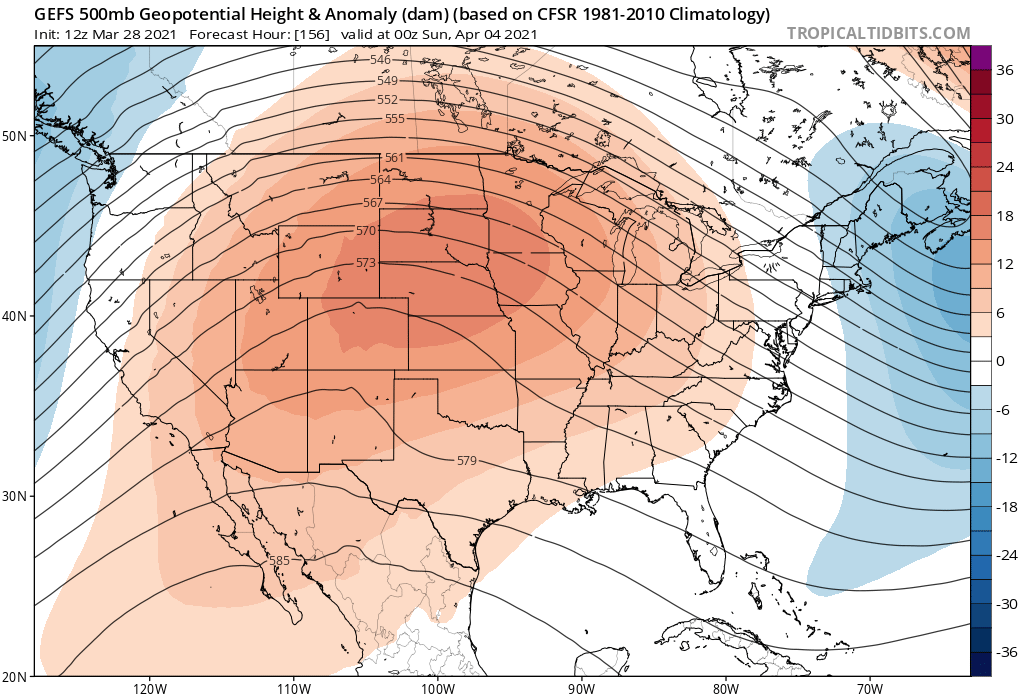 And temperatures well above average for the intermountain west and high plains!