Monday will feature more record setting warmth across the state ahead of our next weather system. The forecast of 82°F for Denver today would tie the previous record for the date set in 1991, should it verify, and some guidance suggest we could even break that high by a degree or two.
Sunday we saw many daily records fall across a huge portion of the country, including many long standing records across Colorado. With a high of 80°F Sunday in Denver, we broke the old record for the date by 4°F which dated back to 1967. Remarkably, the record low for April 4th is 6°F (1920), some 74°F colder than our high Sunday afternoon!
Colorado was not alone. Here's an animation of records set (or within 3°F of the record) over the last 24 hours. From the southwest through Colorado to the Great Lakes record setting warmth.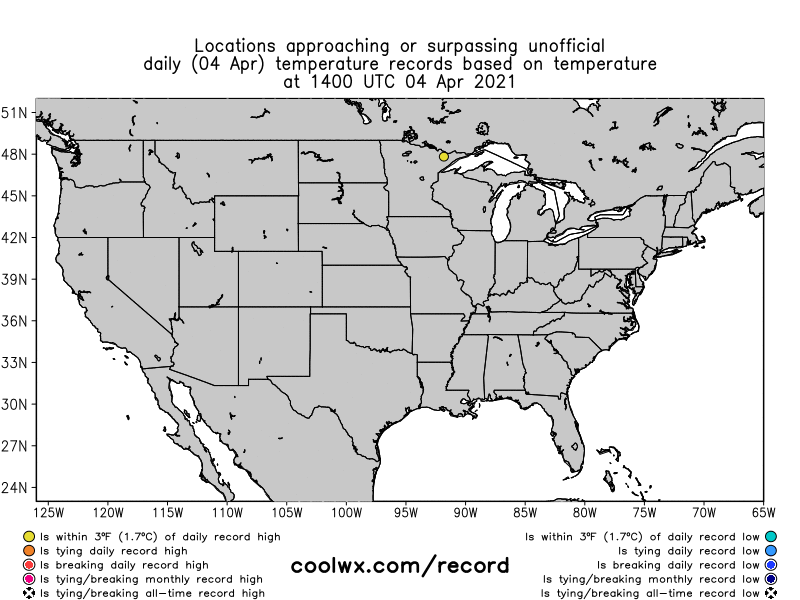 You'll note at the end of the animation some record lows showing up across the Pacific Northwest. That's indicative of some cooler weather that is on the way to Colorado Tuesday, after one more very warm afternoon today.
You can track that shot of cooler weather in the animation below. It starts this morning, with the cool pool across the NW, then pushes through the intermountain west today and tonight, before arriving in Colorado Tuesday. The animation ends Thursday morning, and as you can see the cool down is quick-lived, with plenty of anomalous  warmth overhead by the end of the animation once more.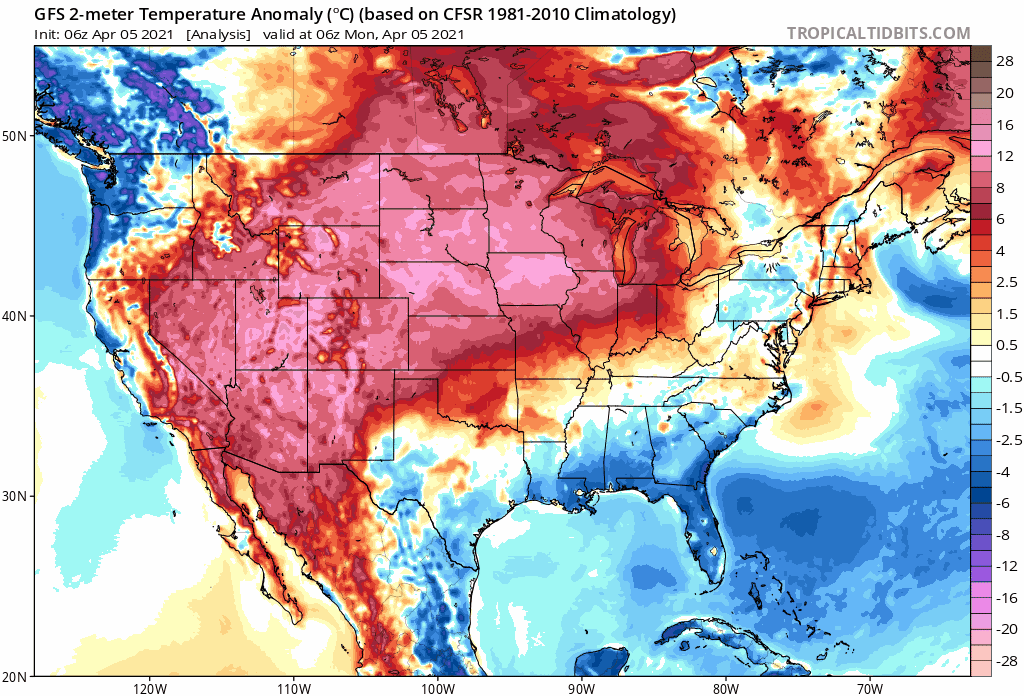 With the passage of this system we expect to see some moisture Tuesday afternoon and night across Eastern Colorado. That moisture will come in the form of rain and possible snow, with some thunderstorms likely across the Plains Tuesday afternoon as well.
The heaviest widespread precipitation is expected to stay north of our areas, but still a nice chance of showers and storms for a couple hours there Tuesday afternoon along with the cooler temperatures. Here's the GFS forecast for Tuesday evening, with good rain and snow north of Colorado, but showers and storms moving across Northeast Colorado as well at that time: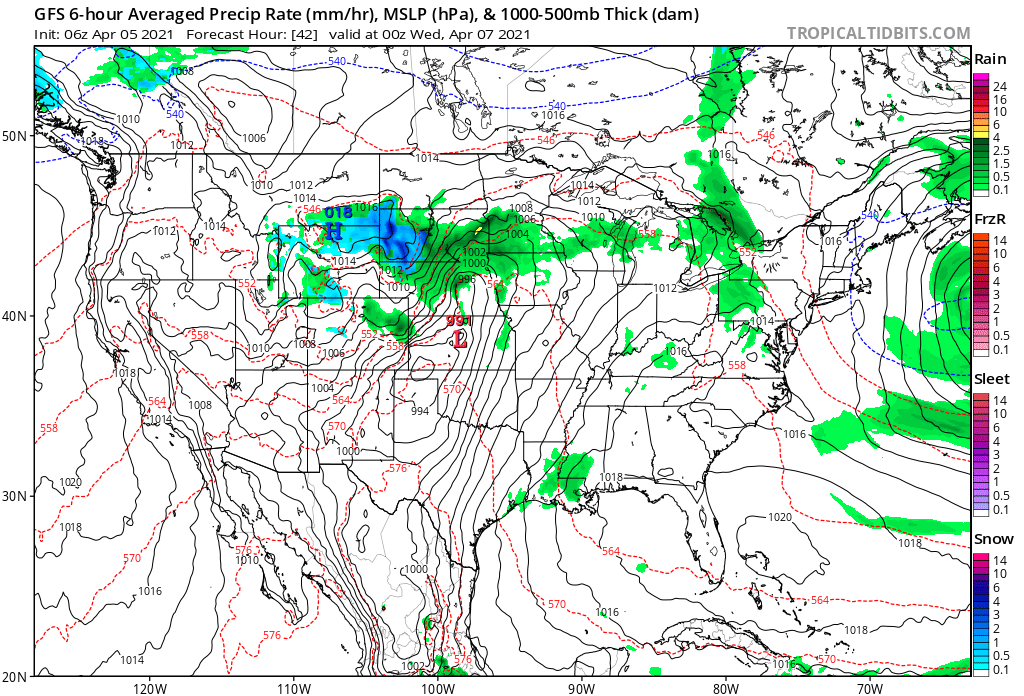 The corresponding precipitation probabilities for Denver show a nice uptick in chances by early afternoon tomorrow, coming to an end by midnight or so.

Again the best widespread precipitation will end up north, here's a look at the latest WPC accumulated precipitation forecast, showing low-end totals across Northern Colorado:
The wildcard will be the track of the low. While consensus is a more northerly track, should it dig a bit further south we could see a least locally heavier showers Tuesday afternoon and evening, as well as a bit more cold air (and better chance for some of us seeing snow!).
The extended HRRR model shows some locally heavy showers Tuesday evening, mainly focused along the foothills west of Denver and across the Palmer Divide: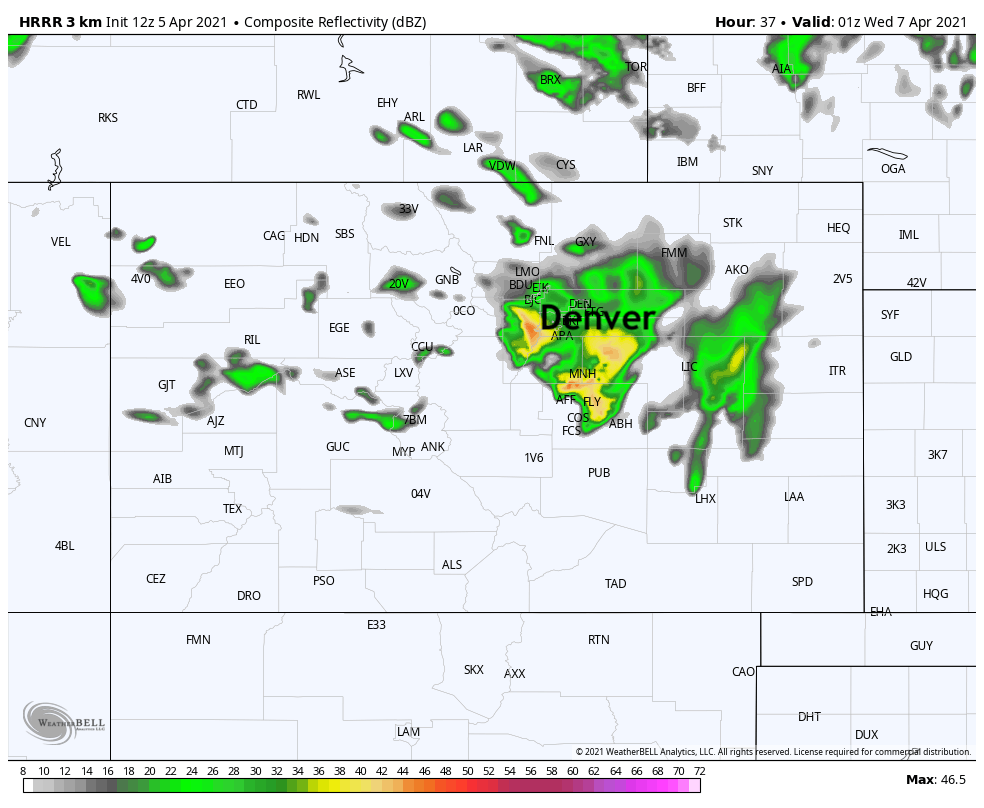 With pockets of 0.2" to 0.8" of precipitation, but clearly not for everyone: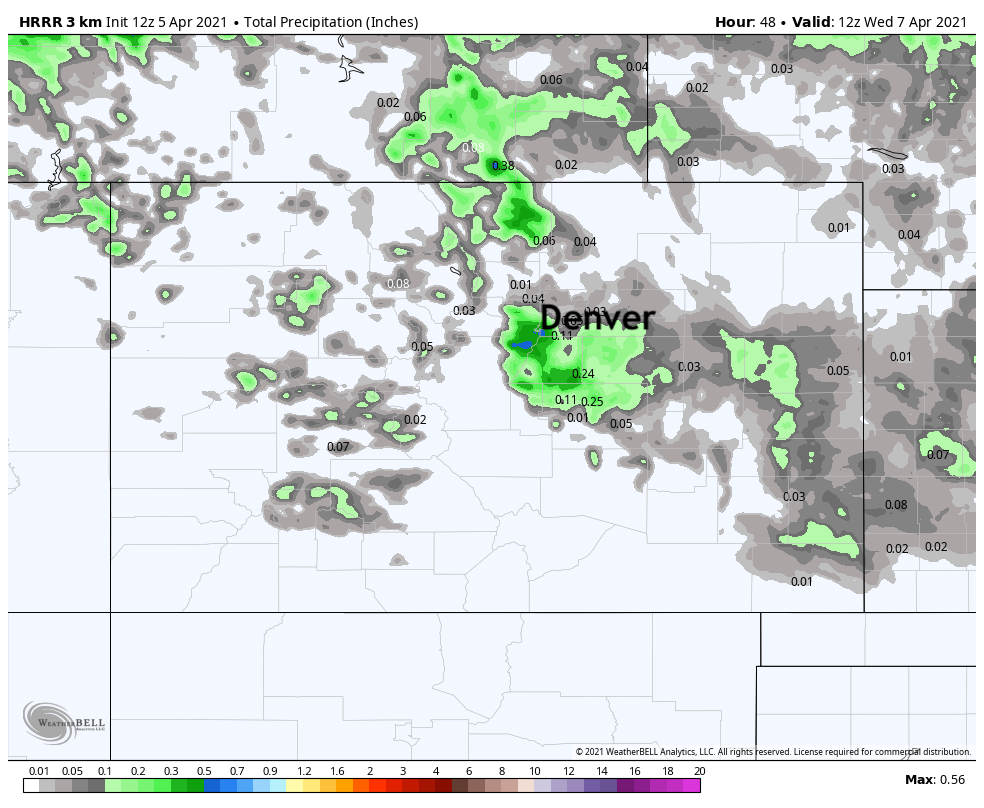 And, this particular model shows a nice burst of snow with these showers as well, mainly above 6,000ft or so, but always tough to say how much cold air these systems will manage to pull in.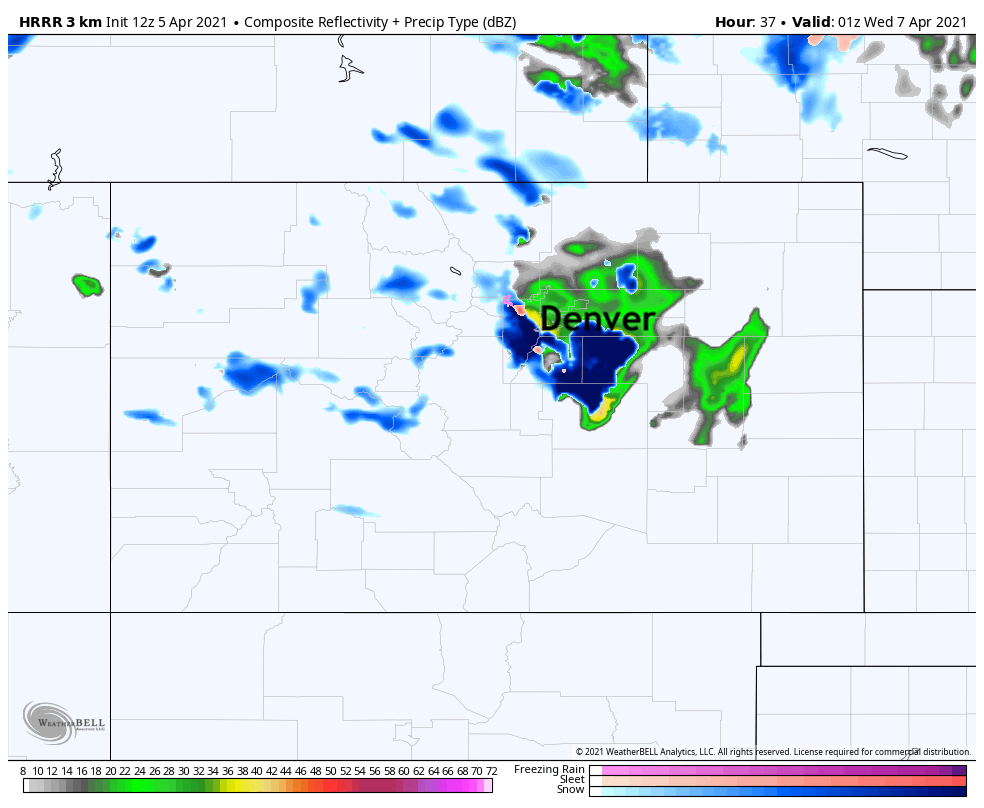 Certainly for the foothills and Palmer should the heavier precipitation materialize we'd expect some of that to come in the form of snow (perhaps heavy snow at least briefly). For Denver and the Plains, a tougher call if we'll see any snow or rain/mix. The trend here is what we'll be watching today and tonight and see if we need to adjust our thinking at all tomorrow.
Regardless if we see snow or not, the cool down won't be all that impressive by April standards. The 50s will feel notably colder after today's warmth, but by Wednesday we are back in the 60s in Denver, and likely back into the 70s on Thursday. Overnight lows Tuesday into Wednesday will be in the low to mid 30s, so even if we do see snow it will have a hard time being all that impactful.

Get out an enjoy today, and let us know if you hear some thunder or see some snow tomorrow!