This morning's snow, mainly focused north and northwest of Denver and south of Fort Collins has come to an end. We now turn our attention to the next round of snow shower activity set to increase later this afternoon and overnight.
Snow (and perhaps a bit of rain mixed in) chances increase from here through about midnight before gradually decreasing into Wednesday morning. Here's the latest hourly timeline for Denver:

We don't see much change to the numbers we put out yesterday as you'll see below. While we do expect to see more snow in more areas than we did last night/early this morning, for many of us totals through Wednesday morning will remain on the low side, with much of what does manage to stick being confined to raised and grassy surfaces. Surface temperatures remain quite warm at this time.
Cheyenne: 1 - 4"
Fort Collins: T - 3"
Fort Collins (West): 2 - 5"
Boulder: 2- 6"
Denver (downtown): T - 2"
Castle Rock: 1 - 4"
Colorado Springs: T - 1"
Fort Morgan, Sterling, Limon: T - 1"
For its part, the HRRR model which has done quite well with snow in recent months, shows a Trace to 2" for the urban corridor, with more like 2 - 5" for Castle Rock, and perhaps some upwards of 5" for a few locales on the west side of the Palmer Divide (think Perry Park/Palmer Lake).
Rocky Mountain National Park and the Medicine Bow Range, the Mountains of Summit County, the Mosquito Range, and the Indian Peaks, and the Northern Front Range Foothills will be under a Winter Weather Advisory from 3pm this afternoon through 6am Wednesday for 5 - 10" of snow.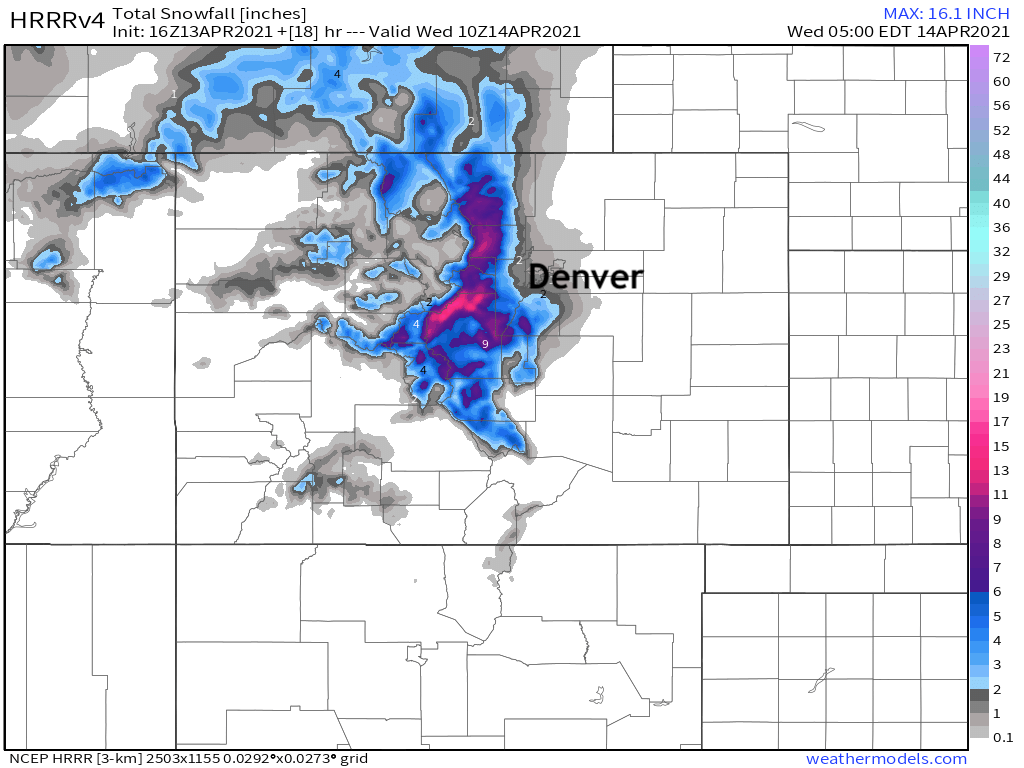 Wednesday afternoon through Saturday
By Wednesday morning snow shower coverage will decrease from what we see this evening and overnight. Still, some snow showers will be possible Wednesday afternoon, overnight, and into the day Thursday before our next – more organized – push of snow is set to arrive Thursday night into Friday.
Models continue to struggle with how to handle the Thursday/Friday trough and cold front, but most do agree much of Northeast Colorado will see some accumulating snow.
It's how much that we still don't have a good sense for, other than to say we continue to think the GFS is largely overdone – even with its persistence in bringing an impactful snow event to the region.
Still, several inches will be possible, along the Palmer Divide, the northern urban corridor, and across the Northeast Plains, with at least a period of moderate to heavy snow expected as the main energy moves overhead Thursday afternoon and  into Friday morning.
The latest probabilities for 3" of snow or more, which includes any snow we see tonight/tomorrow/Thursday is as follows. A good chance, according to this model, that Denver sees 3" of snowfall or more by Friday evening – but of course this doesn't account what sticks/melts/etc.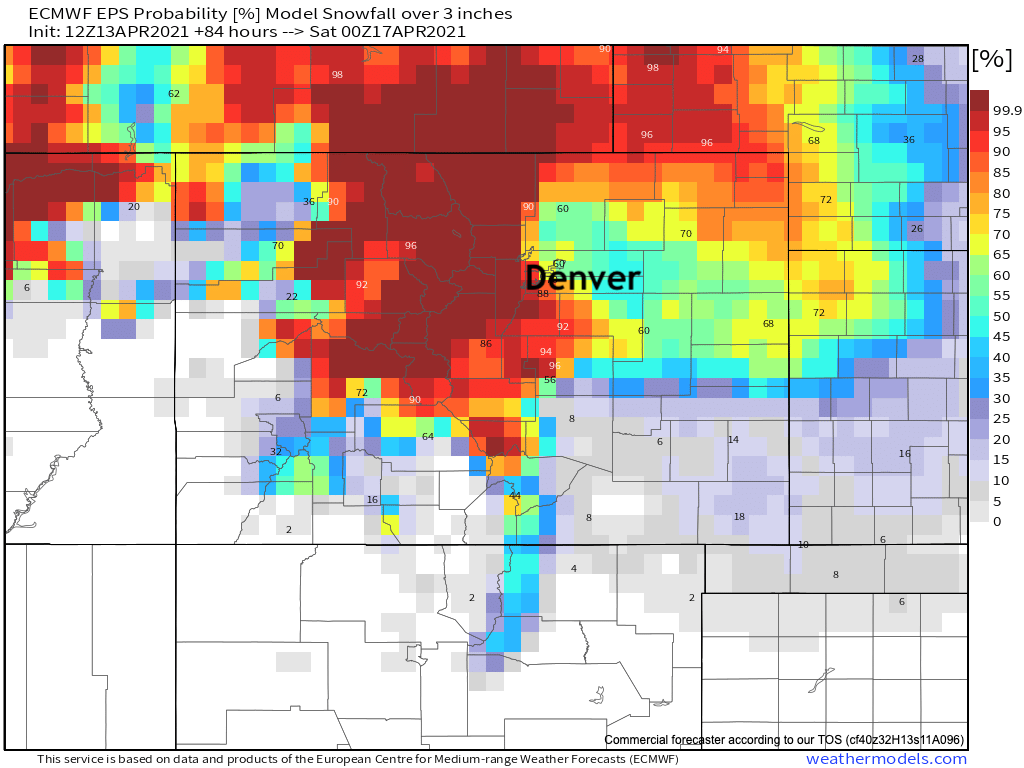 So, support for an accumulating snow to end the week even at lower elevations? Yes. Are we on board with the widespread heavy snowfall totals the GFS is portraying? Not at this time.
We continue to track...