With Wednesday's narrowly scoped snow band that set up over portions of the Denver metro area, the city's seasonal snowfall total eclipsed the 80" mark for the first time since 1983! Season to date DIA has now recorded 80.2" of snow, an impressive feat, especially given the backdrop of La Niña conditions this winter, and his pushed this season into the number 9 spot of snowiest seasons on record for the city. Again, this is for DIA where official records are kept for Denver, but many metro locations can't claim the snowiest season since the 1980s prize.
Month to date the city has picked up 12.6" of snow, well above the 8.8" we see on average. While quite snowy, April is the second snowiest month on average and with that we've seen some years with some impressive totals – the 20 spot is 16.2", which means we've got some work to do to end up in the top 10 or 20 list.
So, with just over a week left in the month are we anticipating we'll add to this month's snow totals? Perhaps! But not this weekend.
Friday and the weekend
The outlook for the weekend is beautiful.
Today, we could see some showers and storms develop by midday, with about a 30% chance of showers in Denver and highs in the mid to upper 50s: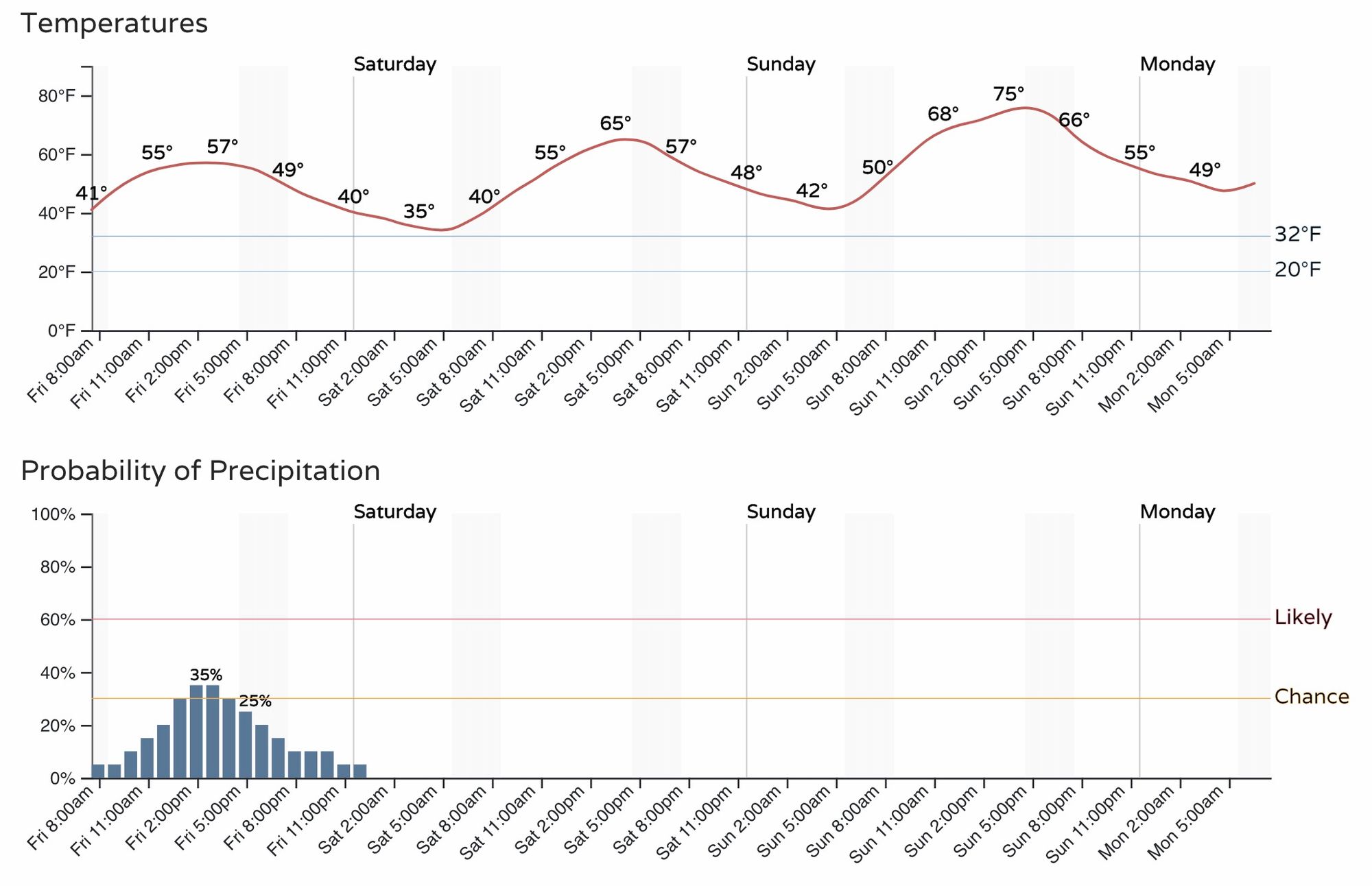 Saturday and Sunday look great across the state, with Sunday looking to be the warmest of the two days. Ridging will build overhead, at least briefly, which will help drive the relatively quiet and mild weather across the region. As you can see, however, there's a trough waiting in the wings out west!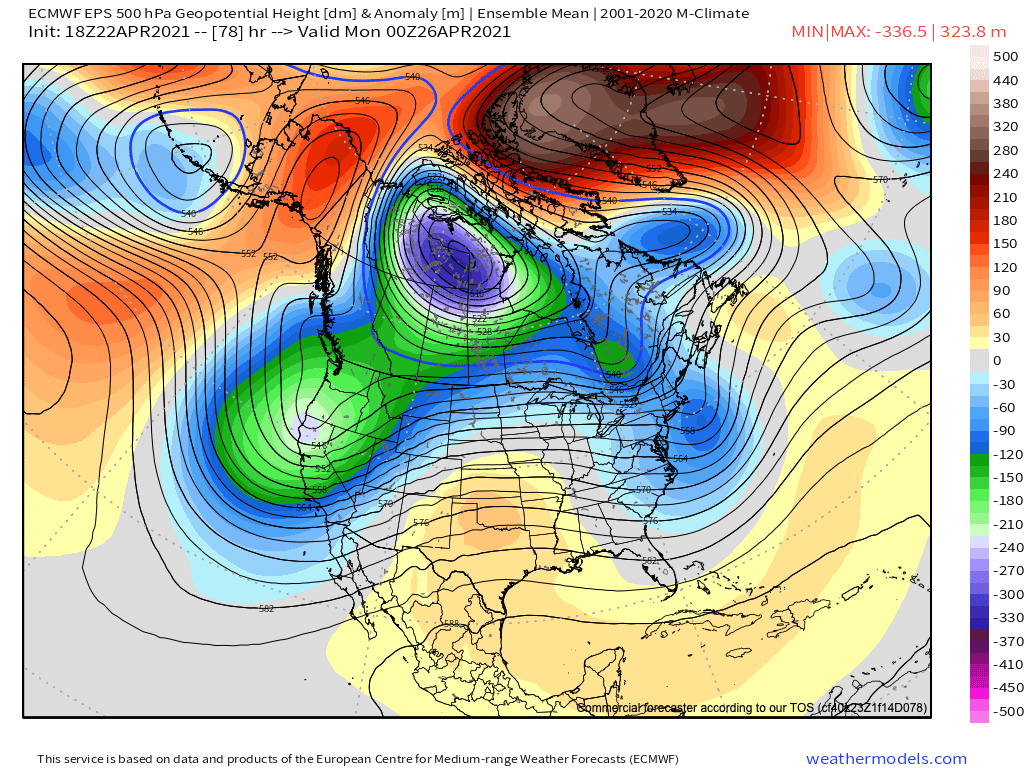 Next week
The warmth should stick with us into Monday as it looks right now, before the trough mentioned above moves through by Tuesday/Wednesday and brings our next cool down and very likely another round of precipitation to Northeast Colorado.
A look at highs for the next seven days shows nothing all too cold in the outlook, but we'll see if the trend for Tuesday/Wednesday moves to colder solutions or not over the coming days.

For now it looks like the greatest snow chance will occur for higher elevations, with rain and mixed precipitation more likely below about 6,000 feet. While this could change, this has been the general consensus in the data in recent days, so we'll hug this idea for now. With that, watch for the potential for measurable snow in the foothills west of Denver and along the Palmer Divide at the very least, with more of a rain and rain snow mix along the urban corridor.
As for precipitation totals, it could be a nice wet system if things stay on track as we move through the weekend. Looking at probabilities for 0.5" of liquid or more through next Wednesday evening – most of this coming Tuesday/Wednesday – we see greater than 50% odds across the foothills and Palmer, with lower probabilities north, east, and southeast: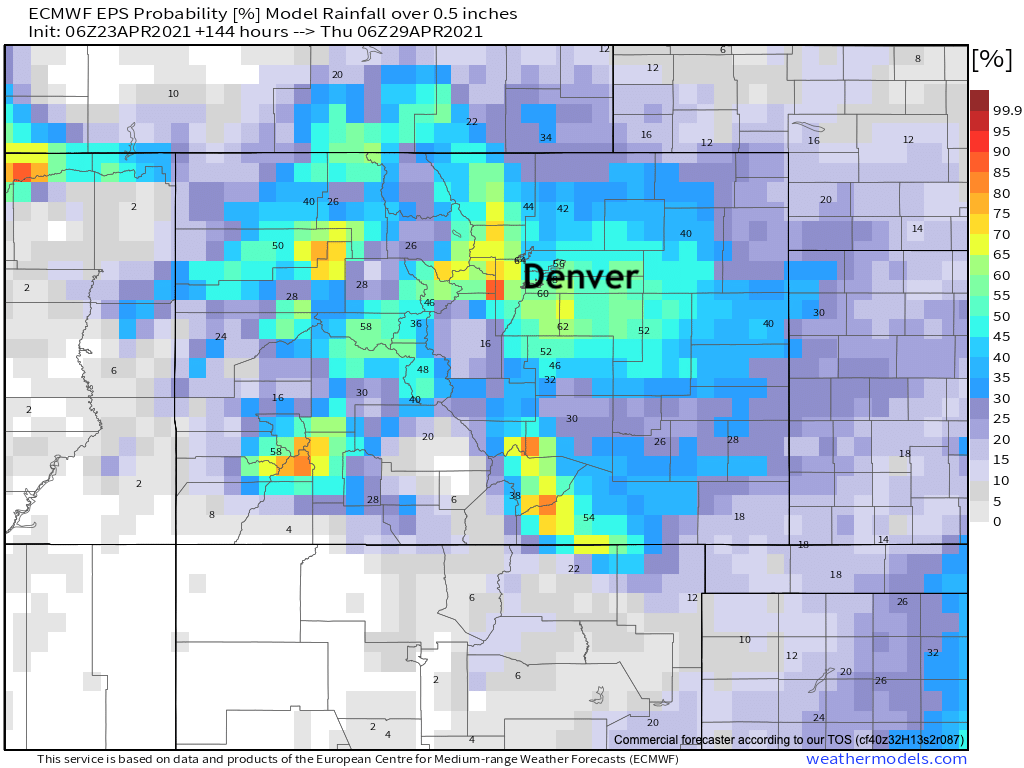 The mountains stand a good chance at seeing some nice late-season snow from this setup as well, with probabilities for 3" of snow ore more really hugging the higher elevations next week as you can see: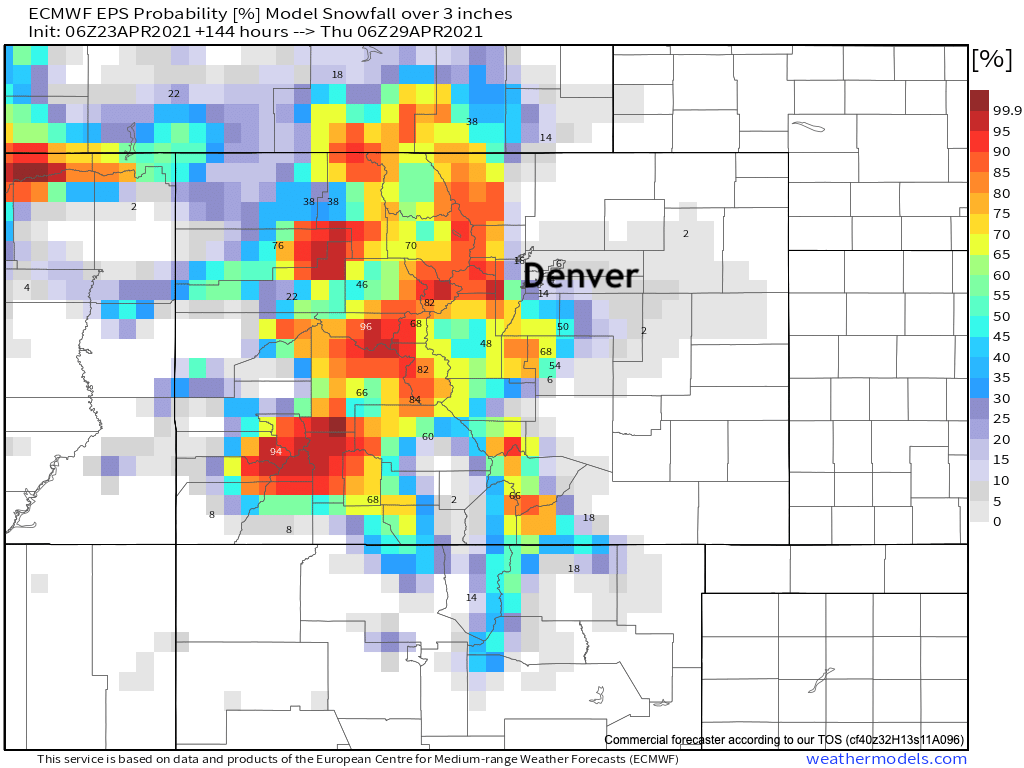 Still, given the time of year we're in and how recent months have gone, let's not sleep on this one! Elevation is likely to be key who sees how much snow, but also timing – more precipitation overnight could mean more areas at lower elevations see some snow as well.
For now get out and enjoy the milder weather this weekend, and if you have outdoor plans today keep an eye to the sky in case a shower or thunderstorm moves through your area.