We continue to track changes in our weather due to arrive early Tuesday, bringing another round of cooler and wetter weather to much of the state through Wednesday.
For now, warm temperatures and wind! Even as a Winter Storm Watch has been posted for the north central mountains of Colorado, Red Flag Warnings remain in effect through this evening for much of the rest of the state (pink, below!).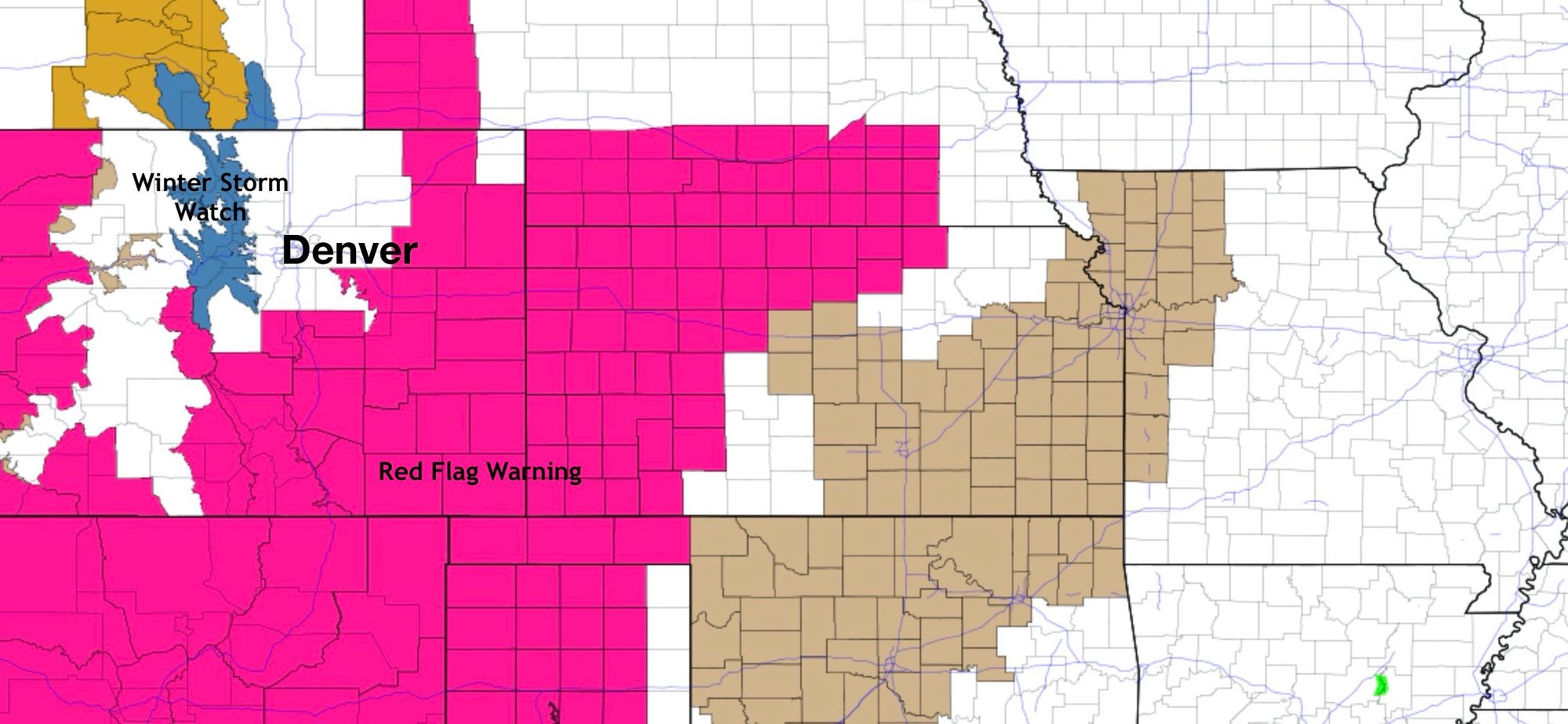 Temperatures are expected to remain mild through the night, but then won't warm all the much Tuesday as our next system moves in. Highs Tuesday will be in the 50s early in the day, and fall into the 40s by Tuesday evening for Denver. Wednesday will be similar for highs, with warmer temperatures back in the forecast by Thursday!

Rain and snow
We continue to think this will be mostly a higher elevation snow event vs previous systems we've seen move through. There's still some question along the Palmer Divide especially, as some models do cool enough for snow there – the Euro brings roughly 4 - 6" to portions of the western Palmer Divide early Wednesday!
For totals, we currently like the map below. That is, a great late season snow for the northern Front Range mountains – here we should see 8 - 16" in many locations), with little to no snow at lower elevations. For areas south of Denver and north of Colorado Springs, the call right now is leaning toward lower snow potential, but that could change. If you live in Castle Rock, Monument, Elizabeth, and to an extent even Parker – you'll want to watch the forecast closely, as you could cool enough for snow by late Tuesday night that some accumulation is not out of the question.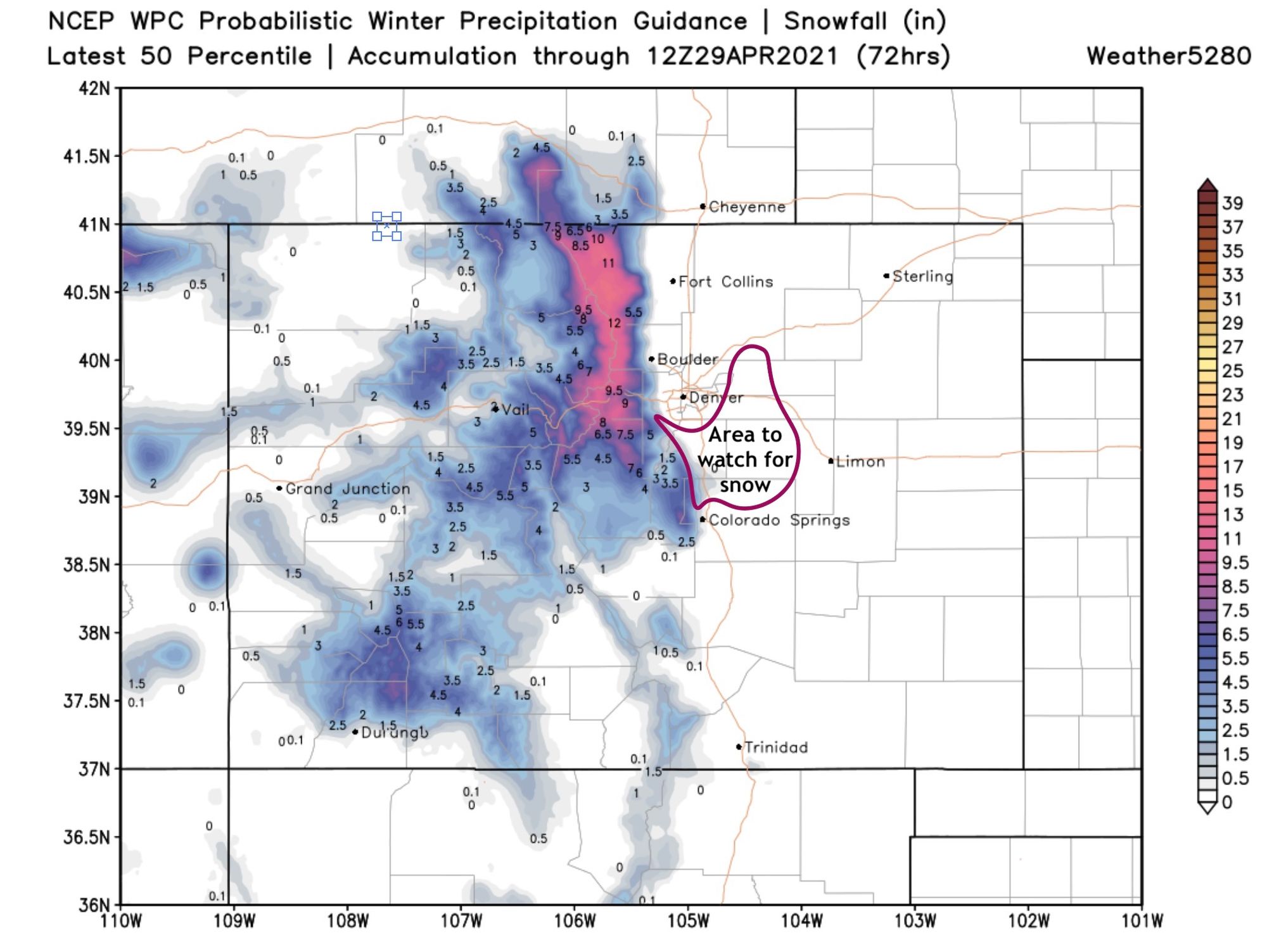 For those that don't see snow, the forecast still looks chilly and soggy from Tuesday afternoon and into the day Wednesday. Some areas, not all, will see some appreciable rain from this event, as stronger embedded thunderstorms could produce good totals. Here's a timeline:
While we aren't particularly concerned about the severe threat tomorrow, we are getting to that time of the year, and some storms that develop Tuesday could try to produce some hail.
The SPC has NECO under a Margin Risk for severe storms Tuesday, which seems prudent. The greater severe weather threat will be south and east of Colorado.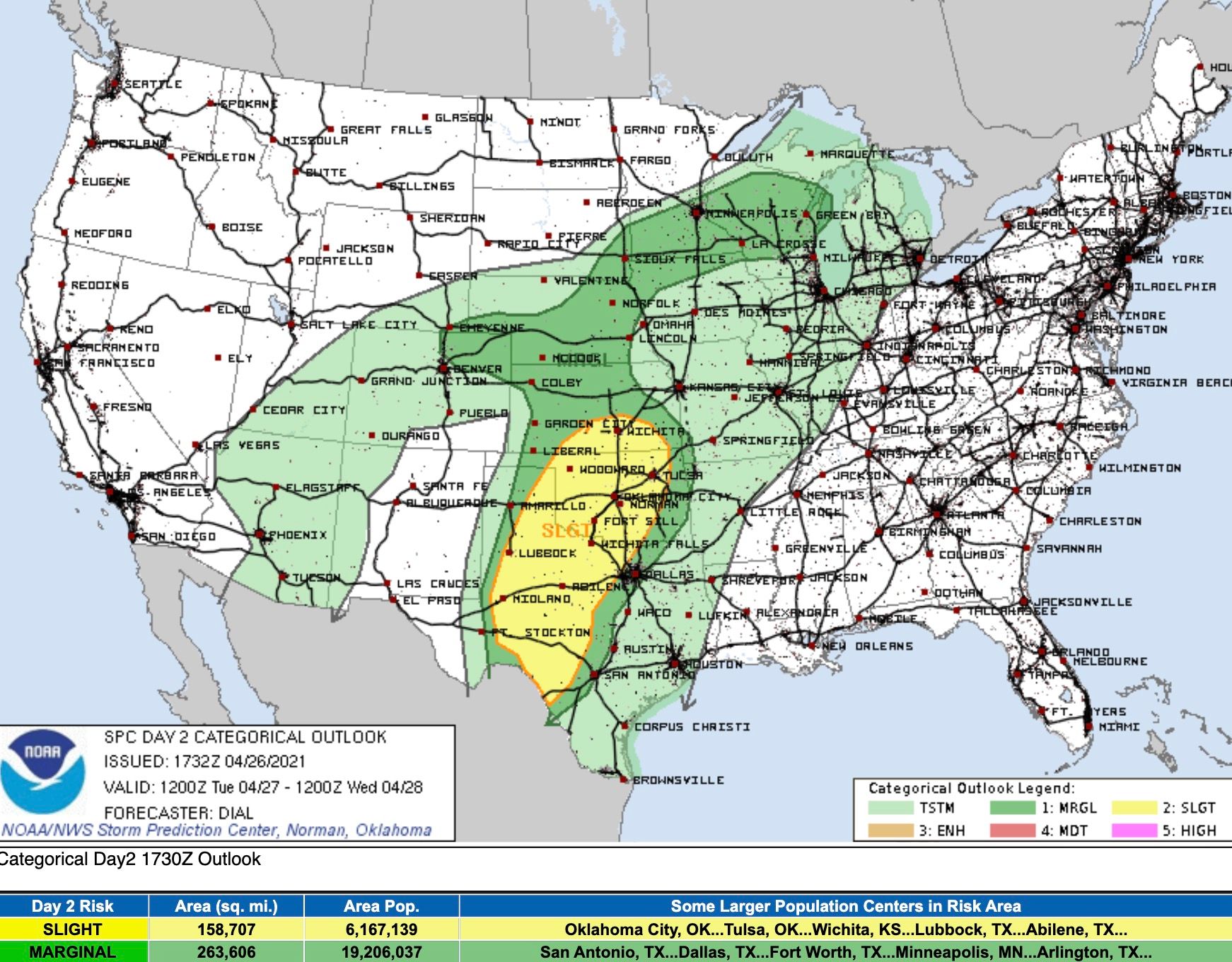 The timing of these storms depends a bit on the timing of the cold front, and their strength on how much warming is able to take place Tuesday morning.
The HRRR kicks things off across the northern reaches of the state by mid to late morning, and expands storm coverage across the urban corridor and plains by early afternoon.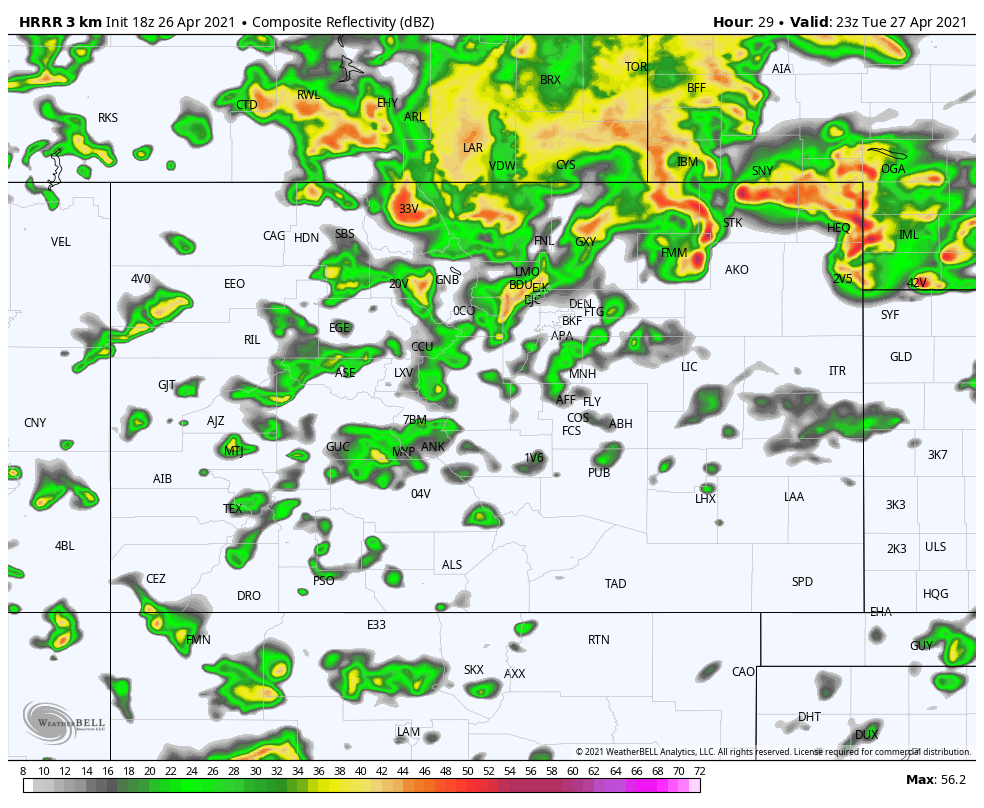 As we lose some of the energy we see in place earlier in the day storms will gradually become less intense with widespread, stratiform rain taking over later in the afternoon and overnight. Rain is expected to be widespread for several hours Tuesday evening and overnight, before the chance gradually decreases into Wednesday morning.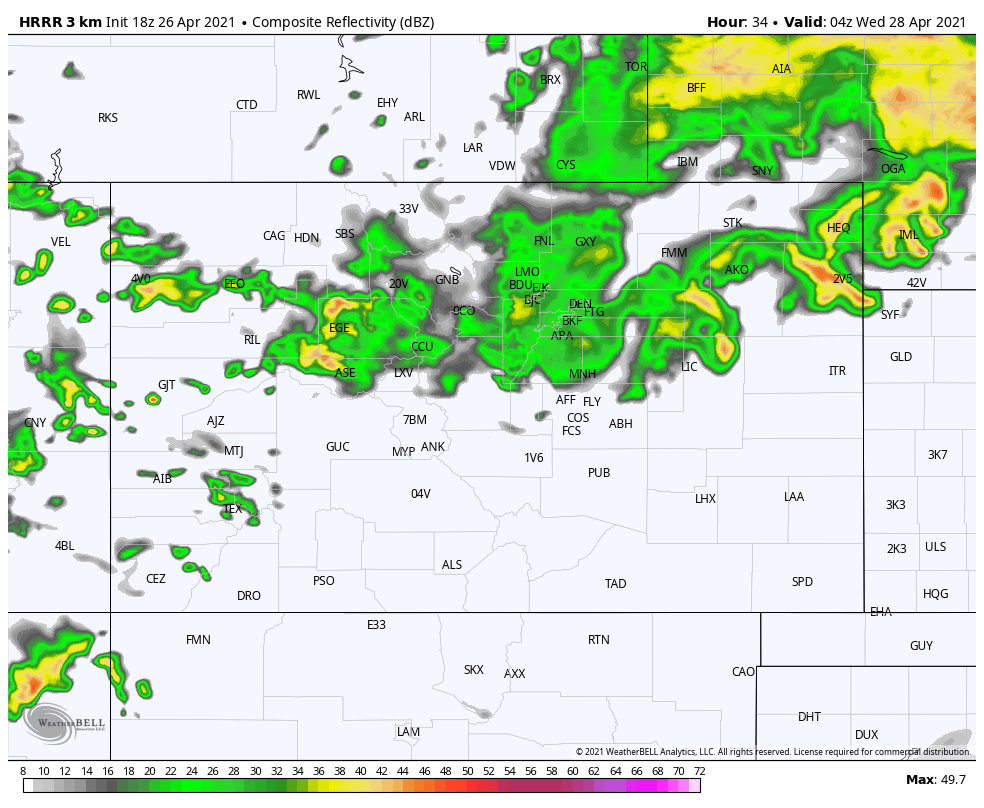 Given the convective nature of storms early on, totals will vary greatly, but a half inch or more of liquid across much of the north central and northeast portions of the state by Wednesday afternoon looks quite doable, with rain and snow chances shutting off quite dramatically as you move south of I-70 across Eastern Colorado.
Remainder of week
Still looking to warm up nicely after Wednesday. The Euro (below) shows the Denver area still in the 50s for Thursday, but we think there's a good chance this is overdone, and we could very well climb back into the 60s by Thursday.
Nice and warm Friday - Sunday before we watch the next potential system move through early next week.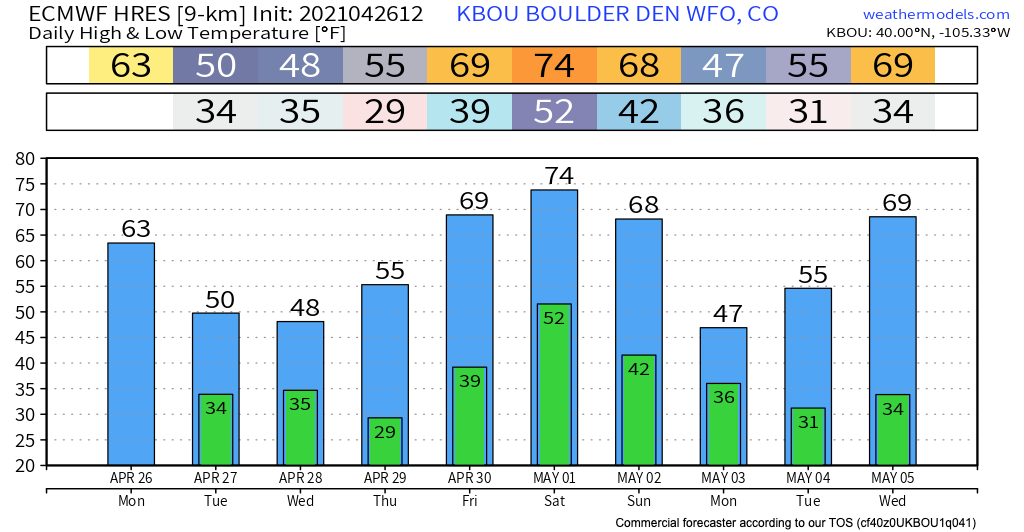 Key questions
As we noted above, the key question is how low the snow level drops Tuesday evening/overnight, and when it does drop how much snow we might see. It feels like we'll end up with some accumulation down to about 6,000 feet in spots, but we'll see. Again the area circled above is the main area to watch, as well as portions of Jefferson and Boulder counties that are currently east of the Watch a bit.