A Flash Flood Watch issued early Thursday is an indication of the rainfall intensity that is possible later Thursday.
First, the details on the watch: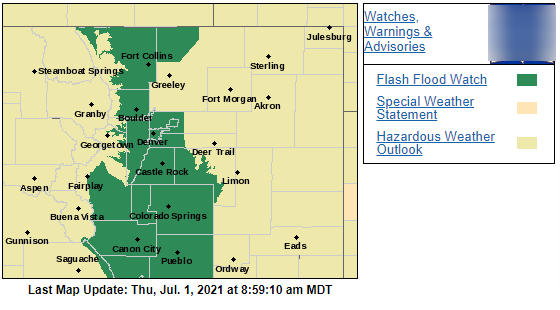 The National Weather Service in Denver has issued a  

* Flash Flood Watch for Portions of central, north central, and   northeast Colorado, including the following areas, in central   Colorado, Central and Southeast Park County and Jefferson and West   Douglas Counties Above 6000 Feet/Gilpin/Clear Creek/Northeast Park   Counties Below 9000 Feet. In north central Colorado, Larimer   County Below 6000 Feet/Northwest Weld County and Larimer and   Boulder Counties Between 6000 and 9000 Feet. In northeast   Colorado, Boulder And Jefferson Counties Below 6000 Feet/West   Broomfield County, Elbert/Central and East Douglas Counties Above   6000 Feet and North Douglas County Below 6000 Feet/Denver/West   Adams and Arapahoe Counties/East Broomfield County.  Portions of central Colorado, east central Colorado and southeast   Colorado, including the following areas, in central Colorado,   Fremont County, Pikes Peak, Teller County and the Rampart Range.   In east central Colorado, El Paso County. In southeast Colorado,   Pueblo County, and the Wet Mountains.

* Through this evening.  

* Increasing moisture and instability today will lead to widespread   thunderstorm development by the early afternoon. Heavy rain and   flash flooding will be possible in these slow moving storms,   especially over burn areas.  

* Rapid increases in water in creeks and small drainages could make   roads become quickly impassable.
The Excessive Rainfall Outlook from the WPC includes a marginal risk along the Front Range where the Watch is in place. The greater risk for flash flooding may set up to our south and east, along with up through the Mid-Atlantic.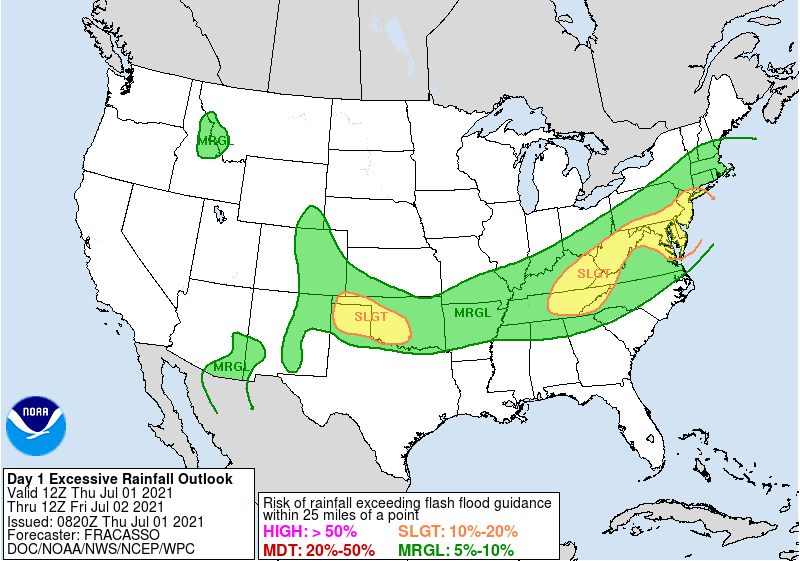 Let's look at the overall setup with this animation from noon Thursday through midnight showing the position and movement of rainfall.
Now, to some specific hourly planners from Fort Collins to Denver to Castle Rock to Colorado Springs.




So, look for storms to initiate before noon with the heaviest activity rolling over the metro areas from the mountains throughout the late afternoon into the evening.
Rainfall totals will be heavy enough, obviously for the watch to have been issued, for areas of concern.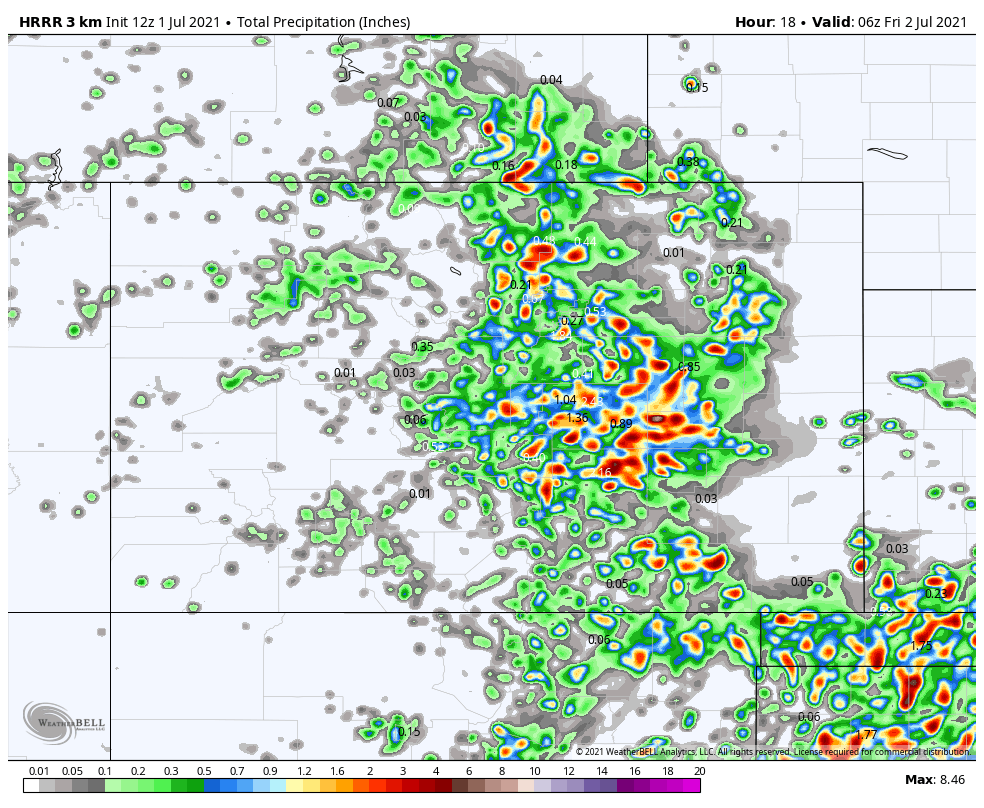 The pockets of red you see, which coincide with those counties in the watch, indicate the possibility of over two inches and nearing 5 inches in some cases.
As far as the risk of hail, damaging wind, or tornadoes: the risk of severe thunderstorm warnings is "on the table" but the primary risk is that of flooding.
Stay weather aware Thursday!