Happy 4th of July, everyone! 🎆
It's been quite a first half of the year for the state, with the western half continuing to be plagued by dry weather and worsening drought, and a rather remarkable stretch of wet weather for many locations across the eastern half of the state – though not all.
Nationally, you can see that Northeast Colorado has experienced some of the greatest positive precipitation anomalies year to date, with many areas to our south and east seeing the same. West of the Continental Divide, and portions of the northern High Plains and Northeast United States have been in a drier (and in many cases simply a dry) pattern.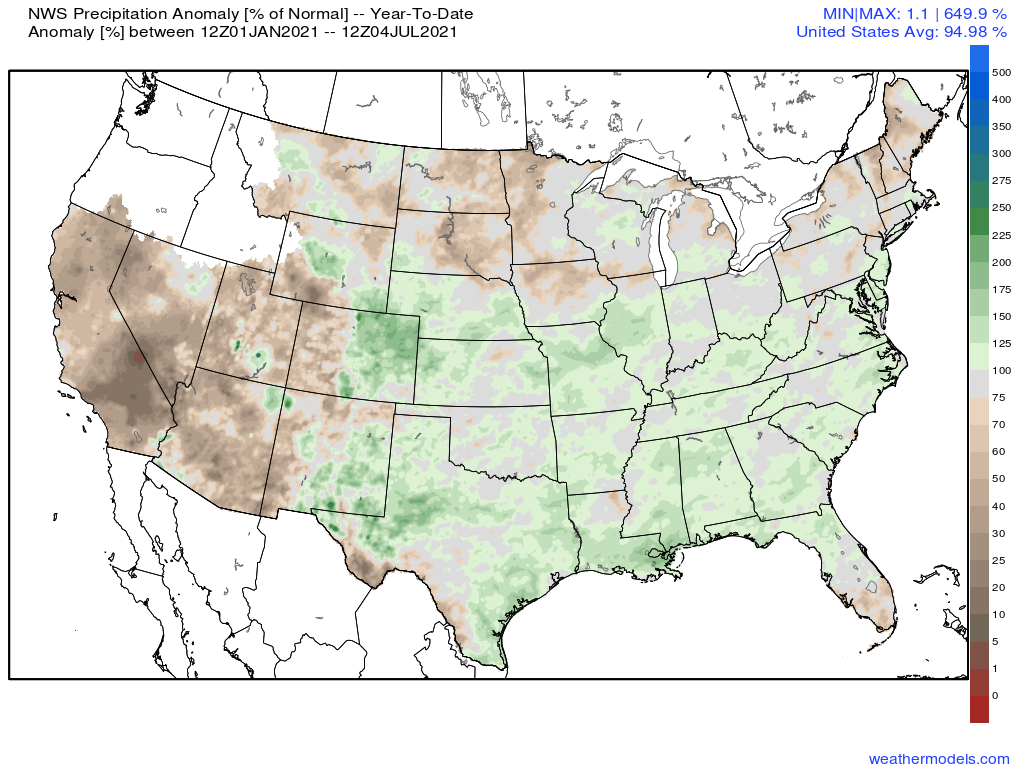 A closer look at Colorado shows the east/west split of the moisture we've seen year to date, with NECO clearly doing best. Still, Southeast Colorado has also seen some appreciable moisture, even with pockets of average to below average precipitation showing up here.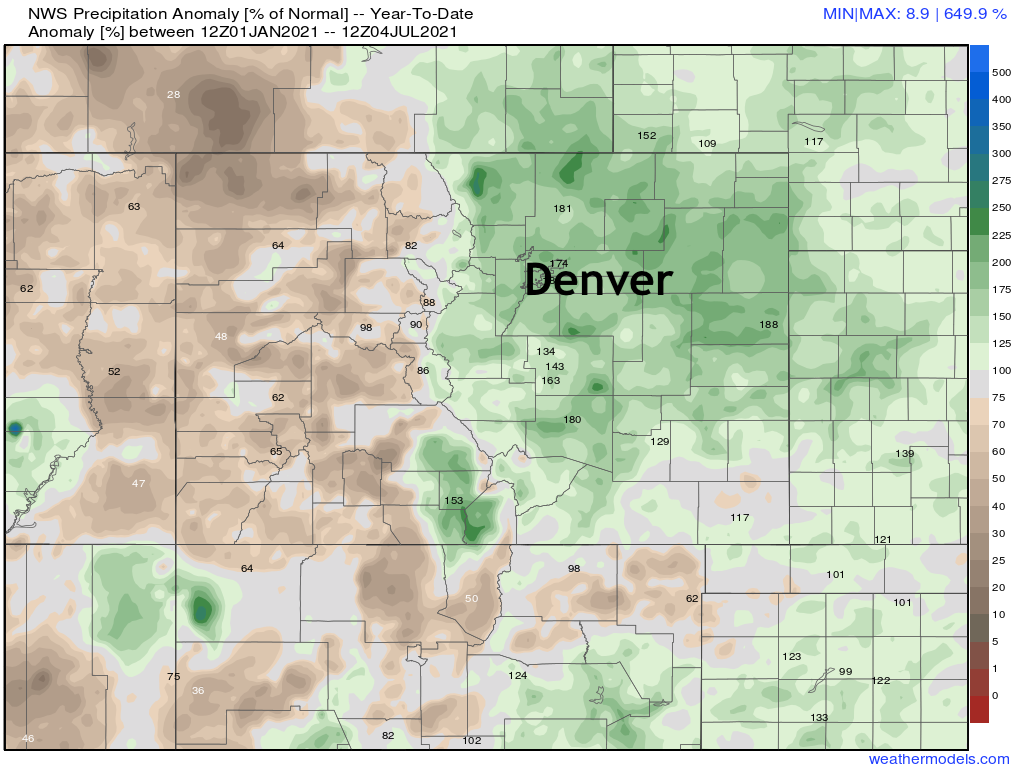 For Denver specifically, we've picked up 11.4" of precipitation now year to date, which is a healthy 3.73" above the average of 7.67" through the midpoint of the year. While quite wet, at 11.4" we fall well short of the record wettest first half of the year which came in 1967 when 15.85" of precipitation was recorded in Denver. On average, Denver picks up about 14.5" of precipitation in a year.
The outlook
The outlook keeps storm chances in the forecast over the next 10 days or so, but by no means equal chances each afternoon.
Storm chances this afternoon will be on the low side along the urban corridor, but still some isolated storms to contend with through the evening. If your plans take you out to a BBQ or fireworks this evening there's reason to hope those activities will remain dry – but best to plan for a passing shower and watch for lightning just in case. For areas west, in and along the foothills, storm chances will be a bit higher, with already some scattered showers and storms forming along the higher terrain early this afternoon. Stay weather aware!
Here's the hourly outlook for Denver, with a better chance of storms further east to kick of the coming week: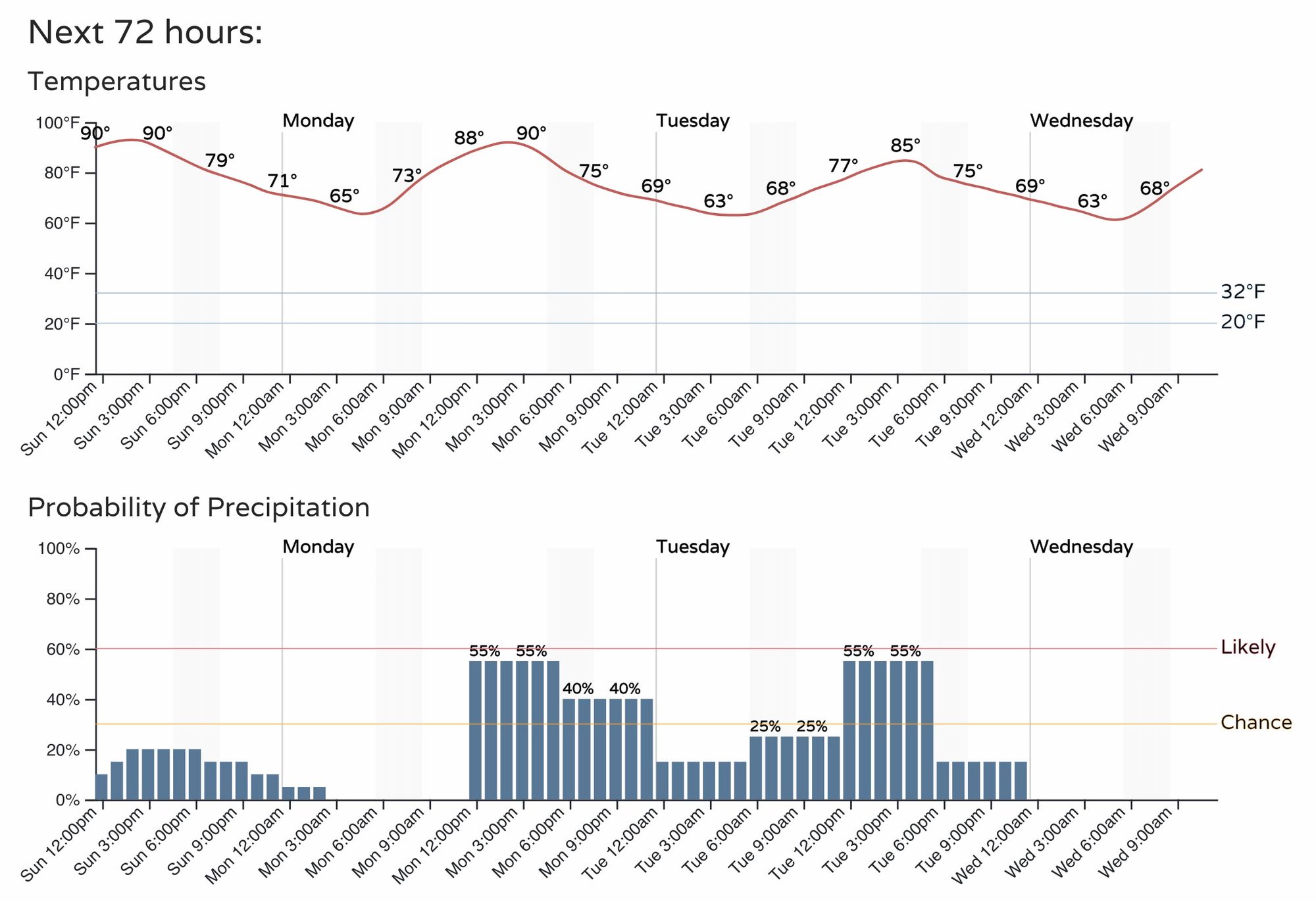 This is represented in our precip probabilities charts as well, which show an uptick in probabilities for the Denver area on Monday and Tuesday, before drying out a again by midweek.

As for temperatures? Well, no real cold-shots in our outlook for awhile, but no lingering big time heat either.
Highs will be in the low to mid 90s today and Monday, cooling into the 80s Tuesday, before we briefly ramp temperatures with a very hot afternoon expected across the region Thursday. Pockets of cool(er) air will continue to swing through over the course of the next 10 days which will keep the hottest days more intermittent.
After briefly pushing 100F on Thursday, we should drop back into the low 90s Friday, and 80s for the weekend with perhaps an uptick in storm coverage once again.

Stay cool, and stay safe.