Rainfall looks likely with the next surge of moisture to move through this weekend as part of the cooler and wetter pattern we've alerted you to earlier this week.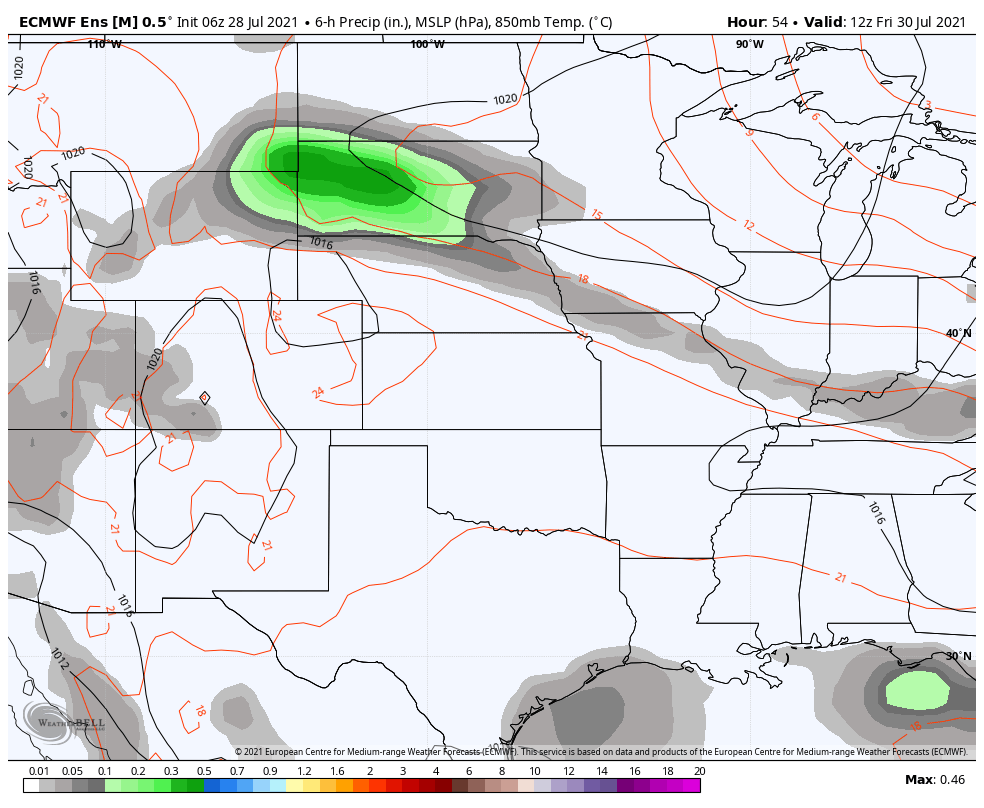 The National Weather Service has issued a flash flood watch for much of the state.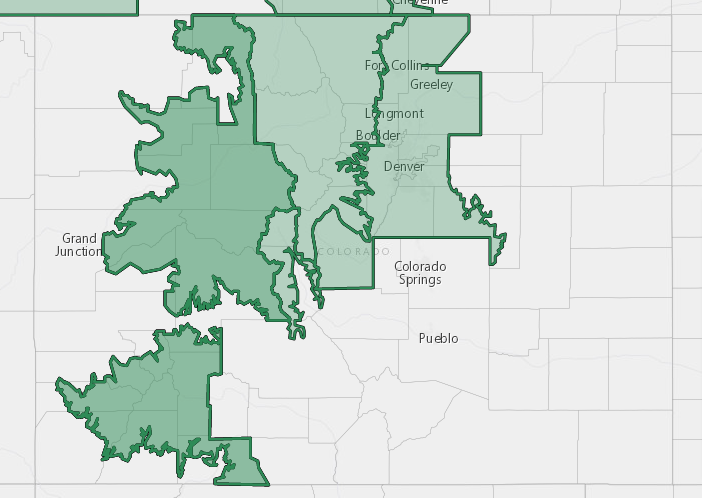 This watch area does include all metro locations from Castle Rock to Fort Collins.
945 AM MDT Fri Jul 30 2021
...FLASH FLOOD WATCH IN EFFECT FROM 6 PM MDT THIS EVENING UNTIL 9 PM
SATURDAY EVENING...
The National Weather Service in Denver has expanded the
Flash Flood Watch to include Portions of central, north central,
and northeast Colorado, including the following areas, in central
Colorado, Central and Southeast Park County and Jefferson and West
Douglas Counties Above 6000 Feet/Gilpin/Clear Creek/Northeast Park
Counties Below 9000 Feet. In north central Colorado, Larimer
County Below 6000 Feet/Northwest Weld County. In northeast
Colorado, Boulder And Jefferson Counties Below 6000 Feet/West
Broomfield County, Central and South Weld County, Elbert/Central
and East Douglas Counties Above 6000 Feet and North Douglas County
Below 6000 Feet/Denver/West Adams and Arapahoe Counties/East
Broomfield County.
From 6 PM MDT this evening through Saturday evening.
Scattered thunderstorms will develop late this afternoon or
evening, and may then continue overnight with locally heavy
rainfall and potential for flash flooding.  Rainfall amounts of 1
to 2 inches in less than an hour will be possible from the
stronger storms.  There is a threat that a few storms with heavy
rain will continue overnight into early Saturday morning.
Additional rounds of showers and storms can be expected Saturday
afternoon and evening.
Flash flooding will be possible in urban and low lying areas.
Watch the animation for rain (green areas) from midday Friday through Saturday evening.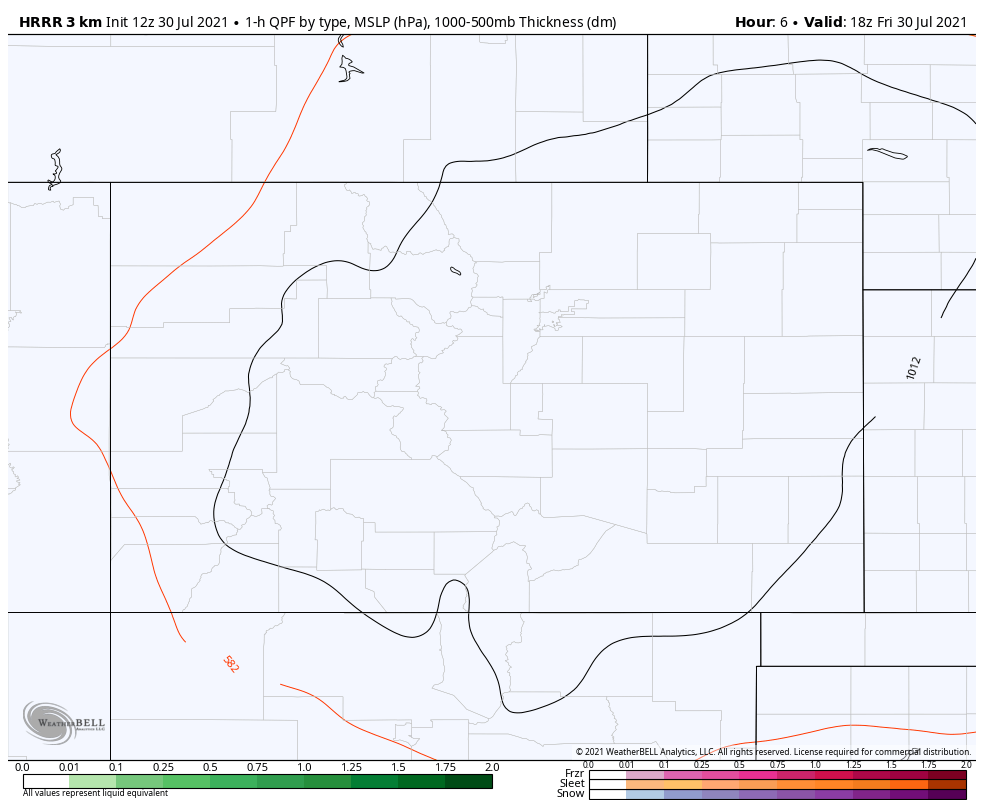 There are two periods in which we see the heaviest and most widespread rain potential. Let's take a closer look at hourly planners to see the hourly rainfall chances from Fort Collins to Colorado Springs:
Fort Collins

Denver

Castle Rock

Colorado Springs

We see chances Friday, yet higher chances in all cases arrive Saturday afternoon and repeat Sunday.
As the watch text states above, one to two inches of rainfall will be possible in a short period of time.
Here is an estimation of total rainfall on the way across Colorado. The totals shown here are from Friday morning through Sunday evening.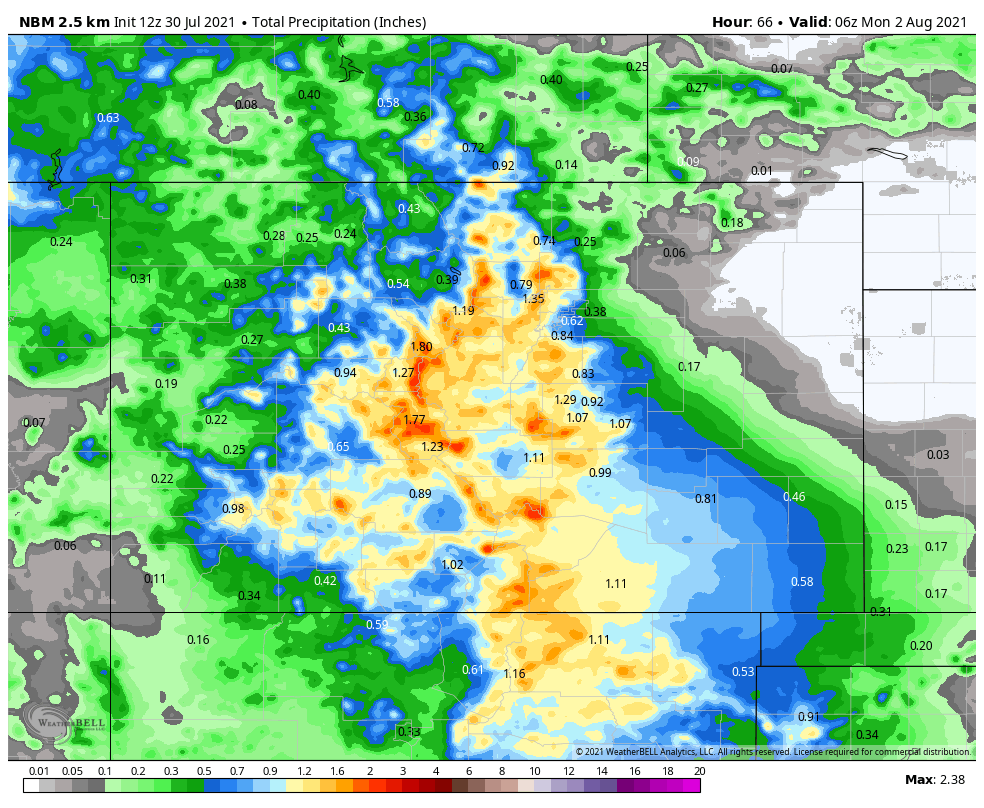 Zoomed in a bit for the Northern Front Range and Denver metro area: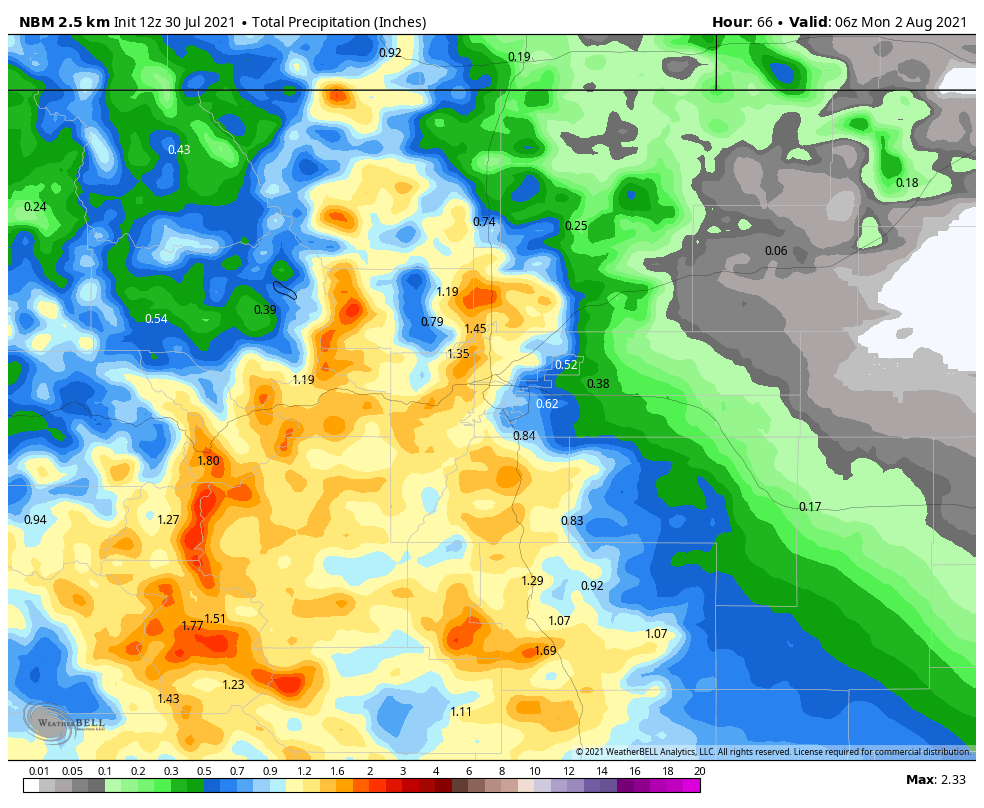 We see a number of locations, largely in the mountains and foothills, reaching over two inches.
The wettest part of the state will be the high country and the driest will be the northeastern plains.
The rainfall comes through at a time when you may be planning something outdoors. So, a heads up and a warning that you will likely need back-up plans at times this weekend.