Our quiet, and predictably warm September weather pattern continues into the last weekend of the month. While highs today are expected to top out in the upper 70s, highs will be right back into the mid and upper 80s for the weekend across the greater Denver metro area. To date, September 2021 is the 3rd hottest on record for Denver.
As you might expect, we should be well below these highs this time of year. Temperatures Saturday and Sunday will be some 10 to 15 degrees above average across the region. Forecast departure from average high for regional cities below:

By next week, we begin to need to keep a bit more of an eye on the weather again. Two troughs have the potential to impact our weather, bringing perhaps a better chance or showers and storms to the state, and maybe even (eventually) some cooler weather.
---
Don't forget!
---
Looking at the 500mb forecast for Sunday, we see a trough over Arizona which will eventually progress east/northeast early next week and deliver better moisture to our region, perhaps focused more so on the mountains than the plains.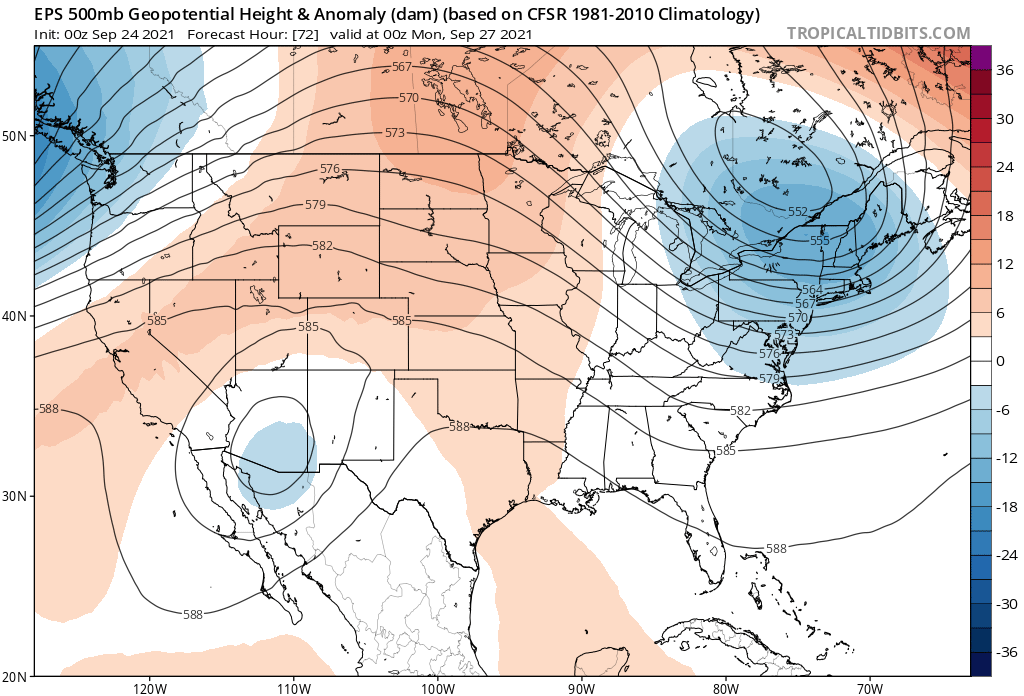 By Tuesday evening we see the trough has progressed a bit, and another trough is dropping into the Great Basin. This secondary trough could act to pull some tropical moisture north into our state, and help deliver a cold front to drop our temperatures a bit by Wednesday and Thursday of next week.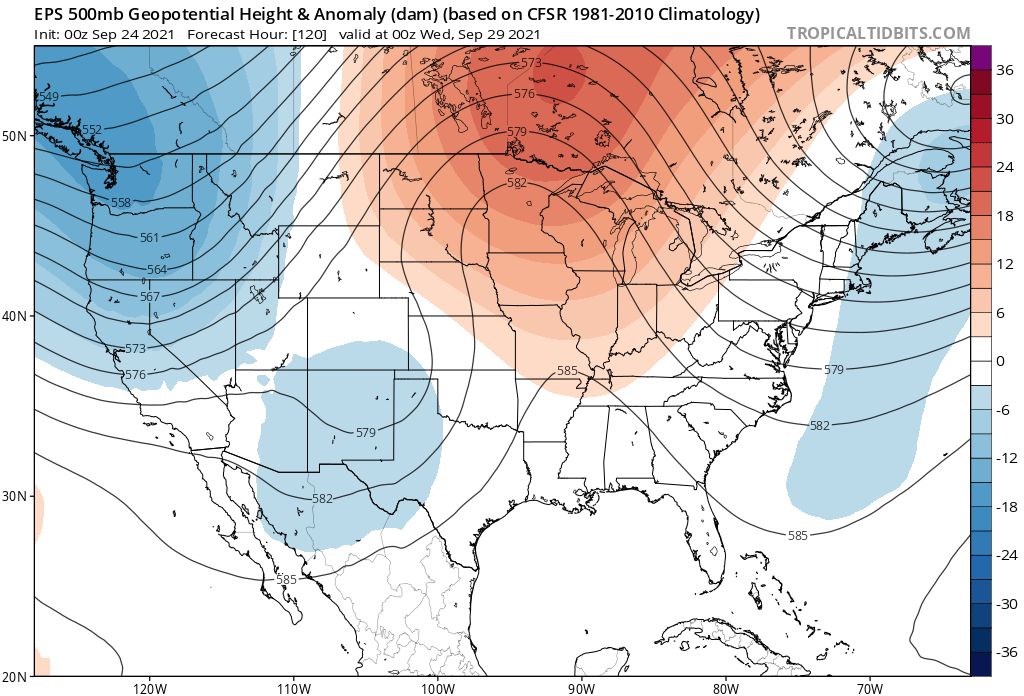 How much these systems impact our weather across Northeast Colorado is a bit of a question at this time. Some models are wetter than others, but given the overall setup hard to get all too excited about moisture prospects at this time. Still, perhaps some weather to watch next week!
As for precipitation probabilities, our probability charts show a nice bump in odds by the Wednesday/Thursday timeframe for the Denver area:

Across the higher terrain of Southwest Colorado, perhaps a more meaningful wetter period ahead as we hope to see some of the tropical moisture pulled into at least the southern half of the state!

As for any of this coming in the form of snow? Well, at lower elevations it's not looking likely. Temperatures are expected too cool for the middle to latter half of next week, but the cold front at this time doesn't look quite substantial enough to deliver the kind of cold needed for snow. Boulder, how about those odds?