Temperatures drop into the 40s for highs on Thursday as our next disturbance brings another shot of chilly air and precipitation to the state.
While Denver is likely to see its first snowfall of the season, it's not clear yet if we'll manage enough accumulation to declare a winner for this year's first (measurable) snowfall prediction contest. The most likely scenario it seems, is that we'll see some rain and flakes mixed in across the city, but any accumulation will be confined to the higher terrain of the foothills west of Denver and across the Palmer Divide. One possibility also is we see enough accumulation at DIA to count as the first snow, but not in the city proper... which we'll address a bit below. We need just 0.1" of snow at DIA for it to count as the first of the season!
For the hourly planner, watch for temperatures to drop into the low 30s tonight across the urban corridor, climb into the 40s for highs, then very likely dip into the upper 20s for lows on Friday. The best chance of rain and snow for Denver comes in the noon to midnight timeframe on Thursday, though a passing snow shower Thursday morning cannot be ruled out.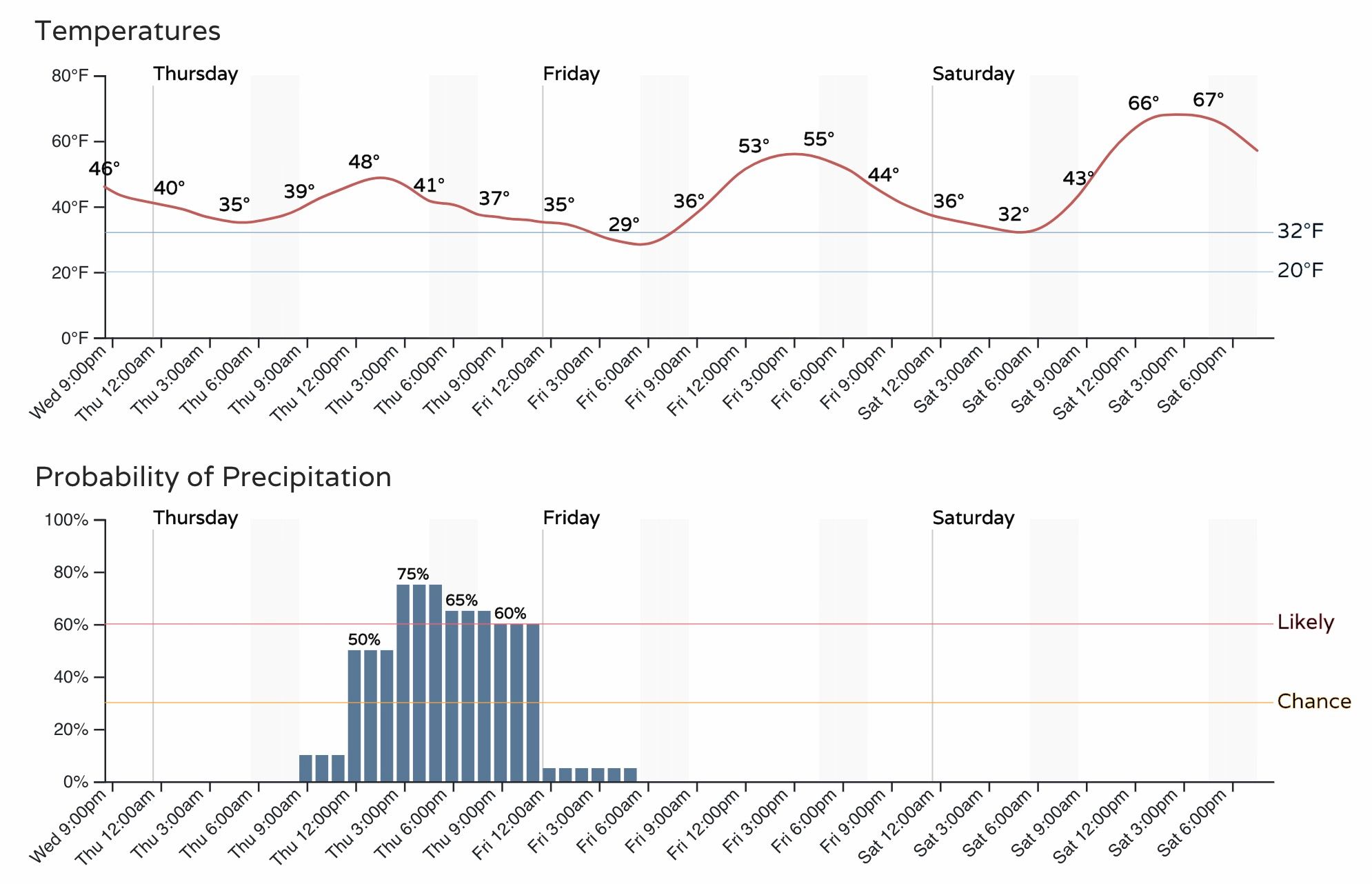 With lows dropping into the low to mid 30s tonight for Northeast Colorado, a Frost Advisory is in place from 2am through 9am on Thursday. More freeze warnings will likely be issued for Friday morning as well.
For Thursday, the light blue areas are under a Frost Advisory, while the purple are Freeze Warnings: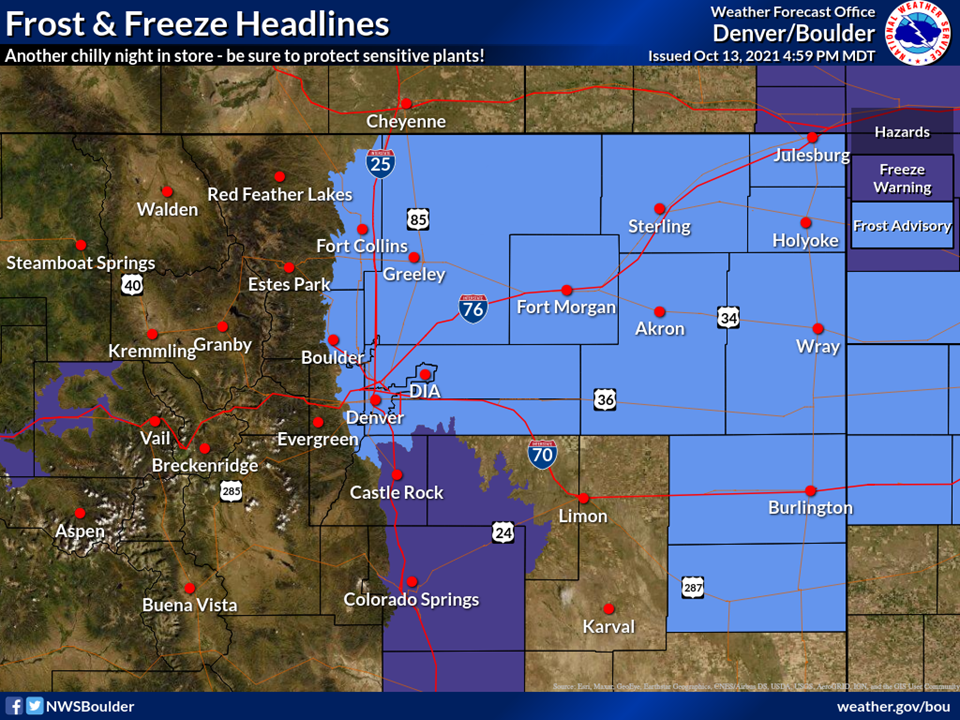 As for snow... Again, most guidance agrees any accumulation we see will be at higher elevations away from the city's core, and even for those locations most of that will be on grassy, trees, and other raised surfaces.
A blend of all models shows no accumulation for Denver, but a Trace to 3" for the surrounding higher terrain, with perhaps upwards of 6" for portions of west-central Colorado:
Now, we should note it's not outside the realm of possibility that we see snow come quick enough for a time that we manage some accumulation in the city... For those that picked October 14th for the first measurable snow in Denver (and that would be 16 of you!) you'll want to jump on #TeamEuro, as it has a good 1-2" snow bullseye over Denver International Airport tomorrow night: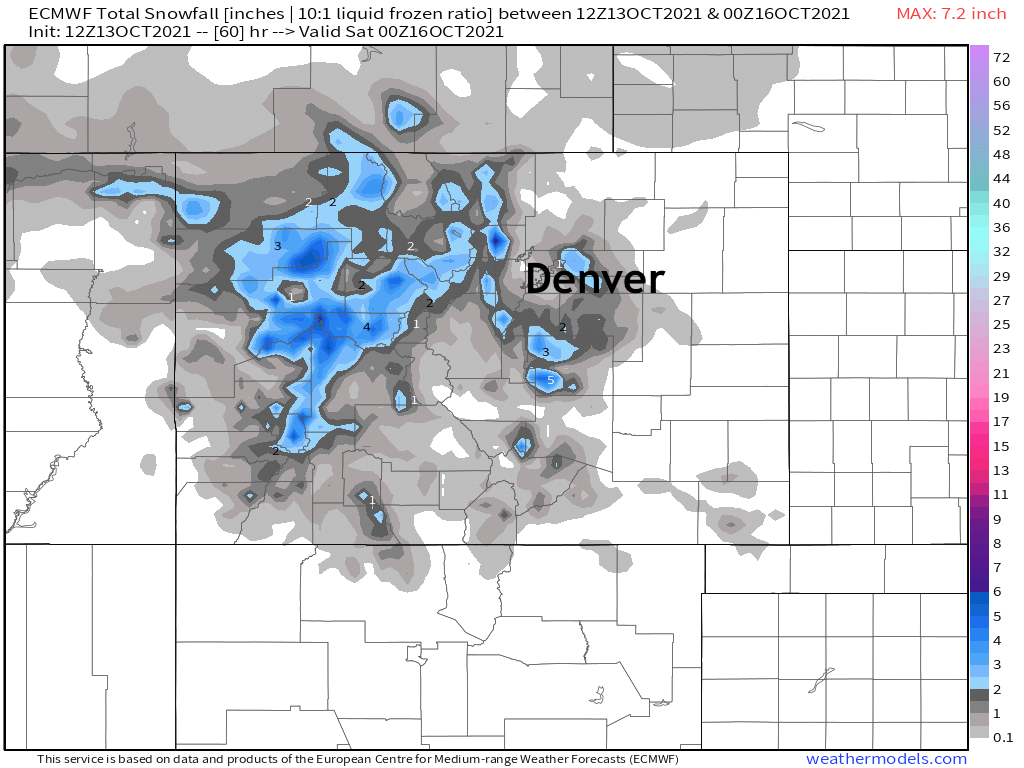 Similarly from tonight's high-resolution NAM model, which paints exactly 0" of snow for Denver proper, but a nice 1 - 2" for the airport!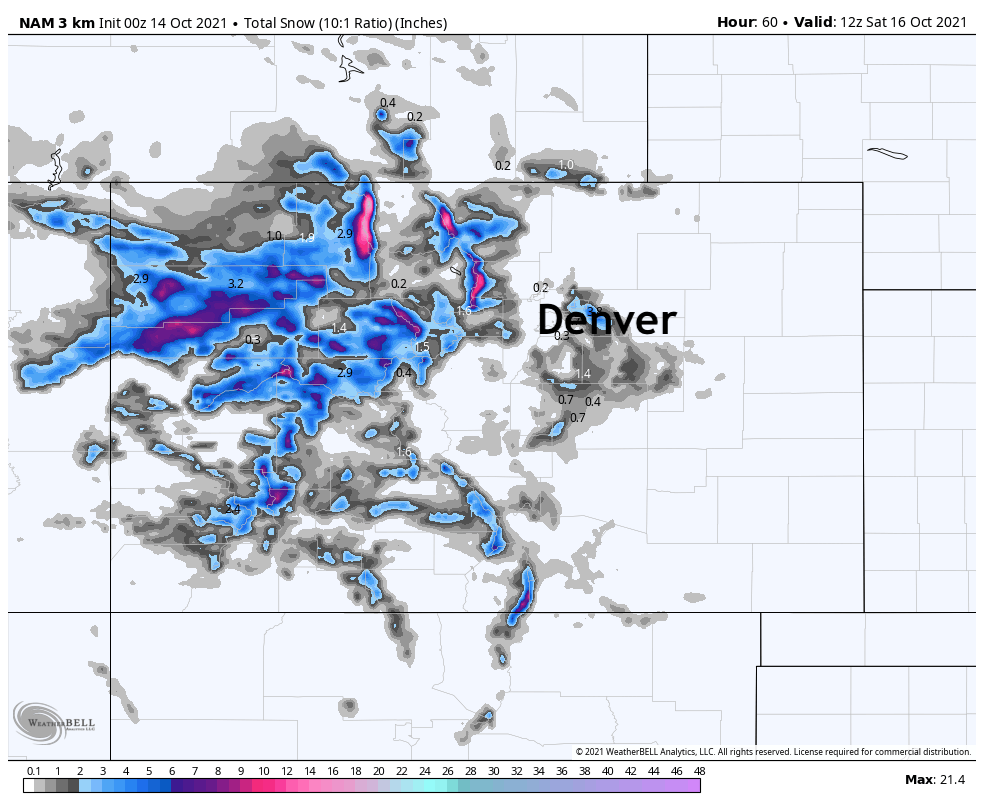 Given the above, it's definitely possible we see the contest come to an end with snow accumulating at DIA but not in the city proper... and wouldn't that be something.
The latest probabilities, however, point to a mostly non-event, though the first flakes falling from the sky for the season are always exciting nonetheless!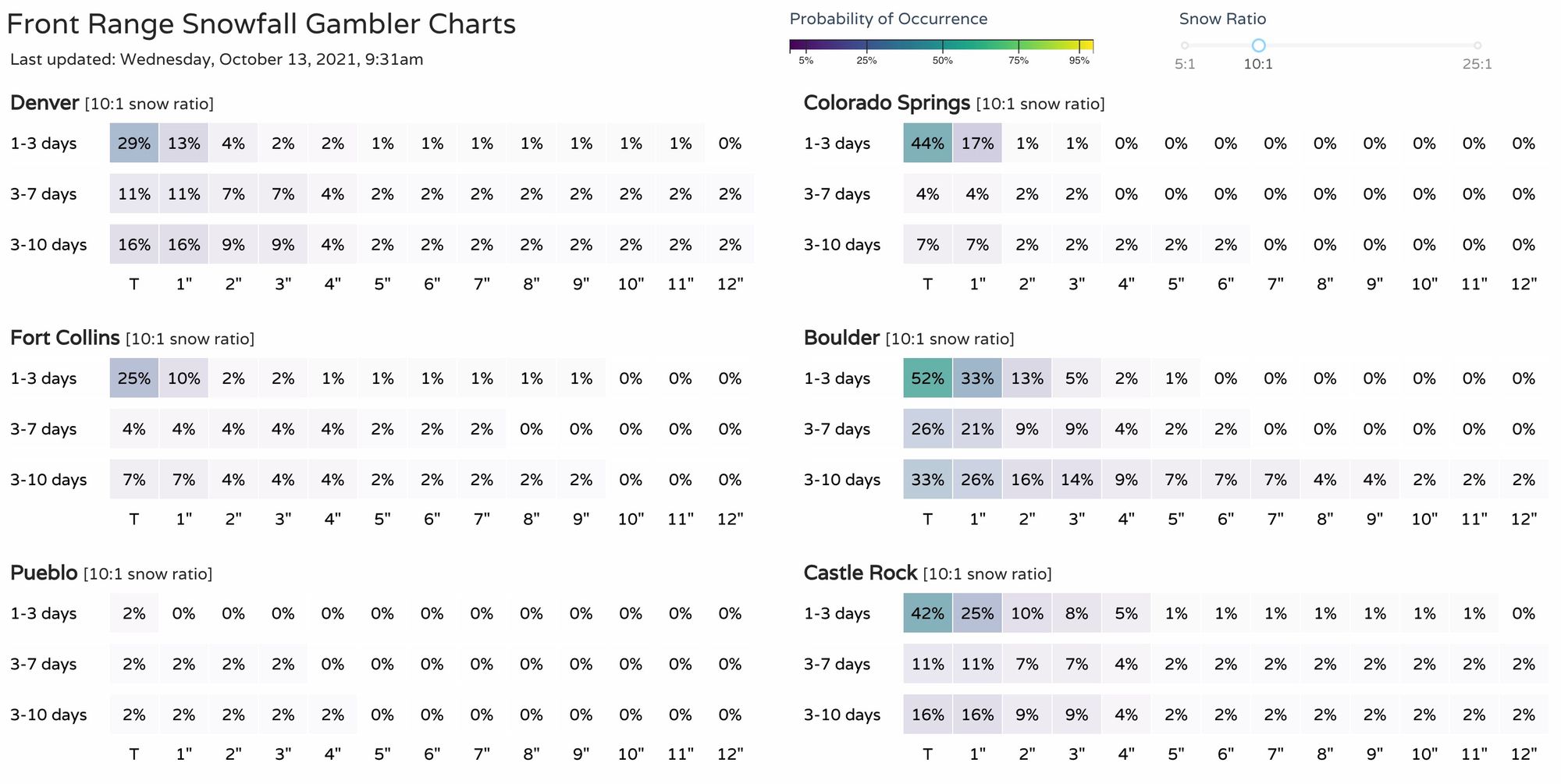 If timing of the precipitation holds of late enough in the day, it could be we see a few icy spots set up on the roadways Thursday evening/overnight, but this would be for overpasses more than anything else as warm surface temperatures should keep the roads in pretty good shape for your Thursday PM and Friday AM commute.
Temperatures moderate for the weekend with highs back into the mid 60s on Saturday.
Let's see what tomorrow brings!