The wind ramps up ahead of a cold front that will deliver some rain and snow to the state followed by a mid-week cool off.
Monday's temperatures will be near-record territory but morning clouds may stop a new record a few degrees shy of the 84 degree mark.
Denver hit that record of 84 in 2017. Instead, the city will make a run at 80°F, although strong wind gusts may be able to bump temperatures into the lower 80s.
Here are high temperatures through the week for a few locations in the region:

Notice the temperatures drop about ten degrees Tuesday, and more than ten again for Wednesday.
Here's an hourly breakdown for Denver:

The temperature drop is part of a windy setup of a strong jet stream overhead and a cold front sweeping through.
The wind isn't quite at a speed for watches or warnings just yet but that is possible as a cold front pushes through Tuesday. Just be aware that the wind will be a nuisance for the next couple of days.
For those in the region, there are hazards related to the fire danger. Plus, off to our east will be the threat of severe weather Tuesday.
Around Colorado we have the chance for rain and snow, and perhaps some thunderstorms, however, the strength of those storms increases out of state as shown in the outlook above.
For those along Colorado's Front Range, we are likely to see some rain showers develop Tuesday, particularly from midday through evening.

That'll be rain chances for the metro areas. Snow won't be too far away, with parts of the mountains to receive a bit of snow through Wednesday highly confined to the highest elevations.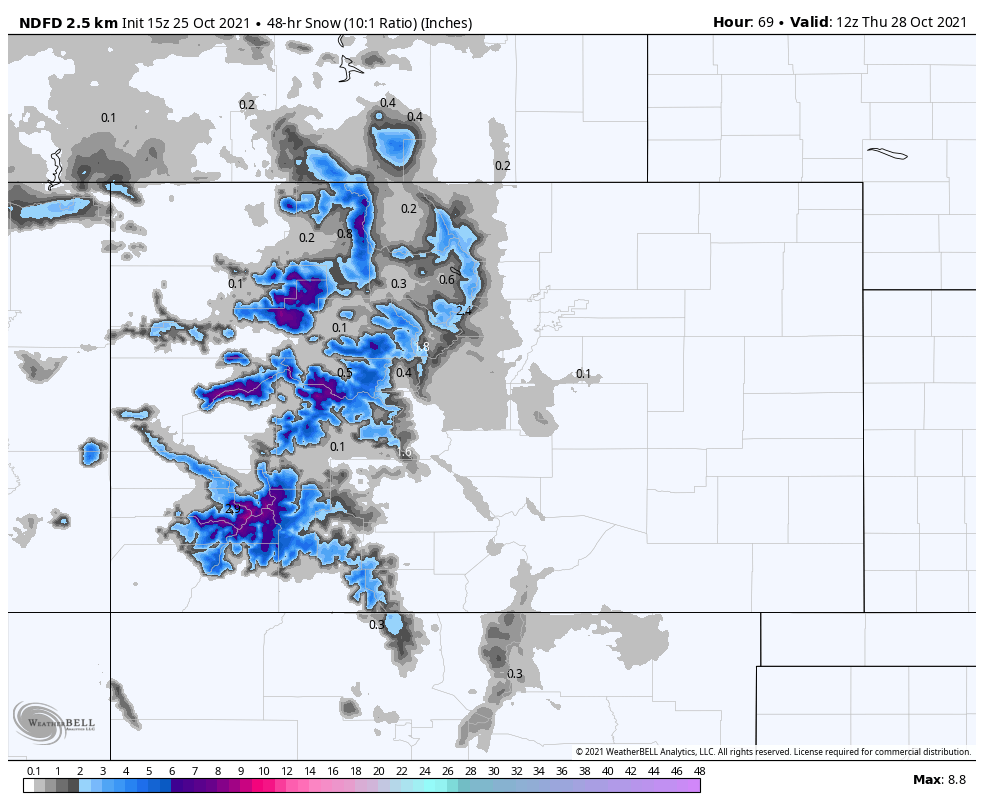 You may notice a rain/snow mix if you are on the Palmer Divide or Raton Mesa.
As far as rainfall totals for the metro areas, most locations that receive rain will measure less than a tenth of one inch. So, not the best system to fertilize for.
Bottom line: Windy conditions will drive temperatures near record highs Monday, before a cold front sends rain and cooler temperatures Tuesday and Wednesday.