Anecdotally, I look back at growing up here and think of all Halloweens as being cold and often enough there was snow to ruin my costume. We know that isn't always true, but the weather pattern is set to shift, and with that shift will it support my memory this year?
For the Denver area, Halloweens since 1872 have been as warm at 79 degrees, with an average high temperature of 57. Nearly 75% of years did have high temperatures above 50.
They've also been as cold as 7 degrees (in 2019!) with an average low temperature of 31. Further, more than half of all Halloweens did cool off to freezing and colder, supporting mine and likely most of your memories of cold Halloweens growing up.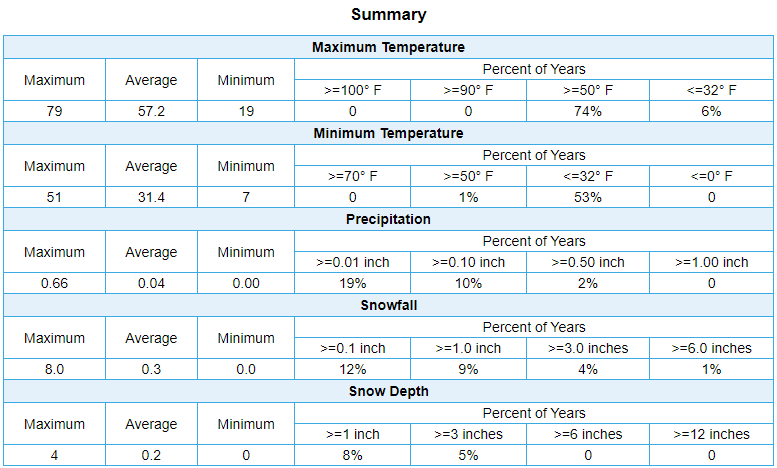 As far as snow, we've only had greater than one inch eight percent of the time. So, I'm clearly mistaken thinking it was a snowy holiday, but looking at the past 20 years, we did have the deepest snow along with the coldest Halloween just two years ago, with 4" of snow on the ground for Halloween in 2019: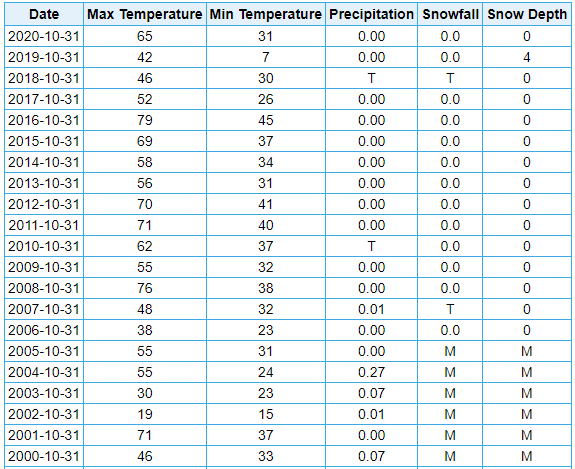 With this history in mind, this year's Halloween will be one of the colder ones. Colorado will be hit with colder temperatures for the second half of this weekend, so we hope everyone has been able to get out and enjoy the warmth before our pattern shifts.
From Saturday's warmth, cold air along the eastern flank of the Rocky Mountains will drop south from Montana. This animation highlights the colder air (cool colors) drifting in from the north.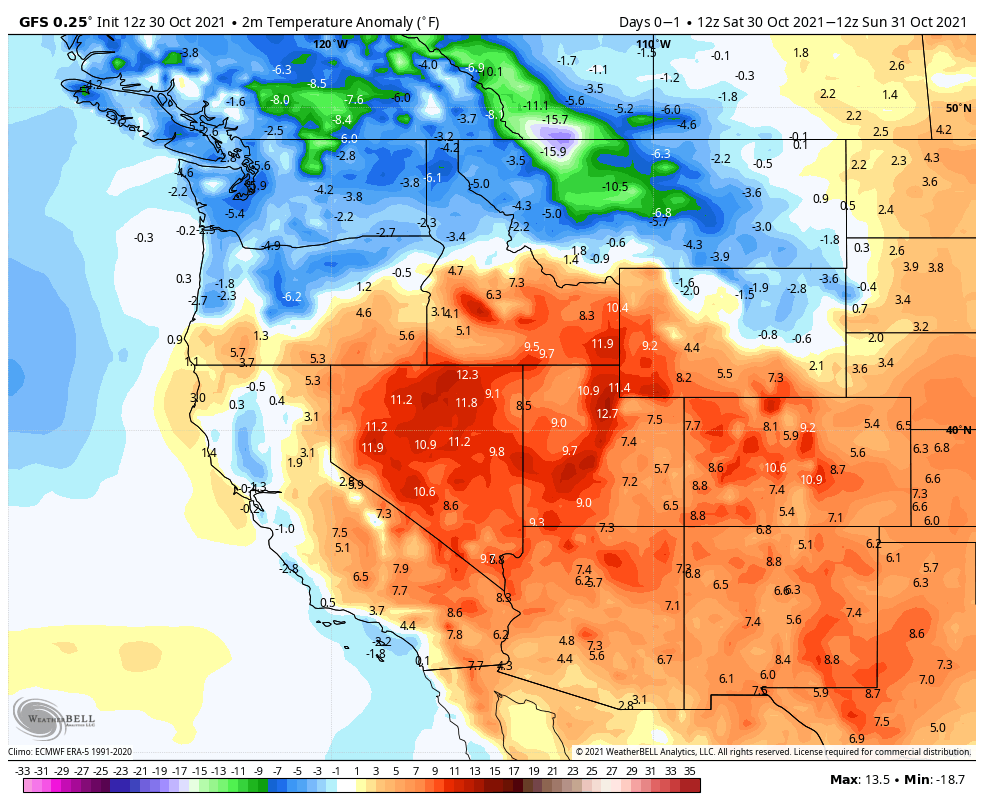 Denver will have one of the cooler Halloweens on record with highs this year in the middle and upper 40s and down into the 30s by trick-or-treat time.
How this looks in hourly form is as follows for Fort Collins, Denver, and Colorado Springs.
Fort Collins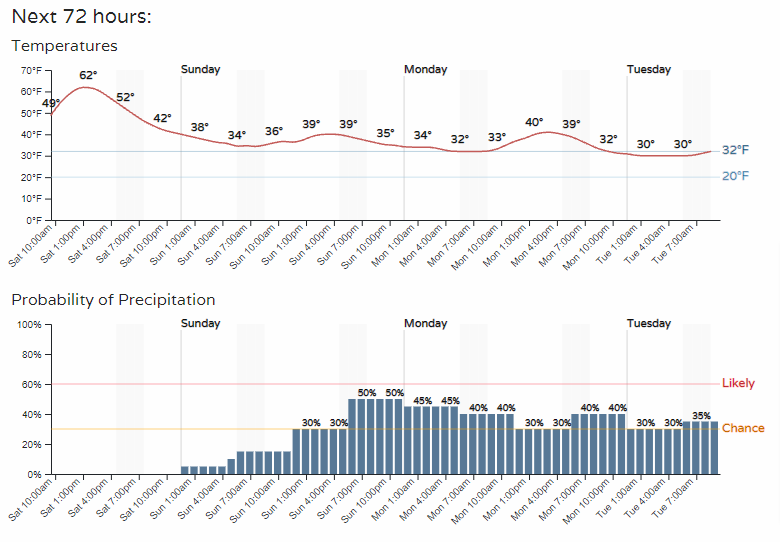 Denver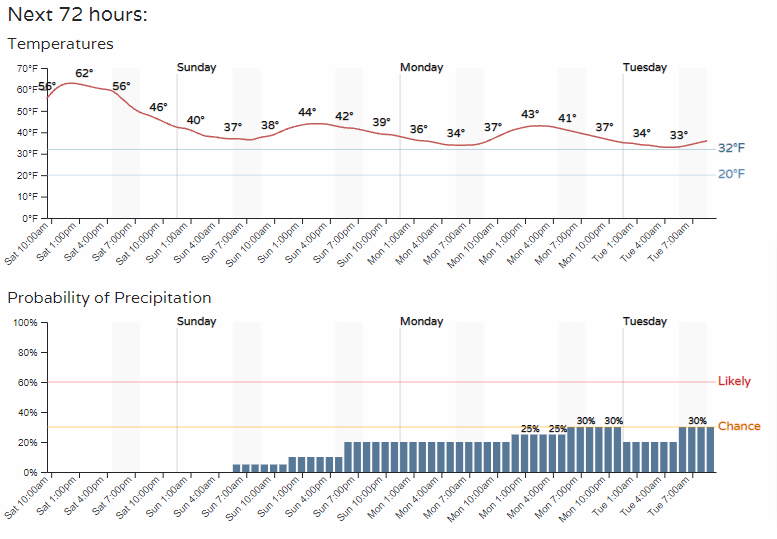 Colorado Springs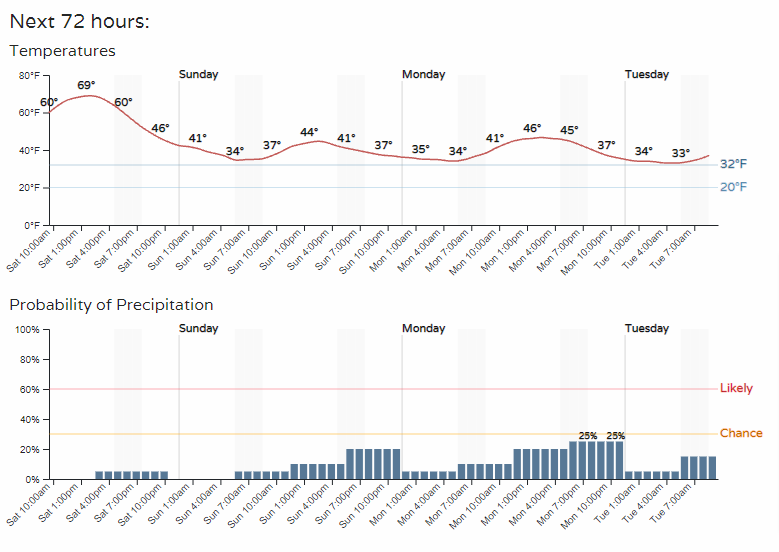 Notice, these are also hourly planners for precipitation. Let's focus on that now.
The first thing to note is that precipitation chances will be on the increase over the next several days, with precipitation chances in the forecast off and on through at least Wednesday. The next thing to note is that odds will be greatest for areas across Northern Colorado, with lower chances for rain and snow the further south you go.
Models have been all over the place with regard to how much snow we'll see through the course of the week – but data is generally coalescing around the idea of a less snowy pattern vs any focused heavier snow events through the week. For most areas at lower elevations that is, the caveat being if you manage to end up under a more organized snow band in the coming days.
This makes sense given the pattern, but it's likely that even with model consensus today we'll see data change a bit as we move through the weekend and begin the next week. With a northwest flow aloft, and several disturbances embedded in that flow, it's never a good idea to sleep on this pattern, as subtle differences in intensity and track of these disturbances can mean very little precipitation, or at times focused banded heavy precipitation (snow) events along the Front Range.
Sunday and Sunday night
The main thing to watch for the Denver area on Sunday as we mentioned above will be the temperatures. Still, some rain and even snow showers cannot be ruled out Sunday afternoon and evening, but any precipitation we could see still should remain light barring any unexpected changes.
Up north we could see a bit more in the way of meaningful precipitation, with the Fort Collins area and points north to the border perhaps ending up a snow band that could produce a couple inches of snow. Where that band sets up remains to be seen, with most models having it up north along the border vs over Fort Collins, but should it slip south we could see a bit more snow for the northern cities along the urban corridor and northeast plains as well.
Monday and Monday night
For now looks mostly dry, but chilly. Perhaps we'll see some areas of drizzle across the metro Sunday night into Monday, but again nothing all too meaningful as it appears now. Monday evening again we'll watch for the chance of showers to return to the forecast, but for now we'll keep those chances low.
Tuesday and Tuesday night
Another disturbance moves through. This one has a bit more snow for the Denver area in some modeling, and may be our best shot at something measurable in the city this week. Still, it's far from a done deal, some models are quite dry for our area even with this disturbance, and some of the wetter models are drier today as well.
Given the above, not too surprising to see our Gamblers aren't all that enthusiastic about snow this week. A little bump in odds for Fort Collins with at least some potential on Sunday,  but pretty low-end across the board.
Precipitation and snowfall probabilities
A look a precipitation probabilities shows we'll be unsettled most of the week, with perhaps more chances for something moving through even beyond Wednesday. Will mostly low-end probabilities, you can see every day will feature some chance for moisture over the coming week.

As for snow, here are our latest Gamblers as of Saturday afternoon: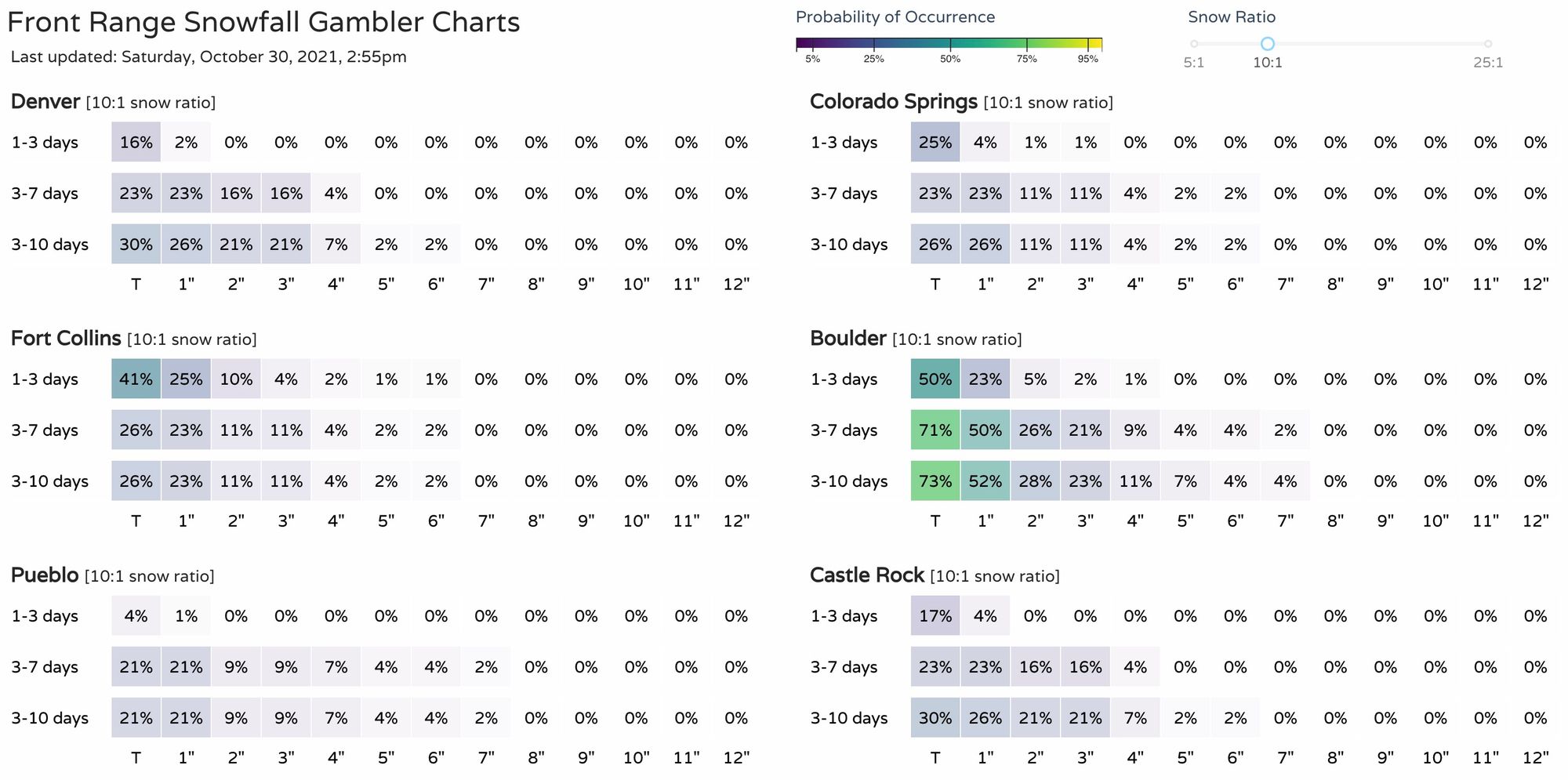 This aligns pretty well with the European ensemble as well, which overall has been more bullish for snow with this pattern. For 1" of snow or more odds are pretty low in Denver and the northern urban corridor, but decent for the Palmer Divide, Northern Mountains (great!), and up across Wyoming and Nebraska: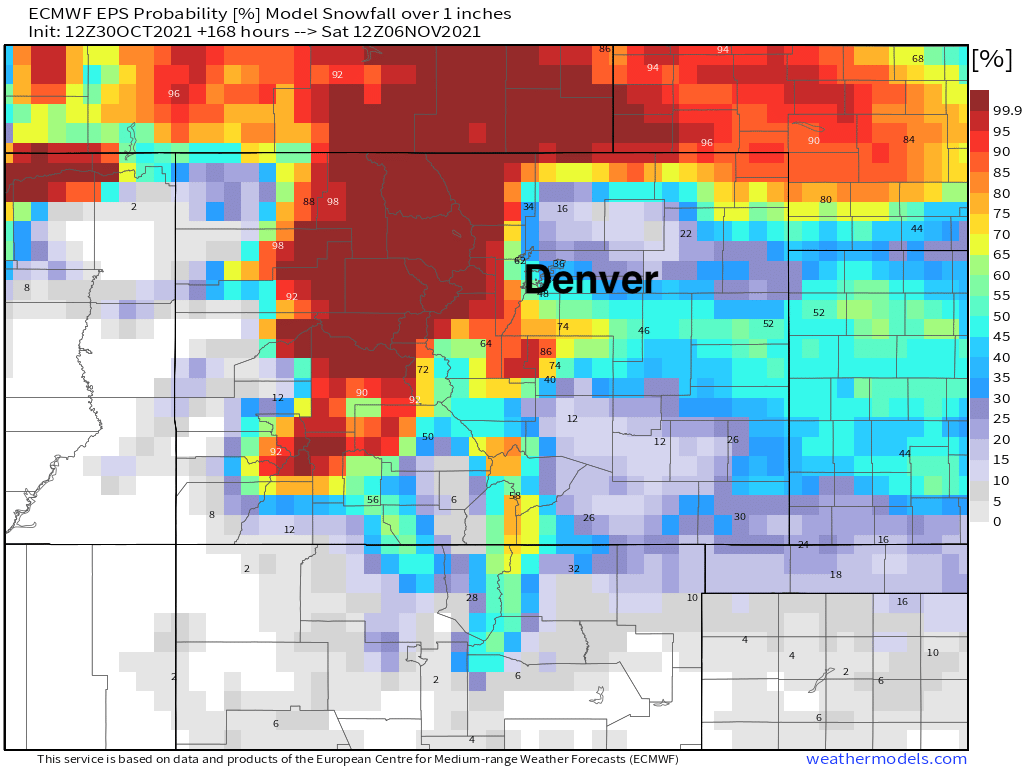 For 3" of snow or more (and again this is through next weekend) the northern mountains again do well, east of the hills odds drop off considerably. Again note that areas along and north of the border could see some appreciable snow under some banded snowfall Sunday/Sunday night, and while some of that could creep into the Fort Collins area, the greatest odds are clearly well north of there.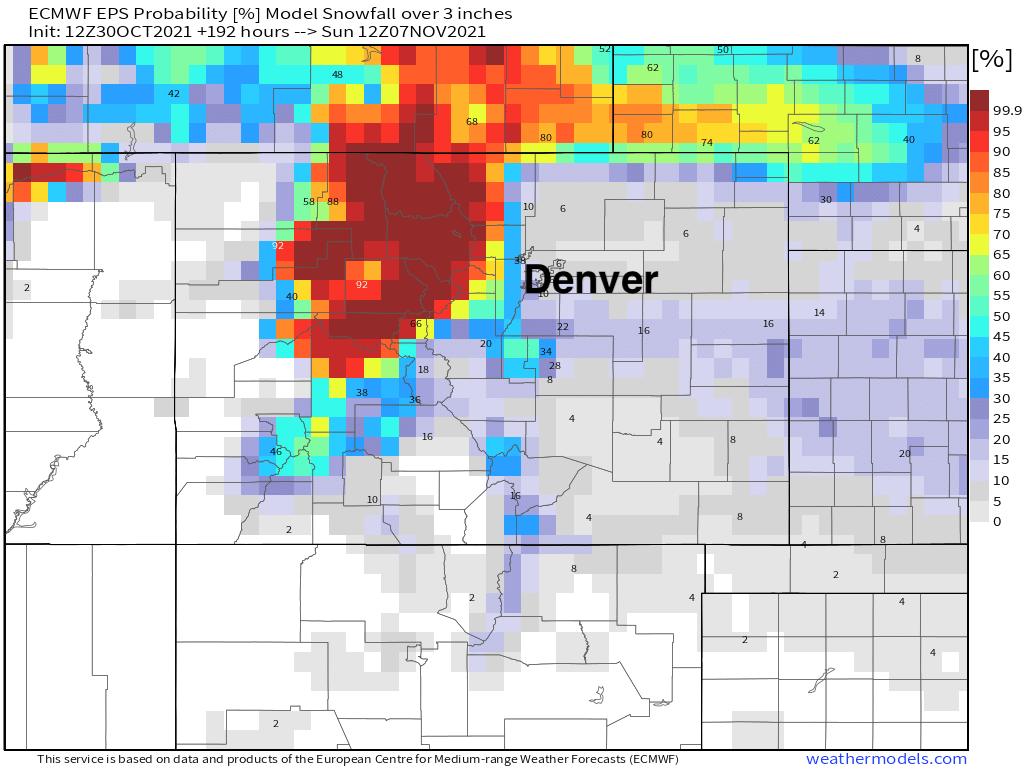 So, a rather complex setup overall, but in general terms one that is chilly for the urban corridor, but not necessarily snowy unless we "luck out". Right now it's hard to find much data that supports heavier banded snow, but with several disturbances set to move through over the next several days, its a forecast you need to keep an eye on just in case.
Bundle up those trick-or-treaters, look to the sky for a few rain or snow showers Sunday evening, and Happy Halloween! We'll keep an eye on the sky and pass along updates as needed as we head into the next week.