Quick update this afternoon to touch on our weekend outlook and what chance we have (if any) of seeing measurable snow at Denver International Airport before we set a new record of latest first snow of the season come Sunday. The latest first measurable snow (0.1" or more) is currently November 21st, set back in 1934.
On Wednesday a few locations along the Front Range did in fact see their first measurable snow of the season. The Fort Collins area had some spotty totals near 1.0", with most other locations that saw snow in the Trace to 0.5". Many, if not most locations, did not see snow accumulate.  
DIA picked up a Trace of snow, not quite enough to end this year's contest or count as Denver's first snow of the season. We now have two days to pick up 0.1" of snow or more at DIA before setting a new record for the latest snow on record.
The chance we to break the record is quite high, as very little precipitation is in the forecast over the next two days, and what precipitation we do see may come in the form of rain at lower elevations. Pretty striking.
The blend of models shows another round of good snow for the higher terrain of northern Colorado through early Sunday morning, with only a hint of snow showing up across the western Palmer Divide between Denver and Colorado Springs: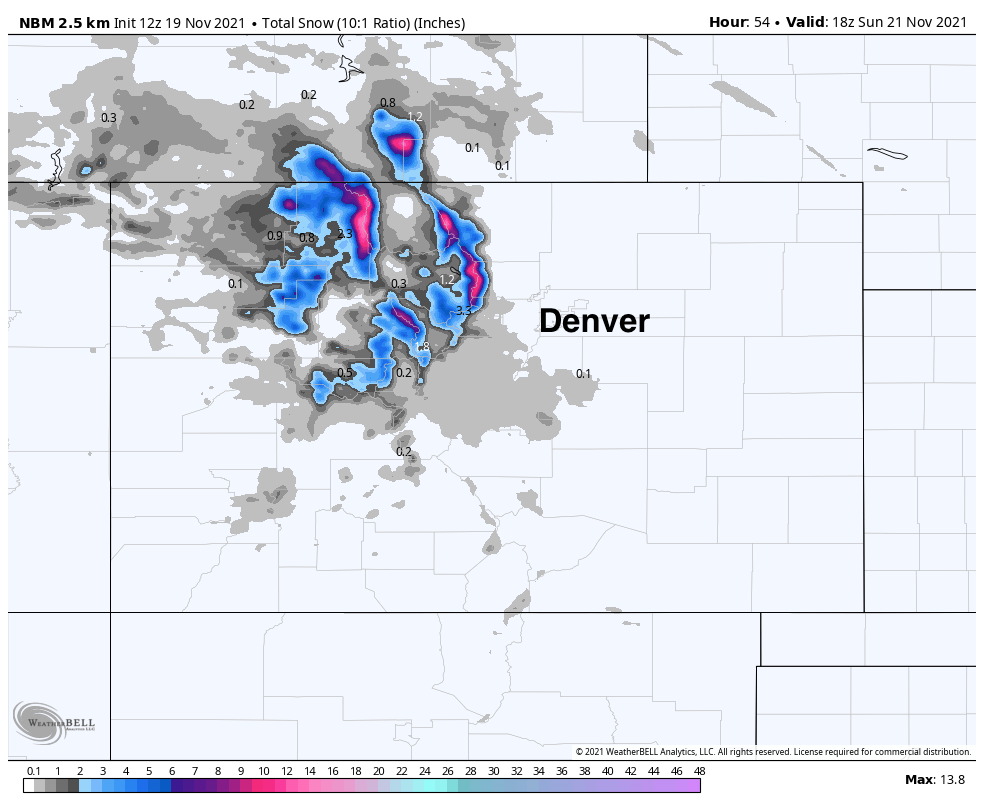 For precipitation, pretty dismal as well. Spotty trace amounts across the plains, which even if in the form of snow and over DIA would have a hard time adding up to that all important 0.1" snowfall mark: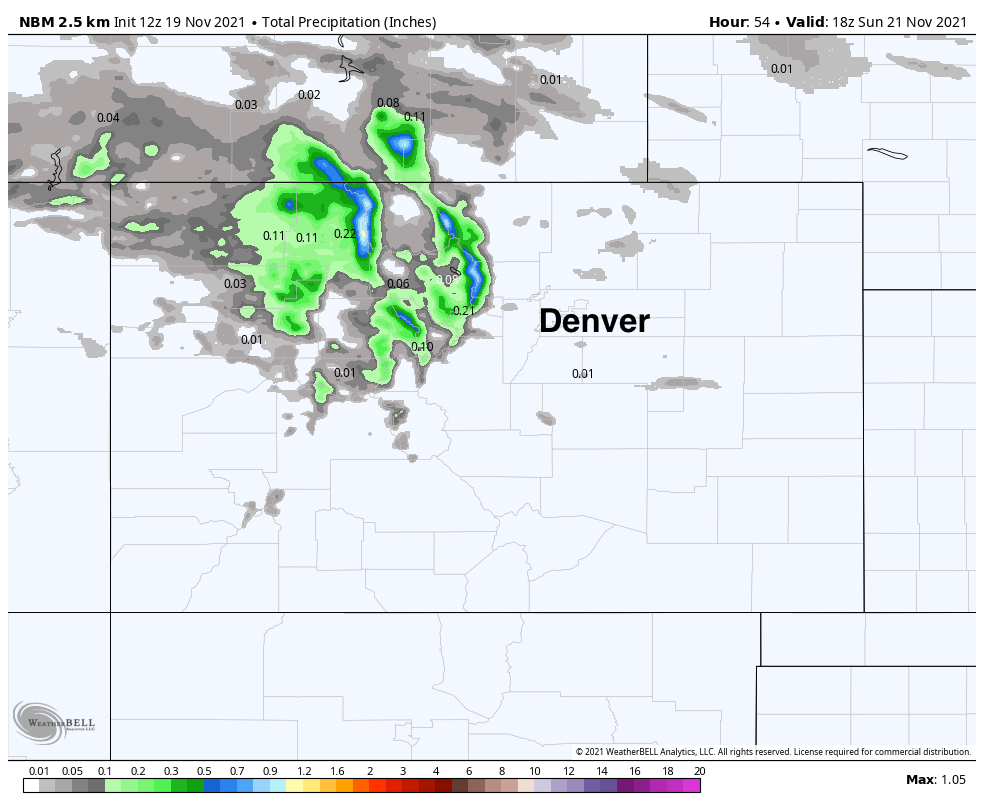 That's not to say there isn't some data support pockets minor accumulating snow across the metro area. The latest HRRR, for example does show about 0.8" of snow just on the south side of DIA Saturday. So, similar to earlier this week, we could see some spotty showers deliver a bit of something – but odds of that ending up over DIA remain quite low, and the chance this comes in the form of rain vs snow is much higher than on Wednesday.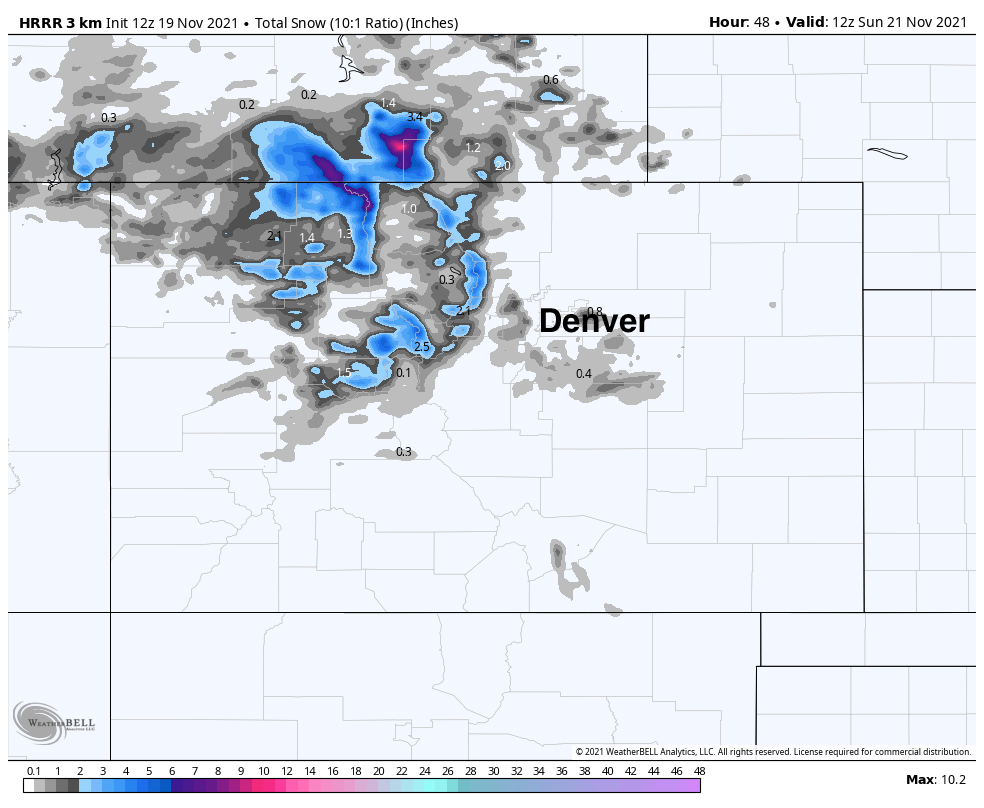 As for the hourly timeline... as you can see, the latest data suggests the "best" chance of snow comes during the data Saturday, which of course would suggest more rain than snow if we see precipitation to begin with. Chances for the Denver metro area are only in the 15 to 20% range, similar to our last couple of systems.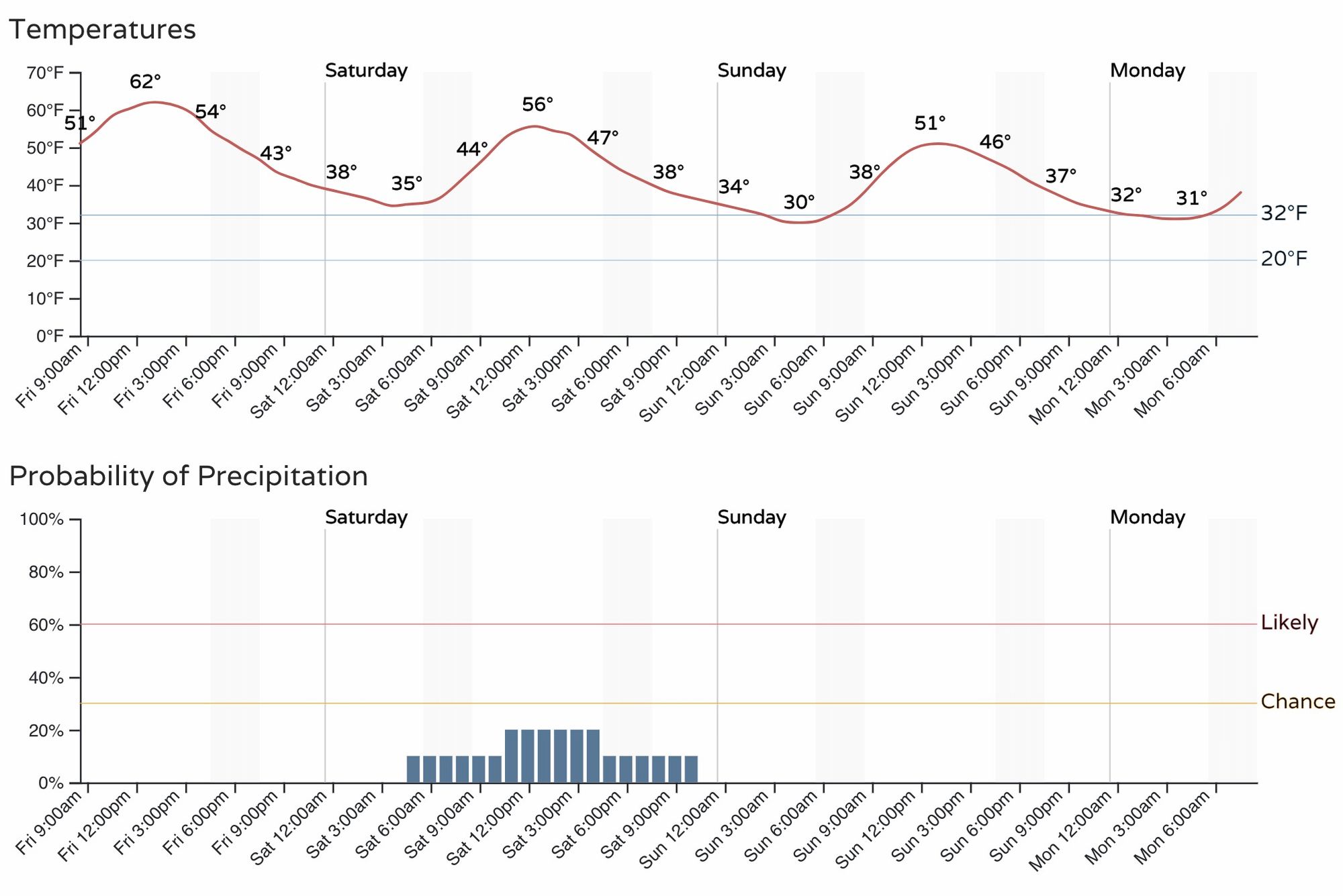 If we don't manage snow this weekend, when might our first snow of the season finally arrive?
That chance may come by the middle of next week, right before Thanksgiving, or perhaps Wednesday night into Thanksgiving morning. There's a lot of uncertainty here, but given the interest around when we may see our first snow, and the fact that it could potentially align with the holiday, it's worth having this on your radar in case something does materialize.
The European is most bullish on the snow chance Wednesday night into Thursday, with the GFS showing a system, but more less meaningful for the urban corridor at this time. Here's the Euro map for Thursday morning with some snow across Northeast and East-central Colorado: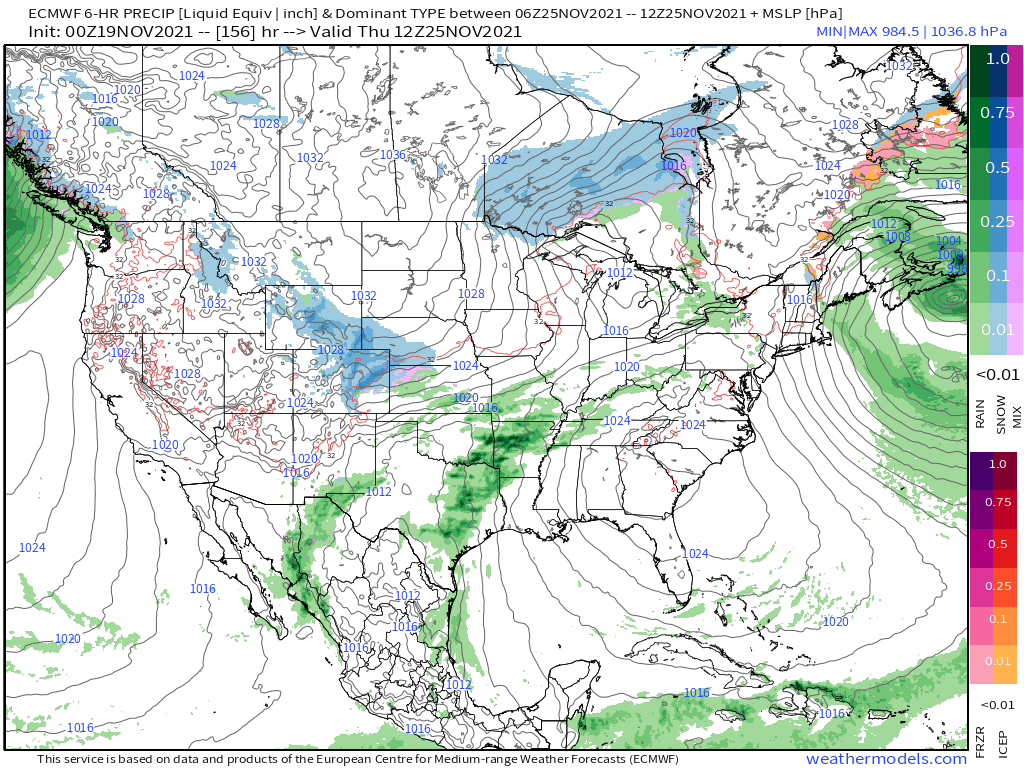 If we take a look at our precipitation probabilities we see a bit of spike on the way for midweek for the Denver area:
And a look at our snowfall gamblers, we see at least some signs of life in the 3 - 7 day period across the table, but nothing to write home about just yet.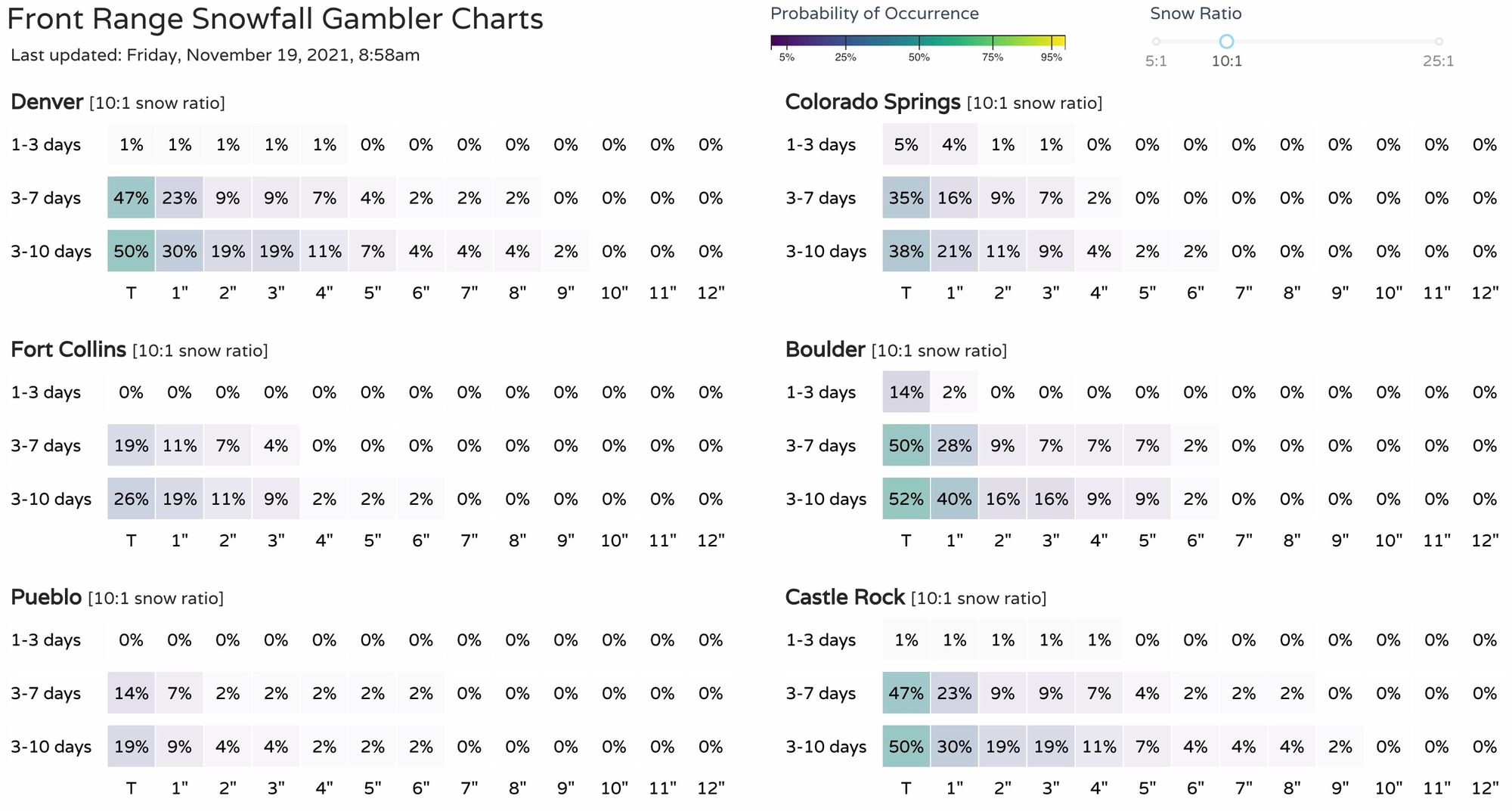 Stay tuned!