It has been a tough weekend, our thoughts and condolences are with those affected by the tornado outbreak in the Midwest and Tennessee Valley. I would include statistics and figures on the event, but they are still sorting through the debris and anything I write on the subject now will be dated in an hour.
Locally, we had a quiet weekend after the city's first official snowfall of the season. You know by now that some records were set with this first snow.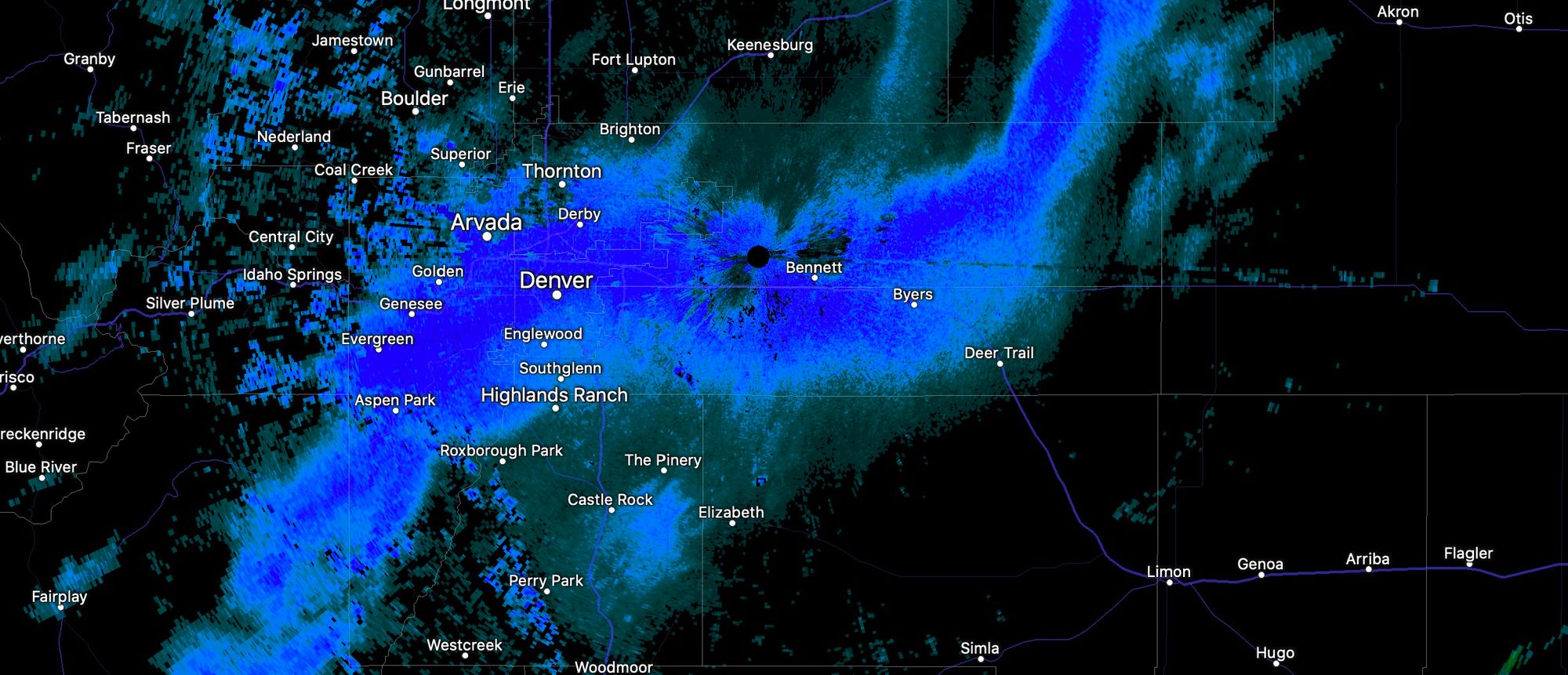 As far as a historic perspective on snowfall seasons that have a late start, some of that data is provided here: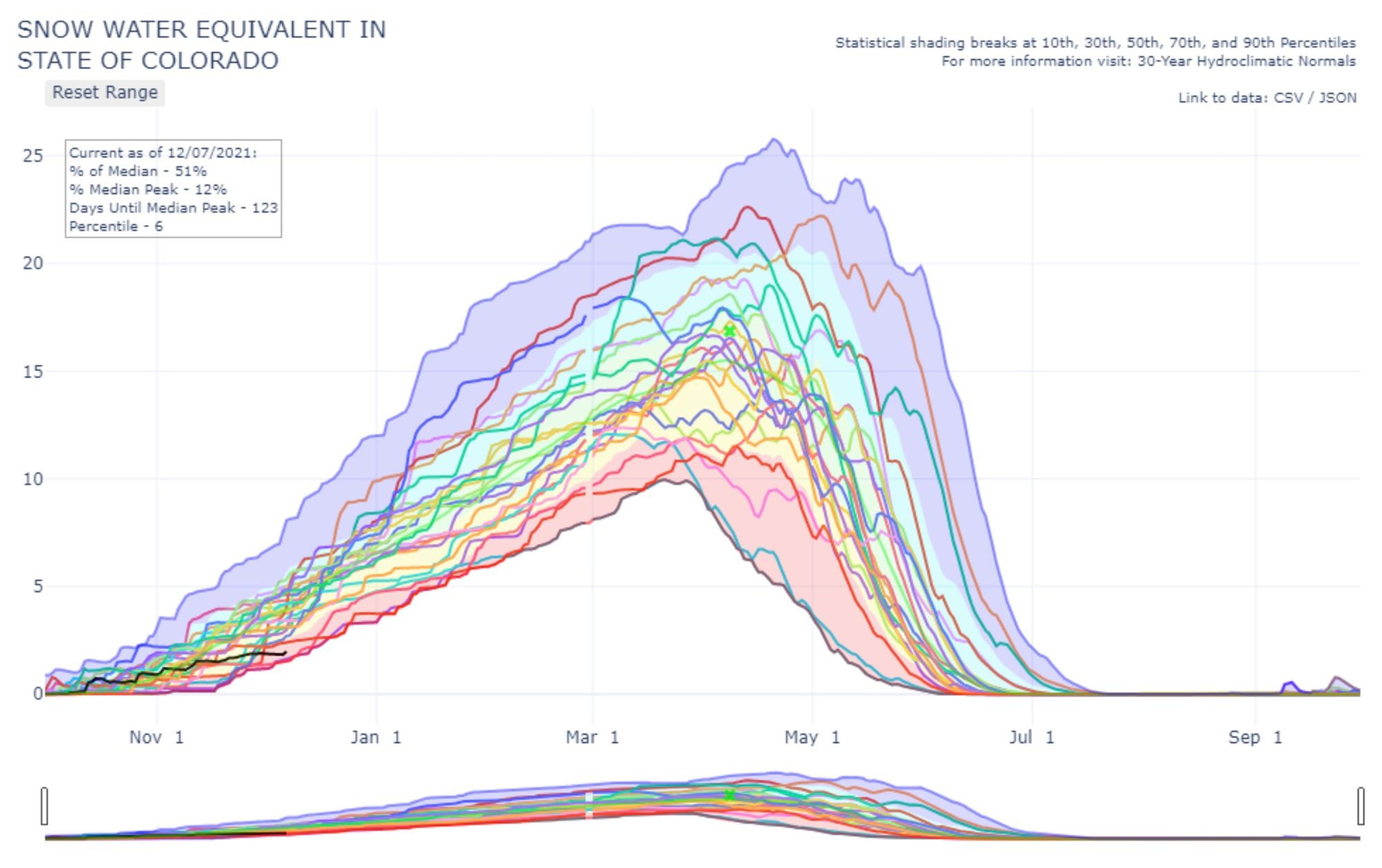 For the incoming week, weather will focus on a few areas. California will have quite a lot of water for some with rain and snow there. Wind will be the biggest impact from our neck of the woods to the plains and Midwest. And, in between we will throw some water on our mountains.
Let's break it down by element.
First, total precipitation for the week.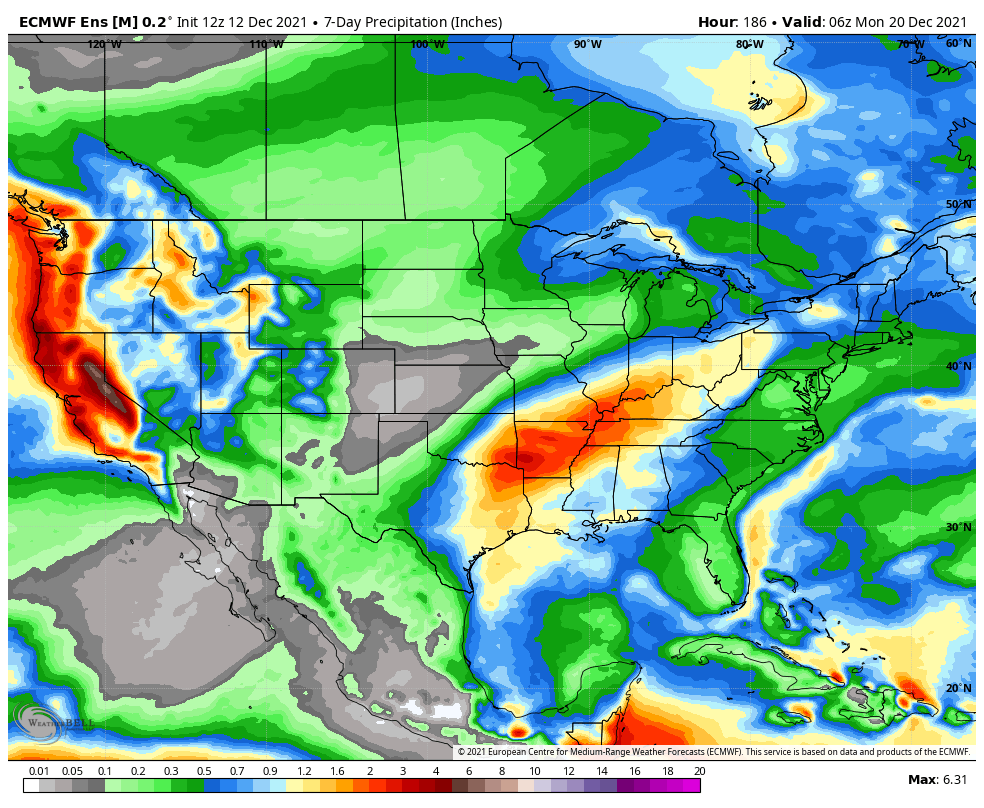 The West Coast and parts of the south/southeast will have the most water coming their way. In terms of averages, the map is far less impressive.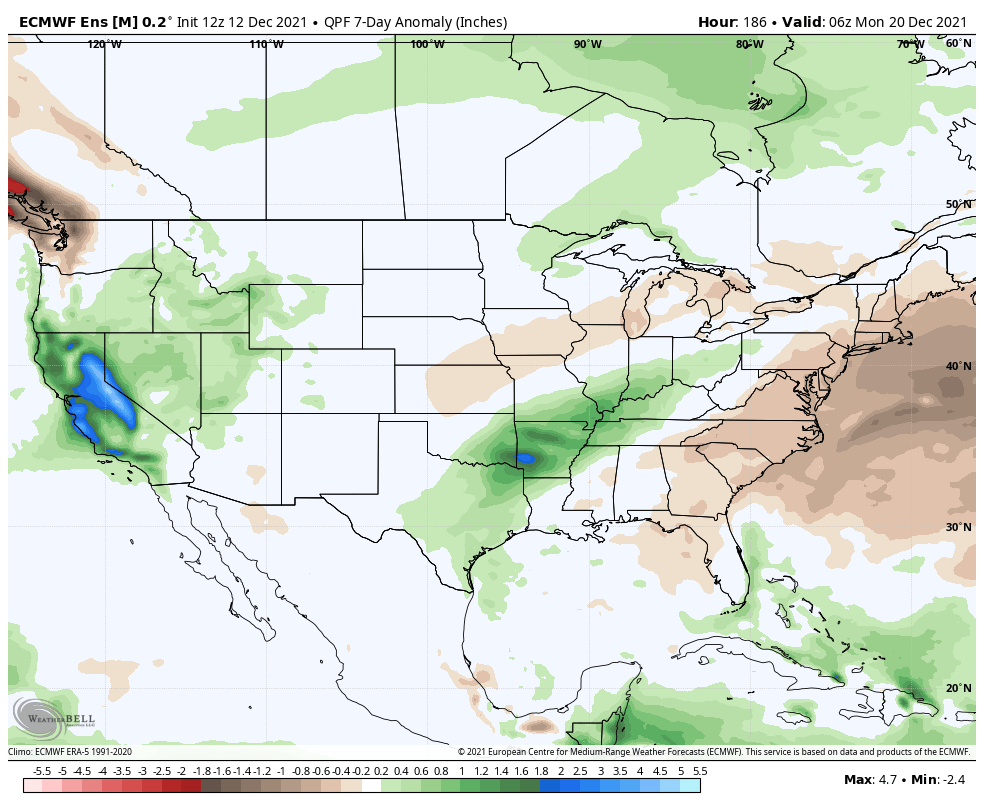 Above average precipitation is coming to California and parts of the West. The far corner of the Pacific Northwest will end up drier than average. The other surplus comes from the tropical moisture supply that will fall as rain over the southern plains to the Ohio Valley.
In terms of snowfall, the West will have some mountain ranges measuring totals in the feet again, this is of course great news!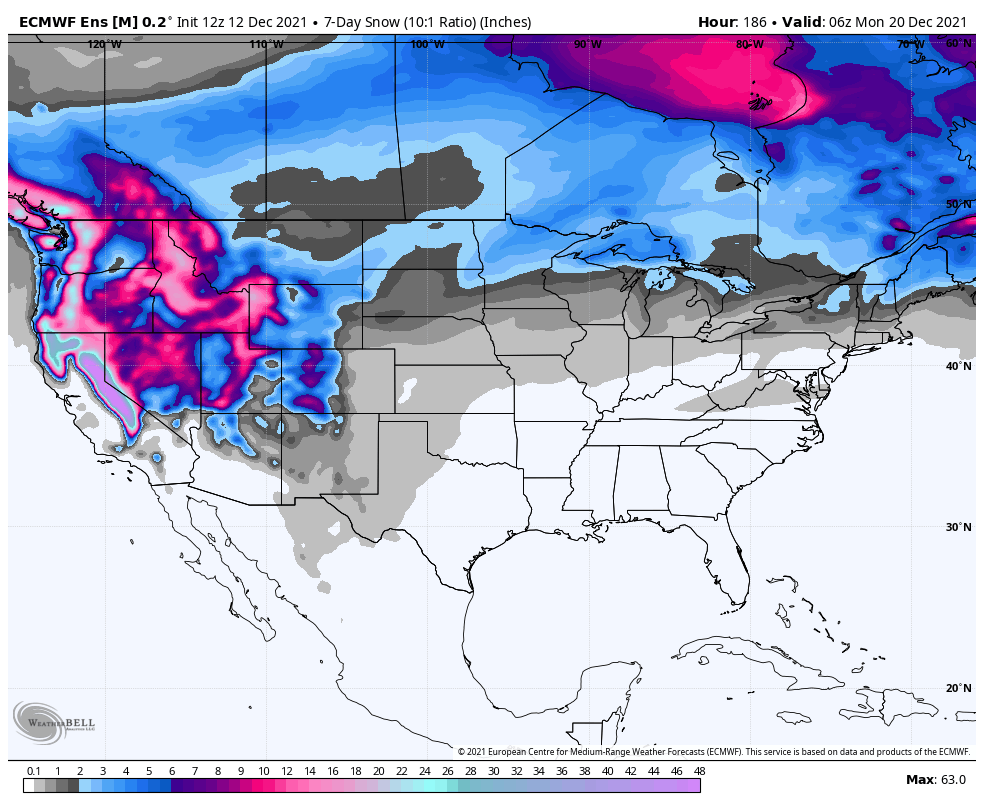 Colorado will have some of this moisture, too. Let's zoom in a bit.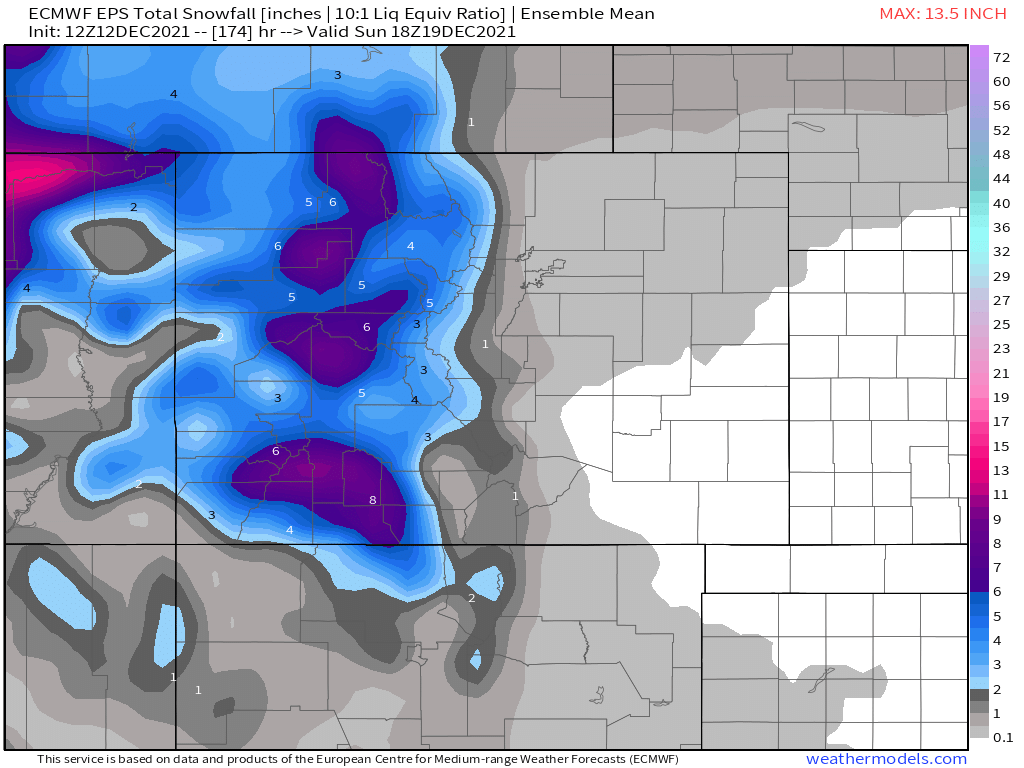 Some nice areas of snowfall to come through this week for the San Juans, near Aspen and up toward Steamboat Springs. No, it isn't crazy amounts but considering the season let's take every flake we can.
Denver, sure we could see a bit of snow falling but it is quite unlikely. There's a less than 20 percent likelihood for much snow activity this week in Denver, and not much of a higher chance looking out ten days. Here are snowfall gamblers data for parts of the Front Range.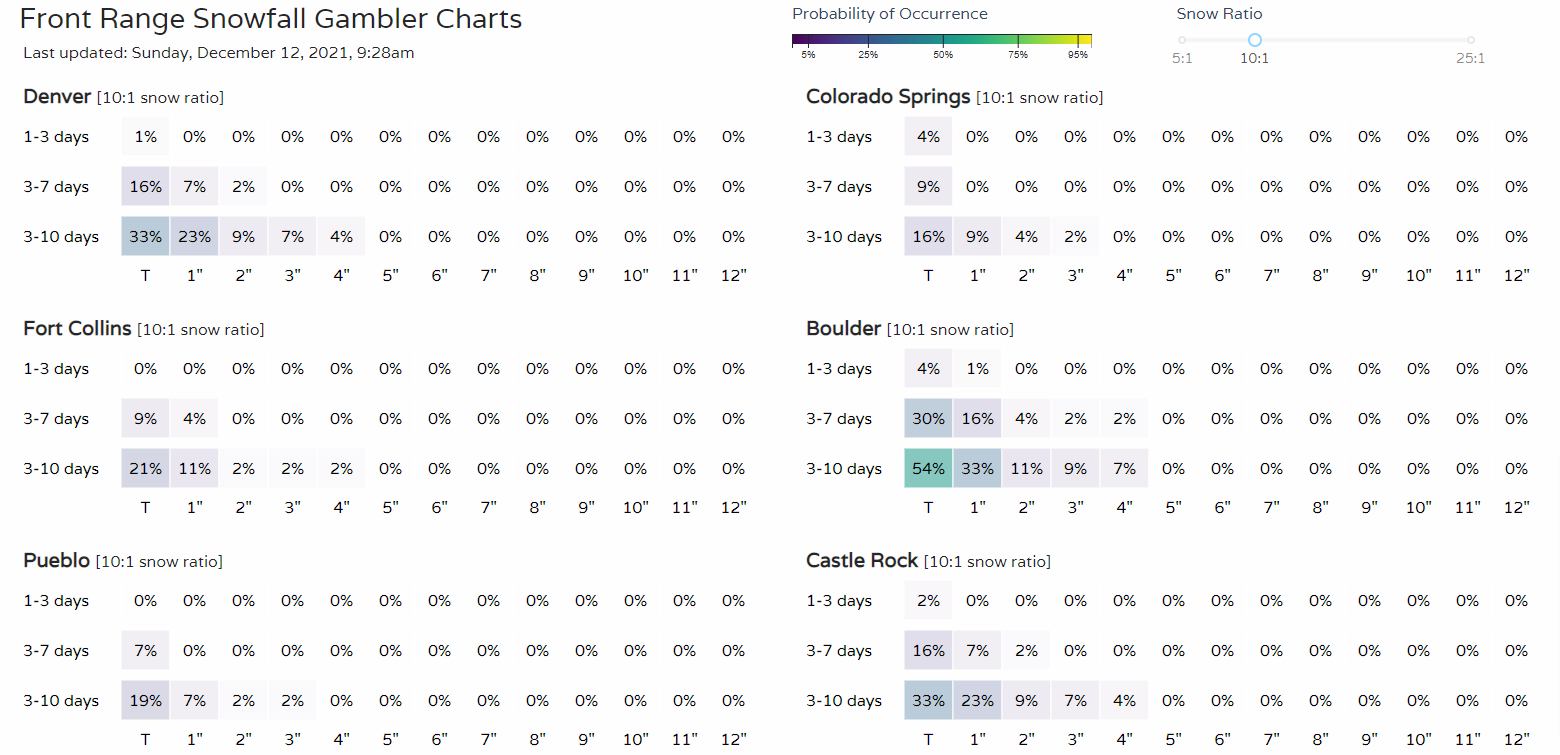 For Denver, if we see snow this week it'll most likely fall Wednesday into Thursday. That's the next strongest system to move through. What that system is likely to produce more than snow is wind.
The image below shows the wind swath covering the Central U.S. for the midweek. Again, most of this wind comes Wednesday through Thursday.
Yes, there are areas where it's possible for wind to far exceed 60 mph this week on the mountains and over the eastern plains. Denver, holiday decorations may be redecorated mid-week, too.
This wind will bring in some colder temperatures, but granted it isn't a huge swing. Highs and lows for the week are shown here for Denver.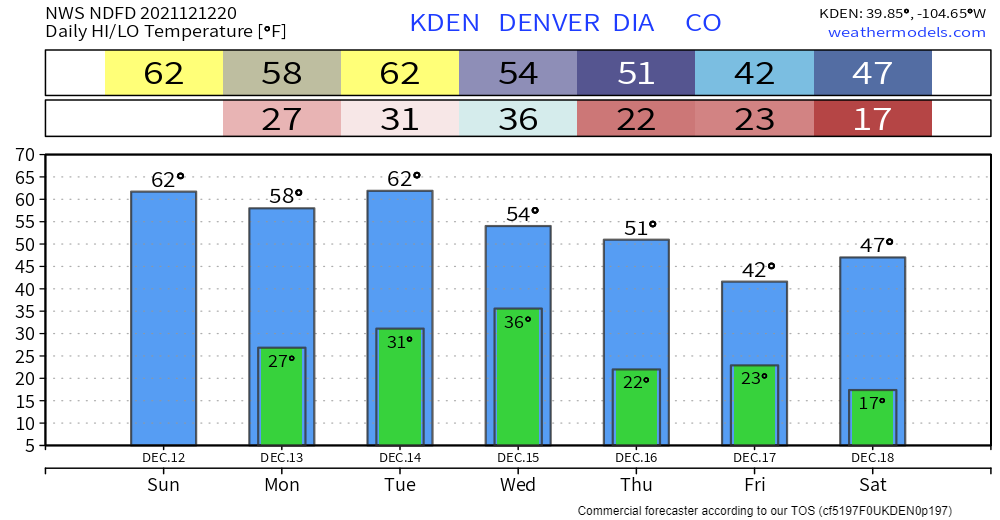 Bottom line, the Colorado high country gets much needed snowfall this week but the eastern half of the state likely trades snowfall chances for wind. Hunker down.