We continue to track a chilly end to the year across Northeast Colorado, with perhaps a round of much-needed, and much-anticipated snow to go along with it.
Models continue to fluctuate on how much snow we'll see along the urban corridor, and while some data suggests several inches will be possible, model ensembles and how much moisture we'll have to work with means eventual totals remain in question.
First, the timeline.
Thursday we remain mild across the region, albeit likely windy for a lot of us. Highs will be near 50°F in Denver, with wind gusts to 30mph during the day. A High Wind Warning goes into effect Thursday for the northern Front Range mountains (Boulder County north into Wyoming) where winds could gust to 75 mph.
In the hourly planner for Denver, you'll note Friday cools off noticeably with highs in the 30s for the urban corridor and falling into the low teens and even single digits by early January 1, 2022 (2022?!). Precipitation chances will be on the increase Friday, with the best chance of snow for Denver looking like it'll move through Friday afternoon and evening, before tapering off after midnight: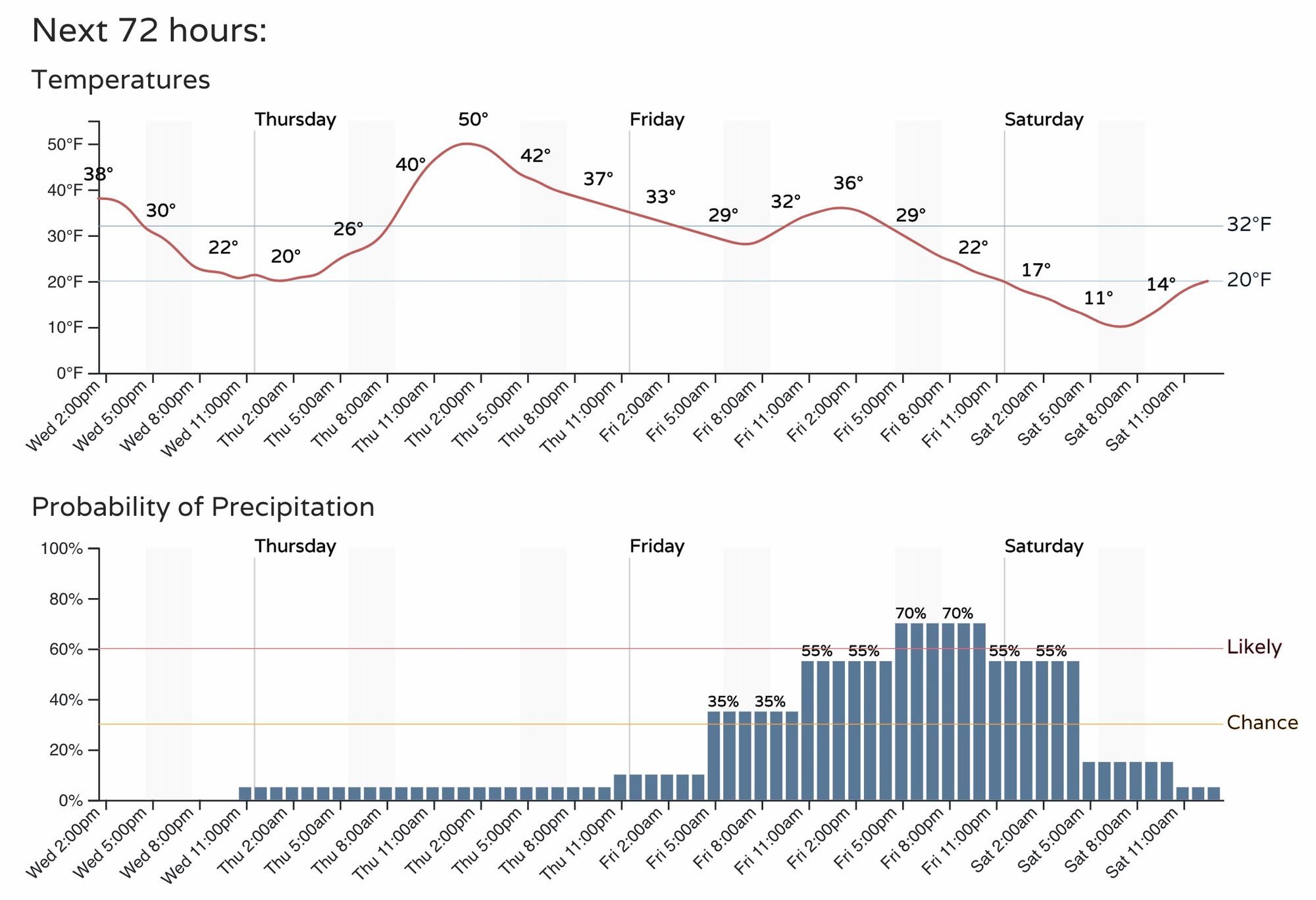 While we currently have highs around 20°F for the Denver metro area on Saturday, it's fair to say some data is much colder than this. The latest operational European model forecast shows a high of just 11°F Saturday before warming next week. Whether 11°F or 20°F, it looks like a cold start to the new year.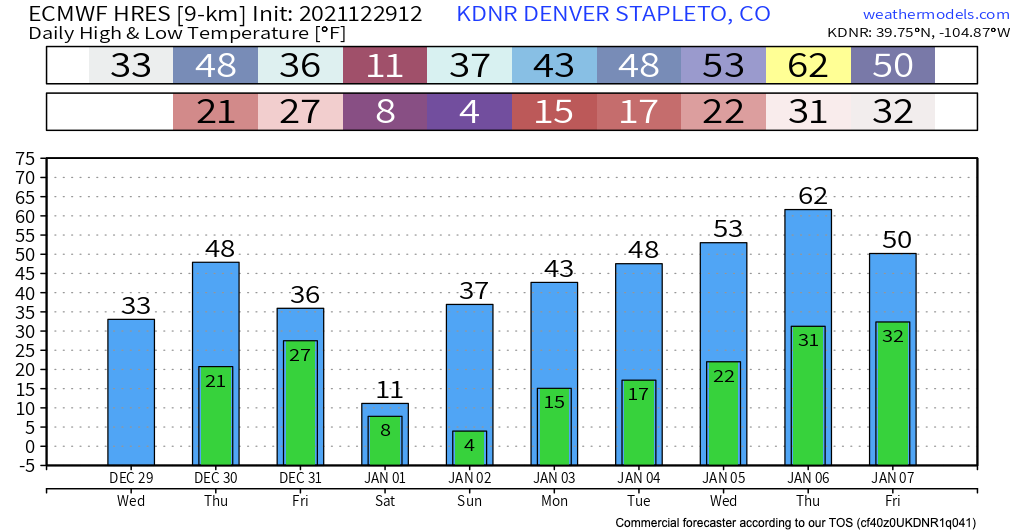 You can watch in the animation below as snow continues off and on in the mountains through tonight and Thursday, then spreads east across the plains Friday and Friday night, eventually coming to an end across eastern Colorado Saturday PM: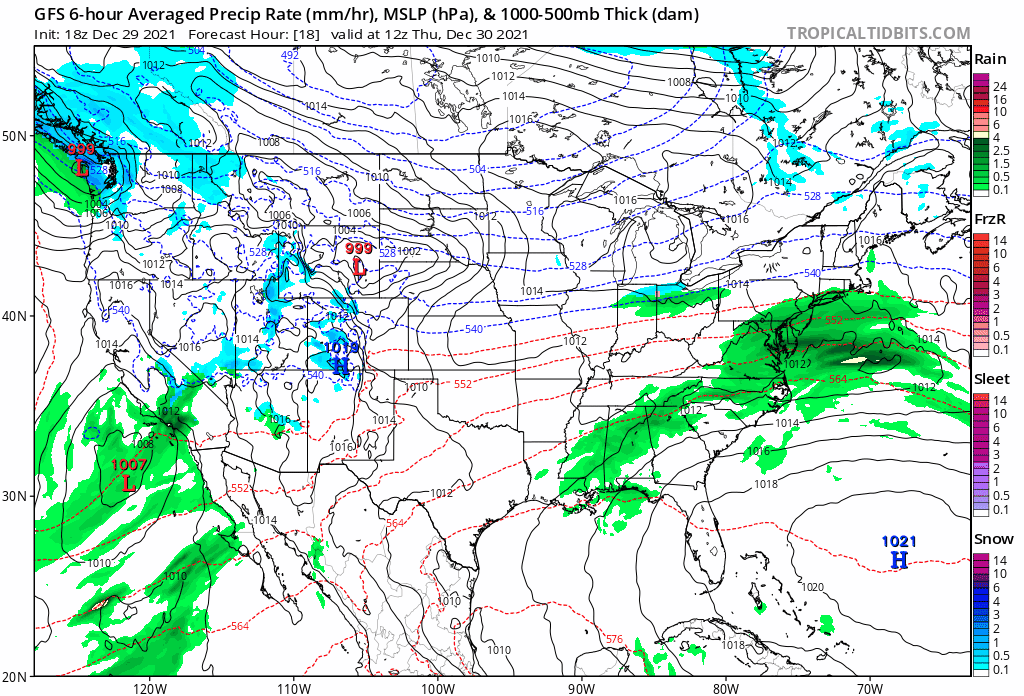 For the mountains this means more heavy snow to pile on what has already been a great December. A Winter Storm Watch in place for the northern and central mountains calls for another 12 to 24" of snow between now and Saturday morning.
Of course, this comes at a cost, with the Colorado Avalanche Information Center showing most basins across Western Colorado with considerable avalanche danger at this time:
Snowfall forecast
While for the plains the upcoming event could ultimately be more impactful from a temperature perspective than snow, what everyone really wants to know is how much snow can we expect to see? Remember, Denver has only managed 0.3" of snow so far this season, in what has been a record-setting warm and dry second half of the year in 2021.
Looking at at blend of models we see the following...
12 hour snowfall ending Friday morning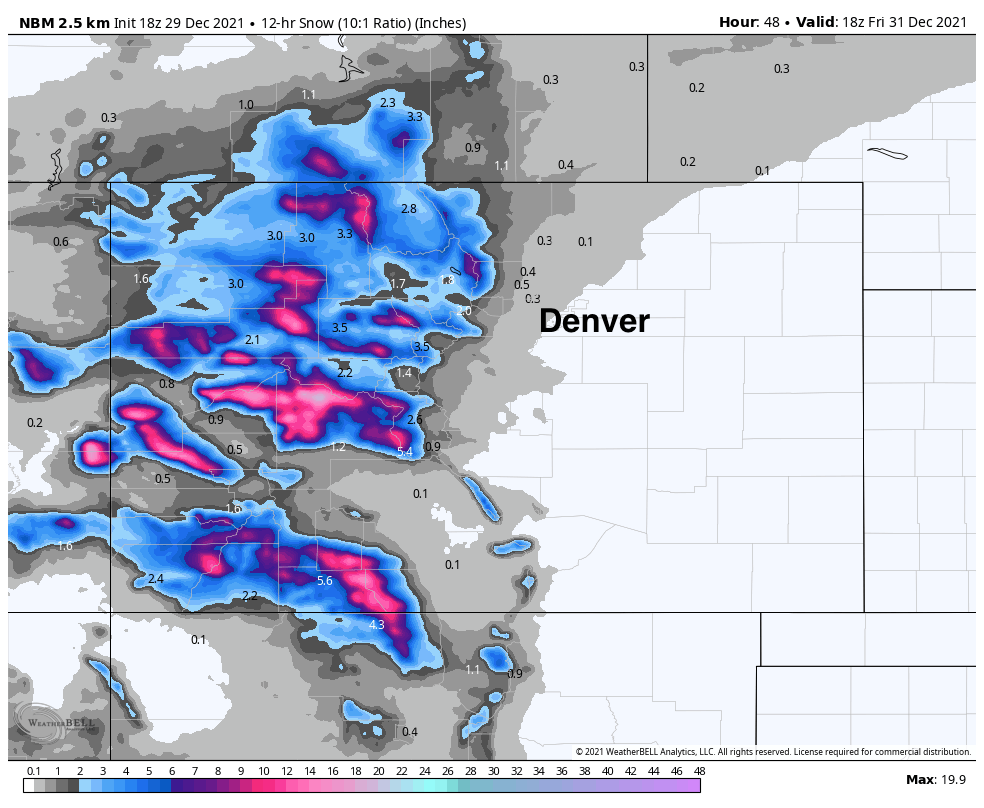 12 hour snowfall ending Friday evening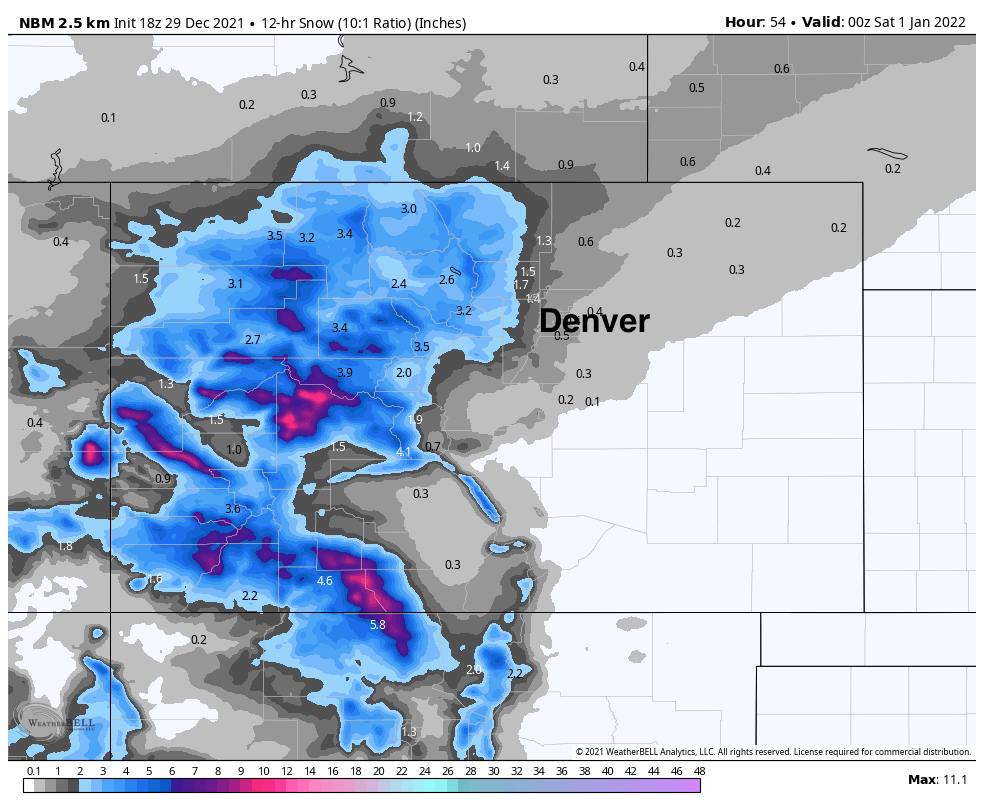 12 hour snowfall ending Saturday morning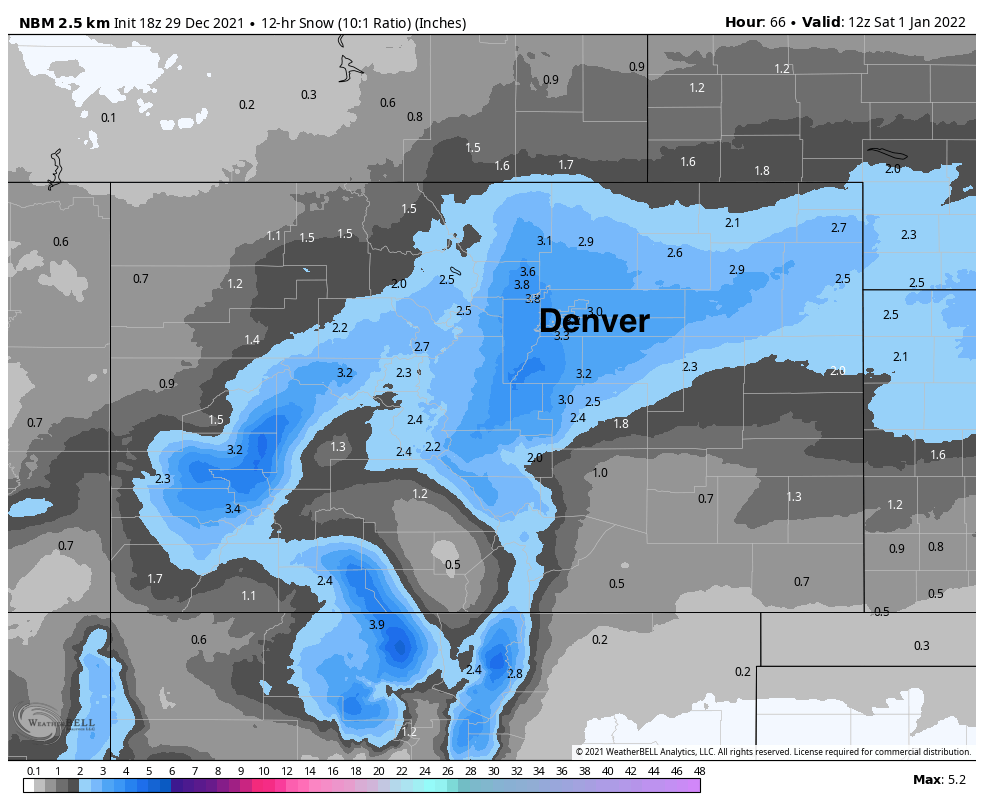 So, taken at face value a blend of models would support a 2 to 6" event for the Denver metro area, especially considering the snow will be quite fluffy in nature with the cold in place, as well as the wildcard (and dreaded) snow band potential which could lead to areas of greater snowfall which outdoes the majority of surrounding areas.
Probabilities to support the above are starting to come around as well. Are these overdone? Perhaps, we more often than not struggle to overproduce with these setups as models overdue moisture – but again, if we're looking for consensus around the idea we could see several inches of snow Friday/Saturday then we're starting to see that at least in the data.
The European ensemble mean probability for 3" of snow or more looks pretty good for areas along and west of I-25. It'll be fun to see DIA get next to nothing again :) But yes, the foothills and much of the populated urban corridor now in the >50% range for 3" of snow or more with this system, while the plains will likely struggle to capitalize, especially the further south and east you go: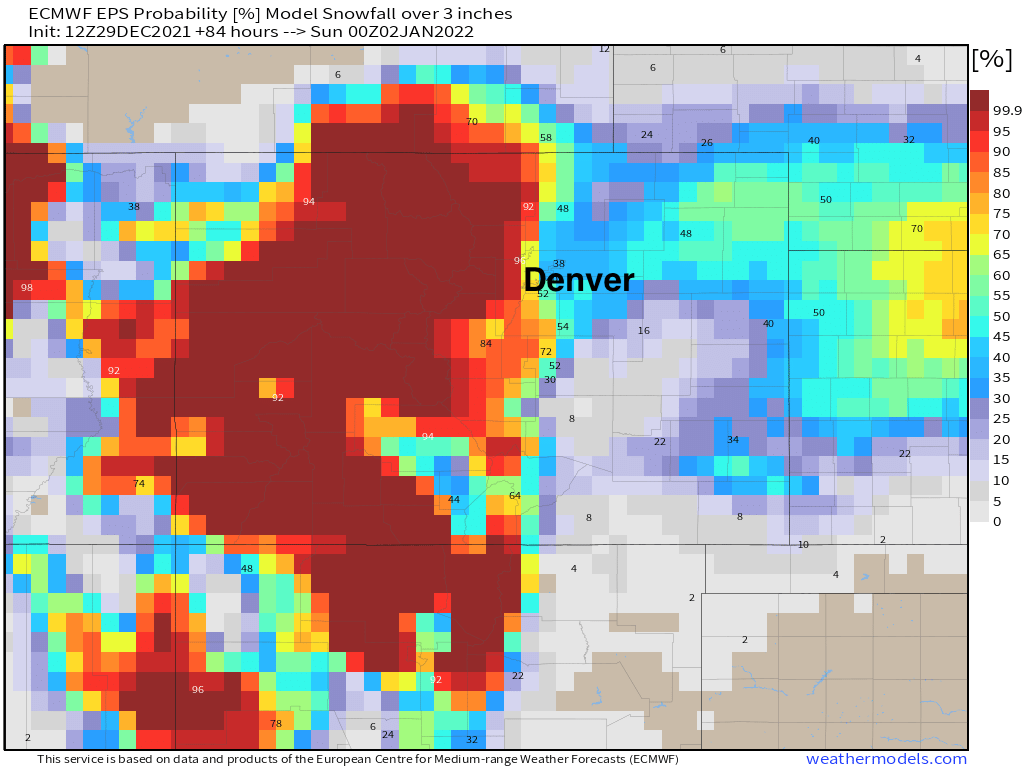 Our gamblers are a bit less bullish, showing about a 60% chance for 2" of snow or more in Denver, but only 38% to exceed 3". Boulder continues to hold the best odds for picking up a meaningful snow from this event.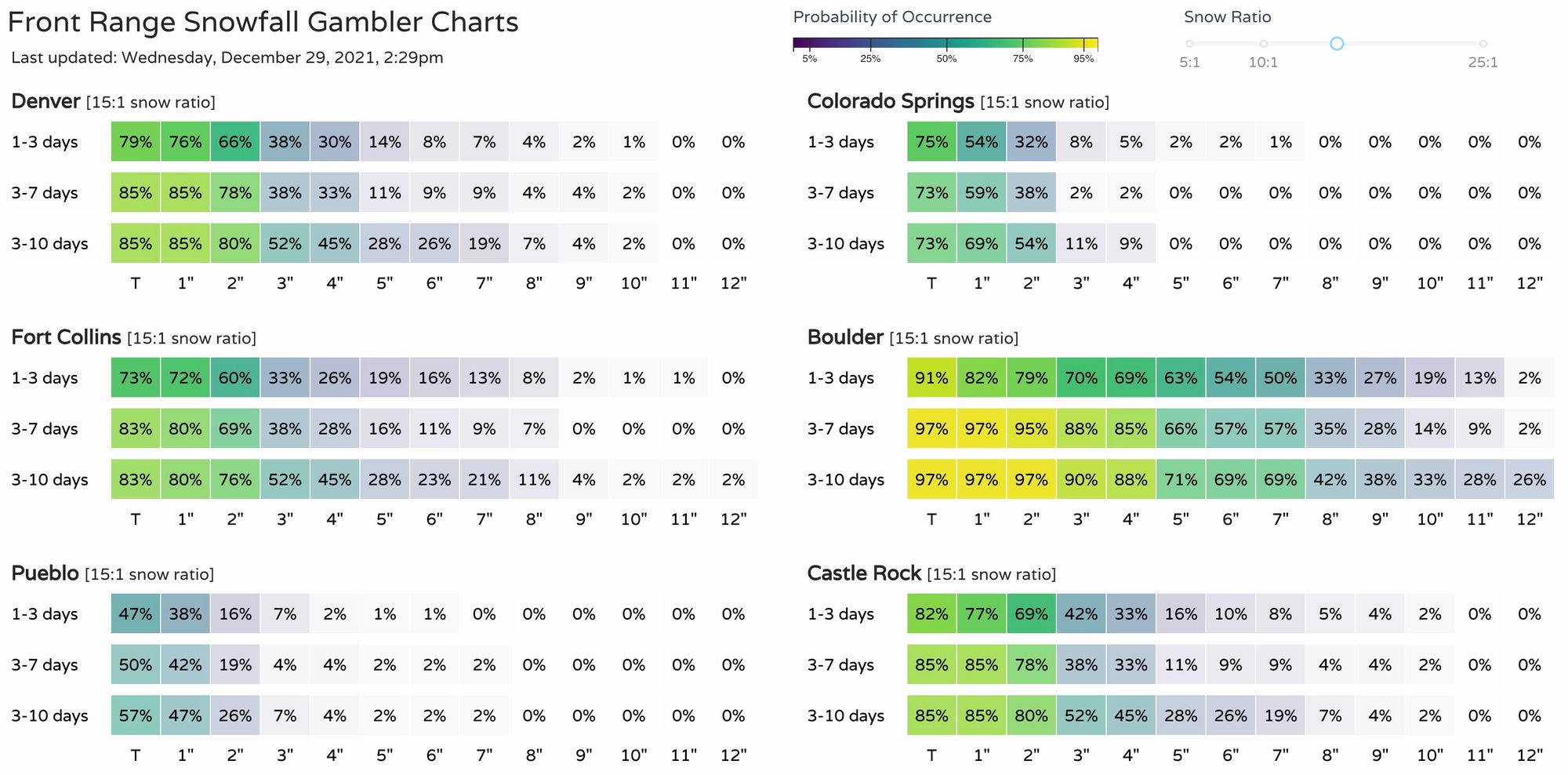 And for one more data point, the SREF plumes which will try to accommodate ratios etc and shows support for about 2.5" of snow across the metro area from this system. Not epic, but something.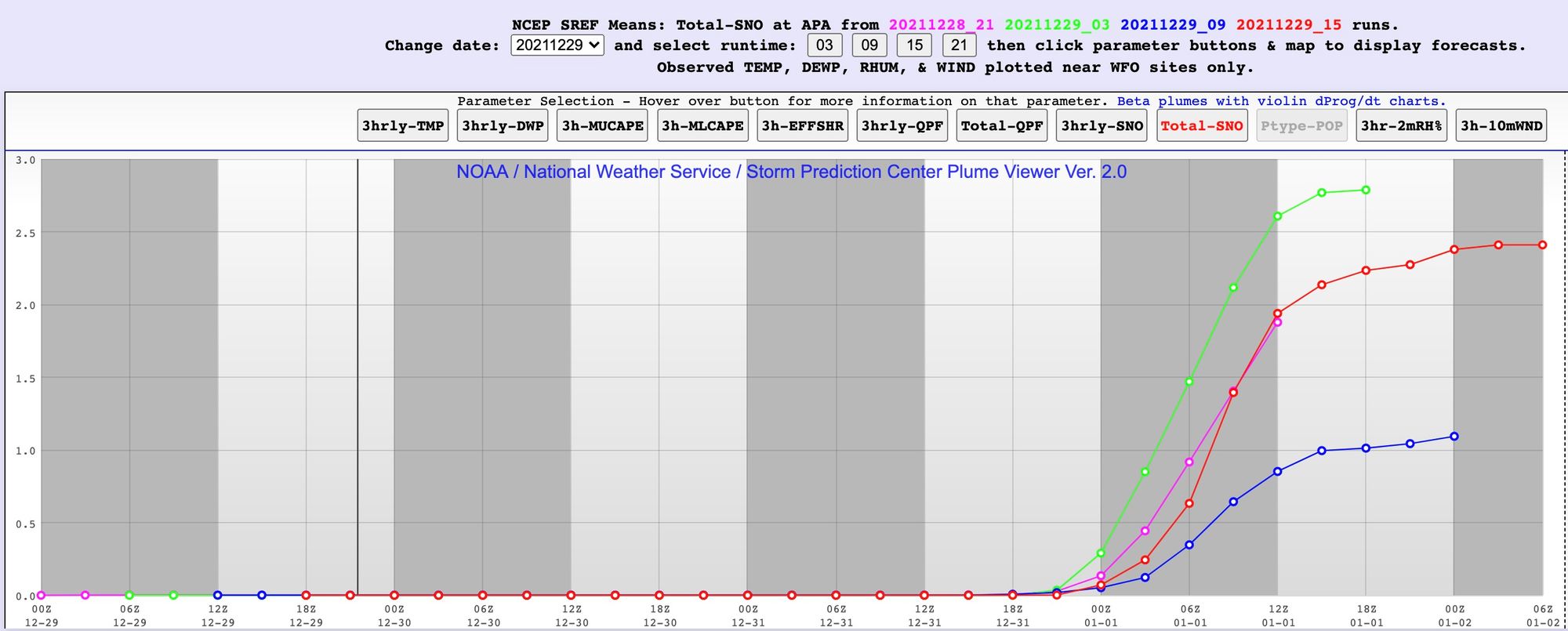 TL;DR
Thursday is a transition day for our weather, with generally mild temperatures along the Front Range, but the winds will be kicking, particularly in the foothills and Front Range mountains where wind gusts could exceed 70mph.
By Friday morning we could start to see some snow showers along the Front Range, as well as markedly colder temperatures settling in across Northeast Colorado.
Friday afternoon snow coverage will increase, with the best chance of measurable snow looking like it'll come Friday afternoon through early Saturday along the Front Range and adjacent plains.
While data today supports 2 - 6" (variation in totals due to banding) of snow for the metro area and foothills, there's plenty of time between now and Friday for things to change, and looking closely at some model data we fear moisture could be overdone in today's data, but this will be something to keep an eye on.
COLD will be a big part of the story, even if we end up with low-end snow the cold looks like a lock. Temperatures in the teens and 20s for daytime highs on New Year's Day, with overnight lows in the single digits.