Our next chance of snow across the urban corridor arrives Wednesday behind a cold front and windier day Tuesday and secondary push of cold air on Wednesday.
First, the High Wind Warning on Tuesday calls for winds from 3o to 40 mph with gusts to 65 mph across northern Colorado and gusts to 80 mph in the foothills. The Warning does not include Boulder or Denver at this time, but does include Fort Collins.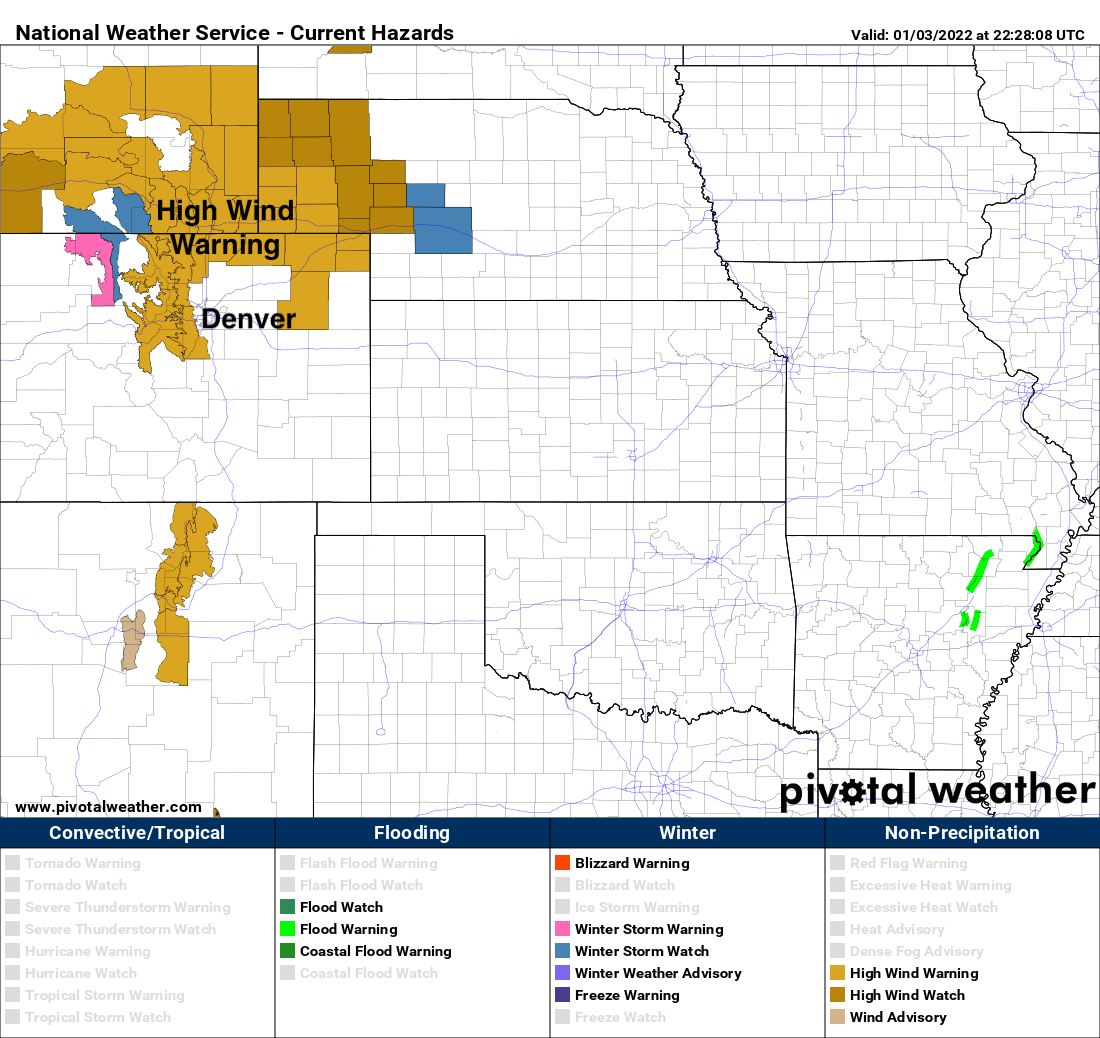 Models are struggle with how far south the best lift and moisture will make it, with a bias for this upcoming system to favor the northern Front Range cities for the better snow chances, with Denver and in particular areas south of Denver in greater question for snowfall potential.
Rough numbers as we sit on Monday would suggest the following:
Colorado Springs: 0 - 1"
Denver: Trace to 3"
Golden: 1 - 4"
Erie:  1 - 3"
Boulder: 2 - 5"
Fort Collins: 2 - 6"
Sterling: 2 - 4"
There will be a relatively narrow band of heavier snow that sets up Wednesday under which we'll see the best snowfall totals. Outside that band most areas will see low-end totals, with perhaps the northern Front Range foothills being the exception.
Where that band sets up is still in question. The GFS is quite far north at this point, across the far northern Plains and into Wyoming/Nebraska, where the European has another band placed over the metro area.
GFS precipitation forecast through Thur evening: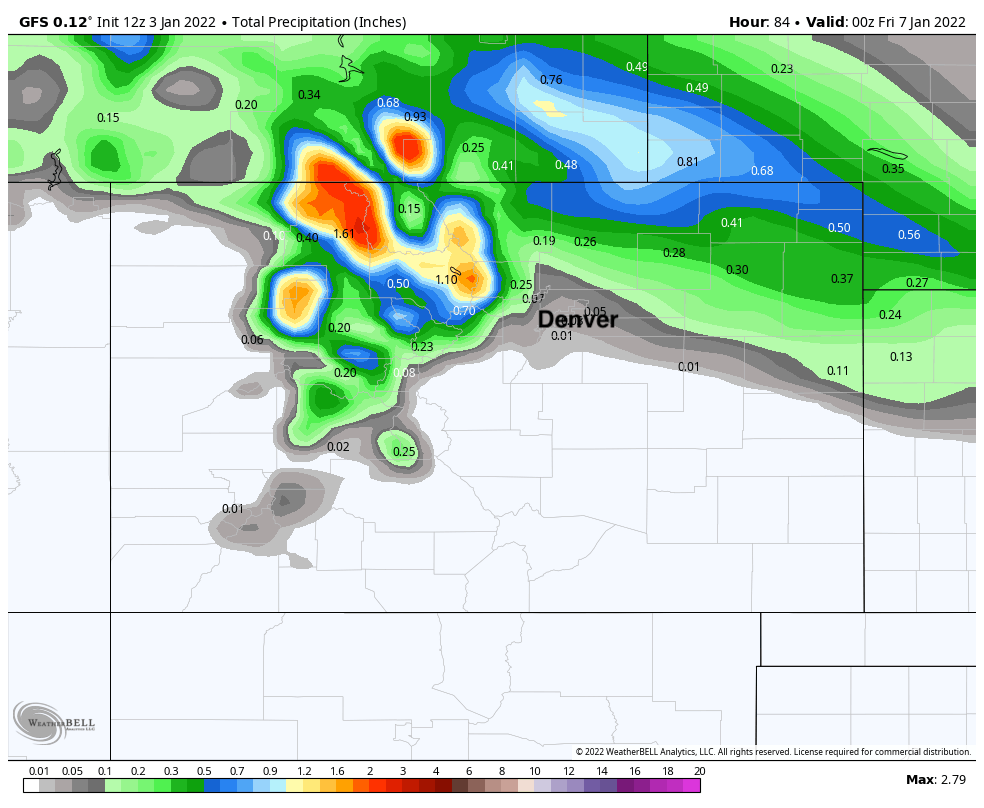 Euro precipitation forecast through Thur evening: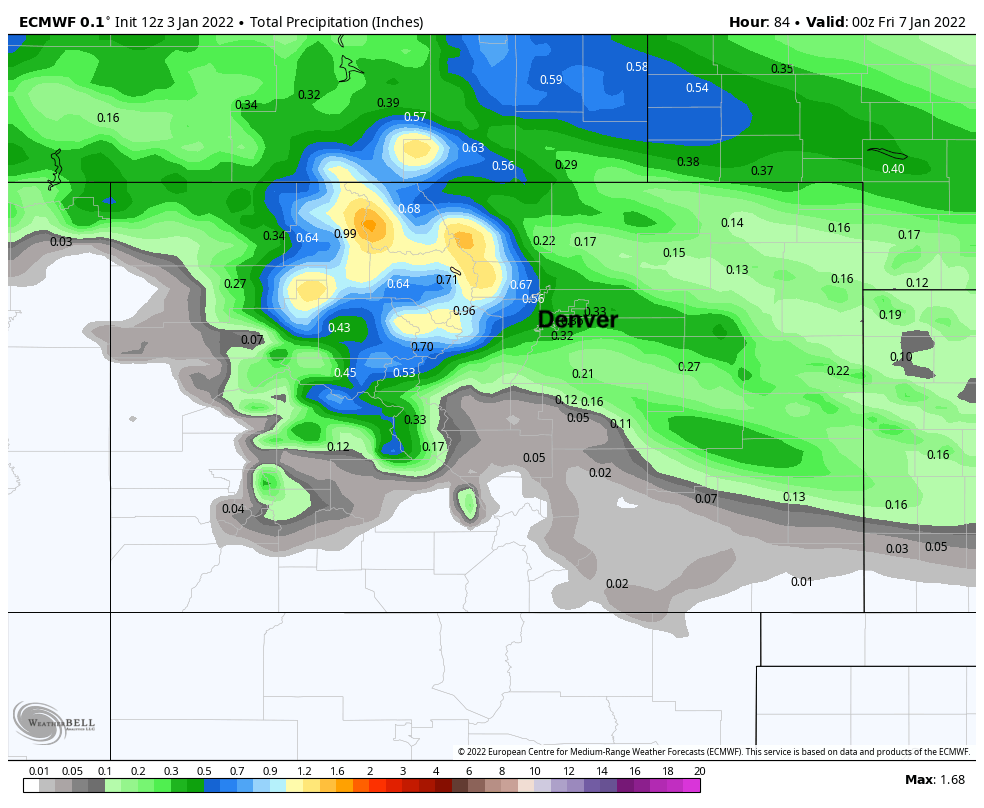 Canadian precipitation forecast through Thur evening: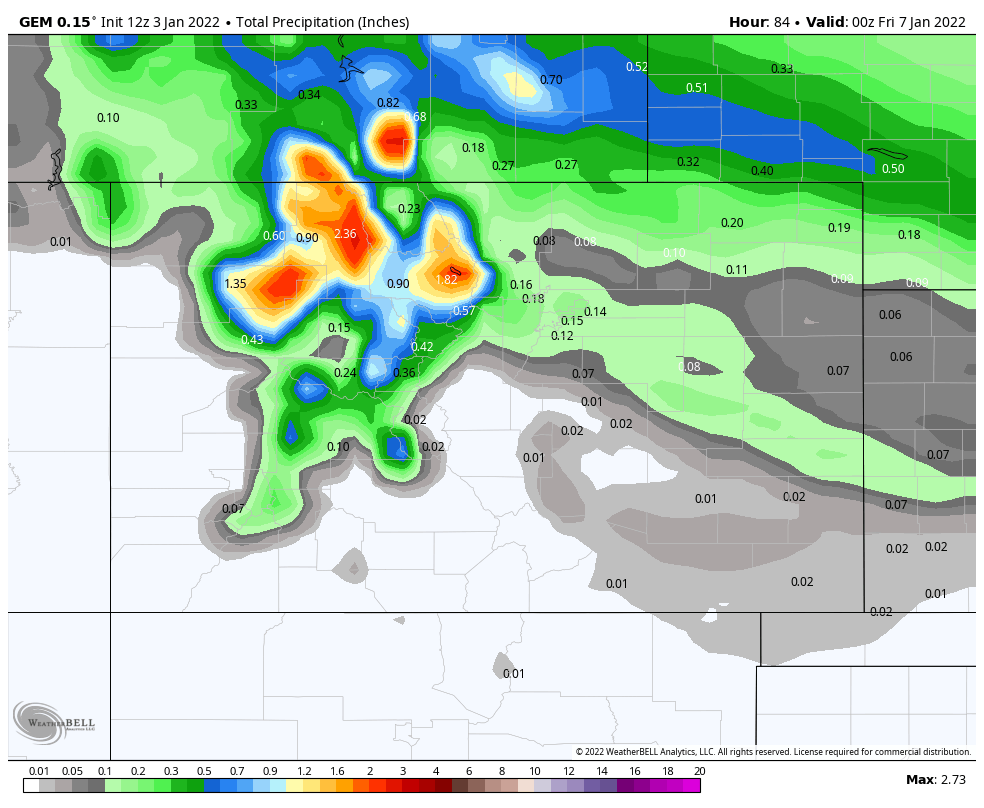 As you can see the Canadian kind of echoes the Euro with its placement, but overall moisture is less on this particular model.
A blend of all the models loses the emphasis on the banded nature of the event, but shows a clear bias toward the greatest totals ending up north vs Denver south as you'll see below.
Blended snowfall forecast through Wednesday morning: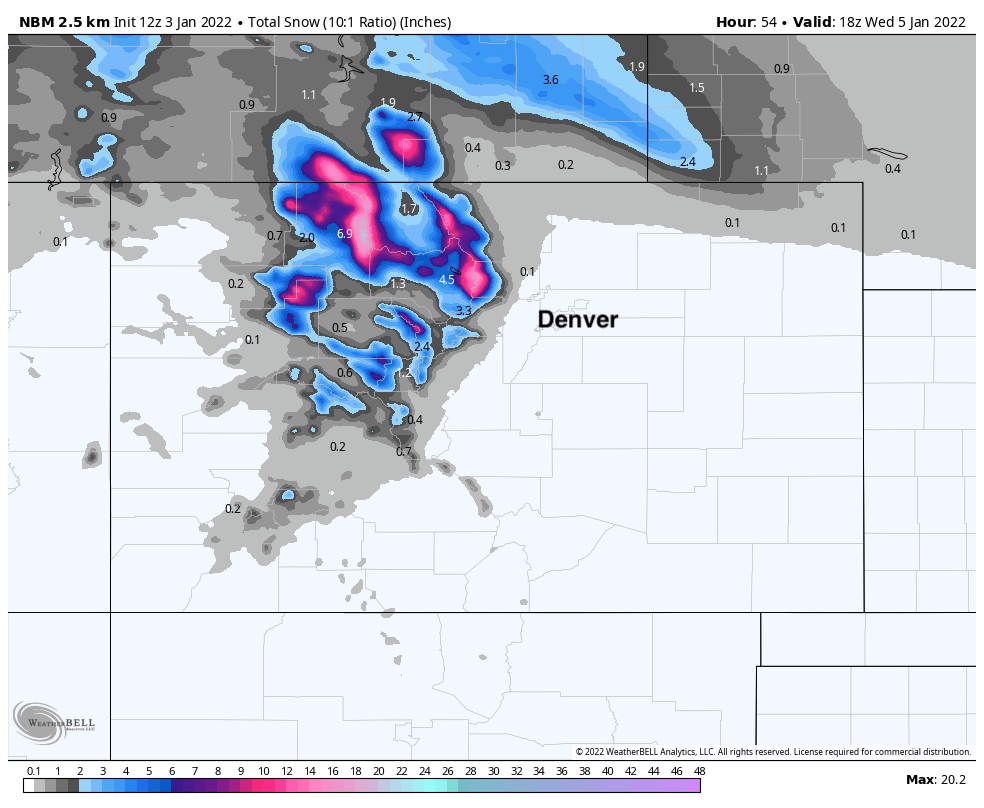 Blended snowfall forecast through Thursday: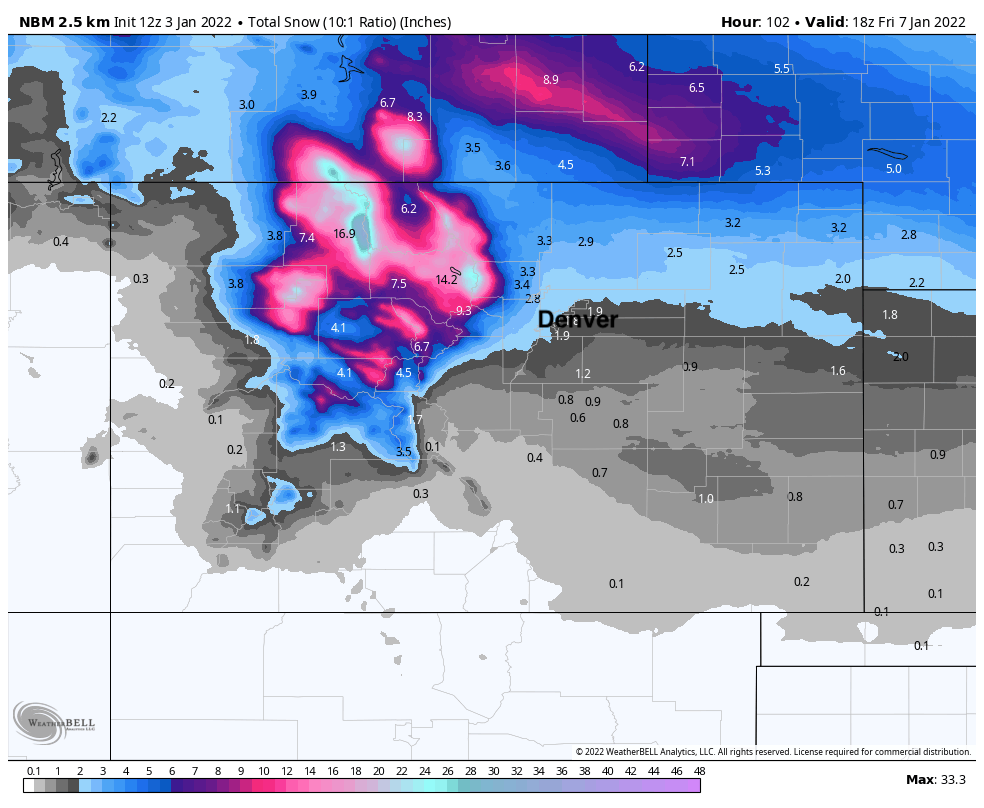 And our snowfall gamblers as of midday today: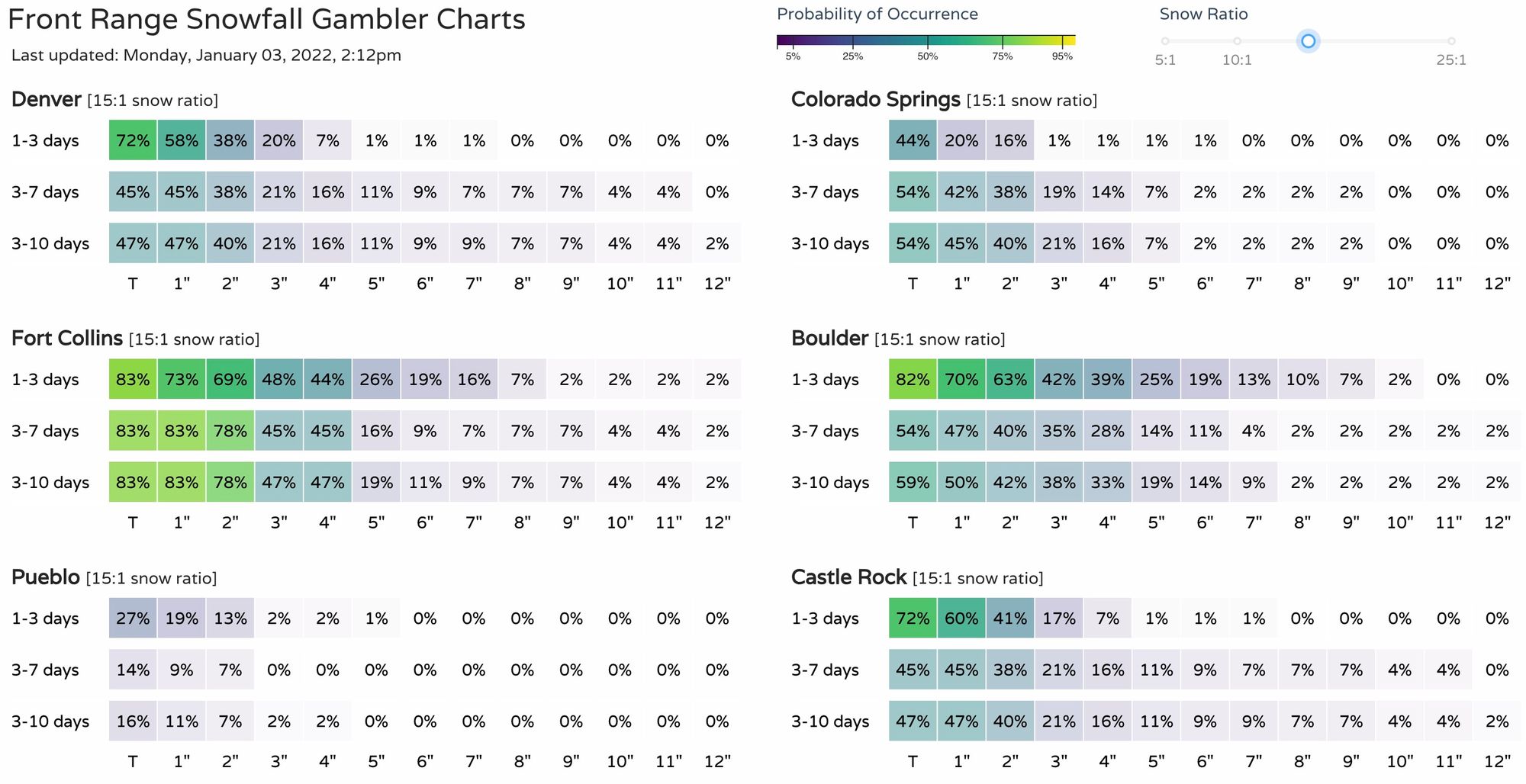 So, some details to be worked out, but plan for another round of snow for the northern urban corridor, with the best chance to see measurable snow from Denver north to the state line.
The timing of the snow could impact your Wednesday evening commute, so be sure to keep an eye on the forecast as we get closer. Right now the hourly planner for the Denver metro area is as follows for precipitation:  

With a similar look for Fort Collins, but more confidence in the earlier start time: