The data have remained steady since our update last night, lending some confidence to an otherwise low-confidence forecast. Rain is expected to develop later today, and transition to heavy, wet snow Wednesday evening and overnight along the urban corridor, Front Range, and adjacent plains.
Since our last update, the NWS in Boulder has issued a Winter Weather Advisory (purple) for Denver and the northern urban corridor, and upgraded its Watch for the foothills west and south to a Warning (pink).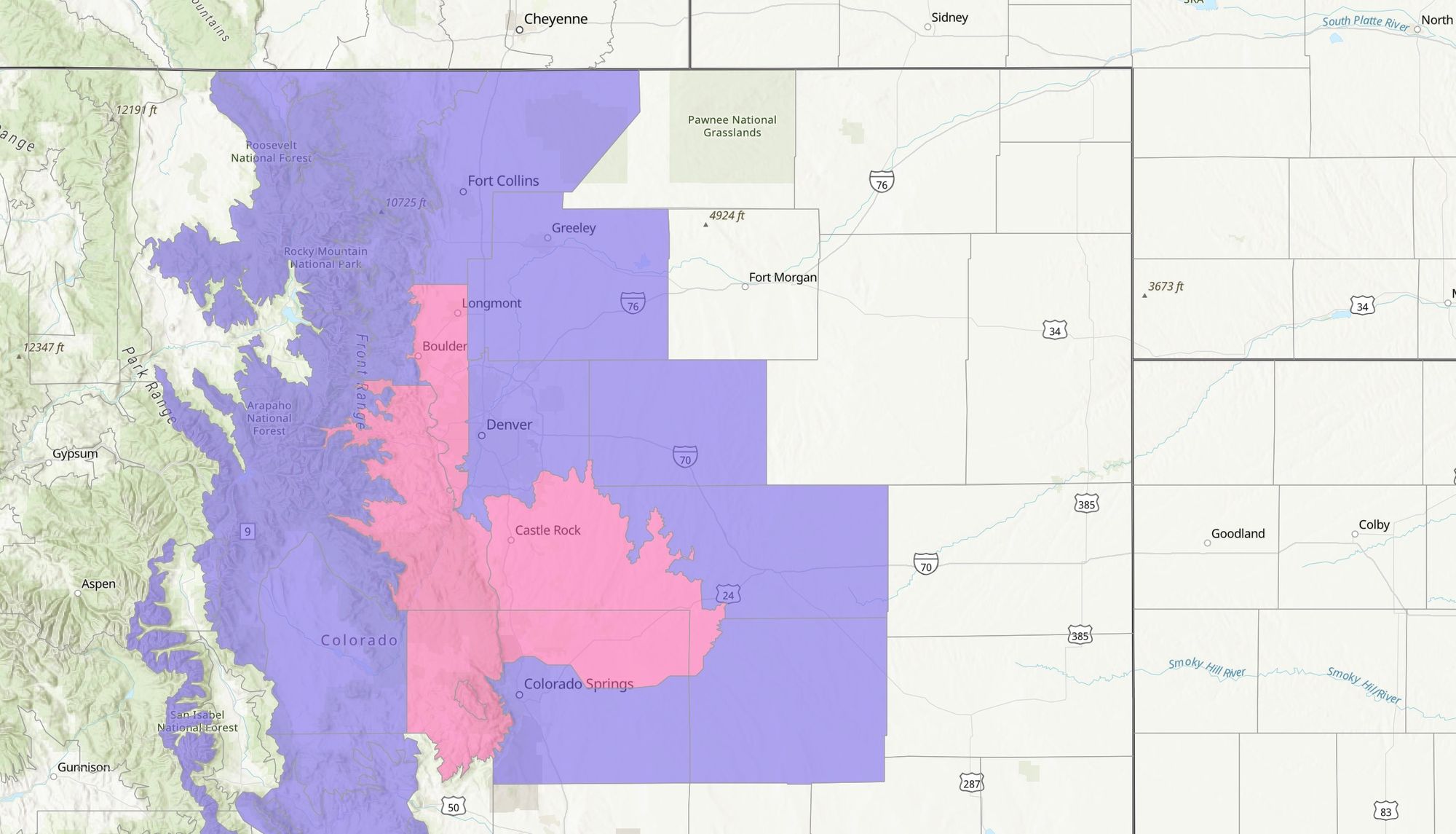 In the Advisory areas we expect totals to generally be less than 6.0" (with exceptions possible), while the Warning areas are likely to see upwards of 6.0", and in some cases more than a foot of snow.
We have updated our snowfall forecast to reflect this, making only minor changes to our forecast in Denver, but upping potential for the foothills west of town and the Palmer Divide. It's looking quite likely we'll see some 12"+ totals in this area before things come to an end on Thursday.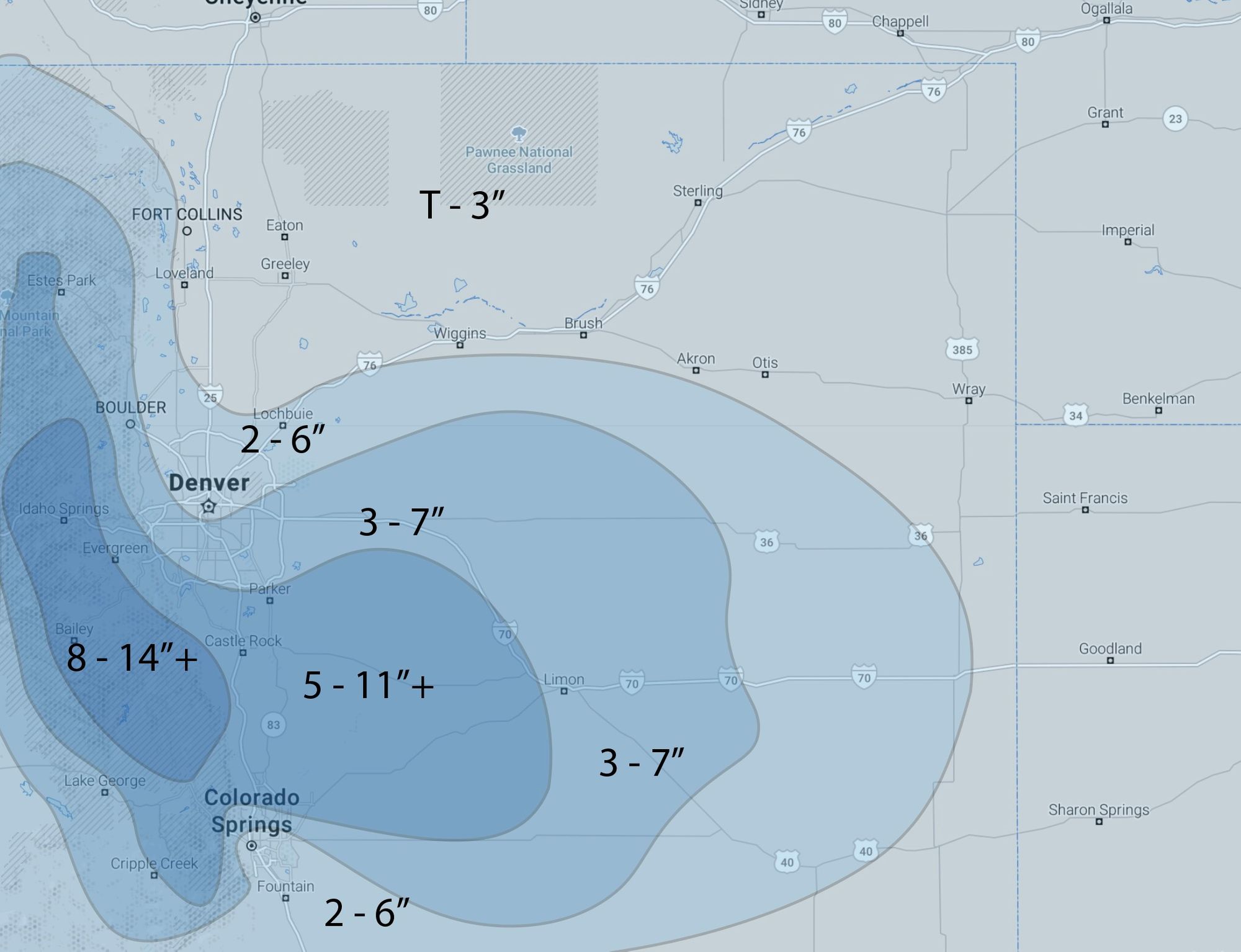 For Denver, we see 2 - 6" being the most likely forecast for downtown and north, with 3 - 7" on the south and west sides of town. As you move south and east, think Parker, Watkins, and Byers... it could be we see some very heavy snow develop here as well, with boom potential on the table, though the 3 - 7" to 5 - 11" line moves right through these areas, so we should be covered here.
How much falls vs what sticks, and of course a lot of compaction will likely mess with our forecast in spots. There's not a lot of cold air to work with, so much more uncertainty in this regard than with any of our other recent storms that have moved through as they have all been quite cold and temperatures have not been a concern.
The window for rain and snow will open quickly later this afternoon and evening, and should ramp down pretty quickly Thursday as well. Denver's best chance for accumulating snow looks to come after sundown this evening and overnight, but should changeover occur earlier the evening rush would of course be impacted.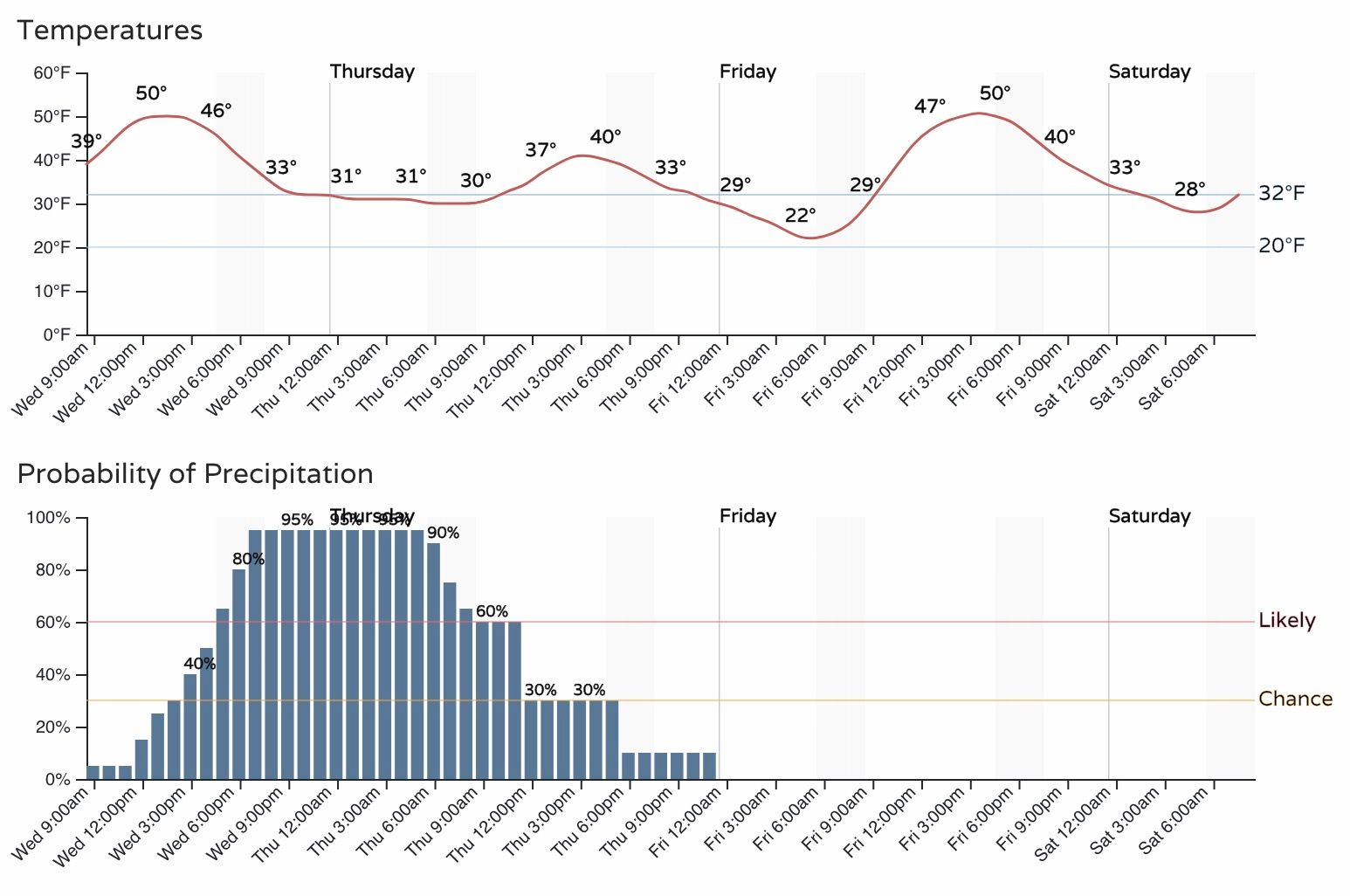 We get a brief break from the action Friday and Saturday before our next system will be knocking on the door.
This next system has a lot of people's attention as models have, at times, been rather how shall I put it... snowy. Let's just stress that this is the time of year where modeling goes absolutely nuts quite often, but most years we don't end up with a mega-storm like we saw last March.
The latest trends in the data for Sunday night/Monday are to pull the storm south. If this continues, it could be we end up with a far less impactful storm than some models are indicating now. As you can see from the last 8 runs of the GFS below, its consistent in that there is A storm moving through, but inconsistent on its eventual track. The morning run today is the furthest south it has been, and thus in better alignment with the ensembles over recent days.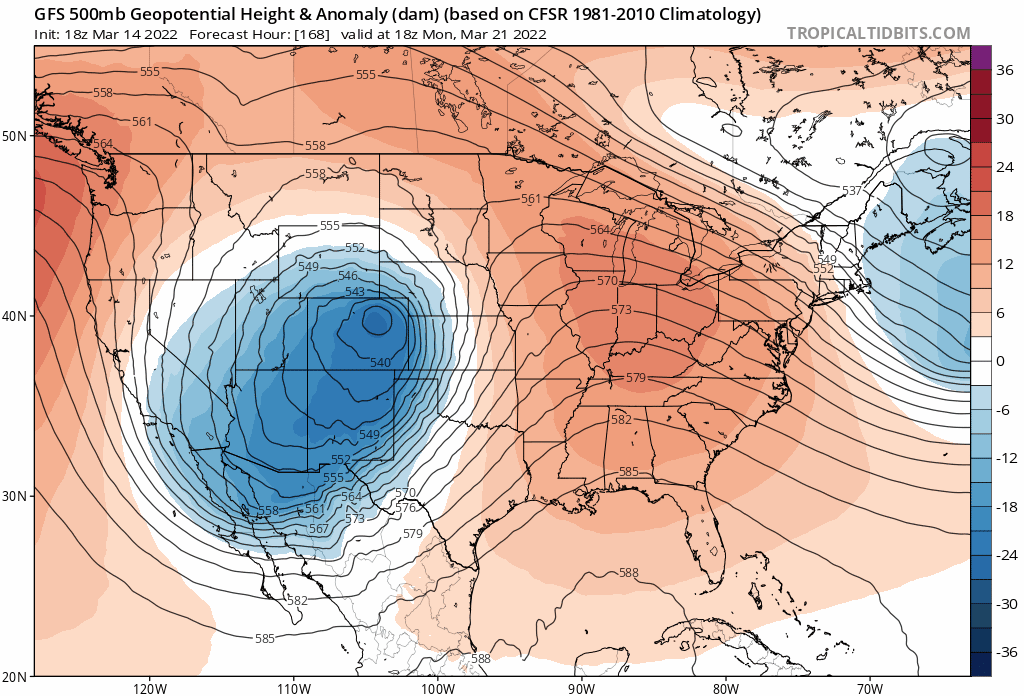 Is a big snow on the table? Sure. But so is a non-event. We've got a pretty juicy storm to look forward to tonight before we even need to start considering the next, and if current trends continue... it could be the GFS playing games more than any real threat of a big snow on the way.
Stay tuned!