It's time to address the elephant in the room, and that is the American GFS model producing eye-popping snowfall totals across parts of the region from late Sunday through Tuesday of next week.
While the possibility exists that we'll see a significant winter storm across the region in this period, the reality is it's far some certain that this will occur. There remains considerable differences in the modeling today in how our next system will unfold, and with that a considerable amount of caution is stressed as people start sharing big time snow rumors.
What we do know
What we do know is that a strong system will drop into the Great Basin this weekend, then move south and east into Arizona and New Mexico where it will strengthen and become a cutoff low. From there it'll gradually track east/northeast early next week, delivering heavy rains across portions of the southern and central plains, and perhaps some heavy snow on the north side of the low as it does.

What we don't know
We don't know just about everything else. Where this low will ultimately track and thus who will see the heaviest precipitation (both rain and snow) remains very much in question.
There are, generally speaking, two solutions at play. A more southerly route and more northerly. The southerly solution would mean a low-impact event for Northeast Colorado, while a more northerly solution could put is in the sweet spot for a heavy, March snowfall. Splitting the difference puts us in play for another good soaking storm, but likely not an extreme event.
The models
There's actually fairly good agreement between the ensembles in where this low will be located come Monday evening at least within the two camps, with the European ensemble (center) being the furthest south solution at this time, while the GEFS and Canadian ensemble mean are further north and east:

The GEFS, for its part, has been actually pretty consistent with the placement of the low by Monday evening. Over the last 10 runs we've seen it move south a bit, but overall it has been steady, and even come back north a bit.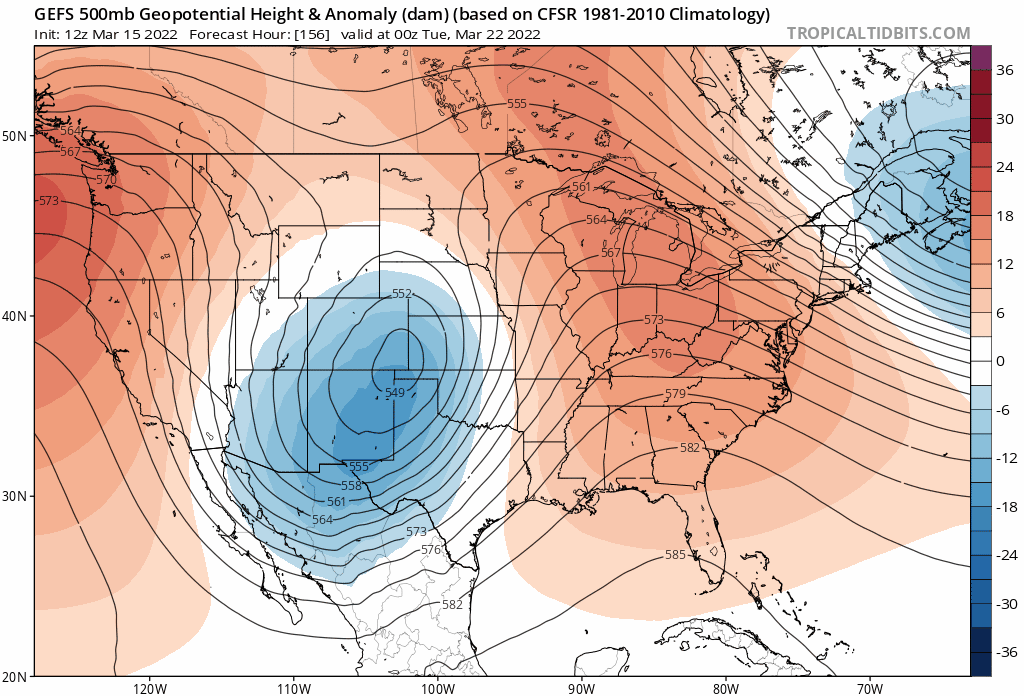 The operational runs reflect this as well. The GFS (left) and Canadian (right) are centered further north and east by Monday evening, while the European (middle) is quite far south:

The difference in the track between the GFS/Canadian and European models here while not huge in some respects would have profound impacts on if and how much snow we are likely to receive not not receive from this system across Northeast Colorado.
Modeled precipitation totals for the event through Tuesday night shows this quite well. The GFS (left) brings upwards of 2.0" of liquid to portions of Colorado, while the European (right) in comparison brings virtually none. Its more southerly track pumps all that moisture into the central and southern plains, with very little wrapping back into Colorado – a largely non-event for the state: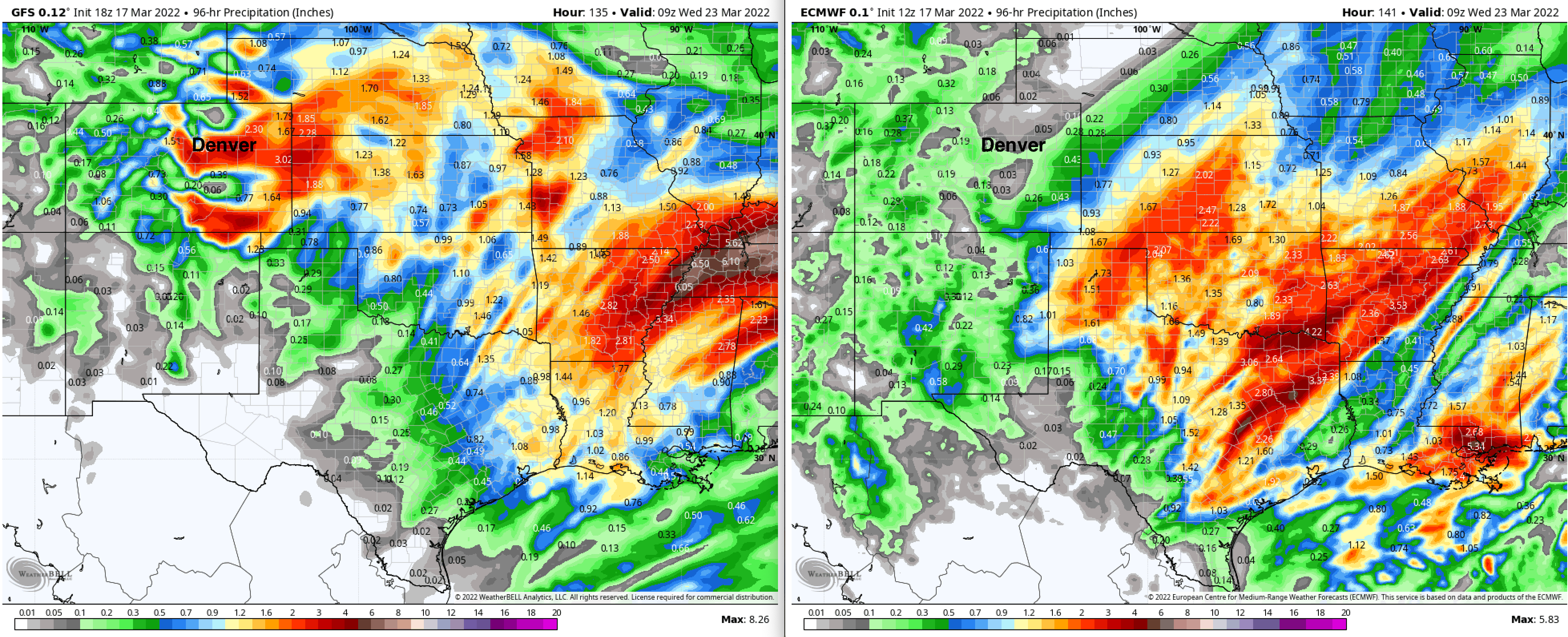 The ensemble models are showing similar differences, and both the GEFS and European ensemble models have been relatively consistent with their two solutions.
The GEFS looks much more like its operational output above. Not as extreme in totals, but much more moisture pushing back into Colorado than the European ensemble has, particularly for southeast Colorado: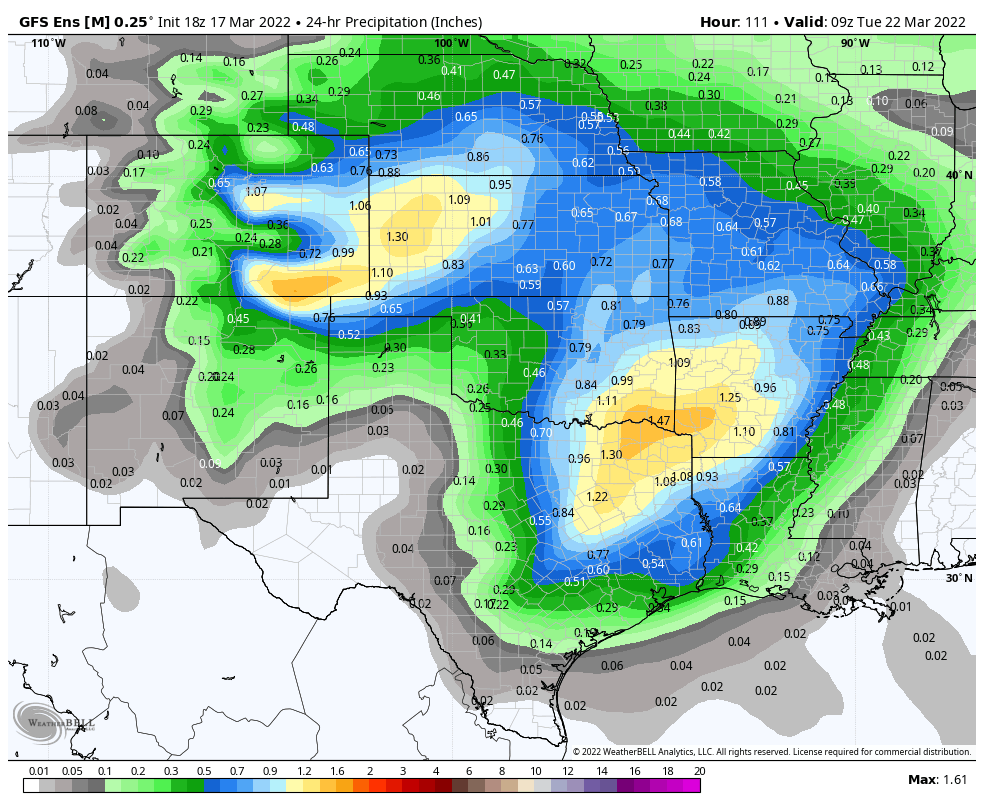 The European, while it has some moisture back into Colorado favors the heaviest precipitation south and east of our area, reflecting the general southerly bias it has in its track. The European ensemble is by far the most reliable tool at this range so far out, so the fact that it does not show the type of event the GFS is advertising should be pause enough.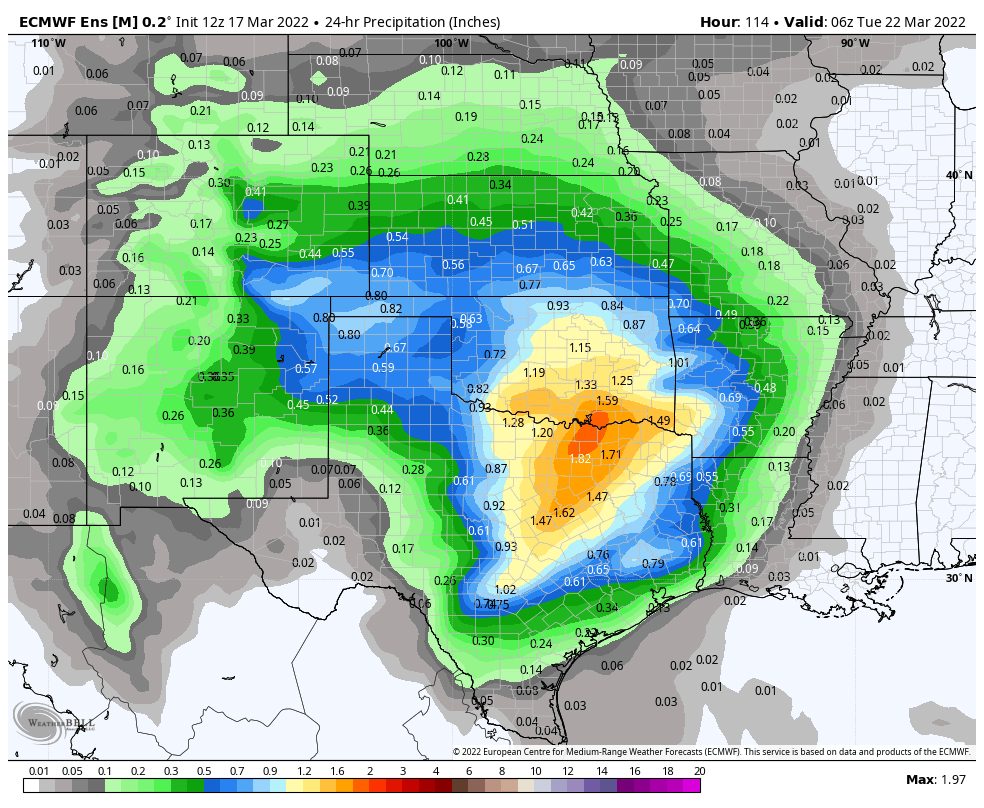 As for confidence in which solution is more probabilistic at this point? It's hard to say. The European ensemble spread in where it places the surface low is quite wide at this time, lending to low-confidence in it. There's a cluster of lows north and west of its mean (which would mean a snowier solution for us), but several members are quite far south and east as well: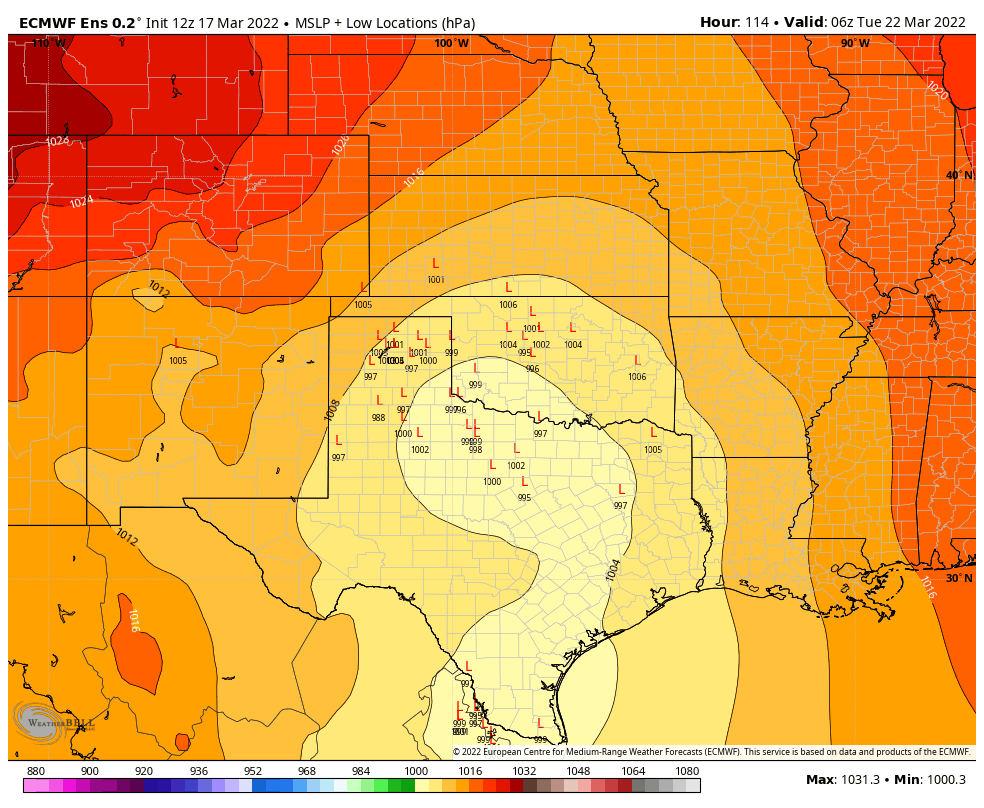 GFS stuff
Another kind of cool feature from the GFS to call is the pronounced upslope and downslope effects it's showing across eastern Colorado. With its currently advertised track, we never really get an easterly or northeasterly upslope wind, but winds are generally out of the north and northwest for the duration of the event.
This would mean huge disparities in precipitation (snow) totals up and down the Front Range, as winds would downslope off the south side of the Cheyenne Ridge, upslope against Palmer Divide south of Denver, downslope into Colorado Springs, then upslope toward Raton Pass.
Here's a look at the GFS surface map Monday night, with the low centered over western Oklahoma, and winds howling out of the north across eastern Colorado: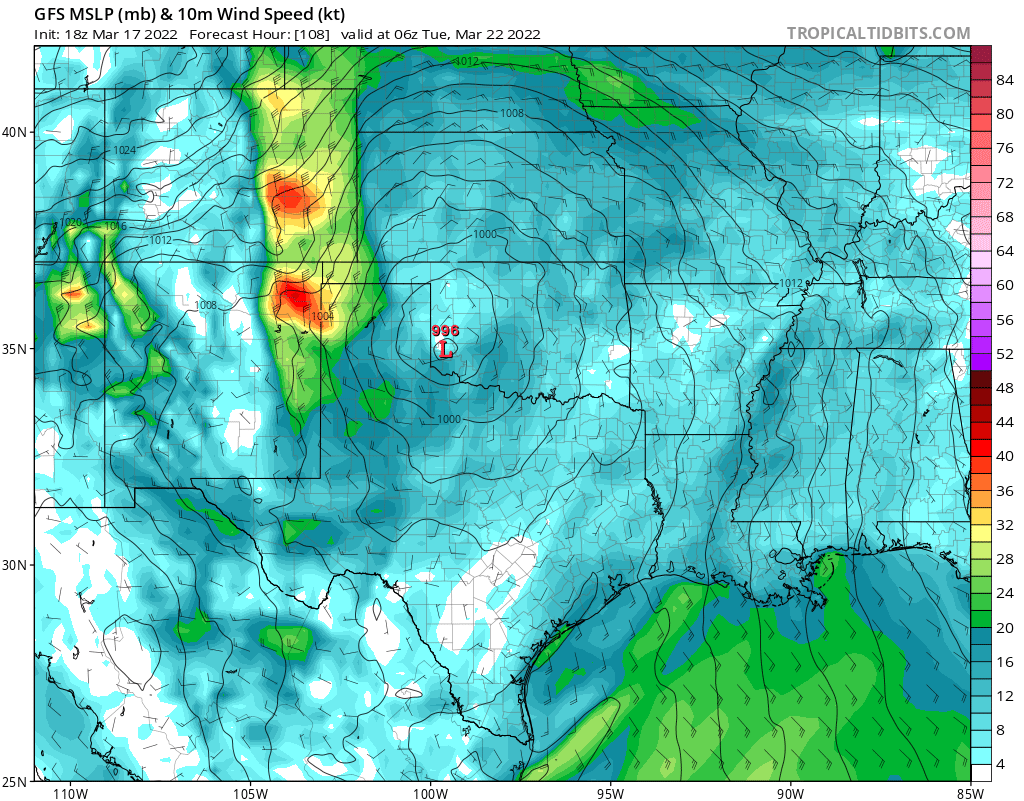 For precipitation we'd see heavy snow where it's cold enough on the backside of the low, with heavy rains out east and north of the low. Where winds are upsloping in Colorado we see that heavy precipitation, with drying in areas of downsloping winds: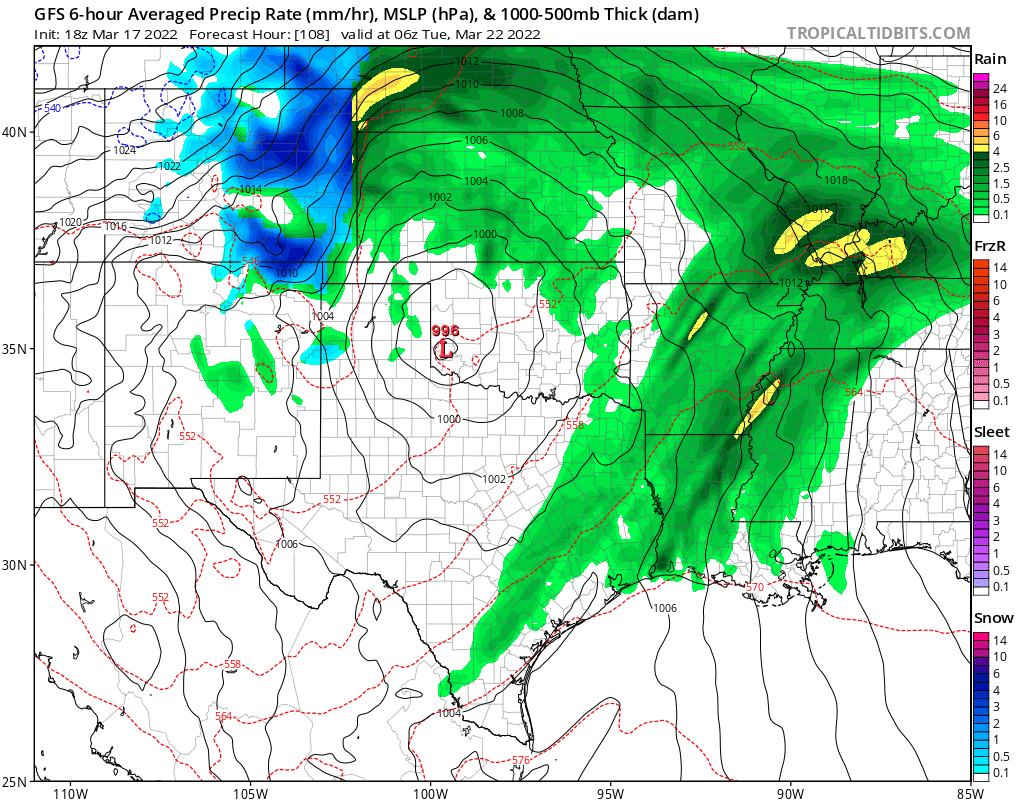 Resulting in a precipitation pattern something like the following across the state: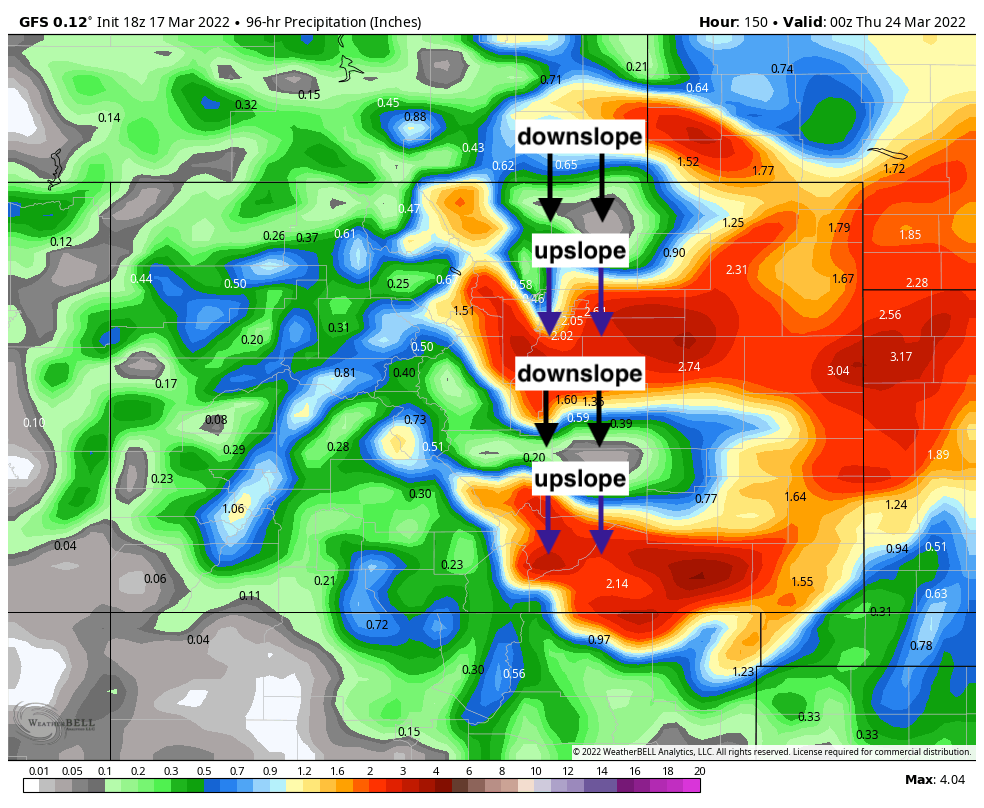 As you can see, even in this scenario, we'd have heavy snow for some but not for all. So given the uncertainty between the models, the fact we are several days out, and frankly how hard it is to pull off an anomalous event like the GFS is outputting, it's best to hedge toward a middle-of-the-road snow at this time and see what happens.
In short, no need to worry about this system too much just yet! If you have travel plans early next week you'll want to stay up to date with the forecast, but for now plan on a warming trend into the weekend, cooler and possibly wetter by Sunday night through Tuesday, before highs rebound once more for the latter half of next week.

More to come!