After a relatively tranquil weekend we have an unsettled week of weather ahead for the Denver metro area, Front Range and Colorado.
Some of us received a bit of rain and snow this morning, we talked about that in yesterday's post, which was a bit of a kick starter for an active weather week. As part of this week's forecast, details we discussed with Insiders last week hold true in that the precipitation is favoring a northern storm track relative to Colorado. Yet, we do have more precipitation on the way, and sadly more wind.
First with the wind as it will be ramping up throughout the day Sunday into Monday. Wind gusts may easily top 50 mph for many of us throughout the region early this week. Wind gusts are shown here through Wednesday.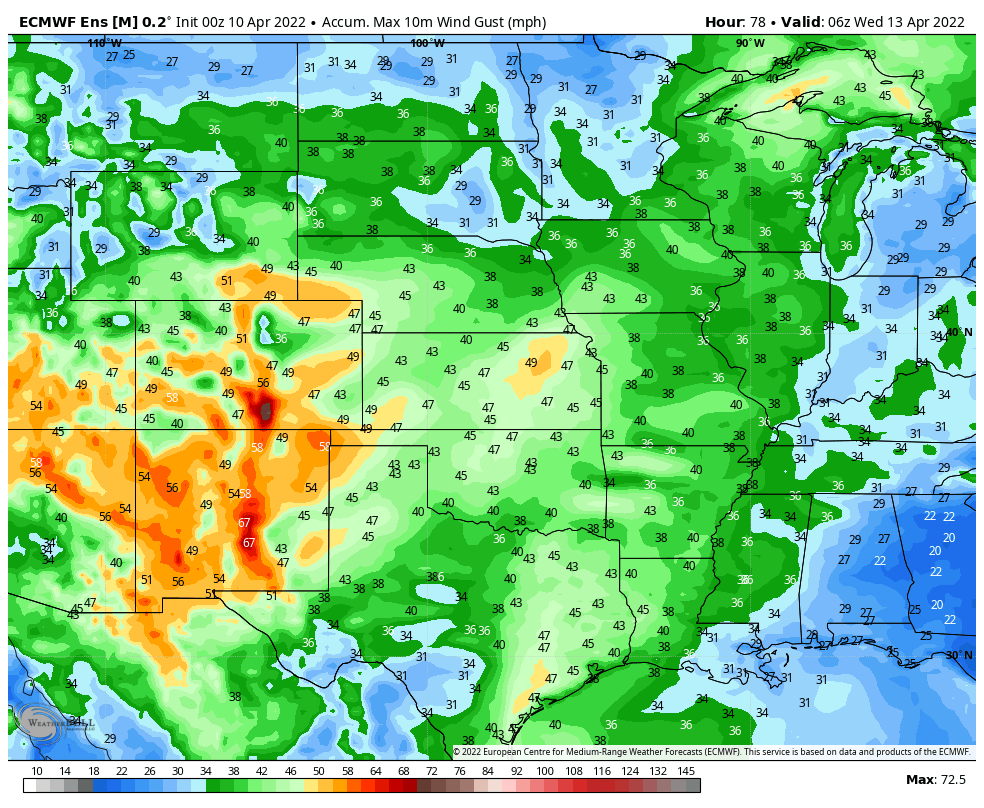 For southern Colorado through New Mexico, that's a wind event without much precipitation so fire danger will be quite high again with this storm system's passage.
For more on the location of best moisture, here's an estimate on how the week's total precipitation may play out: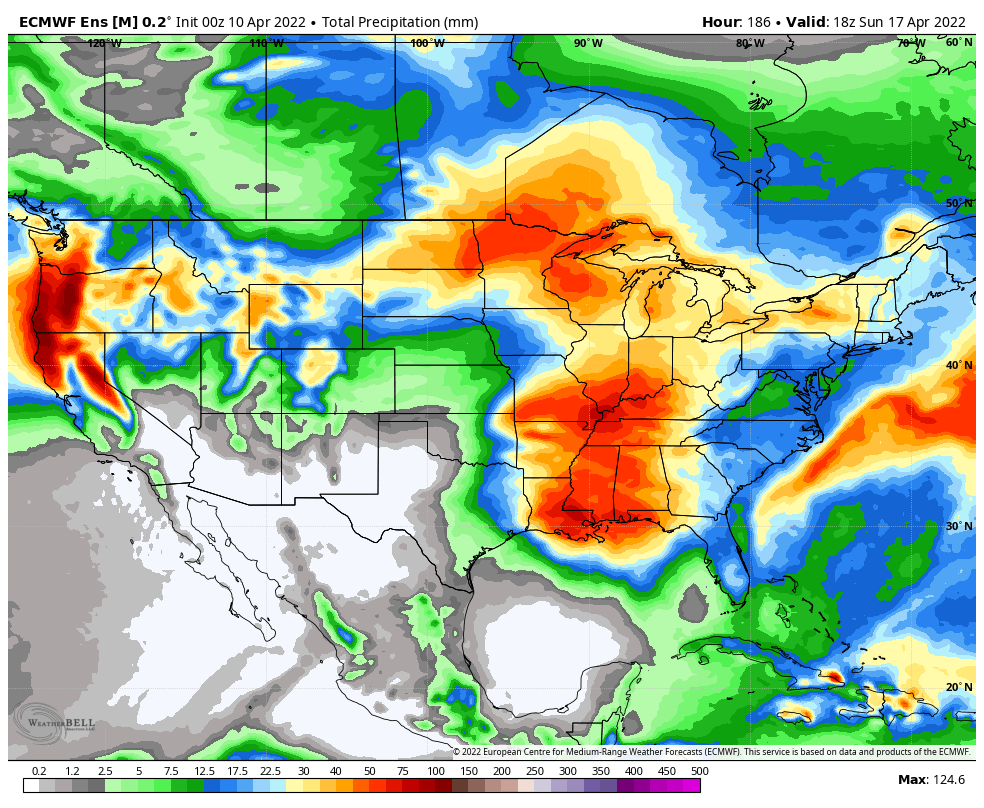 You can see favored areas from the Pacific Northwest toward the Central and Northern Rockies toward the Great Lakes. Strong to severe thunderstorms will produce widespread rainfall for the Tennessee Valley to the Gulf Coast.
Taking a closer look at Colorado for an estimate of total precipitation shows some decent totals over the mountains and meager totals over the northern Front Range. I'll take it though as my landscape is starting to green and I'd rather not turn on the irrigation just yet.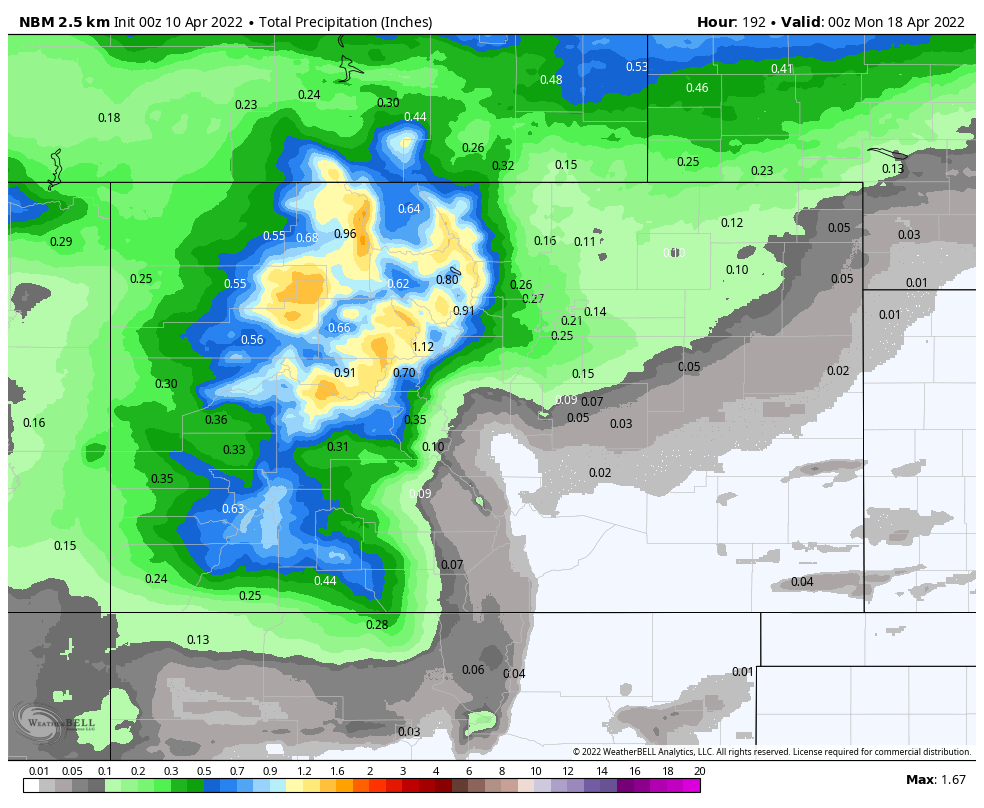 For those that are hoping for this precipitation to be in the form of snowfall, well you may be in luck. Estimated snowfall totals are shown for the week, but keep in mind a mid-spring snowfall (assuming all that precipitation is in the form of snow) like this will imply slushy stuff that rapidly melts: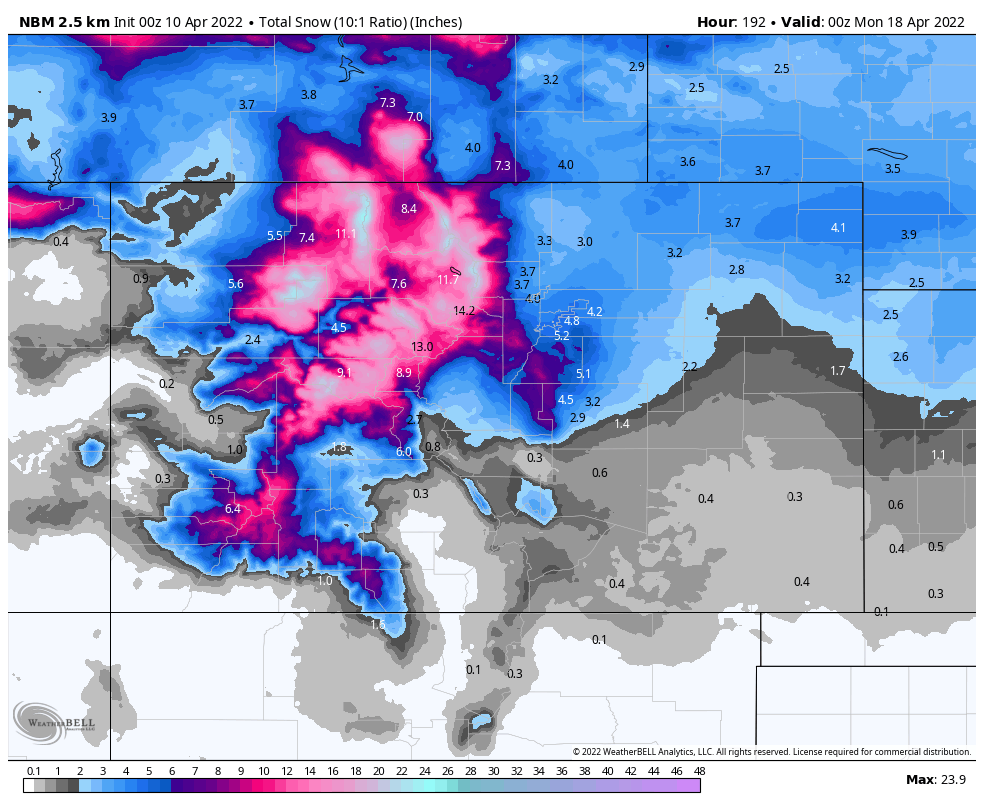 For most of us, the bulk of that precipitation comes between Tuesday and Thursday with lighter activity leading into and out of the midweek. Also, there will be some additional moisture late Sunday into early next week as the timing appears now.
Let's see the daily chances for precipitation for Denver. You can click the map for any point to see daily precipitation chances on our probabilities page. Nothing too spectacular, but an unsettled week ahead it's clear.

This leads us to talk about temperatures. A daily check shows relatively mild days to begin the week and then a dip by Wednesday.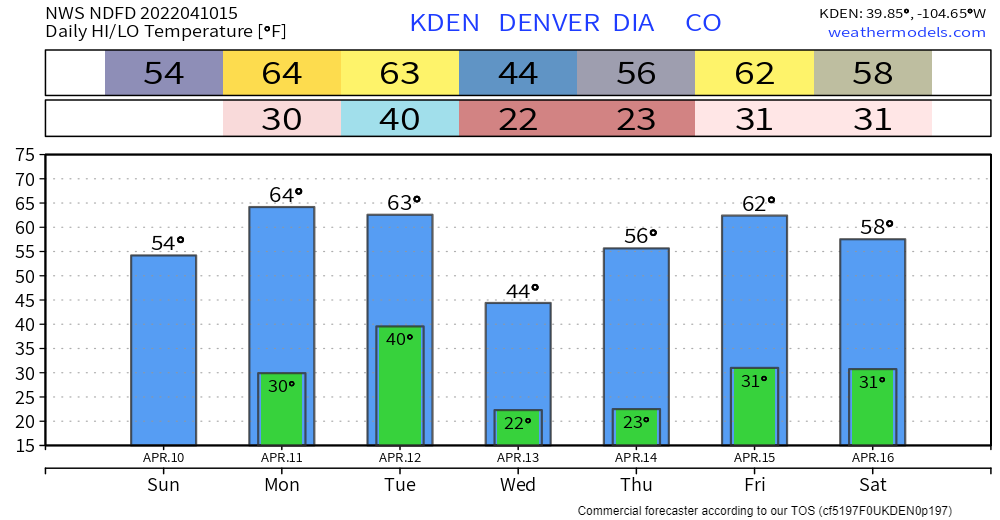 That daily breakdown implies a rain to rain/snow mix with the precipitation this week, it's quite warm for a substantial snowfall unless all of that water wants to fall during overnight hours, but even still it is a later season snow event without much true cold to capitalize on.
An hourly perspective shows low-end ongoing chance for a rain or snow shower through Monday before Tuesday brings increased chances for that rain and snow across the urban corridor: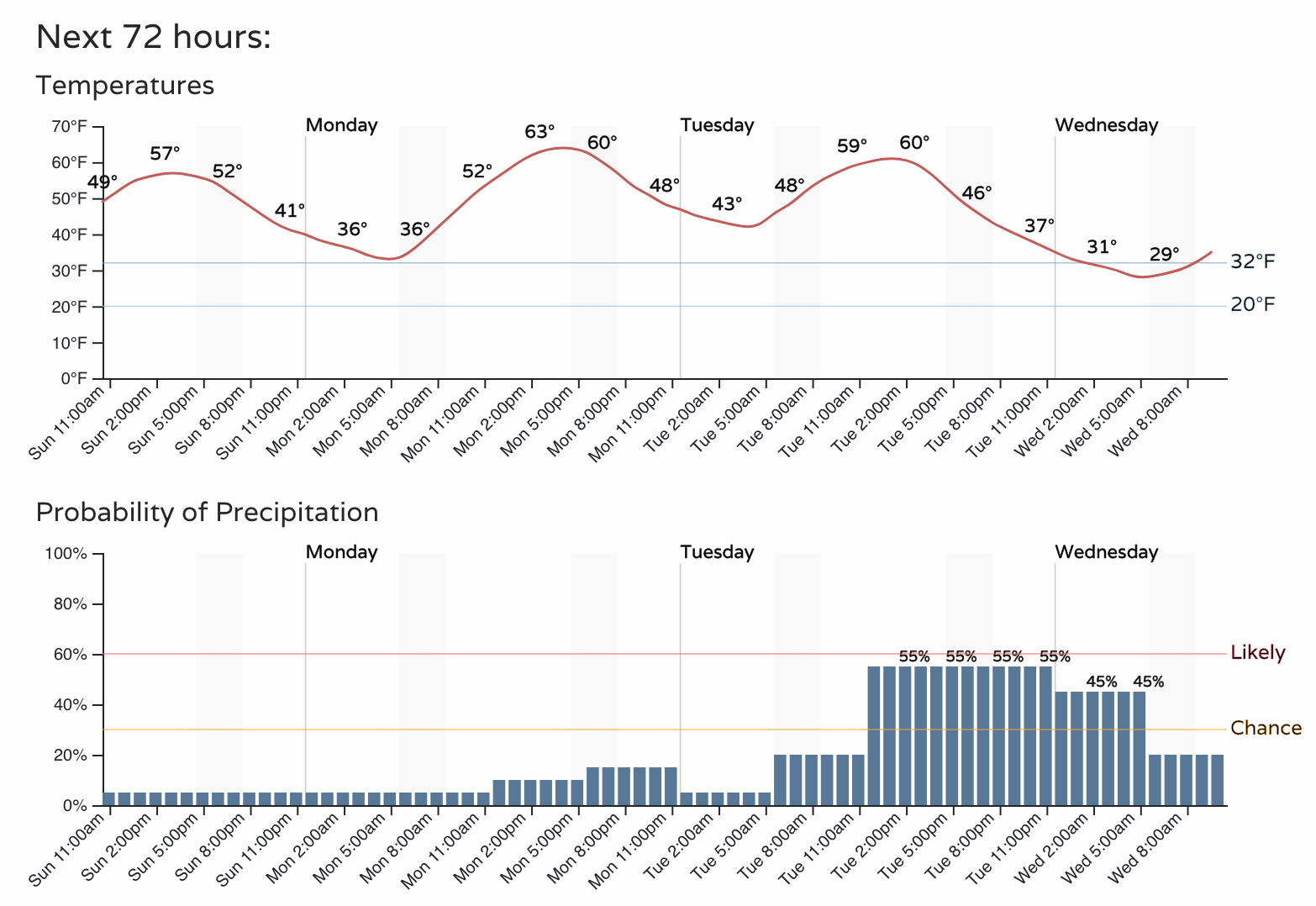 For travelers, yes the wind and precipitation may slow things down across Colorado and the immediate region, however the biggest winter storm related travel issues through Thursday will be across the northern U.S., as the core of the snow stays north: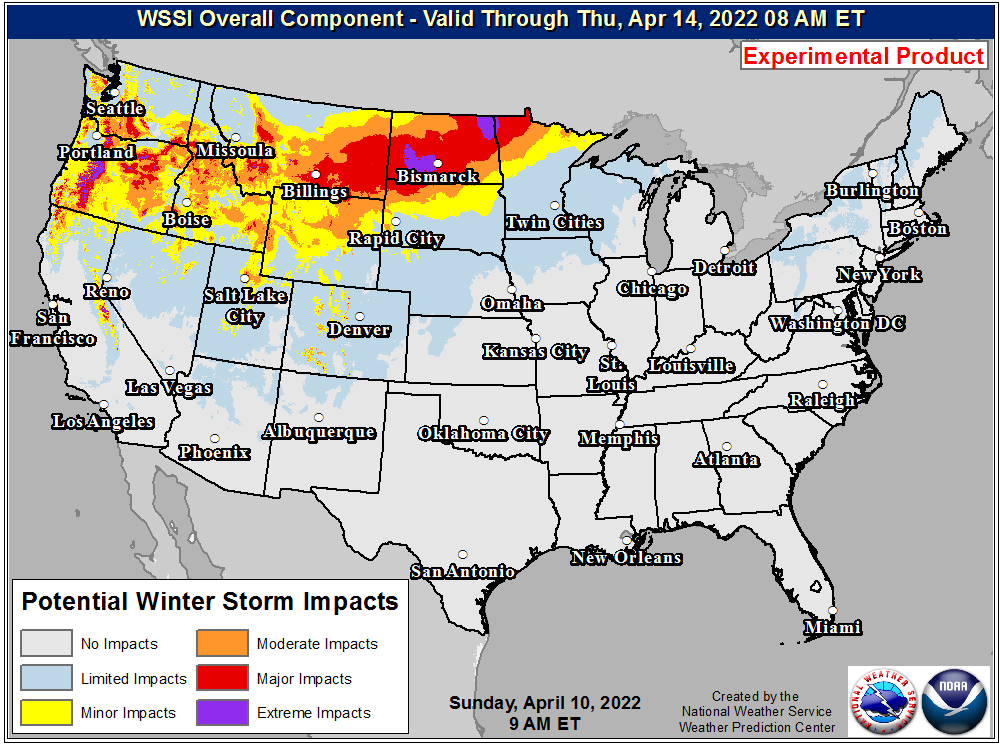 For more on the potential impact to Denver and the metro areas we will have a look at rain versus snow in our next post. Have a good Sunday.