Looking at the week, the pattern is similar to the one we just went through with the main storm track remaining across the northern U.S. There are some differences from last week, though, in that this one will be a touch warmer and not as windy; any chances for meaningful moisture largely limited to the high country again.
The overall temperature trend is shown for Denver, warm overall as the normal high temperatures are in the middle 60s during the last week of April.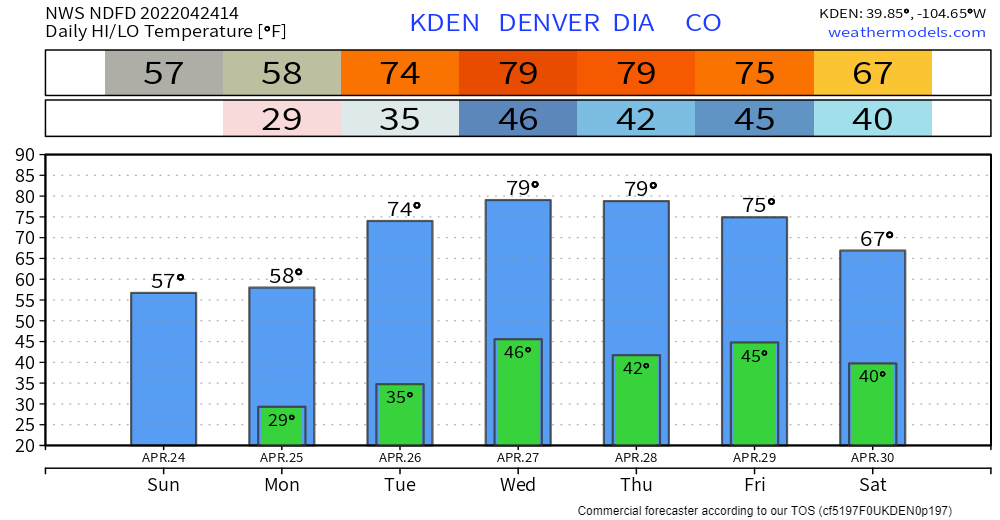 As far as precipitation, there are some chances for a bit of rain through Saturday:

Some of that precipitation may move through today, but chances are low, and where we do see showers develop in and along the Front Range, totals won't be all that impressive. Better than nothing perhaps!

Beyond this week, however, there may be better chances for moisture starting early the next week. As I pointed out in last week's SOTA, the rain and snow chances appear at the seven to 10 day forecast range and then disappear as we get closer to an event. So, we can address next week's potential moisture days from now.
When it comes to the wind, the max wind gusts during the course of the week will be strongest in Wyoming and South Dakota and those will be recorded today.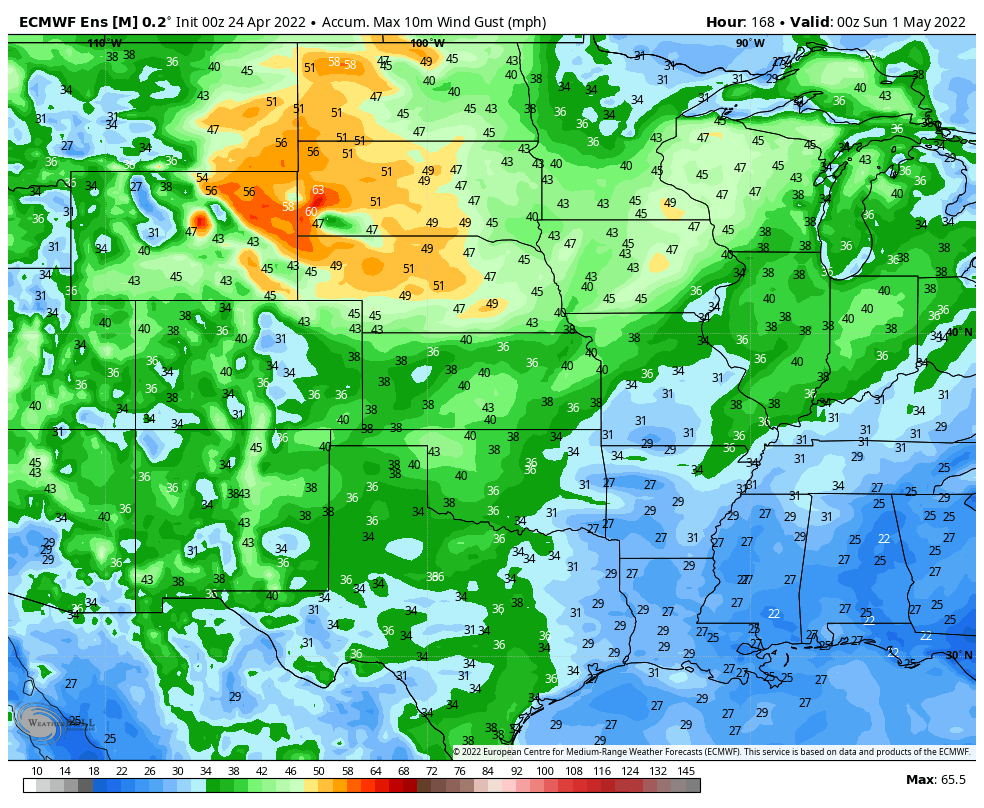 Periodically, strong wind gusts will come through this week but it doesn't look like anything nearly as strong as what we felt last Friday.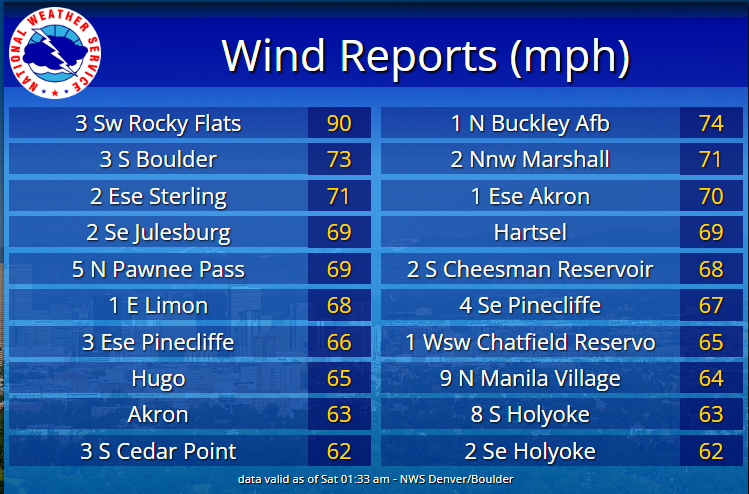 When it comes to that recent wind, it sure has driven rapid drying on top of already dry conditions. The latest drought monitor is shown and indicates every acre of Colorado is considered abnormally dry or in drought.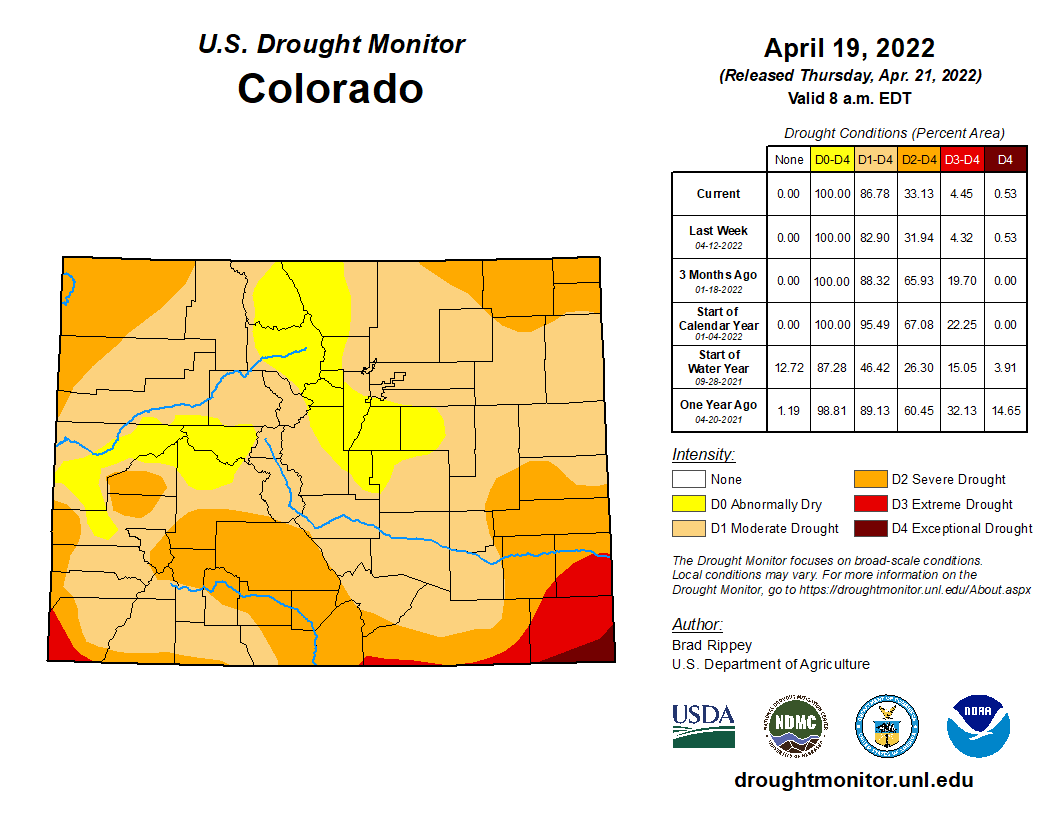 Snowpack in Colorado has been on a decline but the ranges from the PacNW to Wyoming have had an increase in the recent northern storm flow.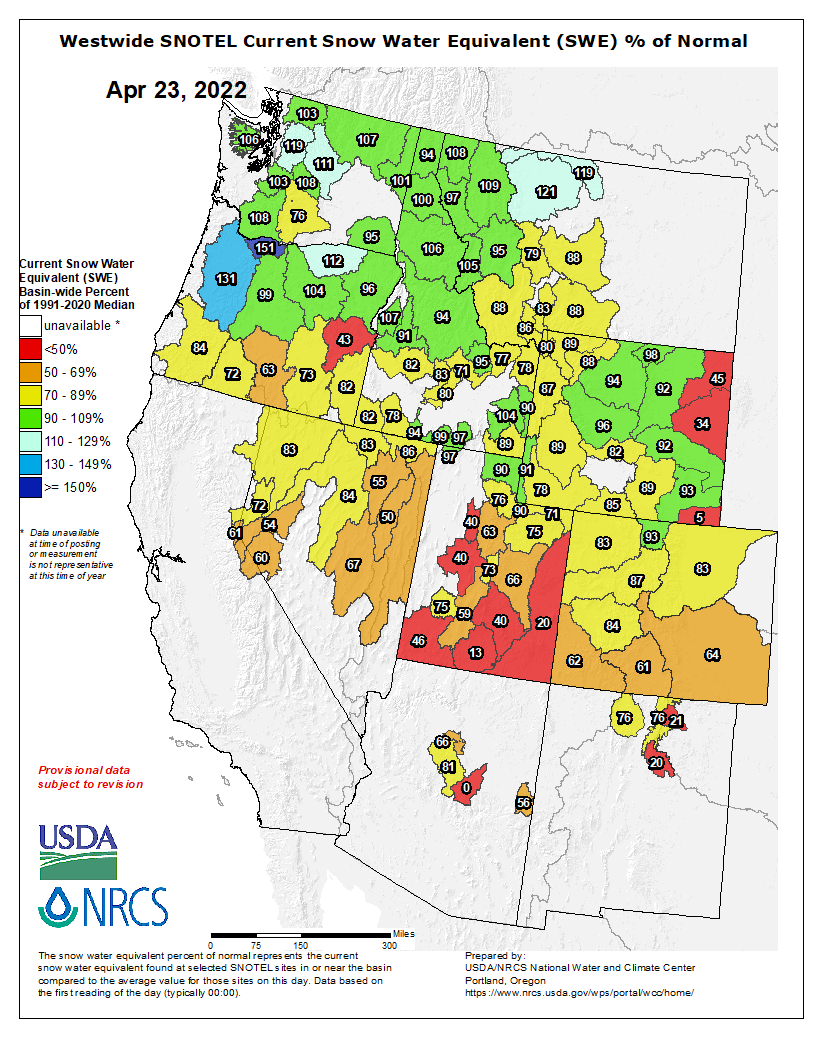 Even with that recent boost to snowpack and recent rainfall, the year-to-date precipitation remains poor across a large part of the Lower 48.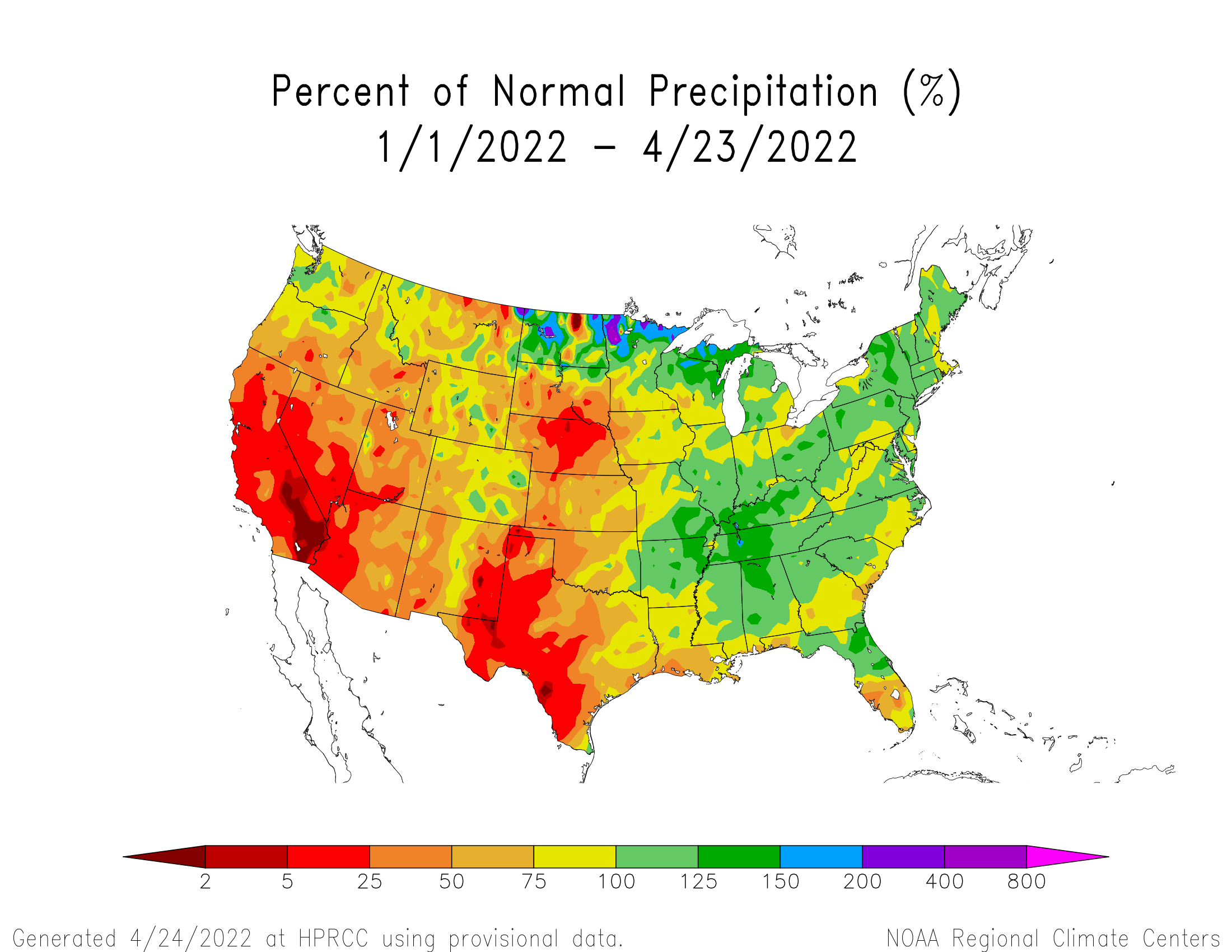 The same map as above, but zoomed to Colorado.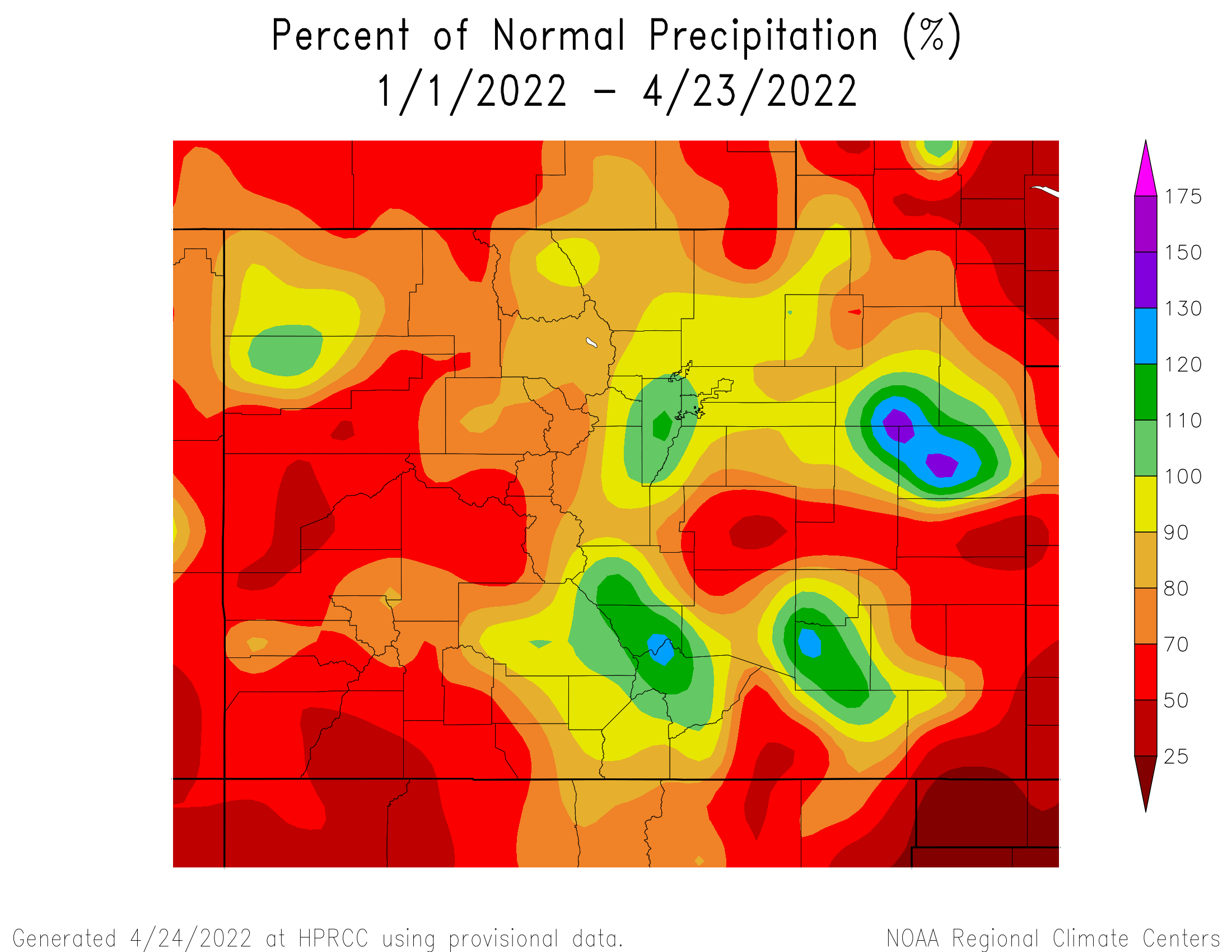 Consider that drought for much of the state, and factor in the wind as mentioned above and we are losing water at a more rapid than normal pace through evapotranspiration.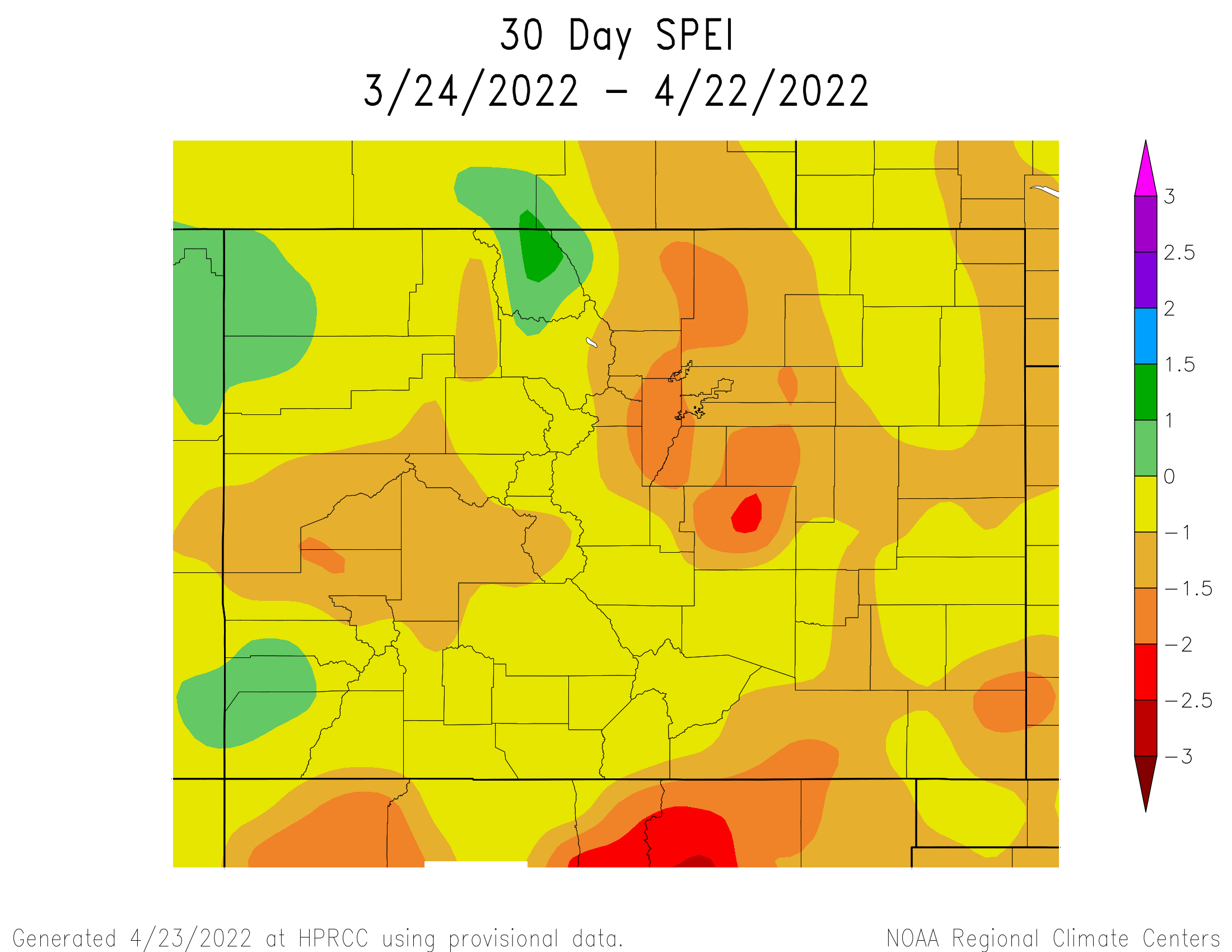 The map above is a visual representation of drought and includes the evaporation rates as another example of drought's overall impact. In this case, the past 30 days has seen a water deficit especially over the Front Range - El Paso County has been a shortage maxima.
Given the temperature and precipitation outlook this week, I'll be outside hand watering my yard if you need me.