Perhaps some good news in the forecast for the upcoming week, but this should be met with a healthy dose of pessimism until we see actual water falling from the sky.
Why? Because the pattern is a dry one, and despite what models have shown from time to time, the favored outcome will continue to hedge dry until we can fundamentally shift the pattern around here.
Take the trusty European ensemble mean forecast for precipitation anomalies through next Sunday evening. It shows a blip of above average precipitation for the north central mountains of Colorado, some near-average surrounding it, but a largely drier than average pattern this upcoming week for the bulk of the western two thirds of the United States.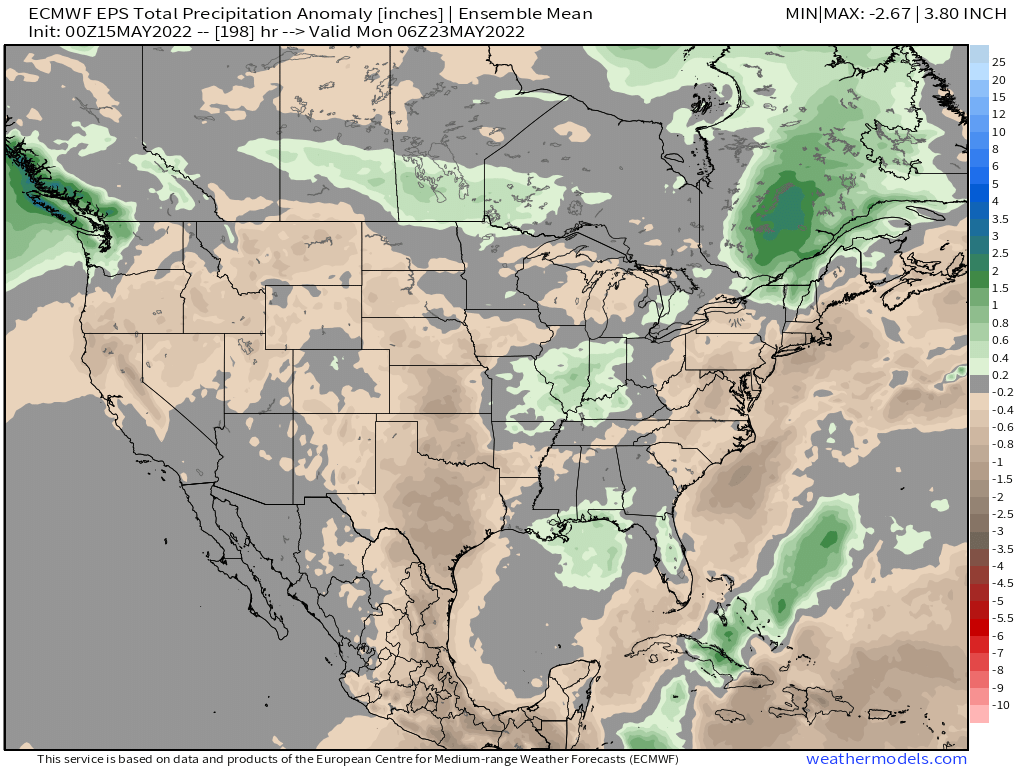 That's not to say we won't see a chance of precipitation on the way this week, it looks like we will and thus the nod to "good news" above, but the chance for a widespread soaking rain and snow event as has been rumored in recent days looks like an outlier chance at best.
While we will see better diurnal storm chances this week as compared to last week, the main focus has been on a large upper level trough that will move across the CONUS by late this week and next weekend. This trough once looked relatively slow, and to dive pretty far south. Latest computer modeling, however, suggests it may be quicker (more like Friday/Saturday vs Sunday), and take a more northerly track (less rain and snow for Colorado). This shouldn't come as a shock.
Yesterday's European model run showed Denver and the northern Front Range picking up more than 1" of liquid through next weekend (largely next weekend at that), while the overnight run changed considerably, and better aligns with its ensemble.
Yesterday's morning run: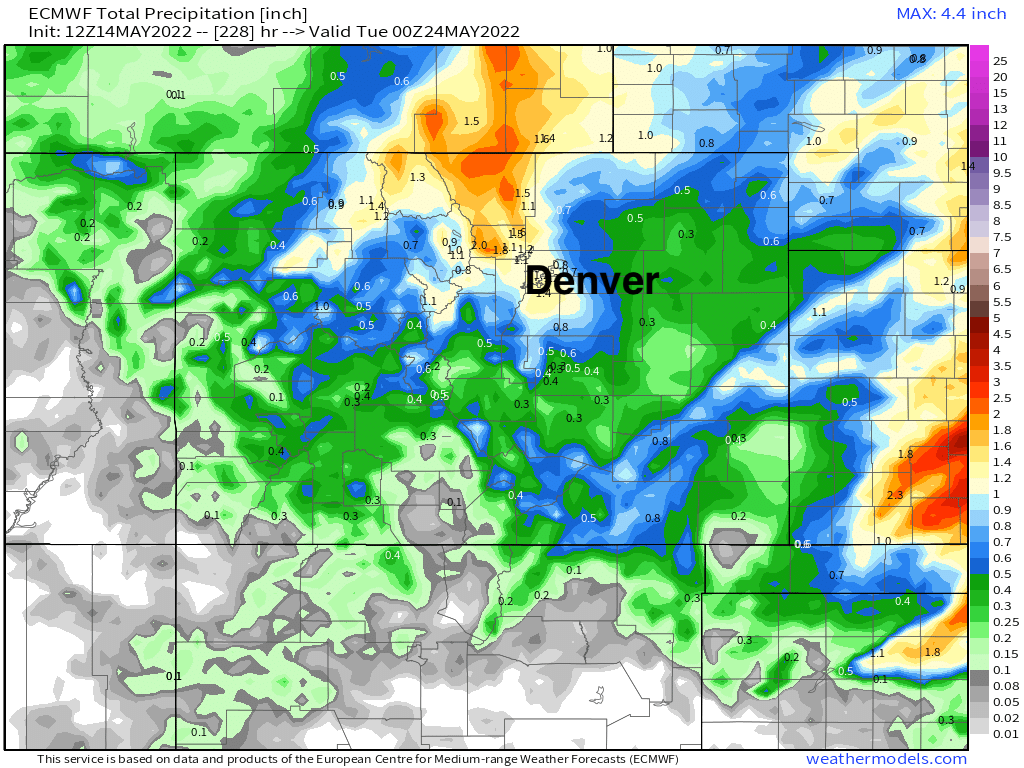 Overnight run: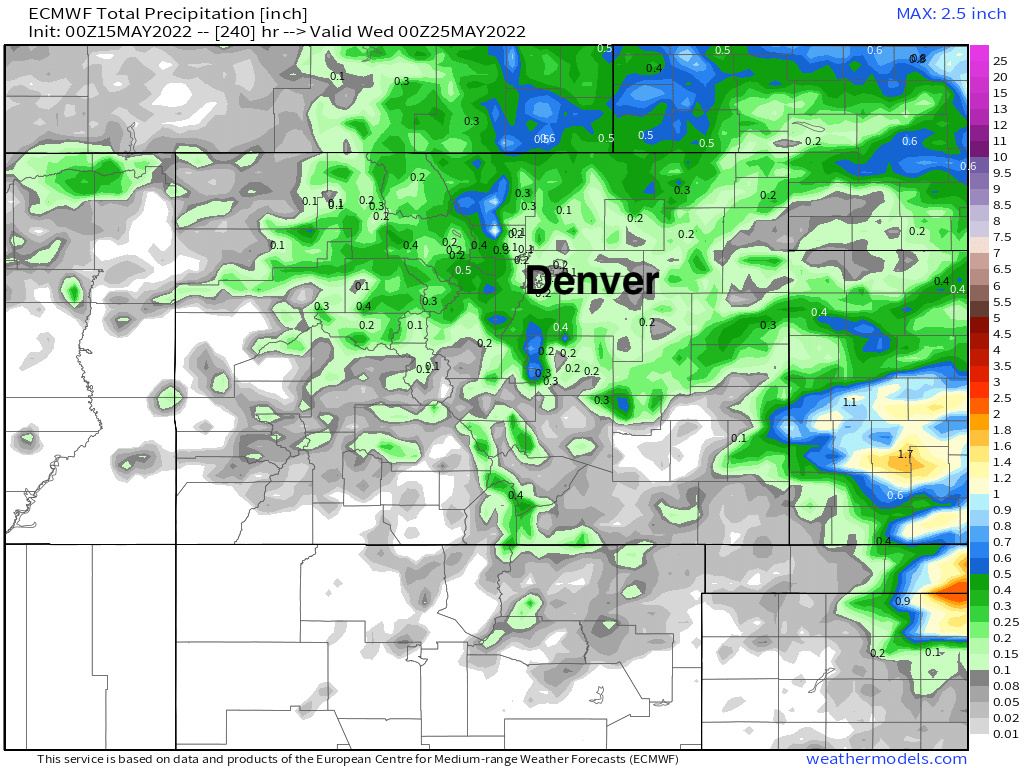 As you can see, still some moisture in the forecast, but not nearly as convincing or widespread as previous runs looked. For Denver proper it's all but dry over the next seven days, favoring the higher terrain to our west and across the Palmer Divide, then areas east and northeast.
The GFS appears slower to correct, and remains a bit wetter and colder later this week, though correcting it may just be. Should this scenario pan out, we'd see some areas pick up some beneficial moisture (particularly the Front Range and northern mountains and the Palmer Divide), with even some snow a higher elevations outside the city cores.
While slower to get there, the trend from the GFS has been faster with the end of week system, and further north. A trend that, if it continues, would match what we saw from the European above with a drier, less impactful storm next Friday night/Saturday night.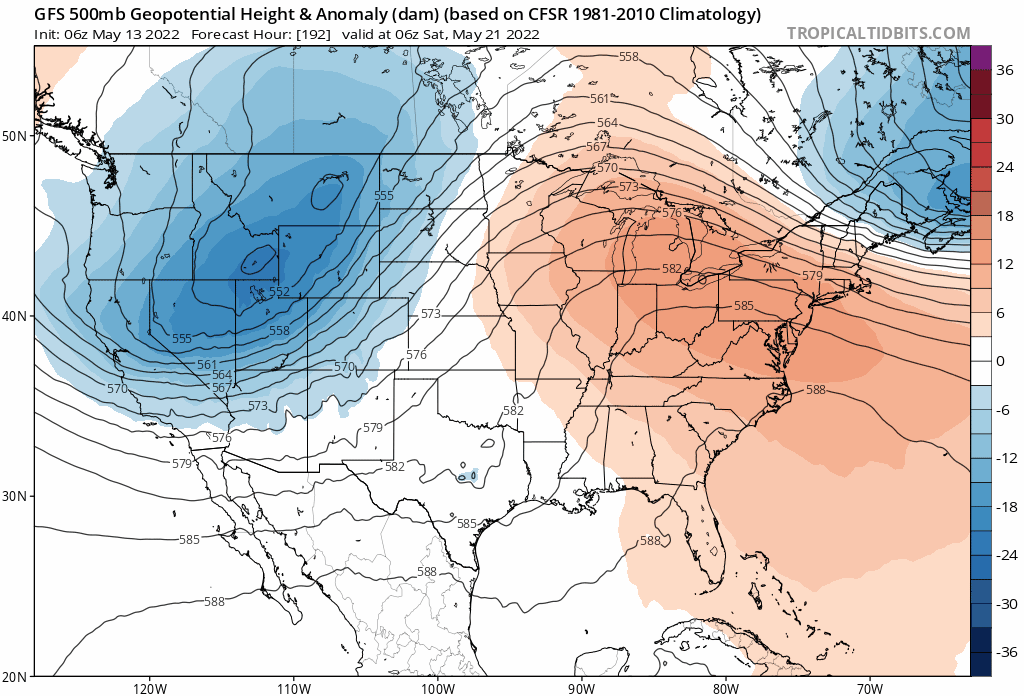 The result of which shows a similar trend as the Euro above, but still is wetter for Friday and Saturday as this trough moves through:
Yesterday's run:
This morning's run: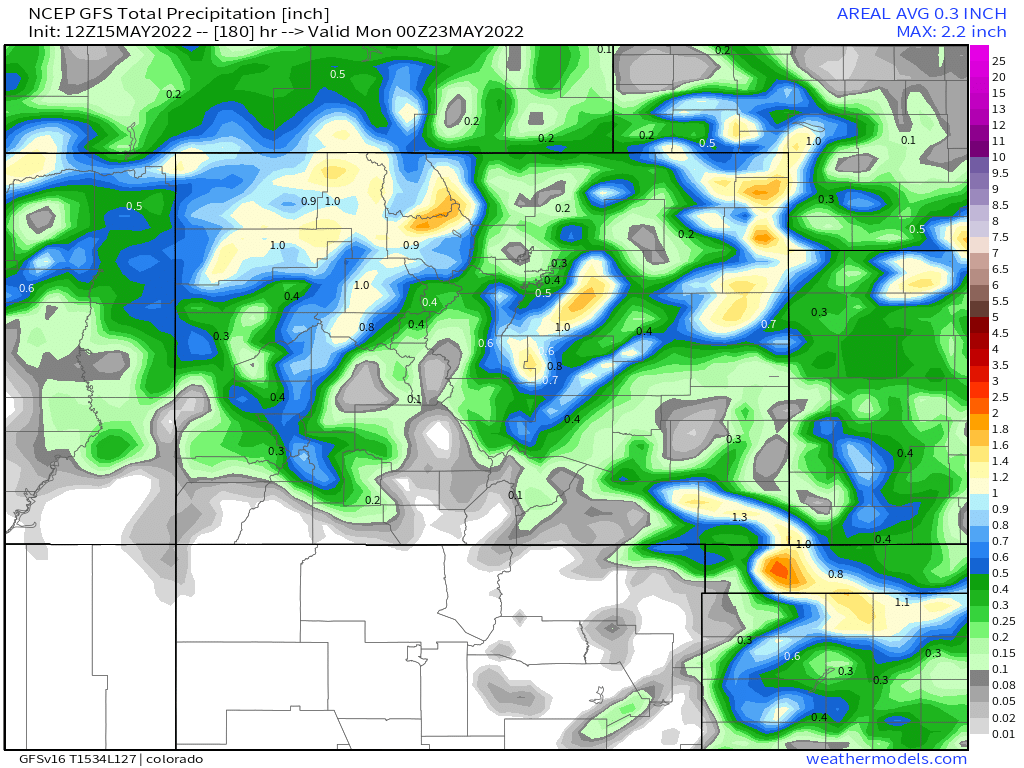 Ahead of the bigger trough that we'll have to watch for Friday and and the weekend, we will gradually seen an increase in storm chances as the week progresses. Much of these chances will be scattered at best, but some areas could see a couple good afternoon storms this weekend, even if not widespread.
For Denver this equates to a slight chance over the next couple of days (perhaps nearing a 30% chance on Tuesday) with highs remaining quite warm to begin the week as we climb into the mid and upper 80s.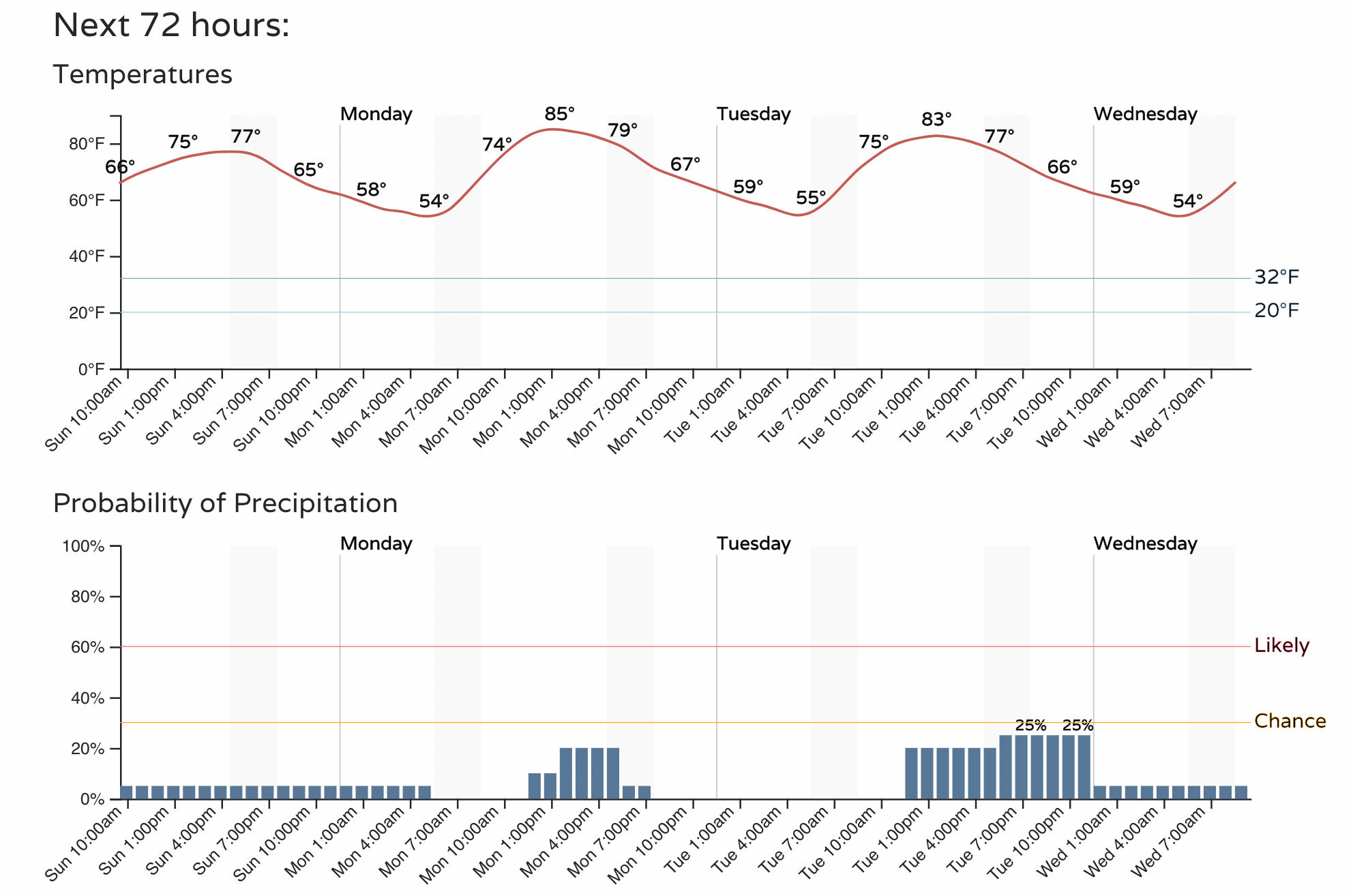 If we look at the daily precipitation probabilities, we see some hope most afternoons, with perhaps a bit of an uptick in those odds for late week still, though not as good as they appeared in recent days.

Unless we can capitalize on some of these afternoon storms, and more urgently a more meaningful system like models have tried to show for late week, the fire danger will remain quite high across the state. This is especially true for Southern Colorado.
Today's fire weather watch includes portions of Southeast Colorado and much of New Mexico where large fires continue to burn out of control, with expanding hazardous fire danger on the way for Monday: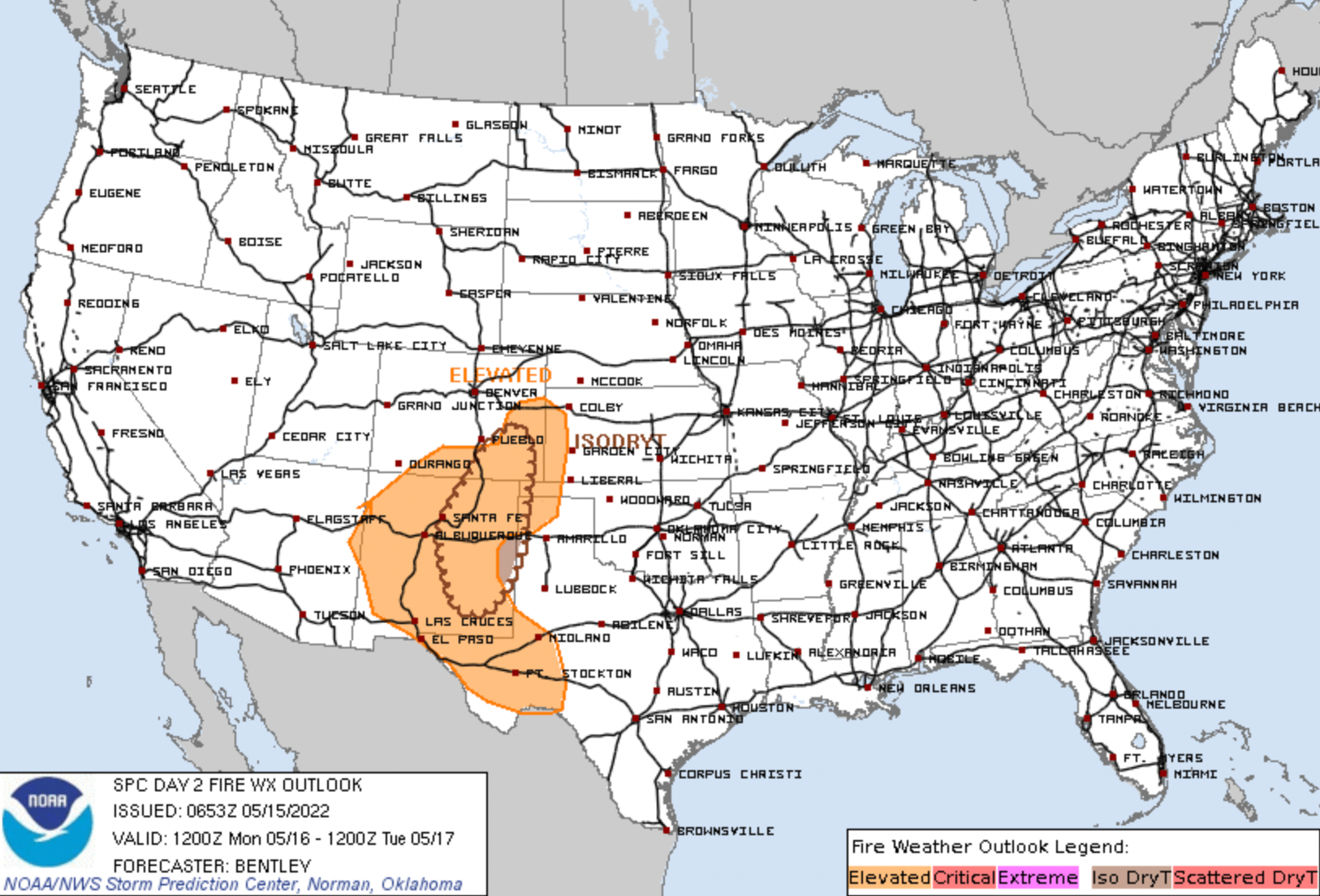 Referencing the precipitation anomaly map above, we see not much room for optimism for these areas that continue to struggle to find meaningful relief from the early season hot and dry weather, and continued worsening of the ongoing drought and high fire danger.