It's mid-June and we are cooking with mid-summer heat! Highs on Saturday climbed into the triple digits for portions of Eastern Colorado, including Denver where the high hit 100°F, tying the record high for the date set back in 2013. Anyone else remember when it snowed three weeks ago?
Storms today have kept us a few degrees cooler across the region, though still quite hot. Monday we are likely to see more 100°F+ temperatures across Eastern Colorado before we cool a bit Tuesday. The forecast high for Denver on Monday is 100°F, which if hit would break the old record for the date of 99°F (2006).
Here are forecast highs across the country on Monday: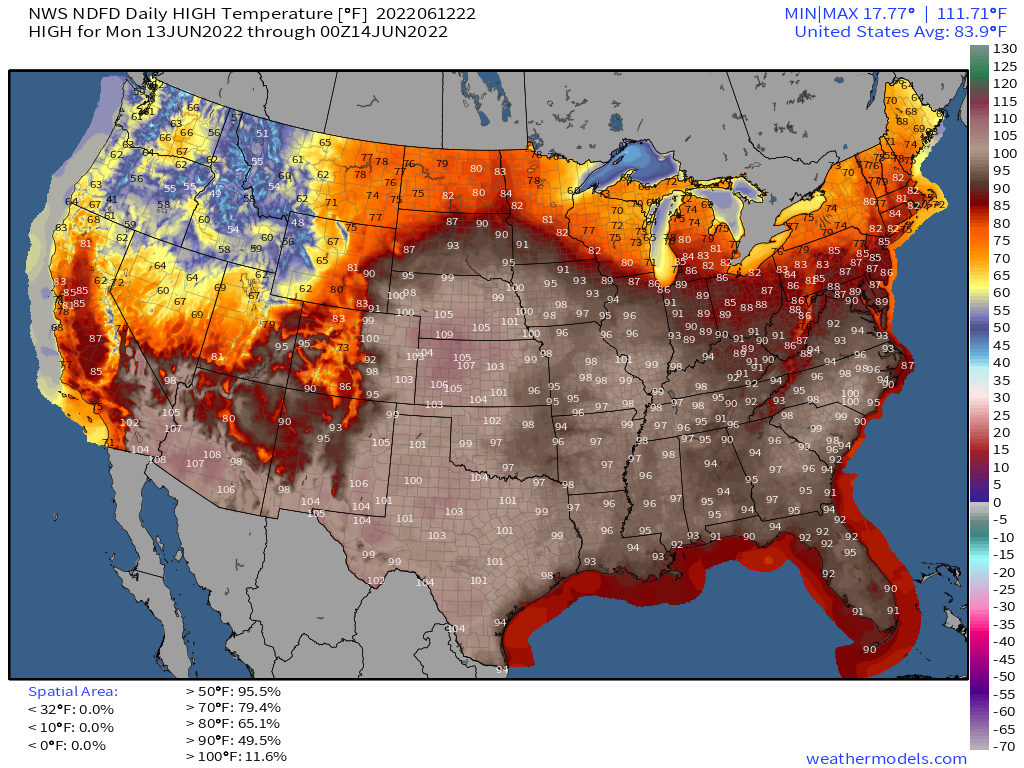 As you can see, the early summer heat is by no means localized to our neck of the woods. The Southwest and CONUS mid-section is cooking right along with us. Today heat advisories are in effect for more than 15 states across the south and central U.S.!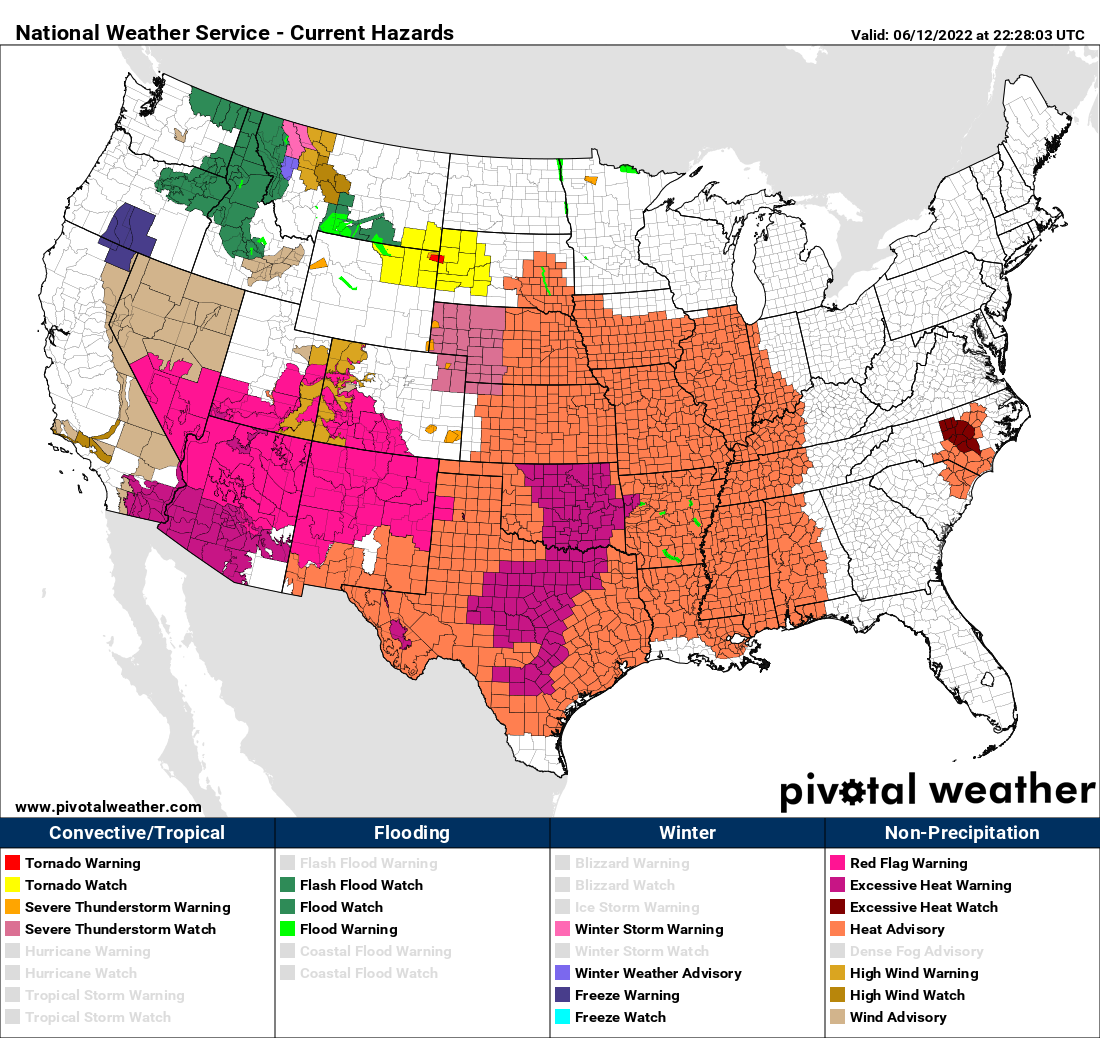 And a look at stations that are setting daily and monthly record highs today is quite expansive, and will be again on Monday. Take a look!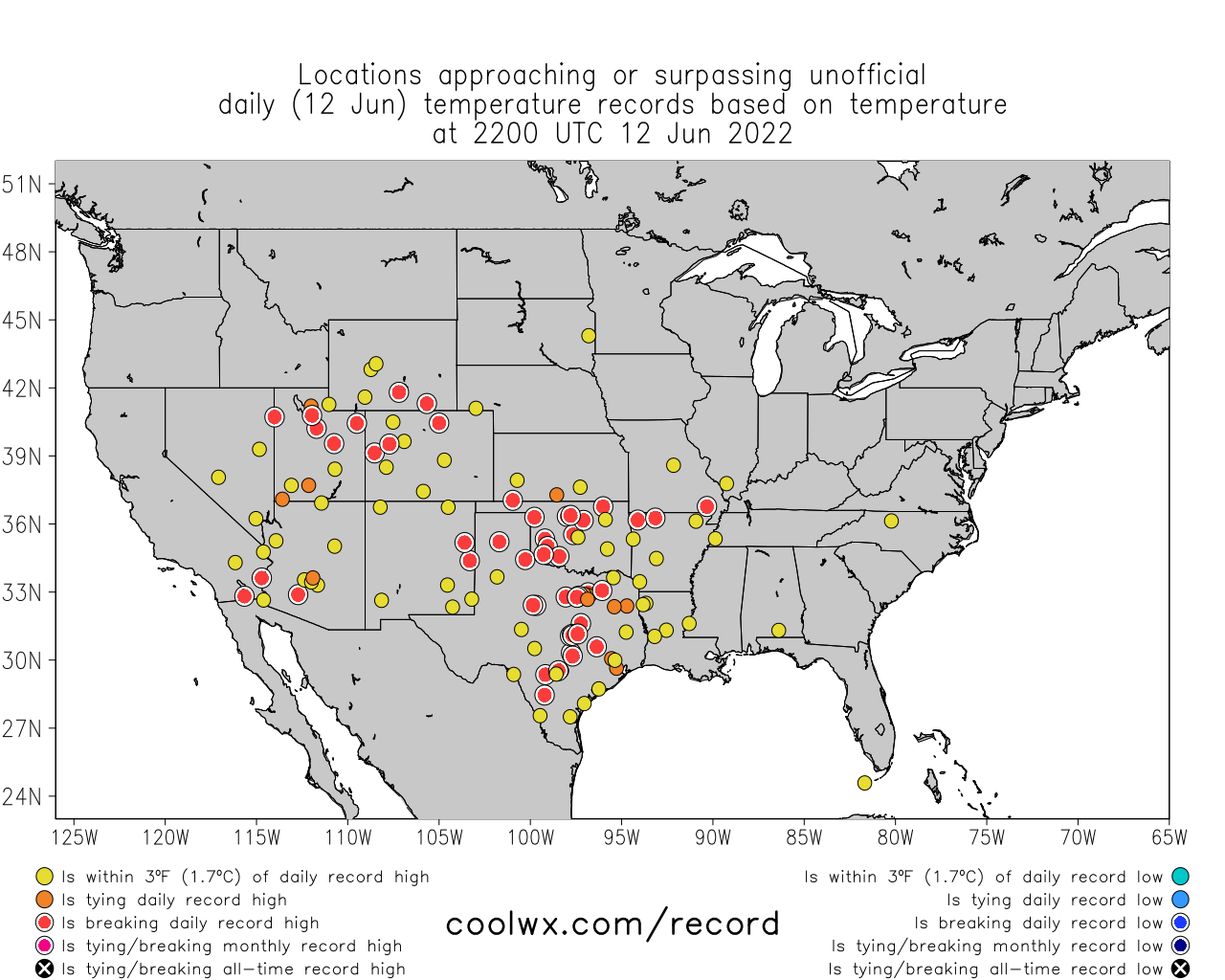 The heat isn't the only weather making headlines today. Severe weather, including a confirmed landspout out by DIA this afternoon are keeping us on our toes as well.
Last night we saw a unique weather phenomenon across extreme Eastern Colorado and Kansas called "heat bursts". Heat bursts are defined as a localized, sudden increase in surface temperature associated with a thunderstorm, shower, or mesoscale convective system, often accompanied by extreme drying. The temperature jump can be so extreme that it is at times referred to as a hot blast of air.
Over the next several days storm chances won't be great. Temperatures will be warm, and many of what storms we do see formed will be high-based in nature, meaning more wind and lightning than any rain actually falling.
The hourly planner for Denver shows this. Not a zero-chance for storms, but close. Highs Monday near to or perhaps record-setting, before we drop into the 80s on Tuesday.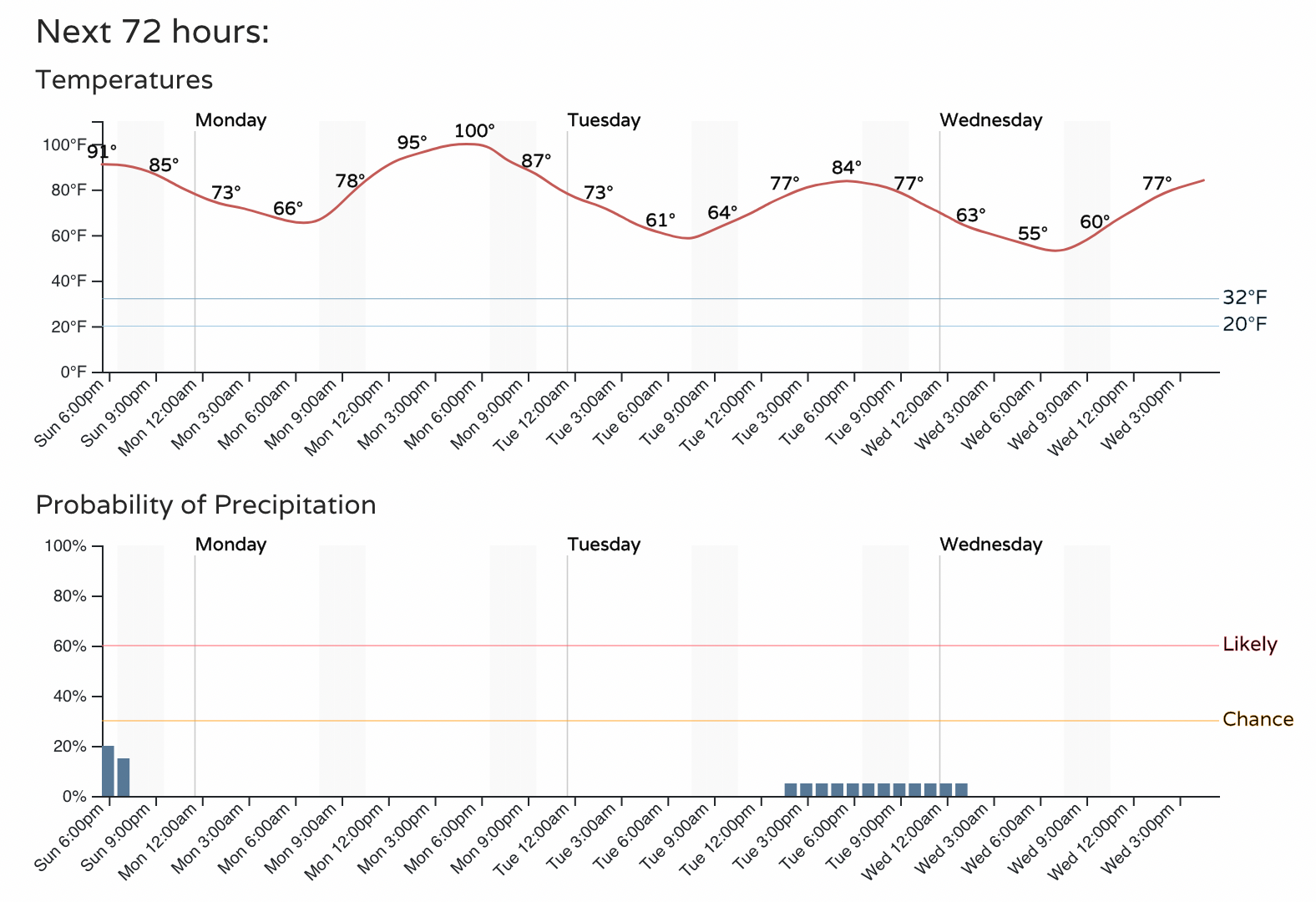 The outlook through next weekend is pretty dry, really. Storm chances do increase a bit as we head later in the week and into next weekend... but we'll see if that works out to anything meaningful for us, particularly those of us east of the hills.
For western and Southwestern Colorado there's a bit more room for optimism on the rain front. By next weekend we see a storm move inland off the Pacific and the ridge shift east a bit – this should help pull subtropical moisture up into the Four Corners, and could mean (finally) some beneficial moisture for the region.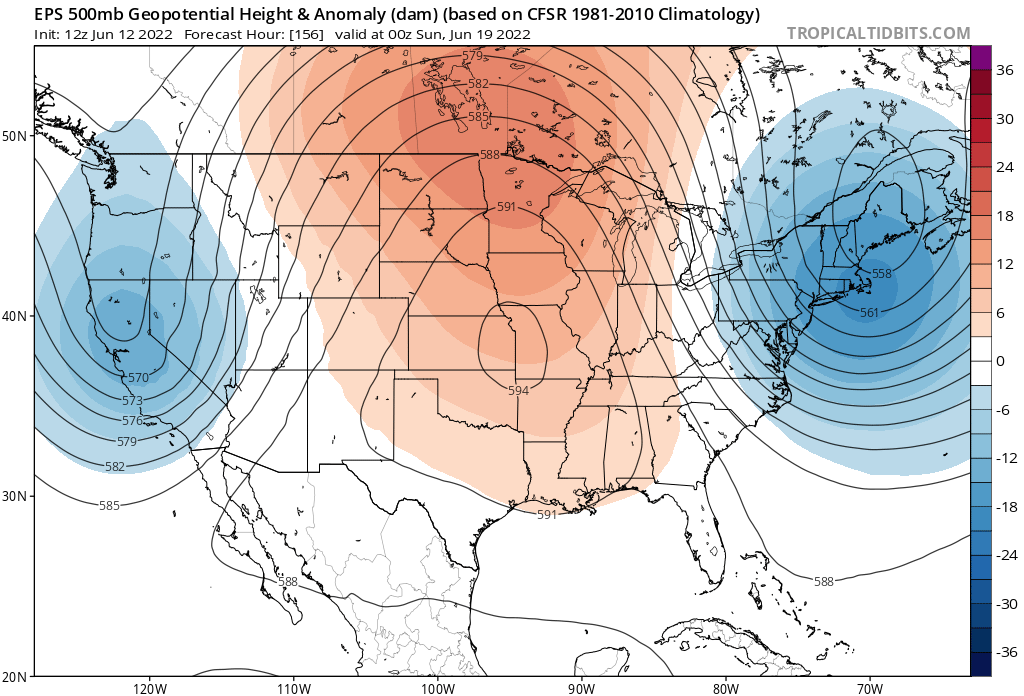 Looking at precipitation anomalies through next Sunday evening we see the greatest moisture is favored across this area and up into the Pacific Northwest, with a generally dry week ahead for the central plains.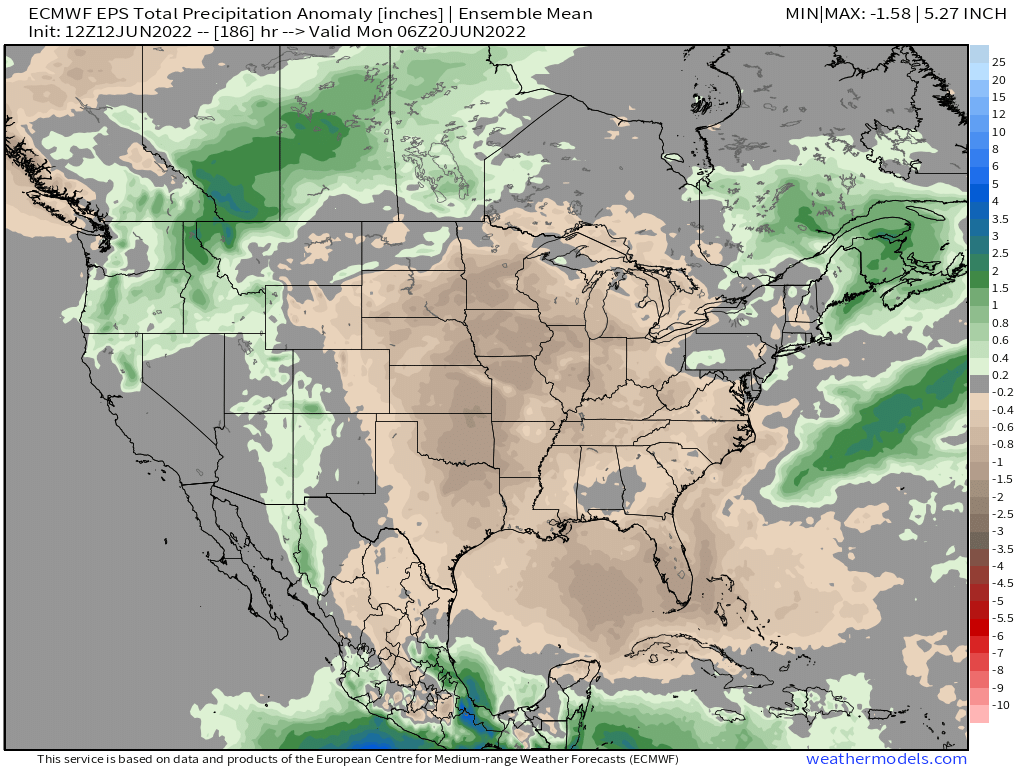 Stay cool.