A quick update this morning on our weekend outlook as cooler and wetter weather arrives for a good portion of the state. Overall, not much change to our thinking from our update yesterday – chilly and unsettled for your Saturday, with drying conditions but still cool air around on Sunday.
The animated GIF below shows the GFS forecast from today through Sunday morning. We'll see snow showers develop across the northern mountains today, and gradually build over the northern urban corridor this evening/overnight, before sagging south through Saturday morning. Snow showers may try to redevelop Saturday afternoon and evening, especially for the more southern reaches of our forecast area, which could bring a bit more snow to places like Monument, Colorado Springs, and Pueblo Saturday evening.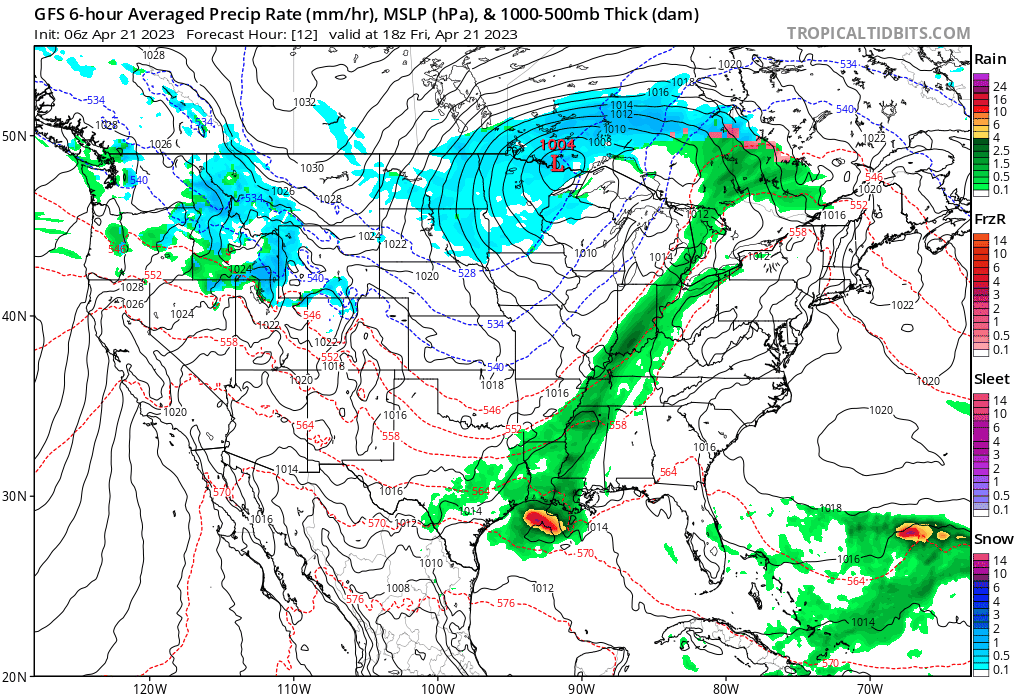 The hourly precipitation probabilities for our area reflect this, with the initial push of showers expected late tonight/early Saturday for the Denver area (a bit early for Fort Collins and a bit later for Colorado Springs) with another uptick in probabilities Saturday evening before things wind down early Sunday:

While chilly, this won't be all that cold of a system. Lows near or just below freezing in Denver Saturday morning, highs near 40 Saturday afternoon, then cooling to near freezing again early Sunday.

With that, and with much of the snow shower activity possibly aligning with daytime hours, it could be overall impacts aren't all that great – which would be great! Whatever snow showers we see pre-dawn Saturday morning and any redevelopment Saturday evening have the greatest potential to cause some slick spots on the roadways. Snow showers during the day will have much smaller impacts, favoring grassy and raised surfaces.
As for our precipitation and snow forecasts? We'll stick with what we put out yesterday. Some nice water on the way for some folks through the weekend, but largely missing the far eastern plains where water is needed most right now: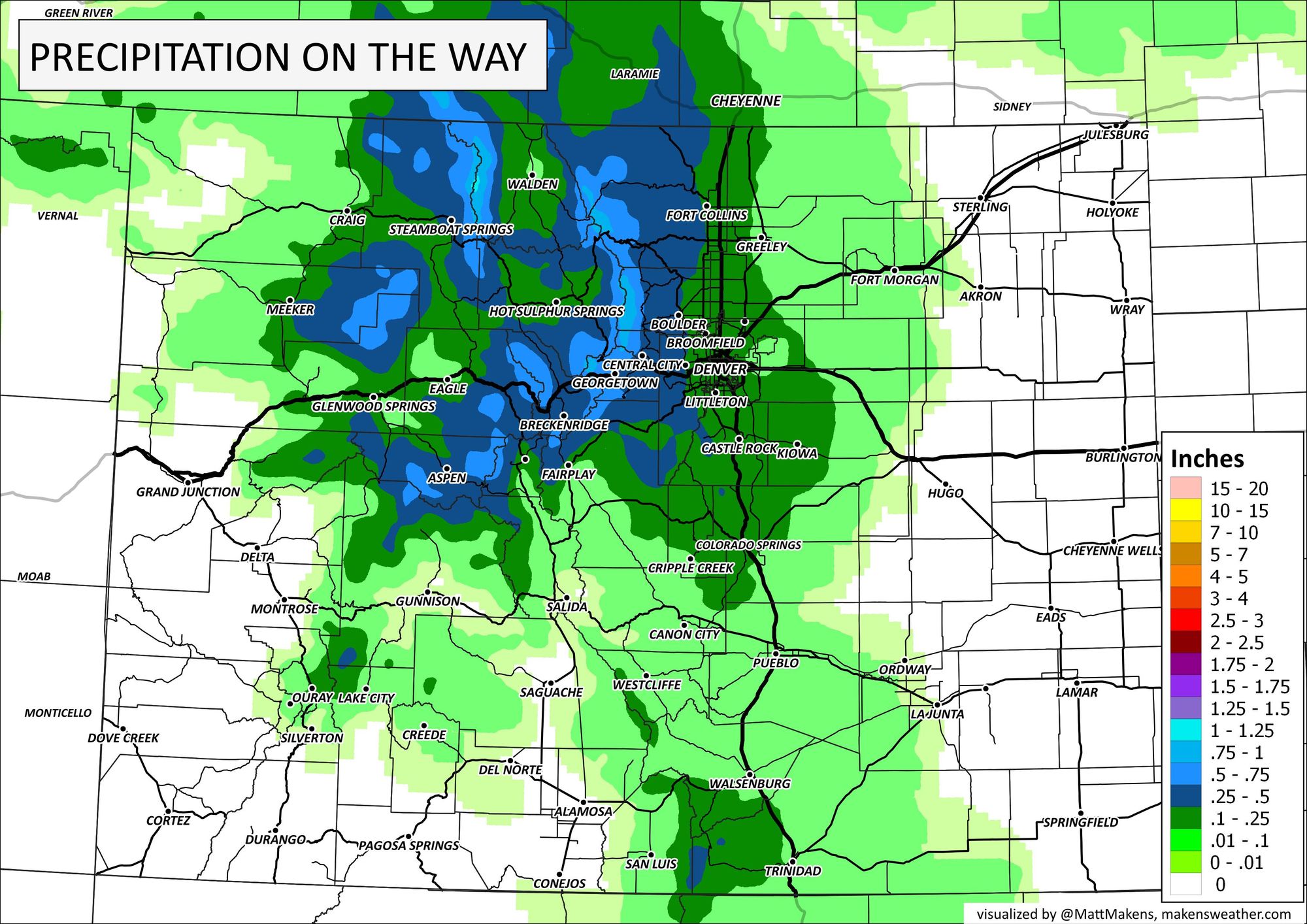 With areas of heavy snow for the northern and central mountains, and a bit of snow down low as well: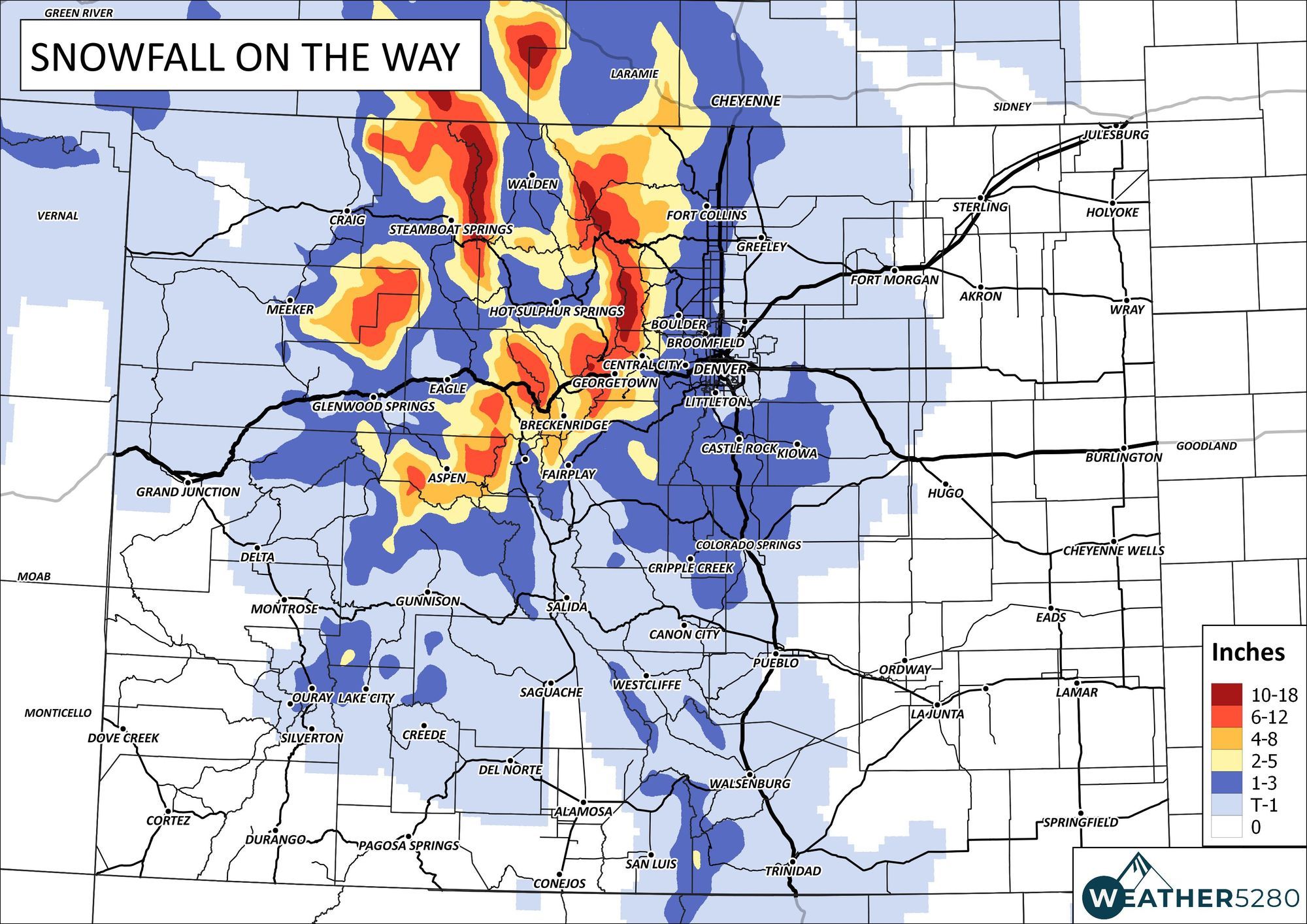 The general idea is 3" on the high side for most of the cities (favoring areas of elevation and away from the city core warmth), with a Trace to 2" or so elsewhere.
We'll be back in the mid 50s Sunday, then mid 60s Monday with a chance for afternoon storms. Another more organized system may move through by mid next week, so stay tuned!