The next round of wet weather headed for the state remains on track this afternoon. Biggest changes since yesterday's update include the issuance of a Winter Storm Warning for the Front Range foothills and mountains and Palmer Divide between Denver/Boulder, and a Winter Weather Advisory for the high country west of the the Divide and Colorado Springs area.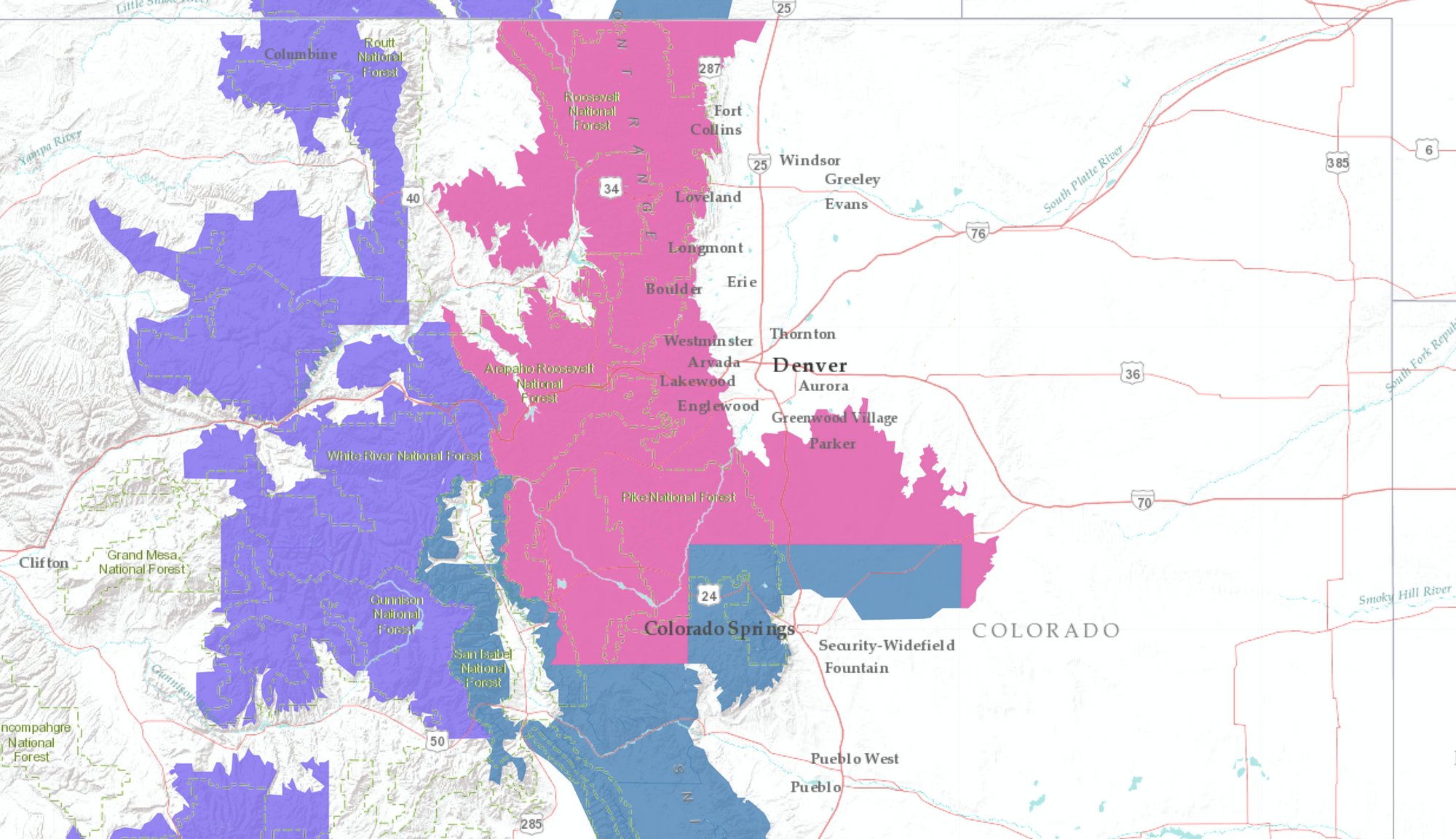 While Denver is not included in any winter weather highlights, it's likely the city will see some snow from this event by Tuesday night. This is particularly true as you move west and south out of downtown. It's in these suburbs that some accumulating snow is most likely, outside of the urban corridor and up just slightly in elevation.
Timing
Some showers and storms are possible today, but temperatures remain very spring-like ahead of the incoming storm, and so frozen precipitation won't be a concern.
Tomorrow will be notably cooler across Eastern Colorado, with highs topping out in the 40s for Denver, and the chance of precipitation quickly increasing Tuesday afternoon.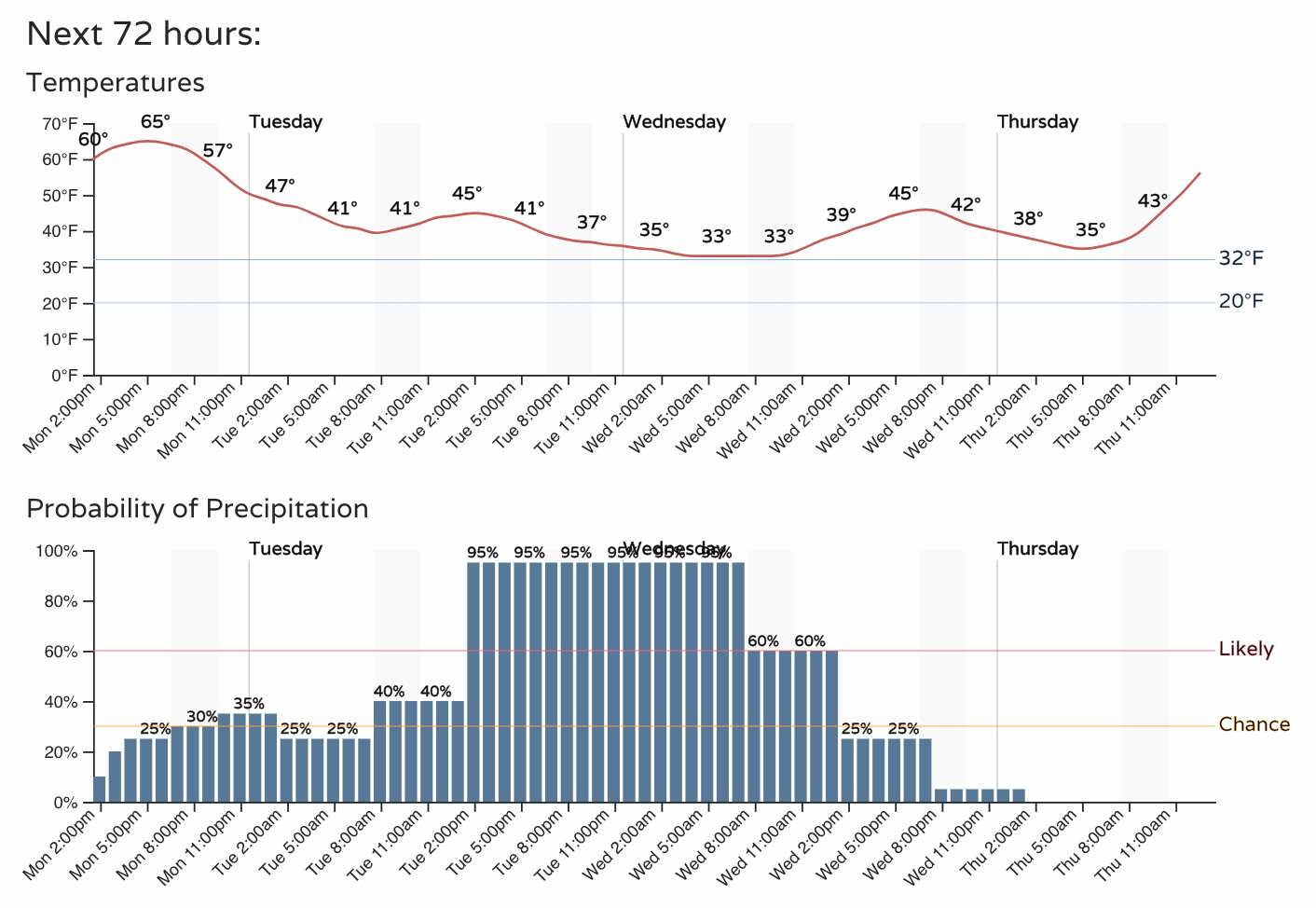 We'll see rain and snow up and down the urban corridor through the night Tuesday, gradually decreasing in intensity early Wednesday morning, and coming to an end by Wednesday afternoon from north to south.
We dry out quickly on Thursday with temperatures rebounding in a hurry, current forecast calls for a high of 67°F in Denver on Thursday!
Precipitation forecast
Like yesterday, there's a bit of a split in modeling consensus on the exact track and speed of the storm. Some models are a bit faster, some a bit slower. Some are a bit further north, some more south.
A blend of models shows roughly 1 - 1.5" of liquid for Denver, with lower totals the further north and northeast you go. For the Palmer/Colorado Springs vicinity and southeast plains some 2"+ totals on the blend. A couple models have Denver in the less than 1" range with a more southerly track... so we'll see how that shakes out.
Overall, a great looking precipitation forecast, especially for the southeast part of the state which needs it most!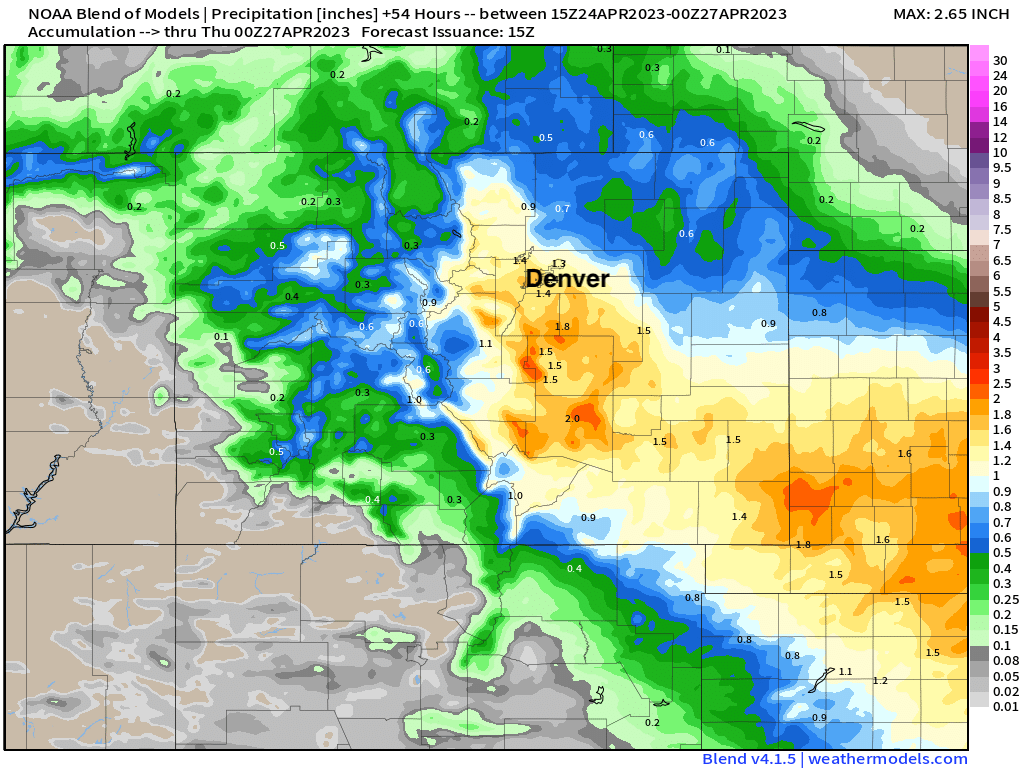 Snowfall forecast
For Denver snow isn't a done deal. In fact, many models have exactly zero snow for the city. We think there's a a better chance than that that we'll see snow in the city, but totals are likely to remain on the low side unless the changeover occurs far earlier than expected Tuesday evening. A slush Trace to 3" seems doable in the city, particularly west of I-25 and south of I70.
Across the foothills and Palmer Divide there's less of a question on if it'll be cold enough for snow, but more a question on how much snow. Snowfall rates at times could exceed 2" an hour Tuesday evening with the convective nature of this spring storm, would could lead to some pretty healthy late-season snow totals in some locales.
The latest HRRR likely has as pretty good handle on things. With 1 - 2 feet of snow for elevations above about 8,800 feet west of Denver and Boulder, 2 - 6" for Castle Rock, and  likely 6"+ for Monument and points east along the Palmer. While this particular model doesn't show much, we think places like Highlands Ranch and Palmer have a bit more upside potential than indicated here, with an early turnover putting 3"+ in play, as well as much of the Colorado Springs area.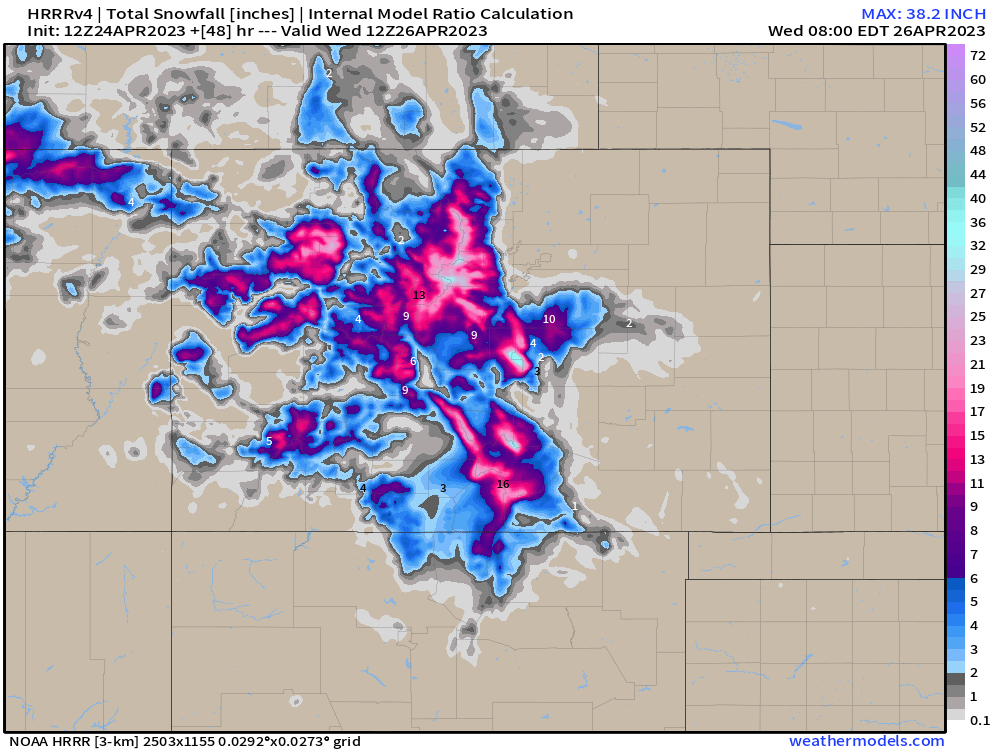 So, high uncertainty, but generally speaking an elevation-favored snow event without a true source of cold air. East facing slopes of the Front Range Rockies could really see some impressive snow totals should the forecast hold.
The blend of models looks similar, with even less accumulating snow showing for the southern Denver metro: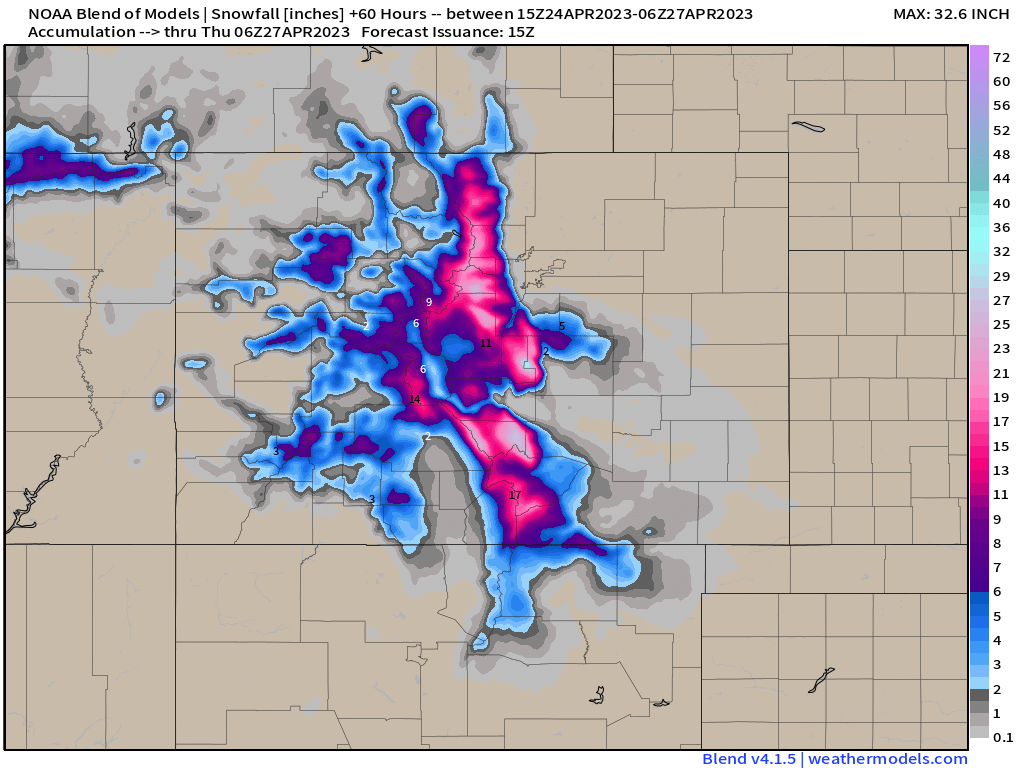 For totals we are thinking the following:
Fort Collins: Trace - 1"
Boulder: Trace - 4"
Denver (downtown): Trace - 3"
Golden: 1 - 4"
Evergreen: 1 - 2 Feet
Winter Park: 1 - 2 Feet
Highlands Ranch: Trace - 4",
Parker: Trace - 4"
Castle Rock: 3 - 7"
Monument: 7 - 14"
Colorado Springs (north/west): 5 - 10"
Colorado Springs (central): 2 - 6"
Impacts
Needless to say this will be an impactful storm for our area. We'll see pockets of heavy rain and heavy snow beginning Tuesday and carrying well into Wednesday across the far southeastern part of the state.
Trees could see some damage as we are entering that time of year with buds and early leafing becoming a factor in these late-season storms. For lower elevations that do see the accumulating snow it's likely we'll see some damage, though we remain hopeful not catastrophic as can be the case with these spring storms.
If your travel takes you west out of Denver into the mountains plan for winter driving conditions or delay your travel. It's likely that I-25 between Denver and Colorado Springs will become slushy and snow packed Tuesday night into Wednesday morning as well. Here is a look at expected travel impacts for our area Tuesday/Tuesday night: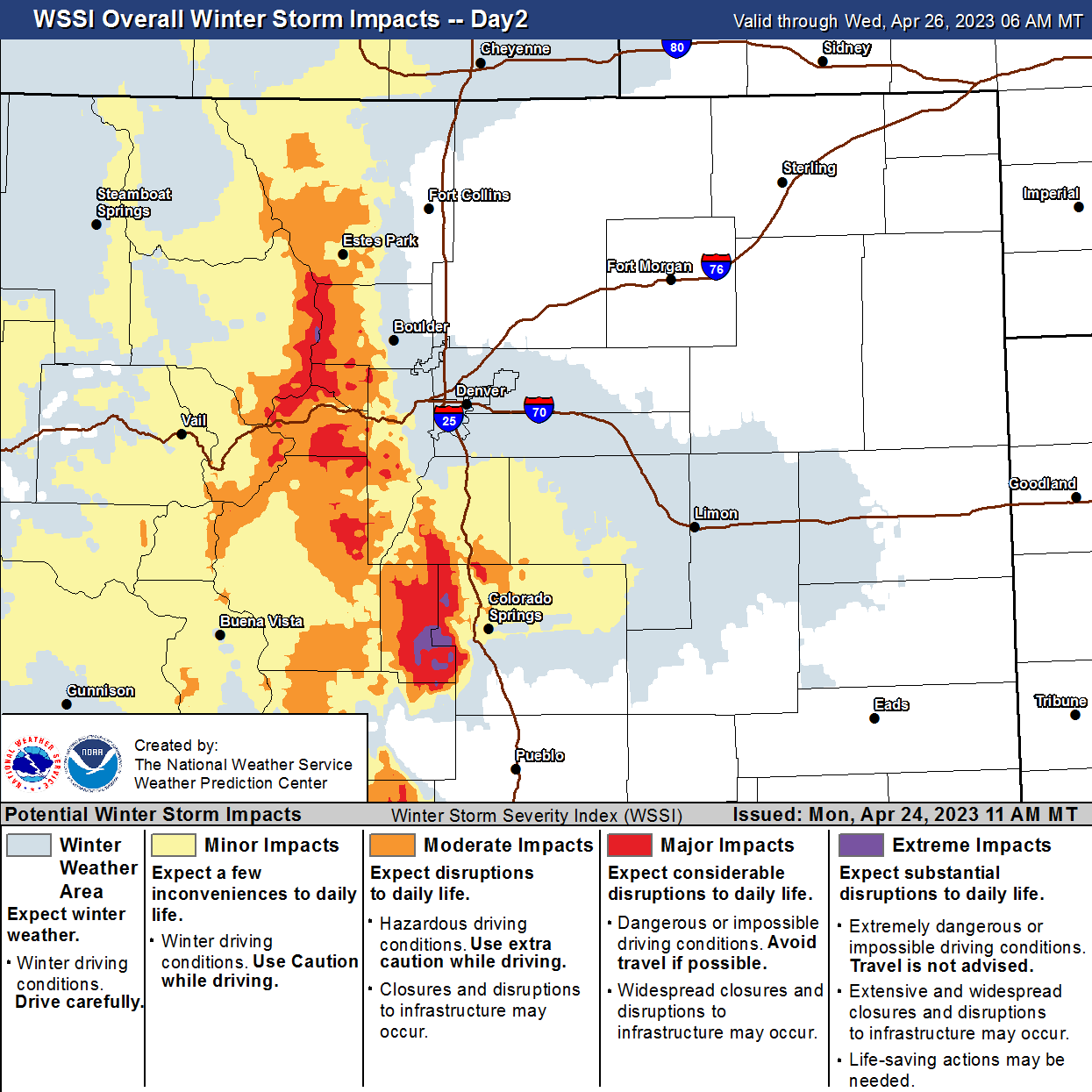 We'll keep an eye on things and update as needed.
Please subscribe to Weather5280 and keep us posted as things get going tomorrow on how this storm shakes out in your area!