The first in a series of relatively weak cold fronts pushed through the Denver metro area late Sunday afternoon, bringing with it scattered showers of rain and wet snow. There is neither a lot of cold air nor a lot of moisture to work with, so the most we expect is a coating to an inch (but probably closer to the former rather than the latter) of wet snow to accumulate across parts of the Denver metro area tonight -- with higher snowfall totals possible across the Palmer Divide and points south.
The theme for the first couple days of the work week will be one of continued mostly cloudy skies, colder-than-normal temperatures (though not terribly cold), with periodic chances for scattered snow showers -- in short, rather unsettled.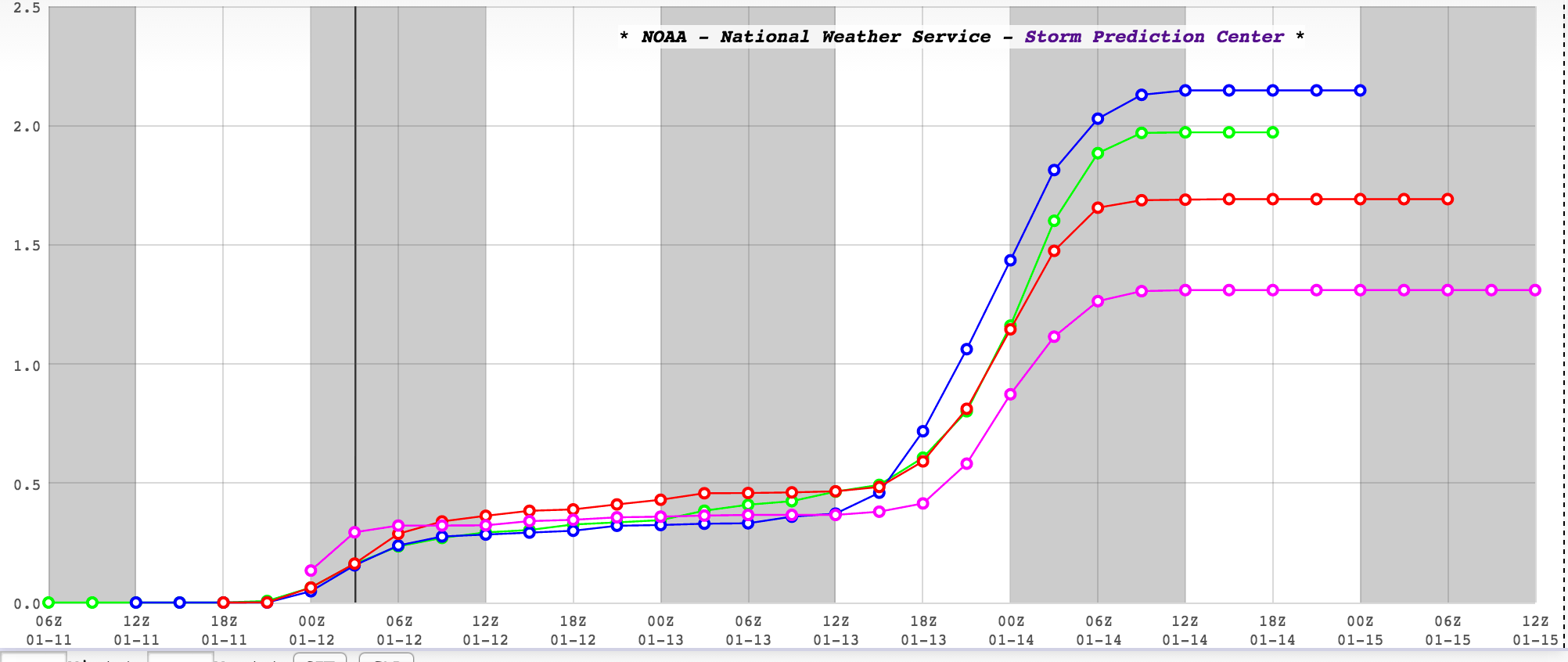 Much to the chagrin of snow-lovers, though, chances for significant accumulating snow remain on the low side. Note that the the SREF has wobbled between 1 and 2" of snow falling between now and early Wednesday, but this product is sometimes over-done. So, perhaps it's best to think of 2" as the approximate maximum amount of snow we can expect during this time frame for Denver proper and points north and west.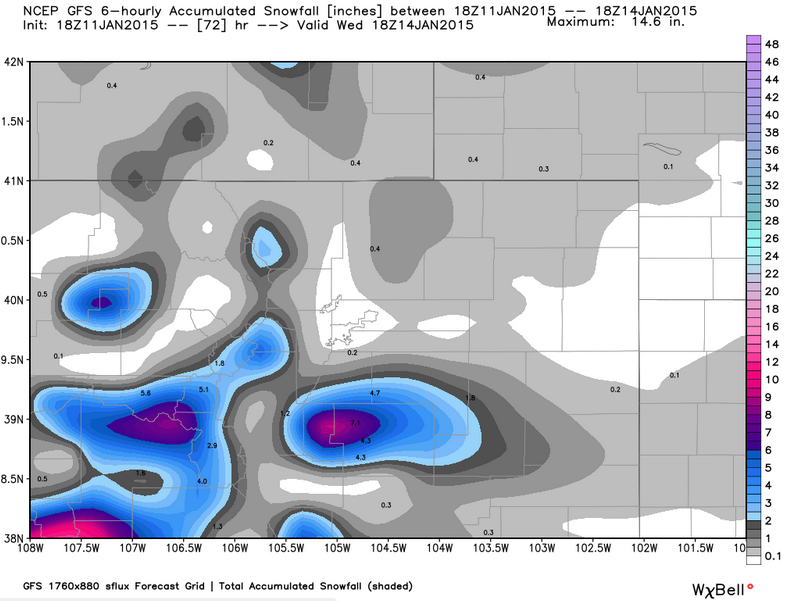 The Palmer Divide, however, may be another story. Here both the global models and higher-resolution short-range models suggest that there will be more moisture available to folks in this area. In fact, several models hint at the possibilty for 3-6" of snow through Tuesday particularly over far southern Jefferson and Douglas counties, as well as parts of Park, Teller, and El Paso counties. After snowfall tonight, there may be another round for Tuesday, which we'll continue to monitor and bring updates as needed.
Until then, here's a detailed look what to expect if you reside in the immediate Denver metro area:
Monday is mostly cloudy and cold with a slight (~30%) chance of scattered snow showers during the late morning into afternoon hours. Folks north of Denver towards the Wyoming border have the best chance at seeing flakes. All of us will be cold, with highs only near 30. It will be mostly cloudy and cold Monday night, with a slight chance of a stray snow shower, and lows in the teens.
A weak trough tries to slip through the region on Tuesday, increasing the chances for snow showers during the day, particularly in the aformentioned areas south of Denver, and across the Palmer Divide. An inch or two of snow is possible for the immediate Denver area, with higher amounts -- on the order of >3" possible well south of town. Highs again will be near 30, with lows in the teens.
I can't rule out the slight chance of a stray snow shower during the early morning hours Wednesday, but by mid-to-late morning we will see a drying and clearing trend, with skies becoming mostly sunny by the afternoon, with somewhat milder highs approaching 40.
A sneak peek at the rest of the work week shows a pronoucned warming and dyring trend, with highs at or above 50 possible on Thursday and Friday.