Record-breaking heat
What a week. Temperatures across the region have felt more like May as high pressure continues to dominate the pattern in the west/central United States. Over the last week Denver as broken several daily high max temperature records and high min temperature records. On Saturday, Denver International Airport recorded a high of 74° breaking the old record of 71° set in 1986 and '87. Denver's average high doesn't climb to 74° until May 22, and is a remarkable 29° above average for February 7. In addition, high and low temperatures Friday and Saturday broke their respective previous records by an aggregate of 13ºF!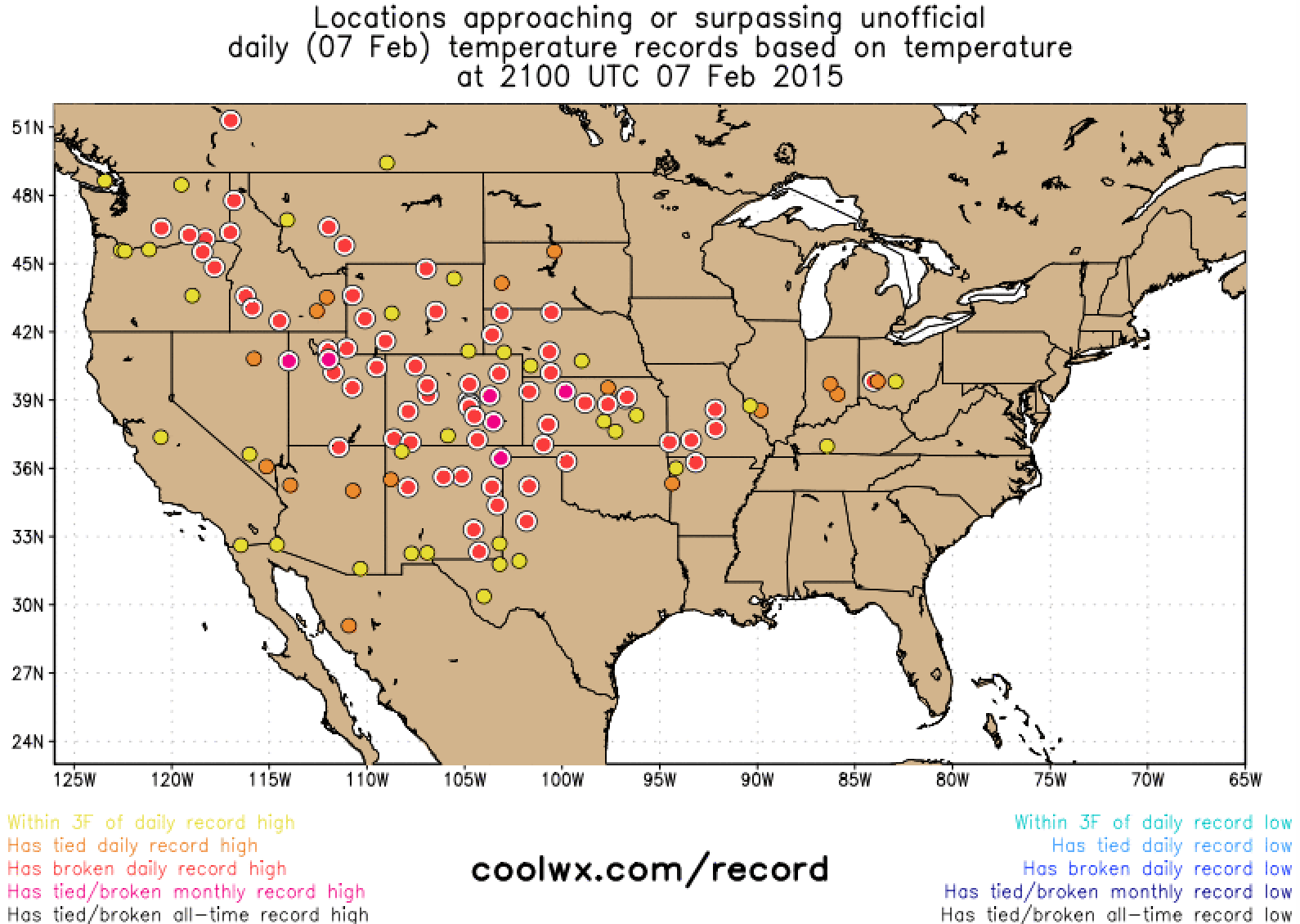 The week ahead
The pattern isn't all bad for precipitation in the west. As we discussed last week, northern California has seen good moisture over recent days, with more forecast this week, including a rare risk of severe weather today.
10 day totals: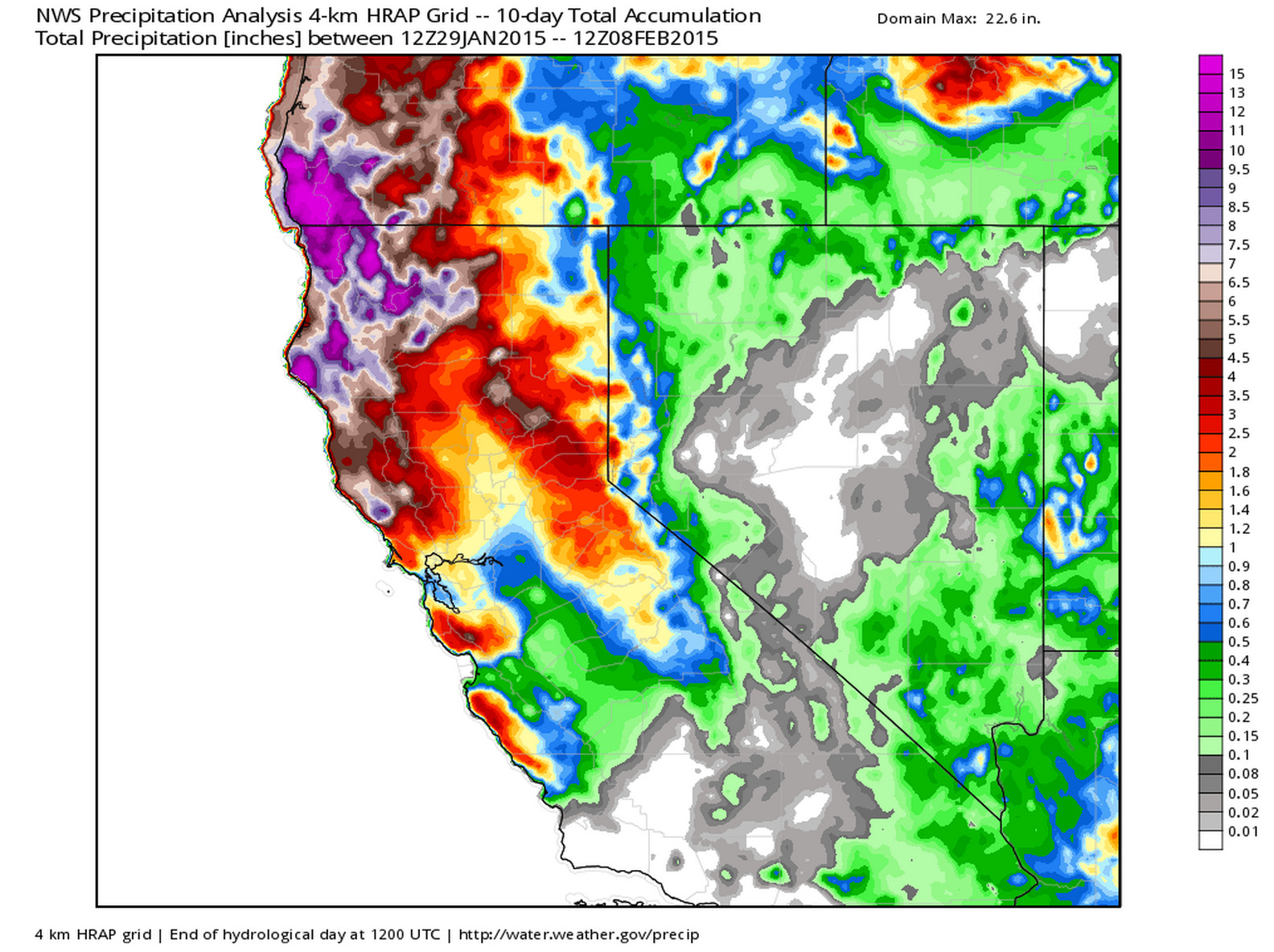 Precipitation forecast (GFS) through early Wed: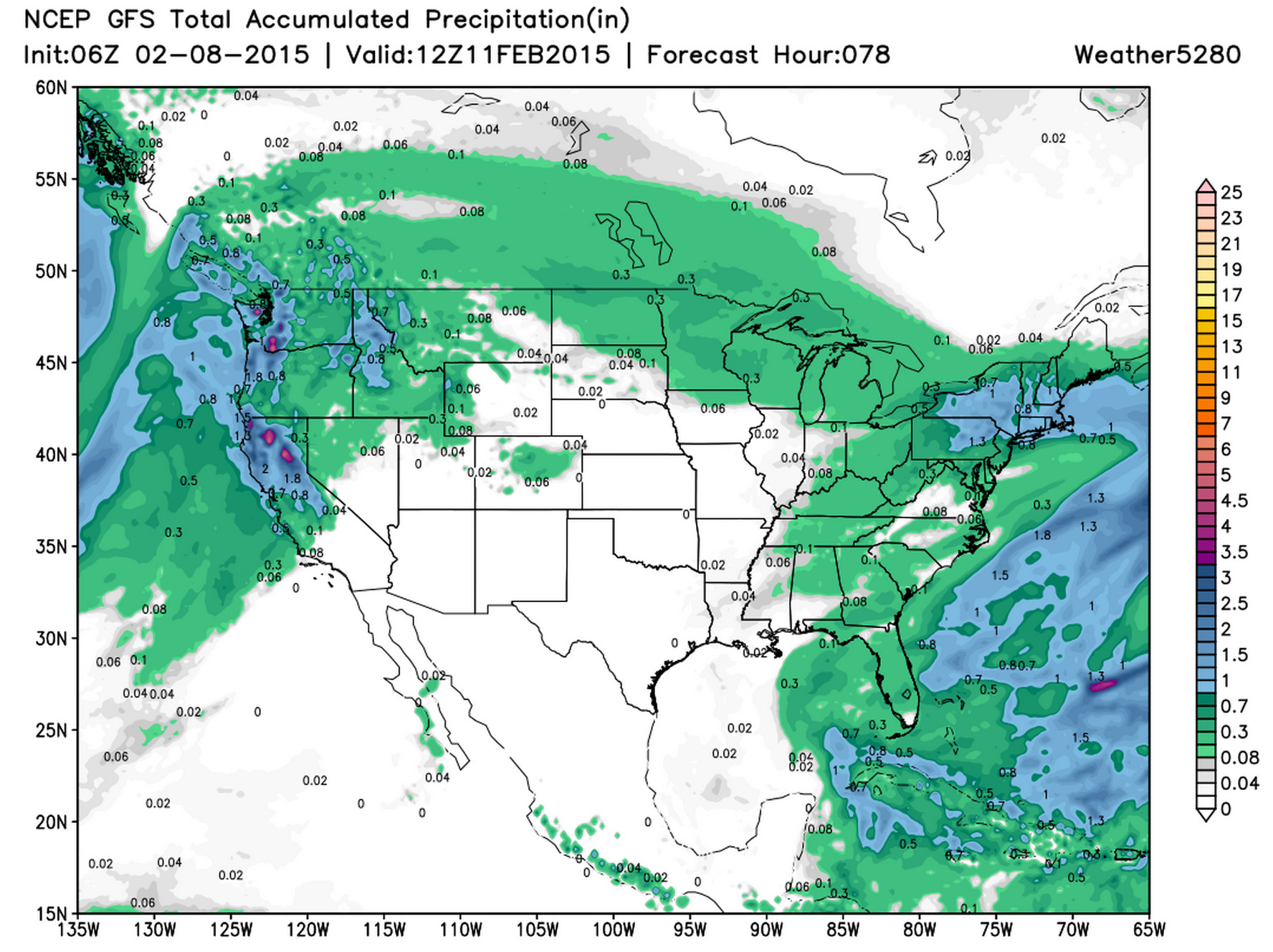 You'll also notice in the image above some precipitation progged for portions of Colorado. This is our system due in Tuesday that will bring a chance for rain and snow to the I-25 urban corridor. While the upper level pattern is not as favorable as it once looked for this system, I do think we get some moisture from it – and if we can get enough cooling, some of that may be in the form of snow. That's right, we may be talking rain with this system, especially at lower elevations (<5400 feet), a pretty remarkable thing for early February.
We're going to sit on the details here, and see how things line up over the next 24 hours or so and offer an update as needed. Some light accumulation will be possible in Denver – though likely limited to typically colder surfaces and not paved ones – with the greatest chance for accumulating snowfall across the foothills and Palmer Divide.
Long range thoughts
Wednesday will likely be the coldest day of the week, and even still highs will be near-normal for the date. Medium range models continue to show warmth (possibly, once again, record-breaking in nature) building back in to end the week and into next week.
It's not until after the 15th at the earliest, or possibly even after the 20th that I think we have a legitimate shot at a pattern shift. Even if we get some systems in between, medium range global models and teleconnections alike suggest no substantial shifts in the pattern over the next 7 to 10 days.
Somewhat remarkably, as I tend to be the pessimist in the group, I still like our analogs and remain unwilling to throw in the towel on winter. A few things to keep in mind going foward...
Many of our analogs were pretty bad winters for snow across northeast Colorado – "saved" only by a big storm late in the season or never saved at all.
Two of our snowiest months are still ahead of us, March and April. February is Denver's 5th snowiest month at 7.5", and January (6th) finished above normal this year at 7.2".
I think we still have have a good bit of warmth to work through but then thing should start to change. There are a few things of interest in the long term that I think lend credence to this beyond what we've been saying all winter. To begin with, the CFS is slowly becoming more consistent in backing the cold further west as we head into the end of the month...
CFS temperature anomalies days 2.5 through 7.5: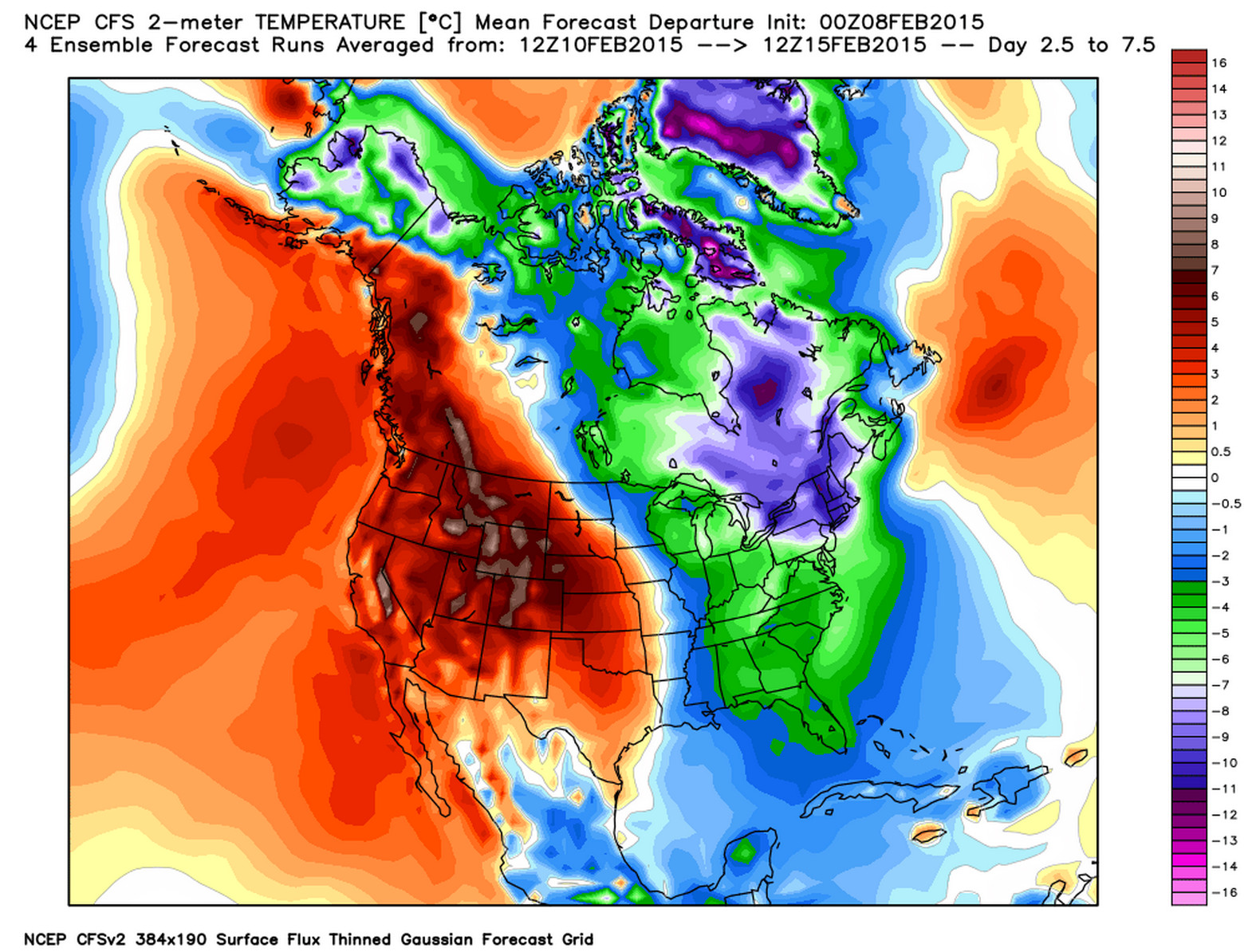 But by the time we get to the first week of March: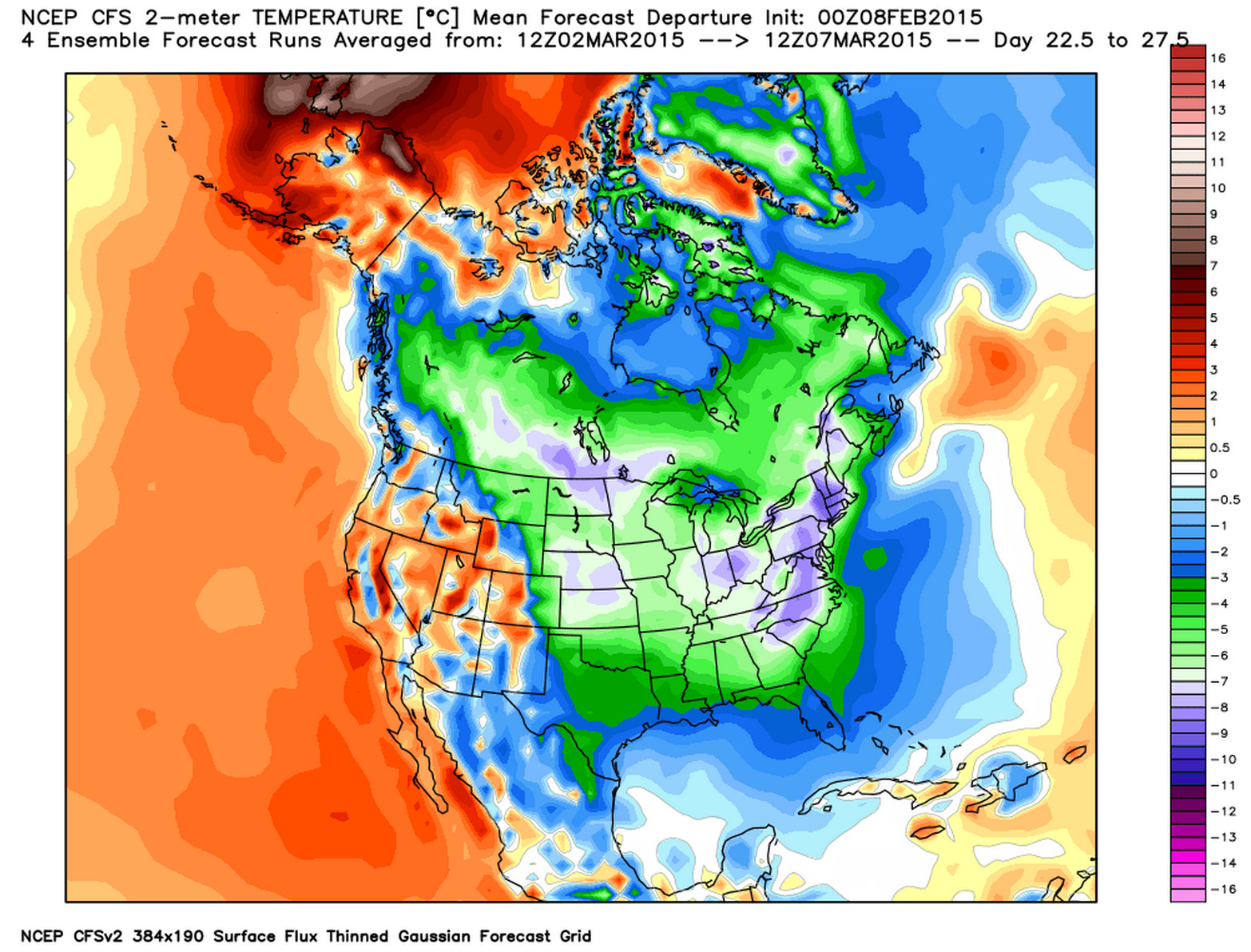 Maybe wishful thinking on my part, we'll see, but given the overall pattern and the time of year we're entering I think this mostly makes sense. The other question then becomes will a more active southerly storm track also show up? This is where I'm a bit more concerned, as the pattern may favor systems staying a bit too far south for us – from Arizona east into Texas and the southeast. Much like December though, let's first get the pattern to shift, then worry about the details.
Here's a look at the GEFS ensemble 500hpa geopential heights for the end of this week. Notice the ridge (red) strengthening in the west again: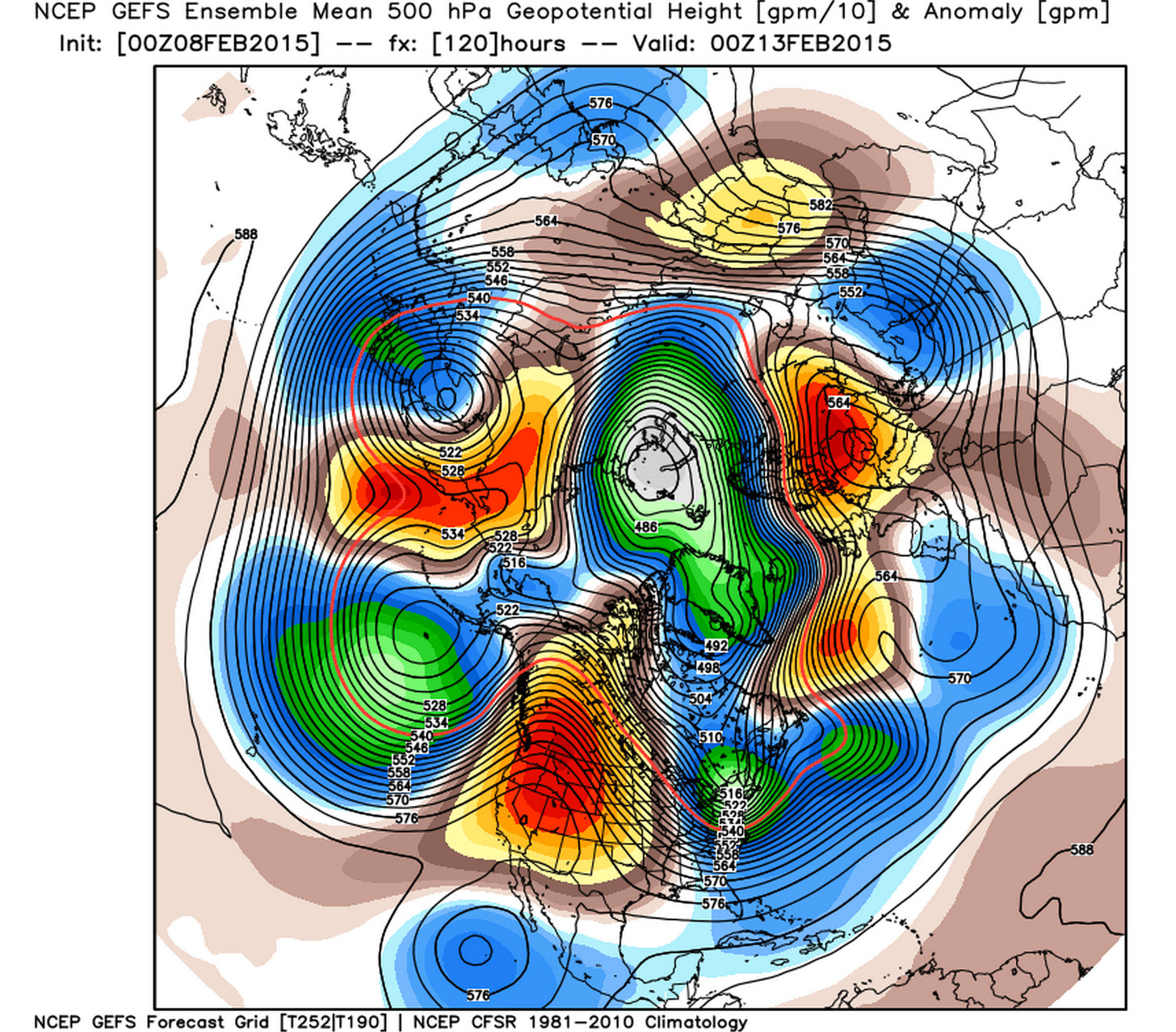 But by the 22nd we start to see the greatest heights have pushed further north into Alaska, with a better looking pattern for a good southerly storm track.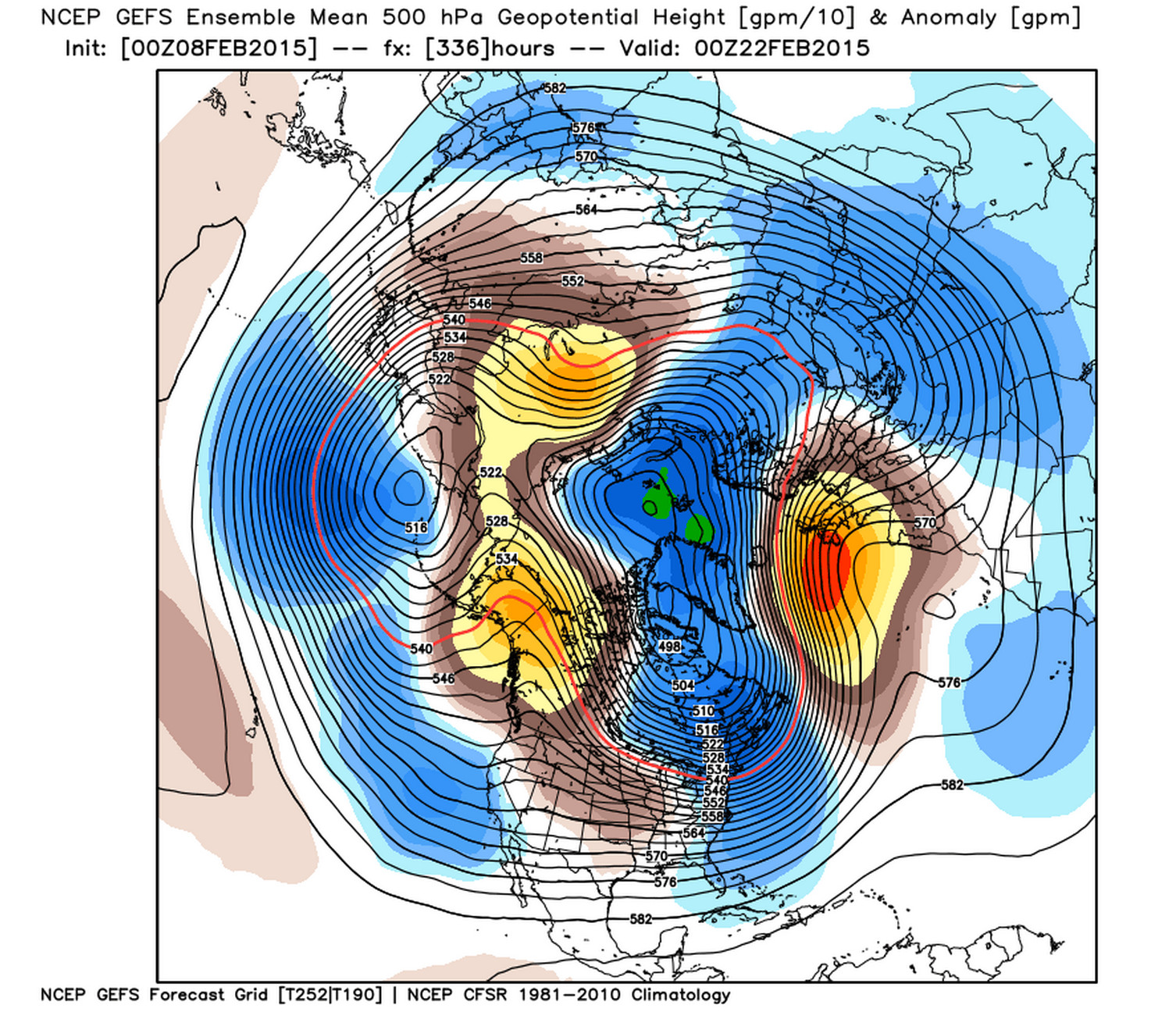 In short... temperatures (outside of Wednesday) will remain above normal for the foreseeable future. If things are going to start to change, it'll likely come during the second half, or even late February for us. For the snow-lovers in the group, I feel your pain. For those enjoying the (freakishly?) warm weather, it really is beautiful, enjoy!