There's greater confidence today that we'll see our long-awaited pattern shift back to winter next week after several weeks of (largely) unseasonably warm weather.
While it seems prudent to ignore the details today given how hard it's been to break the pattern, we wanted to address a few things we're looking at as we head into the weekend and next week. As it stands, the timing of this pattern shift will align nicely with what we outlined on Sunday, despite little support from modeling at the time.
Teleconnections and analogs
Teleconnections are starting to show signs of a colder more active pattern ahead for Colorado. The EPO has dropped negative and should continue to stay so through the period. If you'll recall, the EPO was very negative the last two times we were cold in December and November. The latest ECMWF forecast has the EPO in the tank even more so than the GFS.
The PNA is also finally trending downward after a long period of being very positive. Seeing the PNA forecast to drop closer to nuetral and even negative gives greater confidence in seeing cold (and snowy) weather make its way further west than it has been from Feb 15 onward. I'd like to see the trend continue negative to further forecast confidence.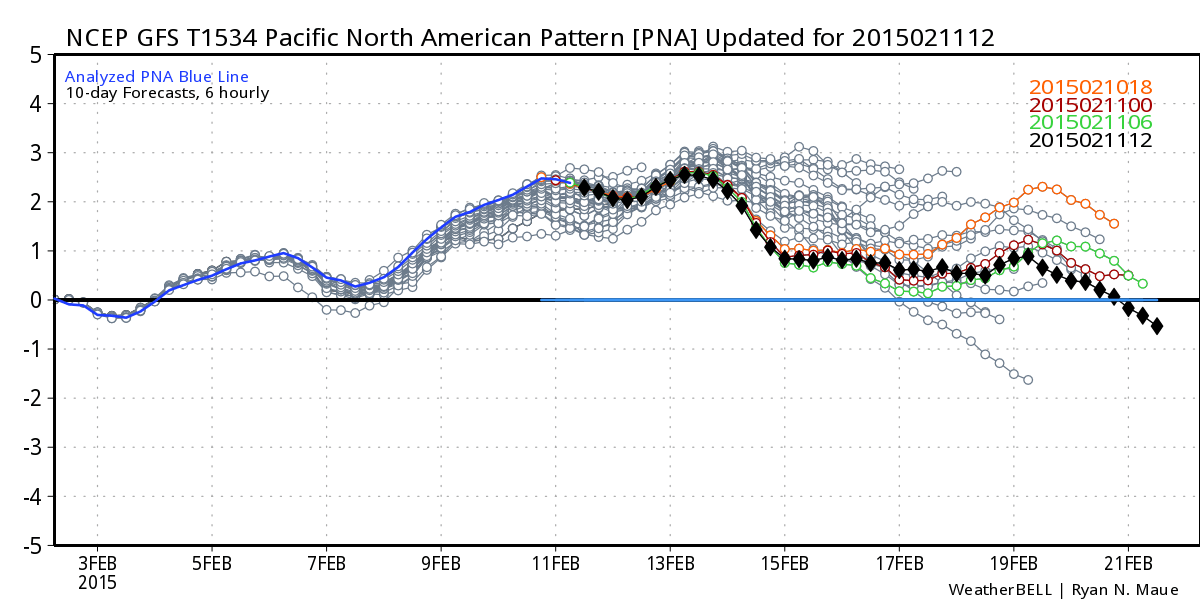 And finally we look at the CIPS analog analysis guidance based off the GEFS and see a good deal of cold spilling into the west for days 6 - 8, aligning nicely with GFS/ECM/GEM operational runs today.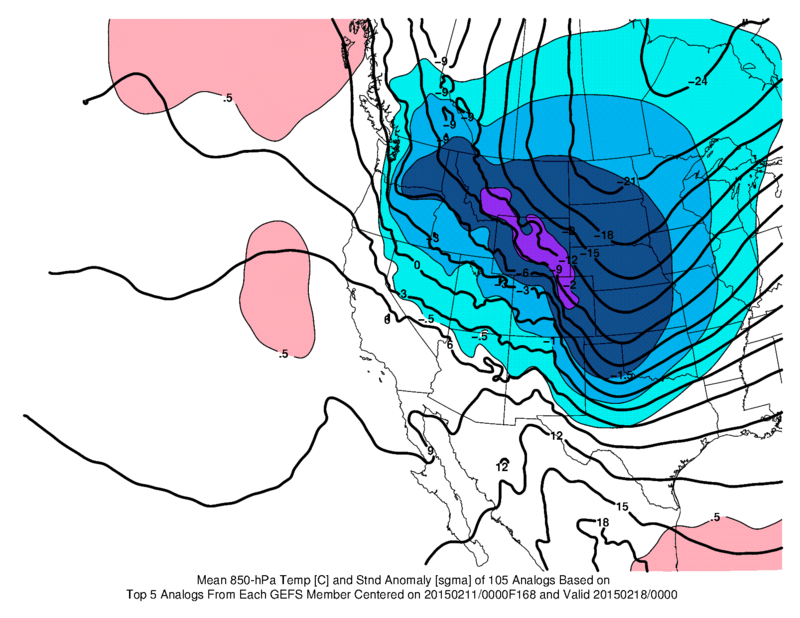 Medium range global models
Global models are coming on board as well with the pattern change. If you're keeping score, the 12z GFS is by far the most bullish with both cold and snow, but the ECMWF (which was showing very little impacts for Colorado yesterday) has hedged much colder and snowier today.
Here's a look at the 12z GEFS ensemble control forecast for 850 hPa temperature anomalies. Notice the next two shots of arctic air are mainly east of Colorado, just clipping extreme eastern Colorado. By Monday and Tuesday of next week see another Arctic blast push south, with greatest temperature anomalies focused further west.
A closer look at Colorado shows temperatures well below normal Tuesday: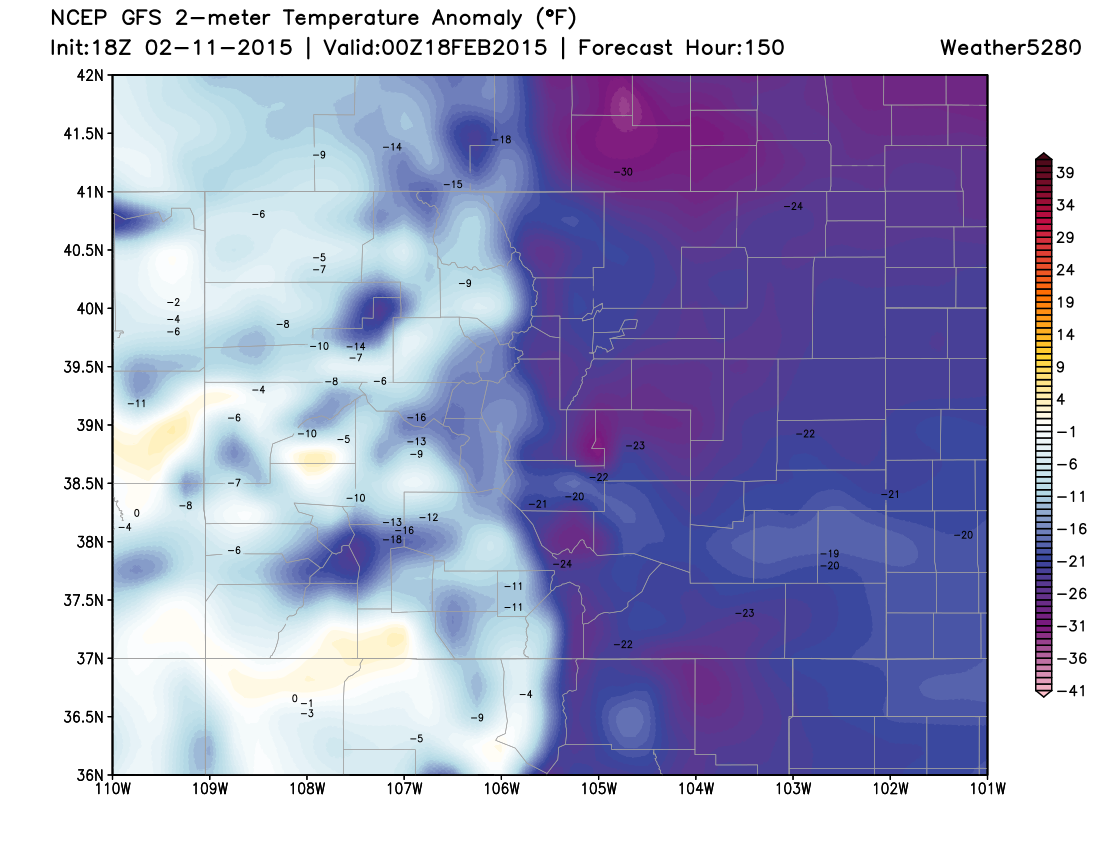 Of course, what we need here is better consistency. Still a ways out so things will continue to shift, but today's 18z GFS is far less bullish on snow compared to previous run, and the GEM is much drier than it was 24 hours ago.
Forecast
We'll continue a very warm forecast for the Front Range for the next several days. As mentioned above, those living in extreme eastern Colorado may feel some affects from passing arctic air, so temperatures may be a bit cooler there this weekend. For Denver, highs will be in the 60s through Saturday.
By Sunday we'll start to cool things off, though for now we expect another day of above normal temperatures. Changes will be pushing south during the day Sunday, which could mean a slight chance of snow already by Sunday night across the forecast area.
Monday and Tuesday look cold and unsettled. Should things pan out as they look today there will also be a good chance of snow – though totals vary greatly depending on what solution you believe. Snow totals will greatly depend on how the upper level trough comes together across the Great Basin, and alignment of its eventual track eastward. The cold will be in place for all snow, should things come together just right.
A lot to watch still...
It can't really be stressed enough that a lot can still change between now and Monday. But, you all know this already.
I think there's enough confidence in place to warrent a "heads-up", but we'll resist the urge for now to offer too many specific details. Let's see how things progress as we head into the end of the week and weekend.
Also of note, the Canadian, GFS, and Euro ensembles all show an active pattern continuing far beyond early next week. Could this be a longer term pattern shift? Maybe. The snow-lovers at Weather5280 sure hope so!