It's been a grim start to 2015 in the western US when it comes to snow, but recent rainfall has been beneficial The best rains have actually fallen this February.
I want to start by showing you the fall and winter precipitation starting in September running through the end of January, before we get to this shifting pattern of February.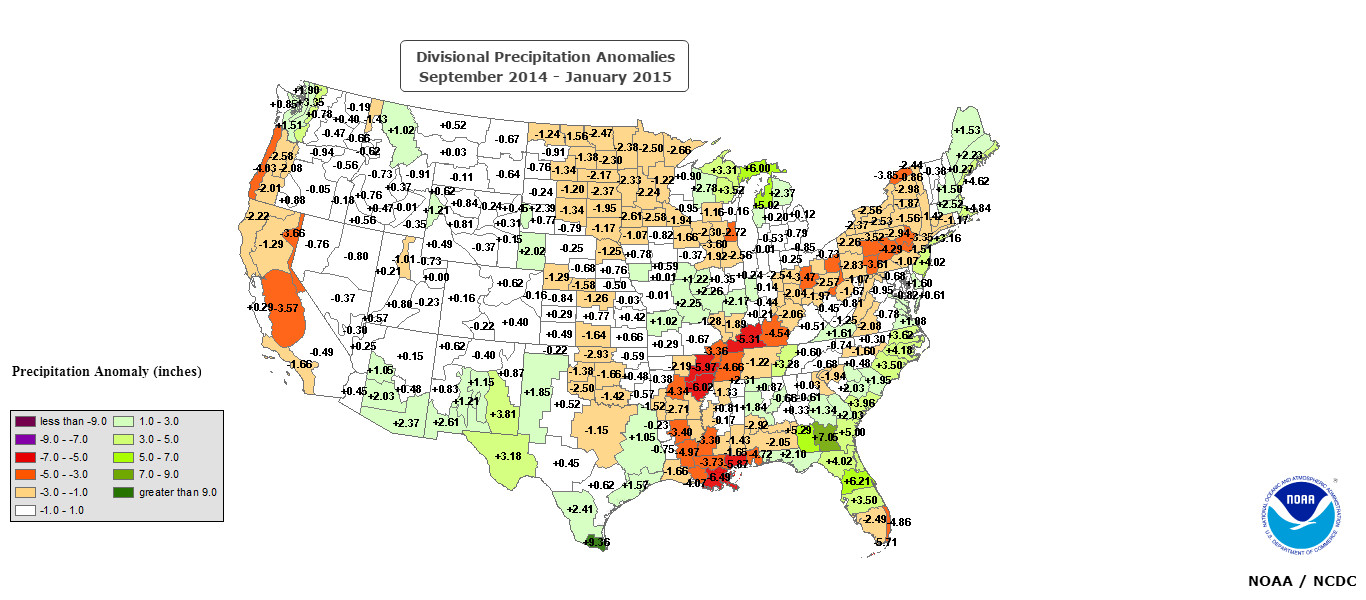 Notice the fall and winter precipition anomolies across the country. Again, this is through January, not including this wet February. So many of us were drier than average, however Colorado not one of them. The coastal western U.S. was very dry, though.
Let's include February now and zoom into the western U.S., which has improved with a stormier pattern. First we will look at just the snowpack, and how snowless the Pacific Northwest continues to be.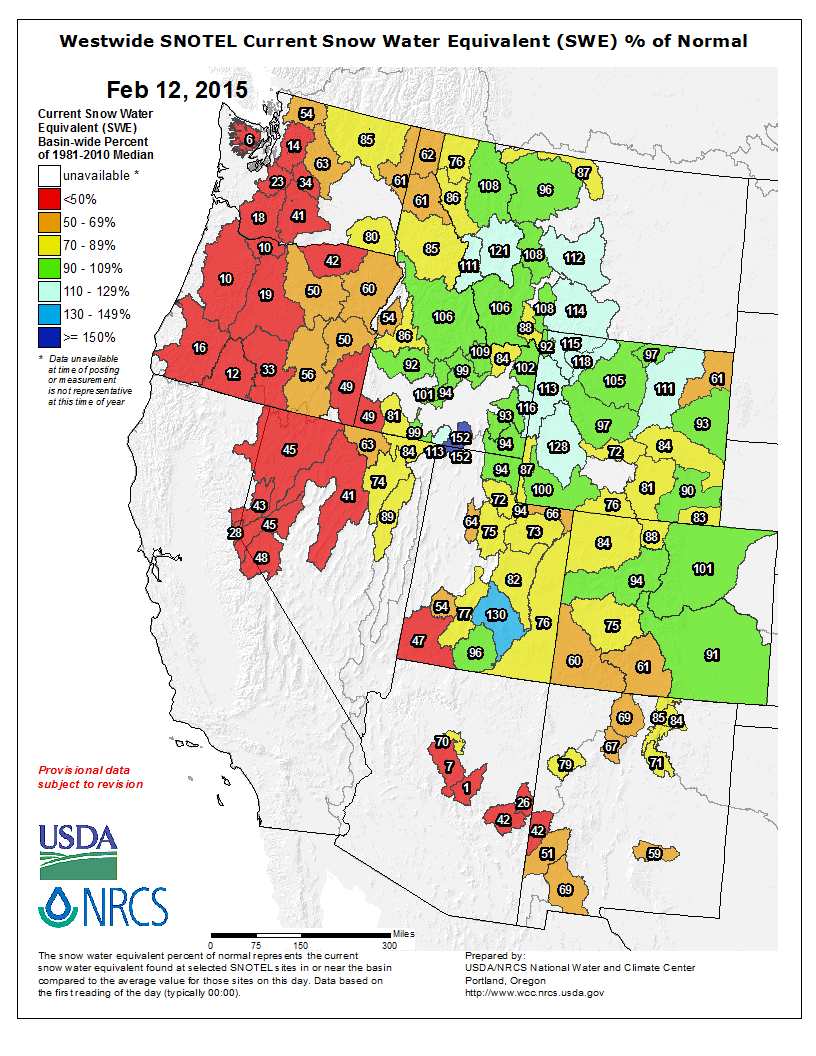 Now let's look at total precipitation; it doesn't look nearly as bad now, does it?
You see, the pattern shift for the Pacific Northwest is a rainy one without the cold needed for snow. That's also been a factor keeping Colorado near to slightly above in seasonal moisture, despite our snowfall numbers being low.
Let's drill down into Colorado now. Referring to that U.S. anomoly map for the Front Range, we've had a wet season – 0.62 inches ahead of normal. Further, this north-central section has been Colorado's wettest on average. For Denver alone, the season's snowfall is currently about 3 inches behind, but we've had rain to compensate so our total moisture is in good shape. Here's a map of all Colorado's precip reports from September through February 11th:
The south-central mountains, on the other hand, are the driest. Closing in on a quarter inch below average, this area needs quite a bit of snowfall to return to normal. Just looking at snowfall, that area is 59 percent of normal water within their snowpack. The entire mountain range needs snow.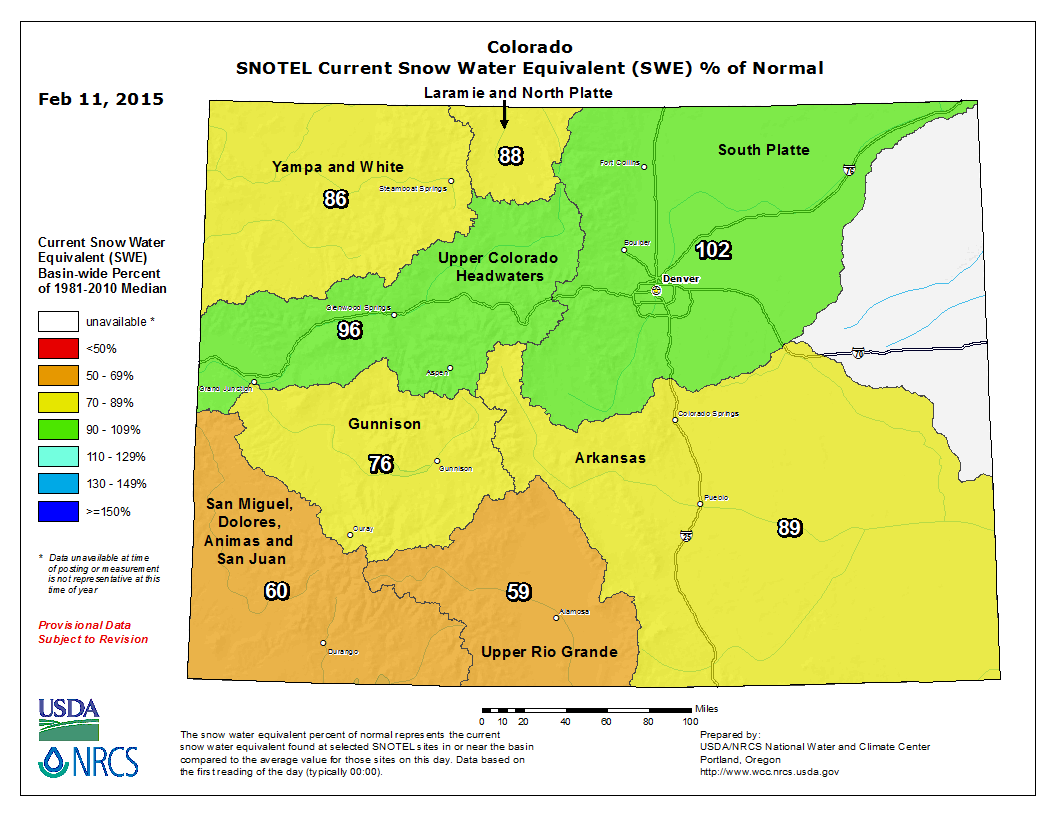 Remember, our snowpack provides water for all of the southwestern US, and without it, they will be in water trouble. (However, the Denver Metro Area water supply is still ahead of average coming off the September Floods, heavy snowpack from last year, and frequent rains last summer.)
The US drought monitor shows the persistent long term drought for the southwest. Colorado has improved in the drought categories this season, although we need snowpack to improve so that the summer snow melt will flow downstream to help the water issues for the desert southwest.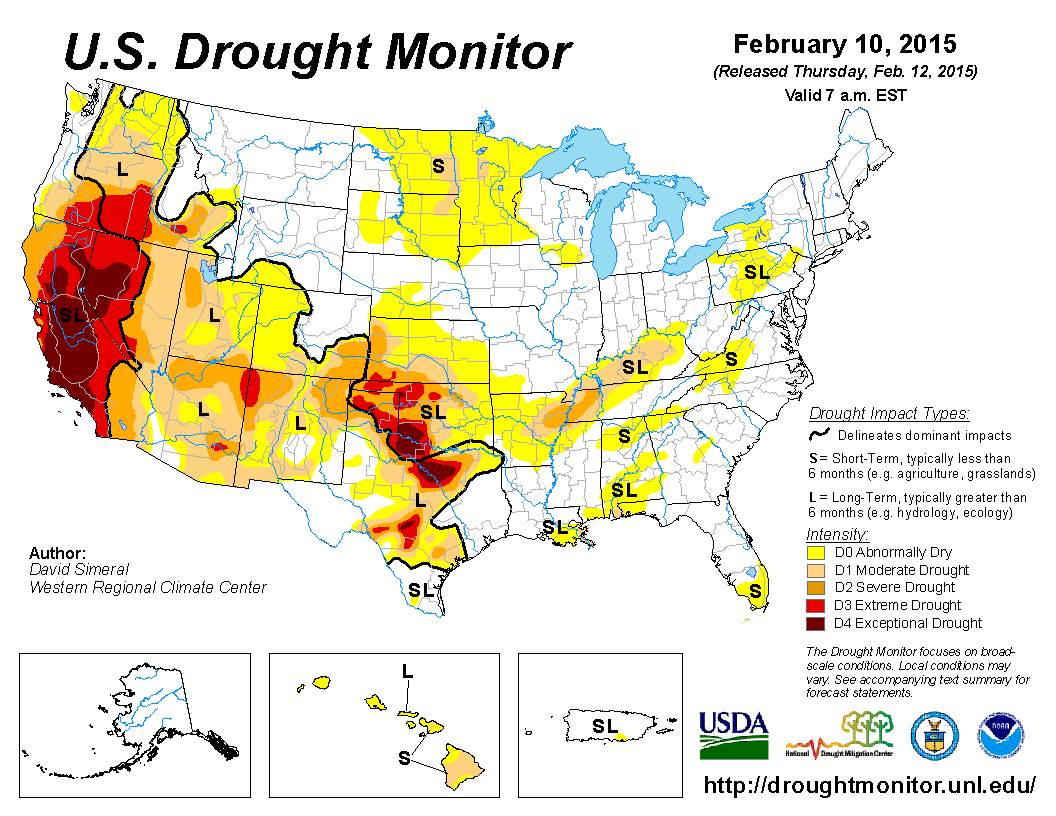 Also, let's not jump the gun on calling this snow season over with, as we still have a ways to go, and this February's pattern shift for the Pacific Northwest is somewhat encouraging going forward. November and December provided some good snows, the low sun angle this month (as pointed out in an email to me from Joel Gratz) is also not allowing rapid melting that could lead to bigger problems. We still have the climatologically snowiest months ahead of us in March and April, too. Colorado's peak snowfall does occur April 1st, so we have time to watch the pattern change in favor of more frequent systems. And, what's been happening to our west is at least provides a brighter outlook.
We all know that we need a southwesterly track for a big snow event this time of year. However, for that PNA to be verified I'd like to see the waters off California cool enough to allow the ridge to break down. Until both PNA and the SST indicate a good bit of cooling, I remain skeptical of a long-term pattern shift. As we discussed last night, there are some indications the PNA may be heading more negative as we head into the second half of February.
Next week's shift to more seasonable weather with colder air and possible snow is encouraging. As are the ECM ensembles with a more pronounced troughing pattern to favor us. However, ECM hasn't had the best track record this season. I'd like to see GFS jump on this bandwagon, and remain seated – it's been inconsistent from run to run.