Nowadays, you almost have to live under a rock to not know when a storm is coming. Through the advent of social media one starts seeing Tweets and Facebook posts days in advance. However, that is also a big part of the problem. A snowfall map produced by one of the models, 10 days out, gets shared over a thousand times, and many take it as a forecast. That is why we are much more measured here at Weather5280. We see a storm in advance, bounce ideas off of each other, sort through the details then post about it. To some, that may not be sexy enough. However, we aren't in the business of being sexy (most of the time). We are in the business of being right.
The storm that is poised to impact us starting Friday night and potentially lasting through the weekend has pros, cons, and differences like any storm. This far in advance, it is largely those differences that make it tough to resolve. Here's a prime example...look at the 500mb (upper level weather pattern) progged by the models for Saturday morning.
GFS Model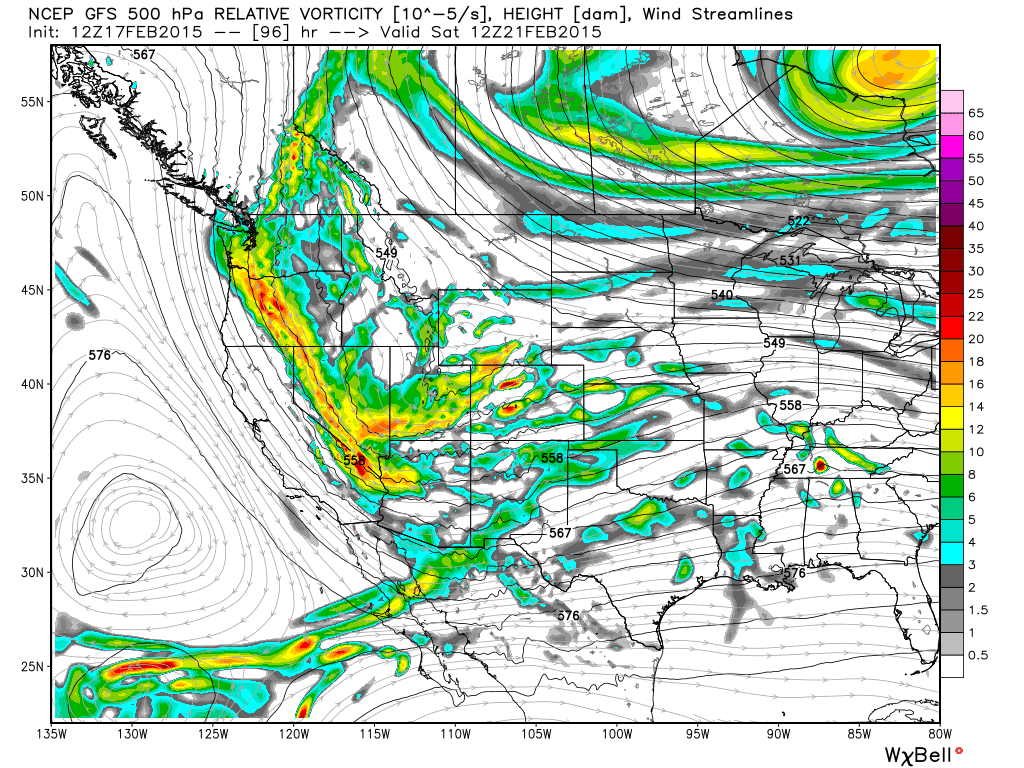 Lots of strung out vorticity extending from the Pacific Northwest to the Desert Southwest. Less than ideal upper level dynamics for producing a big storm in Colorado.
Canadian Model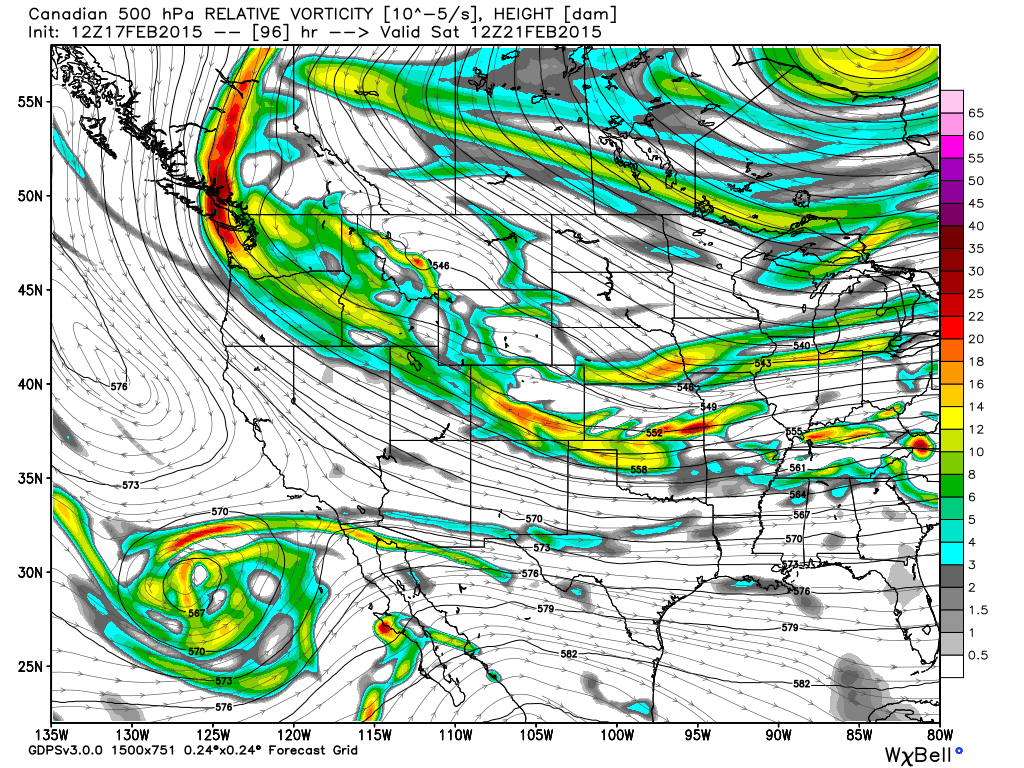 Some sheared out vorticity across Southern Colorado (not ideal) with more consolidated dynamics just entering the Pacific Northwest.
ECMWF Model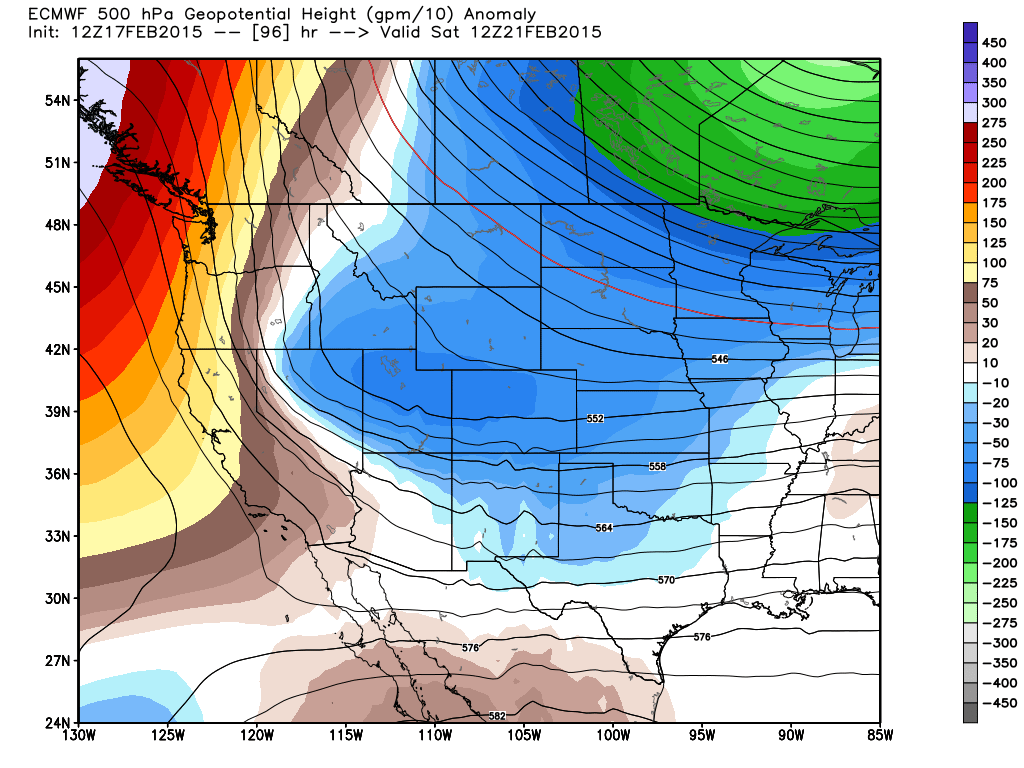 More consolidated energy in a better organized trough moving toward the Four Corners. Obviously, the ECMWF setup is better than the others for bringing a significant storm to Colorado. However, even with the better ECMWF setup, the farther northeast you live, the less snow you would be likely to recieve.
Another element with this storm is the large area of high pressure that is progged to setup over the Northern Plains and ooze its way southeastward. The ECMWF model shows that high still being well to our northeast by Sunday morning.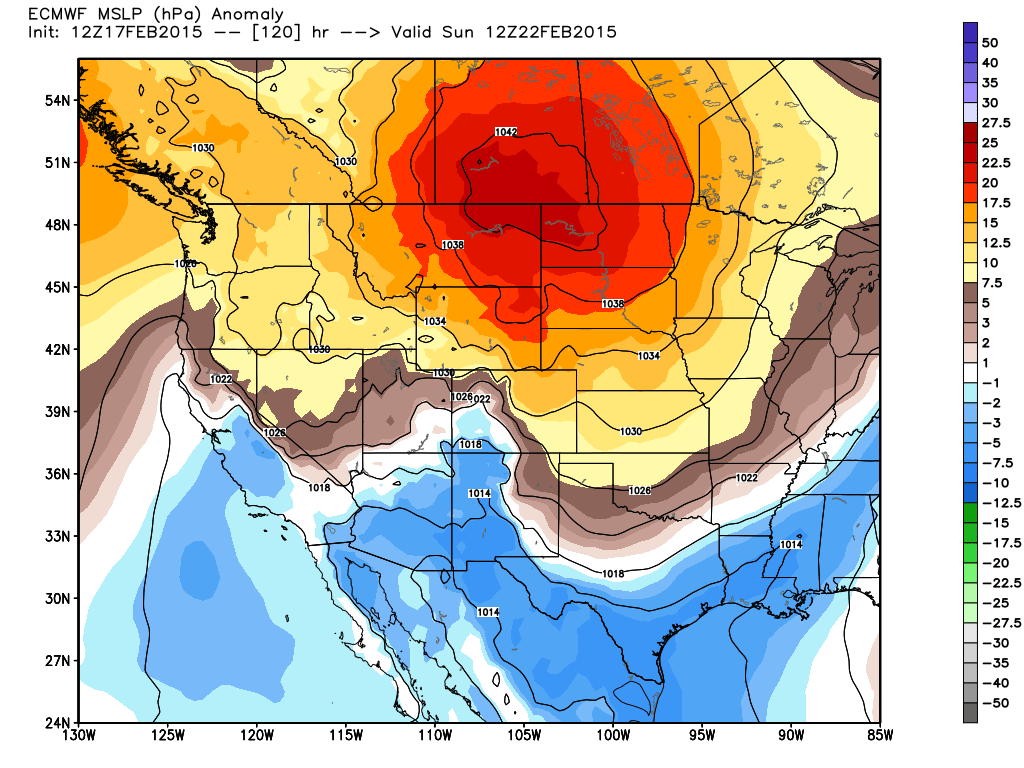 The clockwise flow around that high pressure will enhance the upslope we see along the Front Range. The upslope flow COULD act to enhance the amount of snow we see...especially just to the south of Denver.
Watching the trends
Over the coming days it'll be about watching which way the models trend. Today what was consistent among most of the models was that the farther northeast you live, the less snow you will likely see. Conversely, the farther southwest you live, the more snow you could see, if this trend holds. Despite bullish numbers from the GFS and other models (even for northeast CO), this is the biggest concern at this point, and greatest area of uncertainty – will best dynamics end up too far west/southwest for this storm to provide big totals for the northern Front Range?
I hope you see how complex of a situation it really is. This system certainly has the potential to deliver, but I've had people come to me and quote actual amounts for this weekend. I simply tell them it is far too early to talk specifics. Fact is, nobody knows how much snow we will see this far out. If they are talking specific amounts with confidence, they are trying to sell you something that you shouldn't buy. We will continue to analyze the latest computer model runs and update you accordingly. Bottom-line, STAY TUNED!