This might be the storm the Bust Index was created for. There has been very little change in the last 24 hours with regard to the main features driving our weekend storm, but still big swings in snowfall forecasts run-to-run from the models. Why? This isn't a classic setup for a big snow across the urban corridor, and that slight fluctuations in placement of the best engery is resulting in big swings in where models are trying to place the heaviest snowfall.
Overall, models continue to imply the likelihood for a significant snowstorm across portions of eastern Colorado from late in the day Friday through Sunday.
Model rundown
First a quick rundown of the models from Wednesday night. Several more runs to go.
00z GFS. At face value, last night's 00z GFS had an excellent run if you're looking for a big snow this weekend. It produced 1.21" QPF (precipitation) for Denver International Airport (KDEN), and even more on the west side of town. At the same time, it looked quite a bit different than its 12z run, which – this late in the game – is concerning. In fact, it looks a lot more like it did earlier in the week, and really delivers for the I-25 corridor from the Denver metro area south. Lastly, while it's upper-level pattern remains questionable, it does show good upslope through much of the event.
12z GFS QPF (Wednesday morning's run)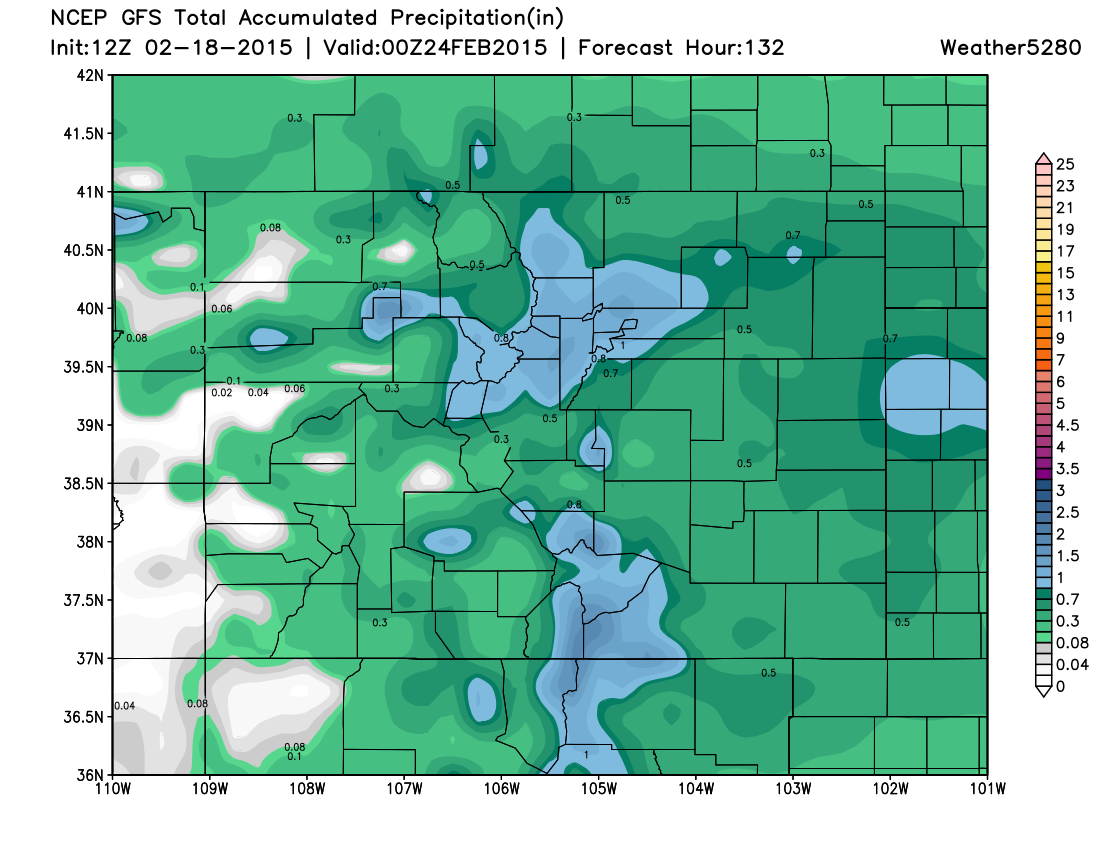 00z GFS QPF (Wednesday evening's run)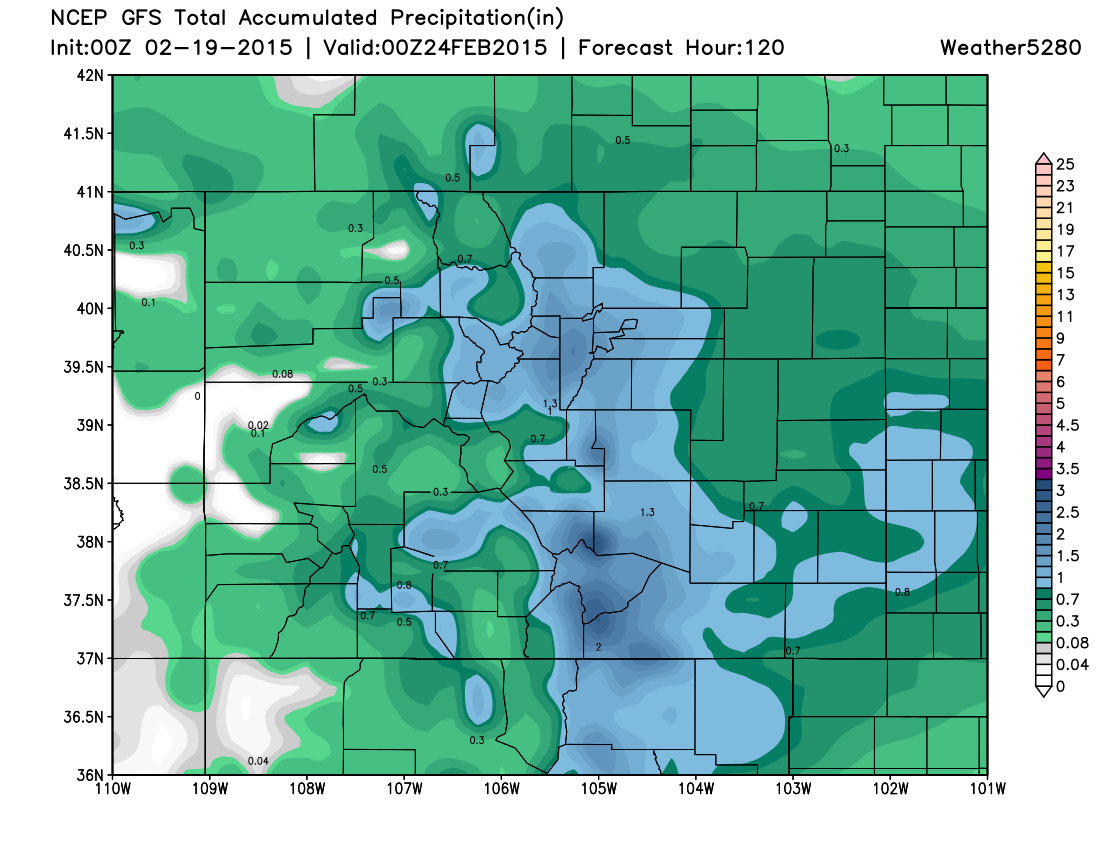 00z NAM. The NAM decreased QPF for Denver proper, but still keeps a good widespread snowfall event. This model run also only goes through 12z Sunday, so it's possible more snow will fall thereafter. Notice it keeping the greatest totals along the Foothills north and south, with spottier coverage east. The NAM is also pretty reliable in being finicky, so the fact that it shows good snowfall somewhere at least, means something.
EURO. The trusty EURO also did not back down with snowfall amounts with its 00z run, though it did push the heaviest snowfall to Saturday night and Sunday, whereas its 12z run was much more front-loaded with the snow early in the day Saturday. This is an intriguing change, and something we'll look at for timing in today's runs. By Sunday night, its 00z run last night produces a very similar QPF field to its previous run, which is encouraging. Despite the EURO struggling this season, it's nice to see its consistency – in fact, it's been one of the more consistent models this week.
Canadian. Lastly, there's the Canadian. It's been reluctant all week to jump onto the higher snowfall totals seen with the GFS, EURO and UKMET. Like the EURO it brings some of the heaviest snowfall to Denver on Sunday, but in the end is producing about half the amount of snow as both the GFS and EURO, with greatest totals in the metro area southwest of Denver proper. The focus of almost all its heaviest precipitation is across extreme southern Colorado and northeast New Mexico. Again, varying placement between models on where the heaviest snow will end up.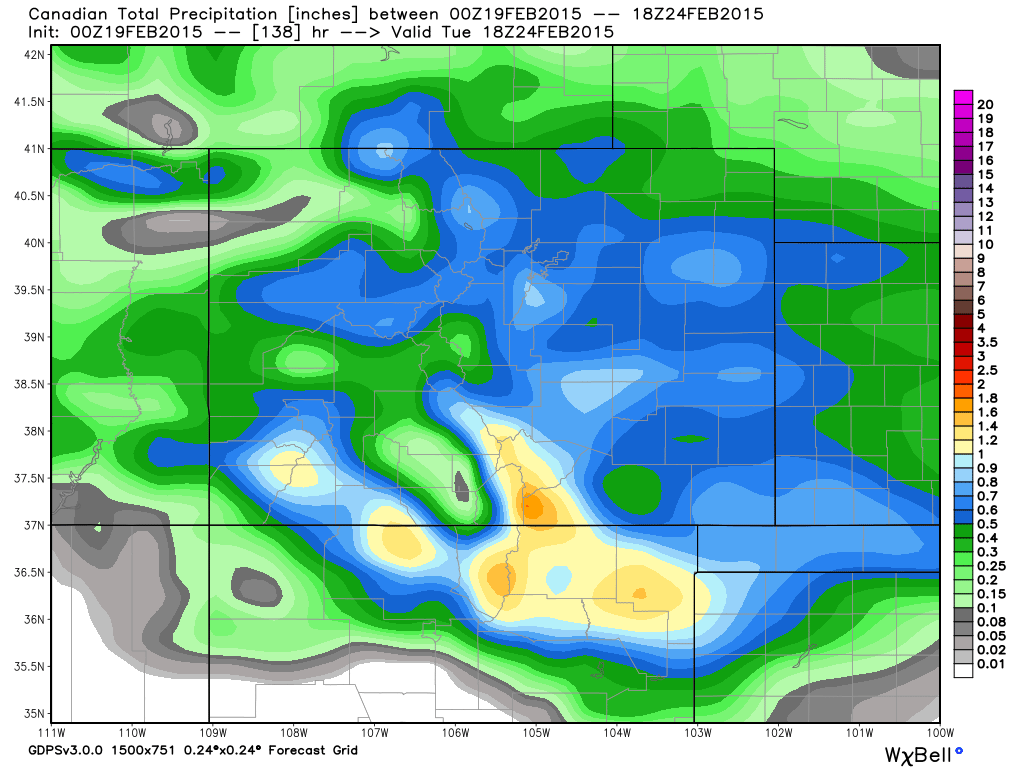 Pros and cons for a big snowfall
The biggest question continues to be if the QPF being produced by the models is overdone given the atmospheric setup aloft. As mentioned previously, the open wave look at 500 hPa should continue to give pause. This is not the ideal look we want to see for a big, widespread snowfall event. While models did not back off QPF last night, there are times (especially this time of year), where they oversell QPF only to adjust lower in the last few runs prior to the event. While we can't recall a storm with this setup that performed as the models are forecasting, that's not to say it can't happen. Also, the top CIPS analogs also happen to be not big snowfall producers for Denver, likely largely based on the upper level pattern.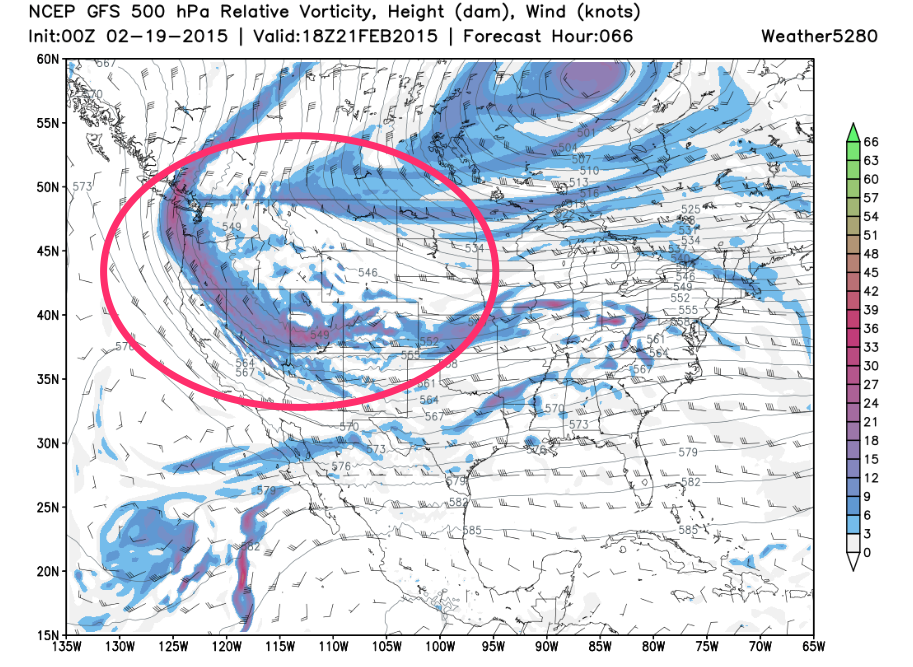 The other issue here, is even if the models are right in bringing good precipitation to eastern Colorado, the large shifts in the placement of that heavier snowfall from run-to-run, means there's a decent chance someone gets burned (or busts) on the forecast in the end.
What this storm certainly has going for it is duration, and of course lots of moisture. Most models have come around to an very slow moving solution, which if is the case, would mean that by Sunday (or even Monday?) snow totals might certainly add up. Keep good upslope going long enough and crazy things can happen!
The main thrust of the modeling at this point would suggest Denver has a reasonably good chance of seeing >6" of snow, but with a lot of uncertainty remaining on the upper bound amounts. That said, the long duration of the event, as portrayed by most models, adds a decent amount of confidence. Indeed, most global models show the potential for >10" of snow, but we're not ready to bite the bullet there, as there are still lingering questions about the upper-level support for a storm being able to deliver widespread double digit totals.
Where does this leave us, and what we're watching for today
Today we'll continue to look for model agreement in where the heaviest snowfall may land. We'll also see if we start to see changes in QPF (precipitation) forecasts as we are now getting closer to the event. We'll continue to offer updates as needed, and likely be issuing a snowfall forecast later in the day.
There is a lot to watch over the next 24 to 36 hours, so we'll see how things progress. In the end, the very fact that we have a potential storm on hand goes back to the pattern we've been stressing for months. Of course, if you don't already subscribe to Weather5280, you wouldn't know this!