9:30pm – we're posting thoughts on latest model data tonight on our Live Blog.
---
The biggest trend today is to move the best chance for accumulating snowfall to later in the weekend. Models that once focused the heaviest precipitation early Saturday now suggest this won't happen until Saturday night, or even Sunday. We mentioned this last night with the EURO, and this morning the GFS brings in two waves of heavier snow – Saturday afternoon and night, and again Sunday night. Again, this forecast remains fluid, and it all comes down many things aligning just right over a long period of time.
Despite all of our concerns about this system discussed in depth in this morning's update, models continue to indicate portions of eastern Colorado are likely to see the largest snowfall of the season-to-date by Monday. We'll caution that we still think things could go wrong here given the number of moving pieces. It will come down to timing the best impulses of energy over a three day stretch with the best upslope for Denver to see higher end snowfall totals. Even as of Thursday afternoon, we're not out of the woods for a "QPF crash" from the models which we discussed last night.
Update on 12z/15z model suite
We do have some better consistency from 12z model suite, and still generally good snowfall totals from the global models. Again, there have been some changes in where the models put the heaviest snow, which should continue to give pause – also the prolonging (even more!) of the event, which is often overdone by modeling. Lastly, even with better consistency in the QPF field from many of the models, we did see QPF decreases from the 00z run with some (i.e. the GFS), while many others held steady.
QPF by the numbers (not a forecast):
Denver:
12z GFS: 0.96" (trend ↓) – indicates >10" of snow possible.
12z EURO: 1.03" (trend ↔) – indicates >12" of snow possible.
12z NAM: 0.66" (trend ↓) – indicates >7" of snow possible.
12z Canadian: 0.5" (trend ↔) – indicates >6" of snow possible.
09z SREF (mean): 0.74" (trend ↔) – indicates >9" of snow possible.
12z UKMET: 1.2" – indicates >12" of snow possible.
Colorado Springs:
12z GFS: 0.87" (trend ↓) – indicates >9" of snow possible.
12z EURO: 1.11" (trend ↓) – indicates >12" of snow possible.
12z NAM: 0.4" – indicates >5" of snow possible.
12z Canadian: 0.8" – indicates >9" of snow possible.
09z SREF (mean): 0.59" (trend ↓) – indicates >7" of snow possible.
12z UKMET: 0.7" – indicates >8" of snow possible.
It's also worth mentioning that the EURO's ensemble snowfall forecast is not as strong as it's deterministic (listed above), with about 3/5 the amount forecast for KDEN. Other models, like the hi-res 4k NAM continue to show very little snow through Saturday night.
We also can look at probabilities given by certain models. Notice that even though the SREF produced 0.74" precipitation for Denver at 09z, its 15z probabilities only indicate a 22% chance for Denver to see 8" of snow. Here's a look at the 15z SREF probabilities for selected cities:

And here is an experimental product showing the probability of precipitation greater than 0.4" between today and next Wednesday. This is based on NCEP GEFS Reforecasts and CCPA. Notice greatest probabilities are in the mountains west of Denver, and from Denver south.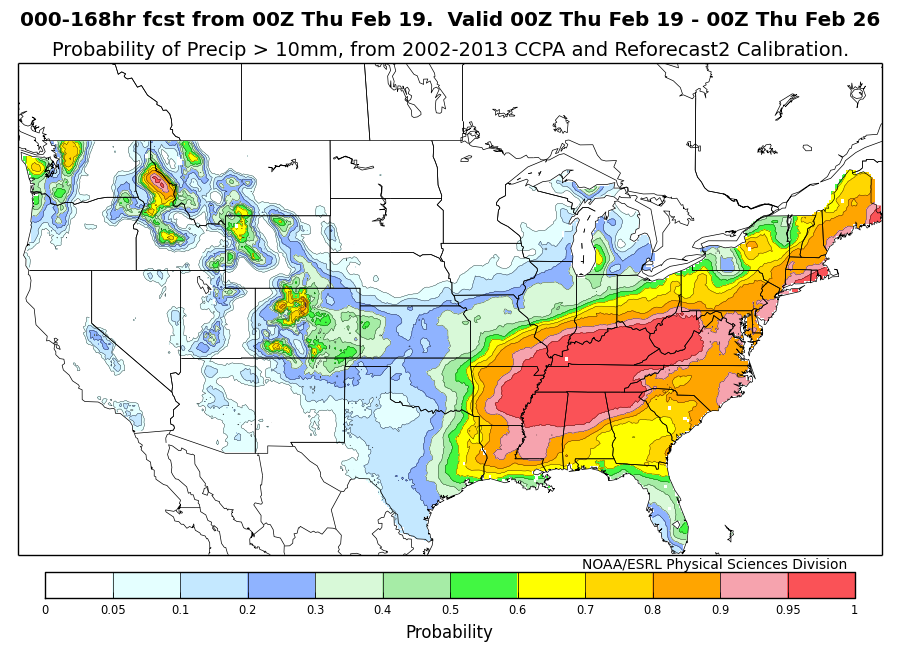 Lastly here's what we're currently thinking for probabilities (twist our arm!), but for the numerous reasons listed above and below, this is subject to change.
Denver: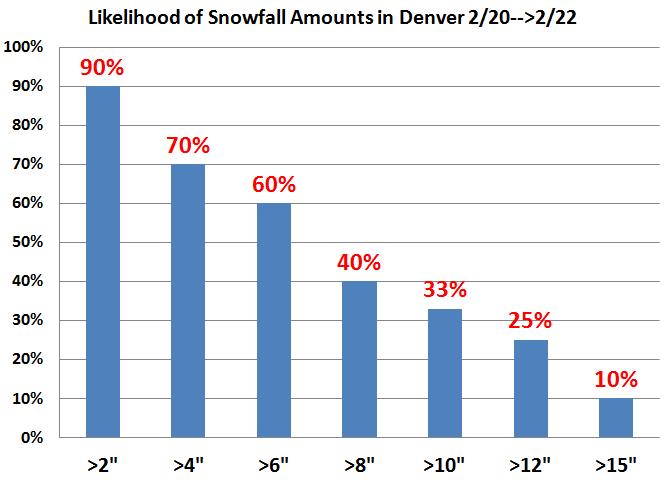 Colorado Springs: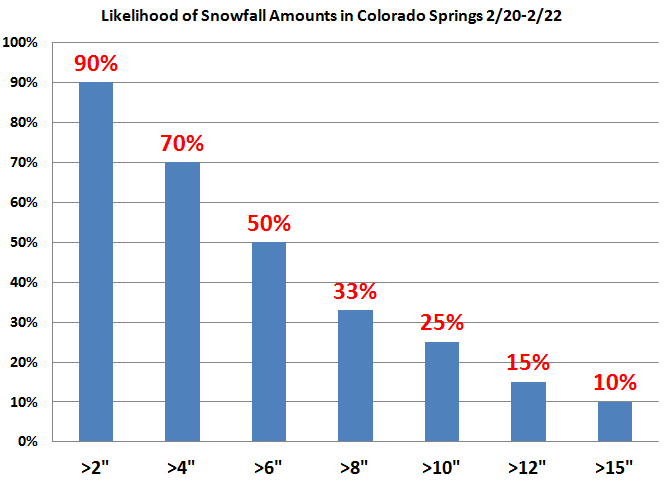 Given the uncertainty that remains around this system, we are going to hold off on issuing a snowfall forecast map at this time. We'll likely wait until after 00z tonight, and see if things continue to look the same. Beyond concerns with models overdoing QPF, there still isn't a clear indication where the heaviest snow will settle.
Timing
Whether this system booms or busts, it'll be a long duration storm. We'll begin feeling the impacts of it already Friday, and should continue to see impacts well into Sunday, if not Monday morning. While the threat for a significant snowfall exists, we are not yet ready to jump fully on board with the widespread double digit amounts than some other forecast outlets are suggesting. Stay tuned.
If you want a big snow, here are our greatest concerns
Systems like this are prone to bust.
Models continue to waver on where best snow sets up, meaning someone might get hammered, but it might not be you. Watch the dreaded dry-slot!
Upper level issues we've discussed at length.
If you want a big snow, here's what's working in your favor
Models have thus far remained consistent in pretty good QPF with this system, averaging ~0.90" at last tally for Denver. At face value that would imply >10" of snow is certainly within reach.
Long duration event, eventually it might add up.
Temperatures will only get colder through the weekend, so any snow we by Saturday night and Sunday should have no problem accumulating.
Final thoughts
In the end, this remains a tricky forecast. We see the same models as everyone else, so yes, we see the higher-end solutions some models have. Anyone giving you a snowfall forecast to the decimal at this point is doing you a disservice, in our respectful opinion.
While everything may work out for a significant snowfall, we are still seeing far to much reason for pause to say so definitively. Again, we're all looking at the same models, so in putting together a forecast it comes down to how those are interpreted, and how the uncertainty is communicated.
We've got another day or so of model runs, tonight and Friday, where we can see if things become a bit clearer. As always, subscribe to Weather5280 for updates on all the latest.