While folks across the Front Range are still digging out from this past weekend's significant snowfall, the Weather5280 team already has its eyes on the next snow-producing system scheduled to impact our region late Wednesday into Friday.
While this weekend's storm setup involved a upper-level area of low pressure to our west combined with upslope, the coming system more or less lacks the first piece. This will be primarily an upslope-only event, triggered by another Arctic air mass and sprawling area of high pressure building back into the region. (See image below.)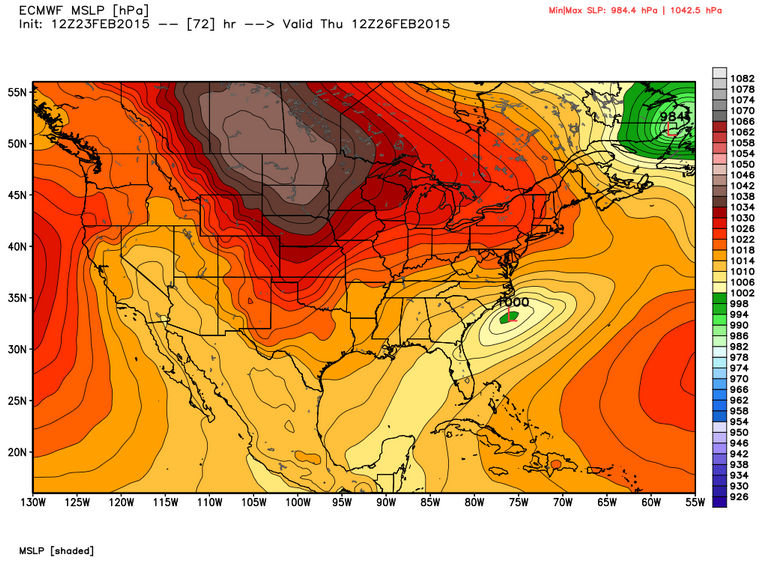 Because of the lack of a defined upper-level support with this system, and because we will be relying primarily on upslope to create snow, our totals won't be nearly as high with this system as they were with the last. That said, it is still likely to have a not-insignificant impact on the greater Denver metro region, particularly if snow starts around evening rush hour on Wednesday – which is when several models portray the start time.
Like almost all upslope events on the Front Range, a cold front will push through the area during the day Wednesday, which will usher in much colder air as well as the required east to northeasterly flow to develop upslope.
While we struggled mightily with model disagreement regarding this past weekend's storm system, that does not look to be the case this time – at least for the moment. In fact, the forecast precipitation amounts from the latest runs of the NAM, GFS, and EMCWF were within 0.03" from one another! Most modeling suggests somewhere between 0.30-0.40" of precip from this system – less than half of the amount that fell with our weekend system.
The heaviest snow will probably fall Wednesday evening with the first burst of upslope, and then lessen in intensity during the overnight hours into Thursday. Light snow could continue – on and off – during the day Thursday and even into Friday morning, however. Note that after comparatively "mild" highs in the 30s Tuesday and Wednesday, Thursday and Friday will be much colder, with highs probably only near 20, and with overnight lows from 0 to the single digits.
At the moment, I happen to like the 12z Canadian (GEM)'s representation of snowfall across Colorado valid 5am Friday morning; as noted above, its portrayal of the system is not dissimilar to that of other current modeling.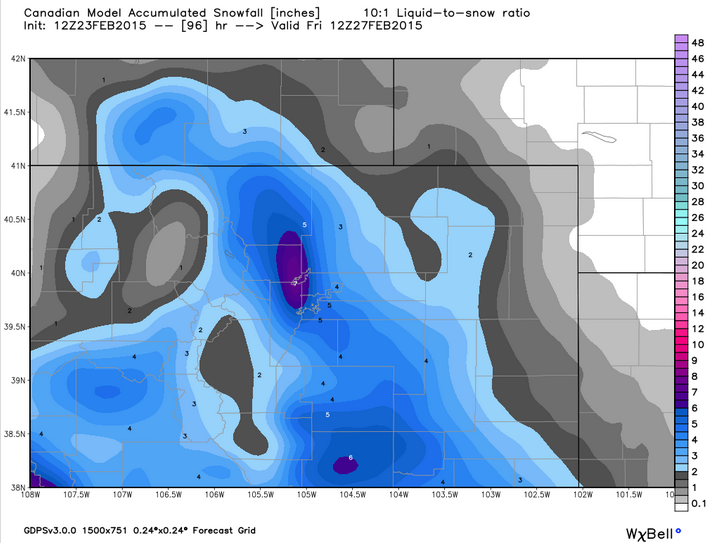 You see two distinct bullseyes on the snowfall potential map. One favors Denver, parts of the Palmer Divide and the foothills to the west. The other favors areas near Pueblo and to the southwest. This system screams "snow minimum" near Colorado Springs due to downsloping north wind. Farther south near Pueblo, the north wind won't be as strong and they could pick up better totals. Still some time to figure this part out, but you get the idea.
At the moment this looks like a 2-6" event for most of us from Wednesday evening through Friday morning. We will likely refine this range as we get closer to the event.
That's all for now!