We hope everyone enjoyed what turned into a rather mild February day across the Denver area, with downtown Denver hitting 49° degrees shortly after 2pm today. Tomorrow winter returns, with another chance for snow in the forecast Wednesday afternoon through Friday, with more snow and cold possible for the weekend.
The timing of our next round of snow – which we've been monitoring closely since Sunday – could spell trouble for Denver's evening commute on Wednesday. The timing for the onset of snow Wednesday looks to be between 2pm and 6pm at this time, with the heaviest snowfall over the next three days expected to be focused from Wednesday P.M. through early Thursday morning for the Denver area.
The National Weather Service in Boulder issued a Winter Storm Watch for the foothills this afternoon; it goes into effect Wednesday afternoon and extends into Thursday morning. The heaviest snowfall with this system will largely be along and west of I-25 from south of Fort Collins clear down to to the Colorado/New Mexico state line.
As of Tuesday evening no winter weather advisories have been posted for Denver proper at this time, but that may change should the current forecast hold through this evening.
Snowfall forecast
While there's decent agreement between the models with this system, there are a few wildcards that may come into play – especially at the onset of this system Wednesday. The biggest concern is something some of the hi-res models are trying to sniff out, and that is banded snowfall Wednesday. Similar to the intense snowband we saw over the weekend in Westminster; the location of such events are extremely hard to predict due to the model's resolution size is bigger than the snowband. While we can say we're watching for the potential for a heavier snowband Wednesday evening, we won't focus in on where they could form just yet. Both the GFS & NAM are indicating at unstable low-levels with instabilities such as conditional symmetric instability (CSI) and convective instability (CI) being released into the environment. When these two instabilities co-exist in the same environment, CI will dominate due to its faster upright growth rate. The release of these instabilities does not guarantee snowbands to occur, but rather the atmosphere supports their formation. That said, a possible intense snowband or two could develop from northwest to southeast across the metro area, so let's watch for that.
More generally, this looks like another good snowfall for some, again, favoring those along and west of I-25. For this evening we will broad-brush Denver with 3 - 7" of snow, with possibly heavier totals on the west side of town, and lighter totals east. For the Springs, a similar setup, with 2 - 5" of snow generally speaking for the city, but likely a bit more to the west into Teller County, and a bit less east.
Here's a look at the Weather Prediction Centers's (WPC) latest 75th percentile forecast for snowfall over the next 72 hours. Ignoring the actual totals for a moment, we like the overall look to this map. It's a nice blend of what all the models are looking like today, and shows nicely where we think the heaviest snowfall is likely to occur. The one caveat here is, it's likely underdone in spots, as we think snowfall ratios will be relatively high with the storm.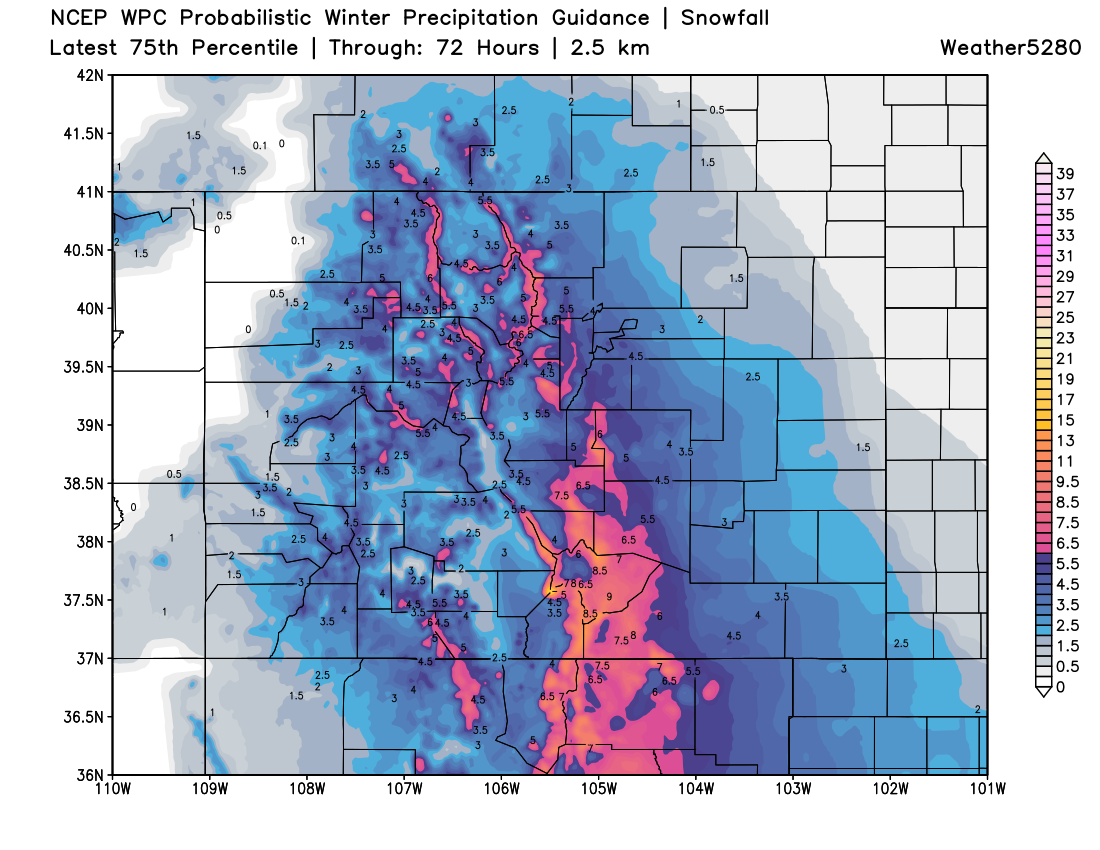 And finally, here's our initial forecast map through Thursday evening. Please be sure to check back, as we may need to make further adjustments to this forecast tonight and possibly even Wednesday morning.

While we're not buying some of the wettest solutions at this time (i.e. the NAM), we do like this setup to deliver for someone. We'll keep an eye on things tonight as the next round of models come in, and offer any changes to our going forecast as needed.
Timing
We expect snow to arrive sometime during the afternoon Wednesday, and as we mention above, are concerned with how the arrival of the snow might align with the evening rush hour – particularly with still cold roads from our recent much cooler weather. Thus, the snow and the cold temperatures could have a significant impact on not just the Wednesday evening commute, but also the Thursday morning commute.
We expect the best accumulation from this next system to come between Wednesday afternoon through early Thursday morning, but like our last system, expect light snow to continue off and on through Thursday and possibly into Friday morning for some.
More cold to come
In addition to the snow, temperatures will tumble into the end of the week as well. Both Thursday and Friday will see highs from 18 to 23°, with overnight lows in the single digits to near 0.
The cold and unsettled pattern continues into the weekend and likely next week as well, with several more snowfall chances as we head into March. We'll address each of these in future posts, but for now we'll leave you with this look from the 12z GEFS. These are forecast mean 2-meter temperature anomalies for days 2 - 7 (Feb 26 - Mar 03). Cold almost nationwide, with temperatures well below normal for the eastern plains of Colorado.
More updates to come as needed on the snow. As always be sure to subscribe to Weather5280, and be sure to check for updates on our Live Blog as well over the coming days (Live Blog updates are not emailed out).