No real changes to our forecast from yesterday. Snow is on the way, and should be here for many by early afternoon.
NWS-Boulder has issued a Winter Weather Advisory for Denver, and a Winter Storm Warning for the foothills west of town. If you have travel plans from Wednesday afternoon through Thursday morning, please plan accordingly.
Morning Modeling
The big global models made very few modifications to their projections for today's system since yesterday's runs. This consistency is great and there's no need to analyze the big players anymore. NAM continues to show snow banding as an element to this system, and this is reiterated by our Dr. Sam in his cross section analysis showing CSI/CI favored snow banding to occur. This was highlighted in yesterday's post.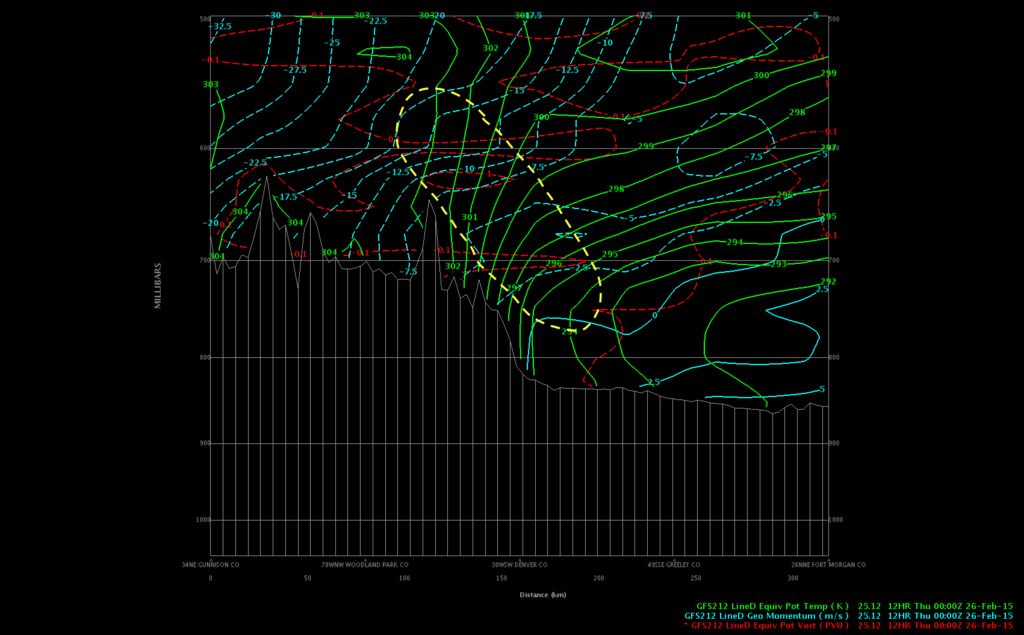 SREF probabilities of snowfall amount remain in line with our forecast. Highest probabilities are nearer the foothills and south, lesser chances for those to the north/northeast. SREF also indicated the banded type snowfall with a range of intensities, suggesting its small chances for higher totals near Boulder, for example.
There is sufficient evidence to continue our forecast as is, 3-7" FOR DENVER. You can see our forecast map for the forecast elsewhere. It will show you the higher totals in the higher elevations accounting for the snow banding.


Timing
This system will arrive very quickly this afternoon. First, you'll see the radar begin to show 'pockets' of snow, then a growing line of higher intensity snow along the foothills west of I-25. That line will grow rapidly as it moves generally southward covering the greater Denver area by mid-to-late afternoon. This snow will fall quite heavily for some, and this will lead to quick degradation of the road quality -- particularly with ground temperatures near freezing. From a commuter perspective, we recommend leaving the office early. This snow may well have a big impact on sections of the Front Range for the typical commute times, through the evening, and for Thursday morning.
Amounts
Again, we are leaving our forecast as is, consider isolated areas of much higher accumulation depending on where the CSI/CI is greatest. Short range modeling doesn't pick up on these very small snow burst areas, so we can update you based on radar trends this afternoon/evening. Most of the accumulation will be initially through the mid-evening, then the intensity should drop through Thursday. Although another inch of two is possible through the day Thursday, most of the storm total is what you will wake to Thursday morning. The drive to work is expected to be a slow one.
With no change to the outlook, we just wait for the event to begin. Check back with us later today in our Live Blog for those updates, and be sure to subscribe to Weather5280.
Snowfall forecast issued yesterday: