Denver has now officially broken the record for snowiest February on record with 22.4" of snow recorded this month at Denver International Airport. This breaks the previous record of 22.1" set in 1912.
This is remarkable from many angles. Climatologically, February is not all that snowy of a month for Denver. On average, the city (DIA) sees 7.5" of snow, which ranks the month as the city's 5th snowiest overall. This puts this February's snowfall at 298% of average!
Now consider this. Through the first 15 days of the month Denver recorded nine days with highs 60 degrees or above, with an incredible four of those reaching or breaking the 70 degree mark. The warmest maximum for the month came on February 7, when DIA recorded 74° (the average high in mid-May).
Here's what our temperature anomalies (departure from normal) looked like for the seven days prior to February 15th: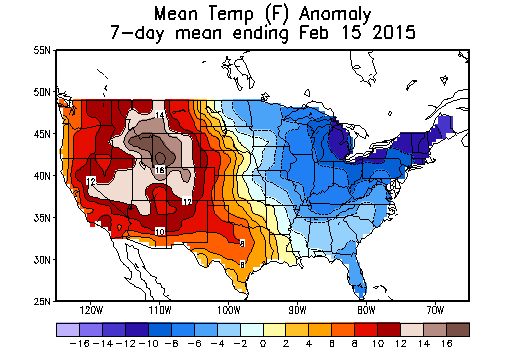 And then the seven days prior to the 25th – cold sneaking westward: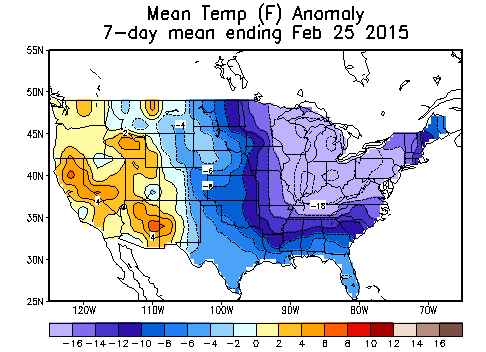 And finally, precipitation over the last 14 days: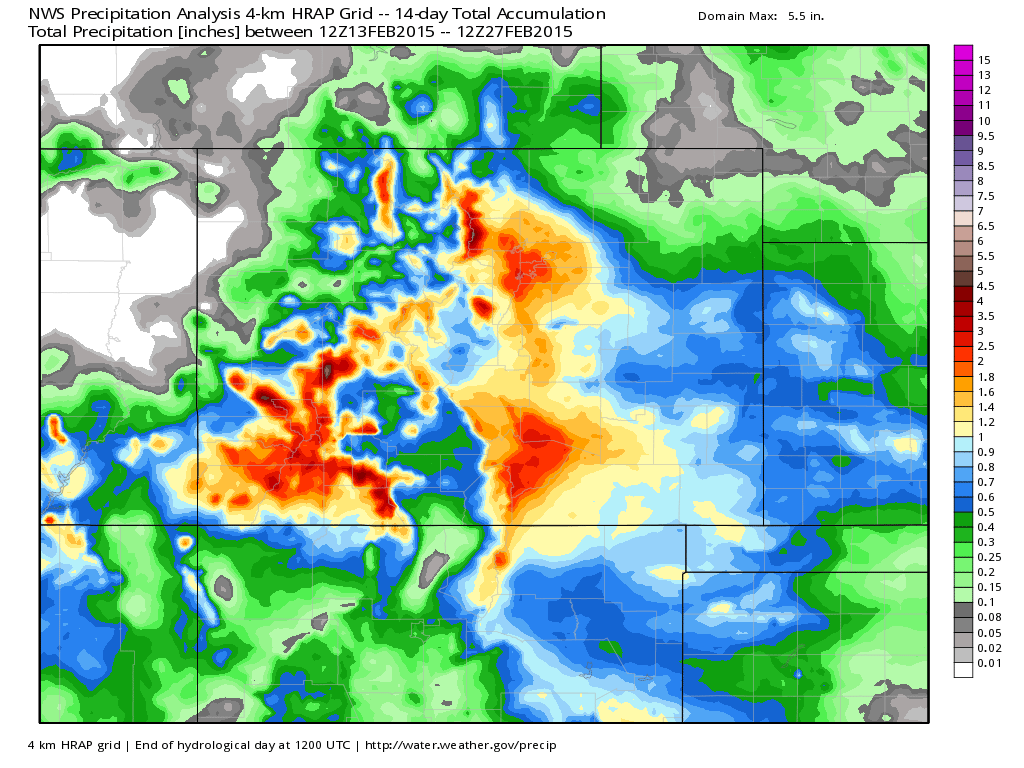 Seasonal snowfall above average too
Denver has now officially recorded 45.6" of snow at DIA, though much of Denver proper has seen closer to 50" (or more). Normal seasonal snowfall to date to end February is 35.3", putting us 10.3" above average for the month to date, with more snowfall possible Saturday.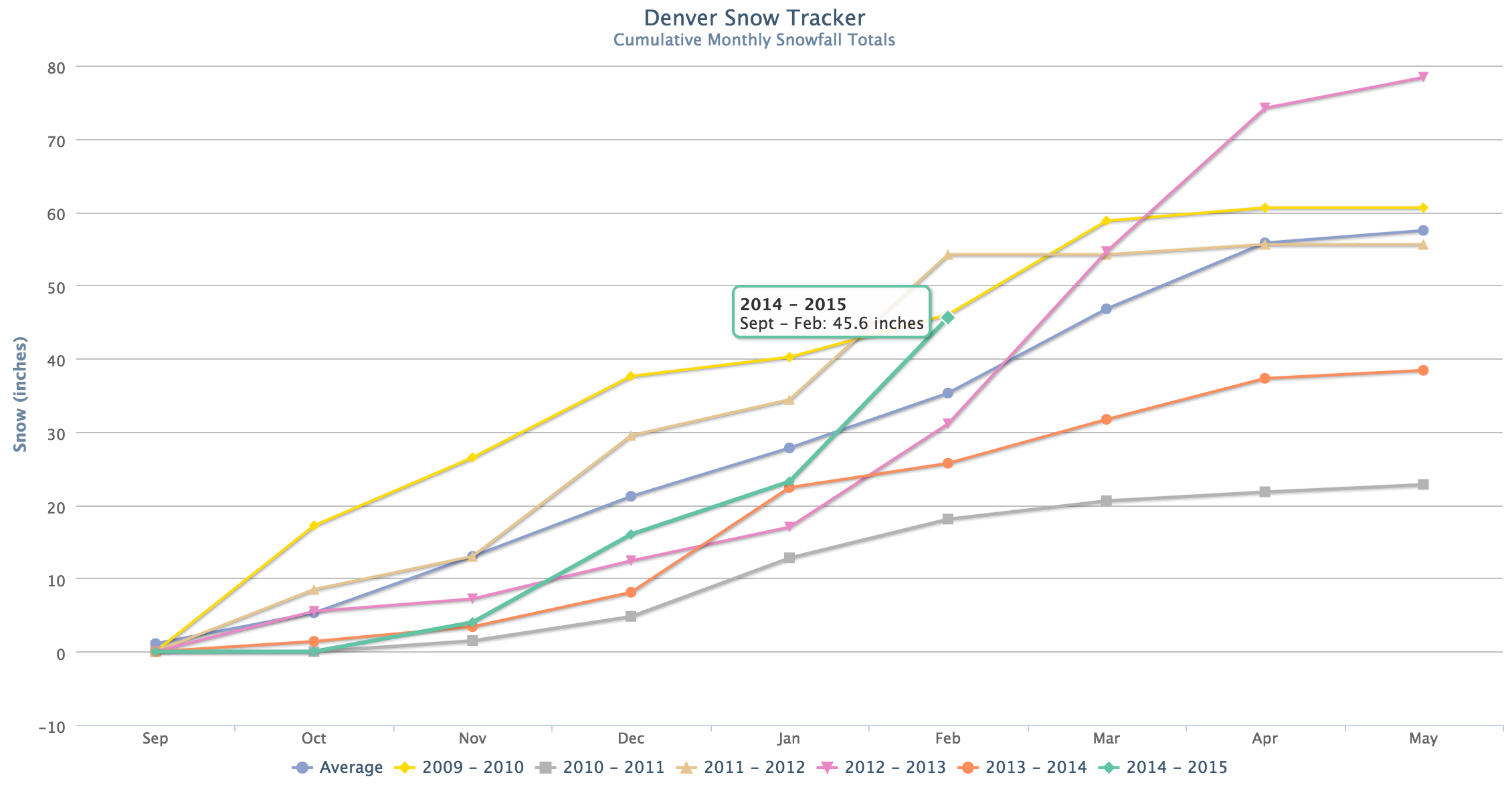 Boulder takes the (snow) cake
Boulder absolutely smashed their monthly snowfall record for February, and could add a bit to it over the next 24 hours. The previous snowfall record for the month was 32.1" set in 2012. This year? 52.2" and counting.
More snow this weekend
We should add to this record, if only a little, with another chance for snow Saturday. Right now it looks like much of the I-25 urban corridor could see another 0 - 3" of snow from Saturday evening through Sunday. The tricky setup again for the weekend snowfall will be the potential for very narrow snow bands to develop from SW to NE across the forecast area, which could bring localized snowfall >3" to some. Overall, however, this weekend's pattern will be more favorable for the mountains than across the Plains.
Take a look at the snowfall forecast for southwest Colorado, this on top of the several feet of snow they've seen over the last week. GREAT news!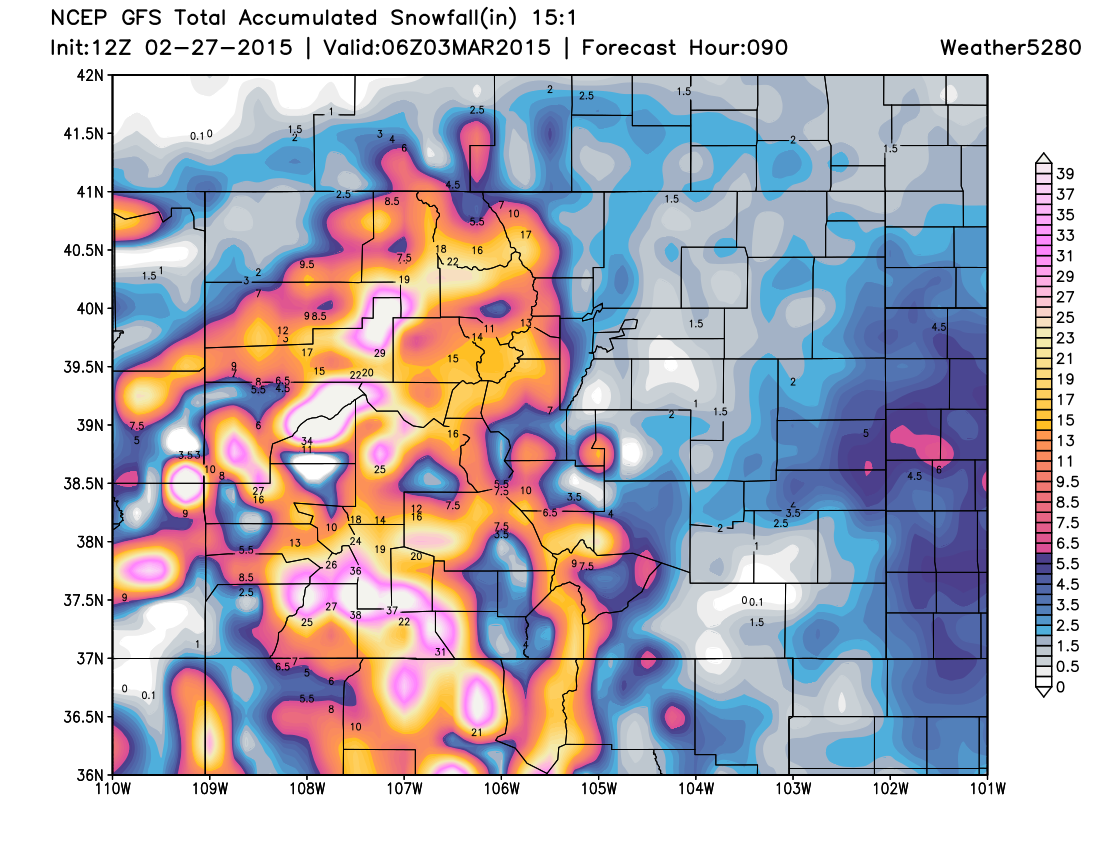 Our pattern remains cool and unsettled into next week. Too early to say too much about our next system at this point, but the global models are at least hinting at more accumulating snowfall either Monday night or Tuesday night (or both) depending on what solution you believe. We'll keep a chance of snow in the forecast for both of these days, and look for better agreement over the next day or so.