While astronomical spring is not for another three weeks, meteorological spring starts today! Meteorological winter is defined by the three coldest months of the year: Dec – Jan – Feb.
Remarkably, this year we enter meteorological spring feeling about as wintry as we have all winter nationwide. Today 63.4% of the U.S. is covered in snow, compared to just 36.9% at this time last year.
March 1st, 2015: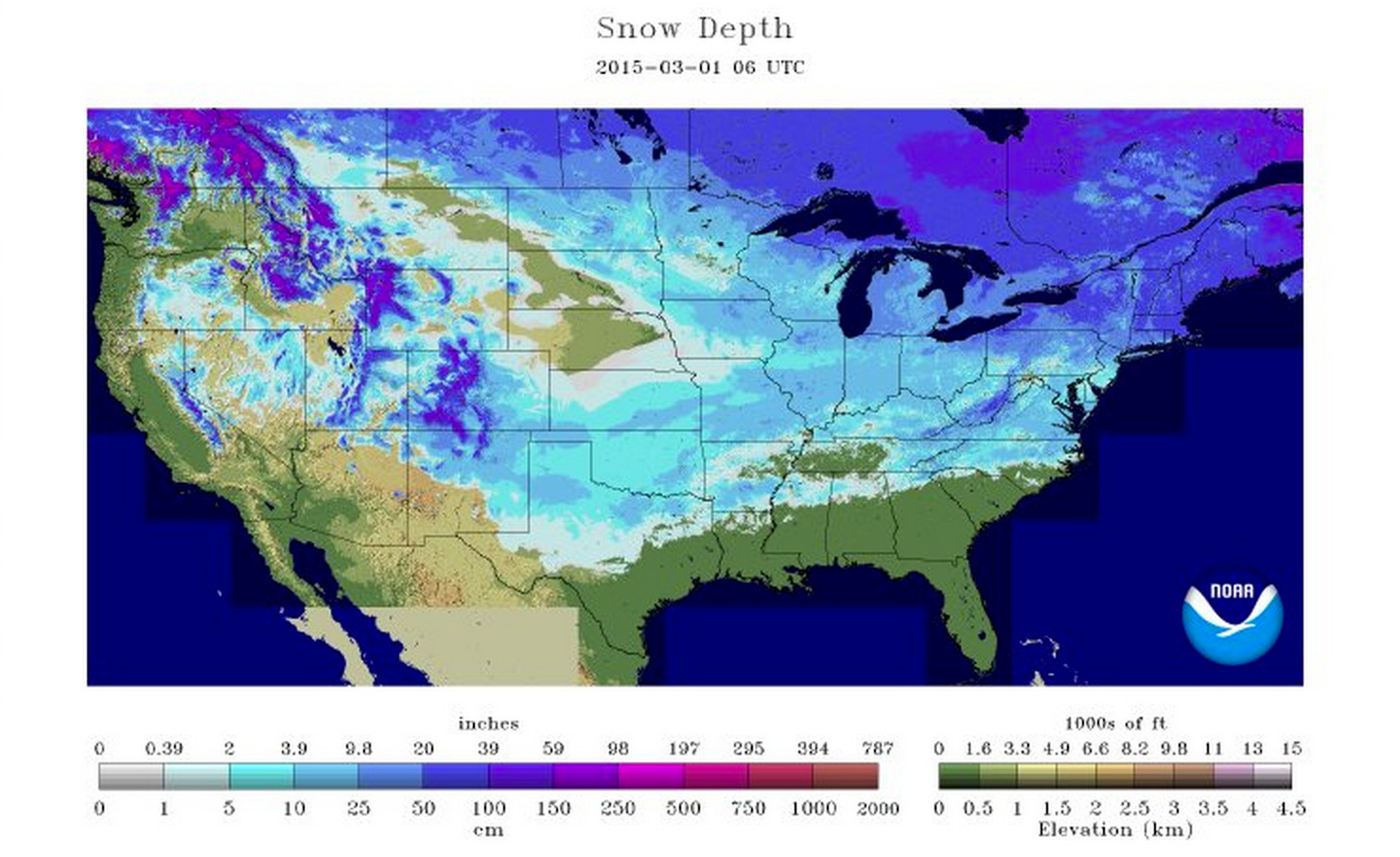 March 1st, 2014: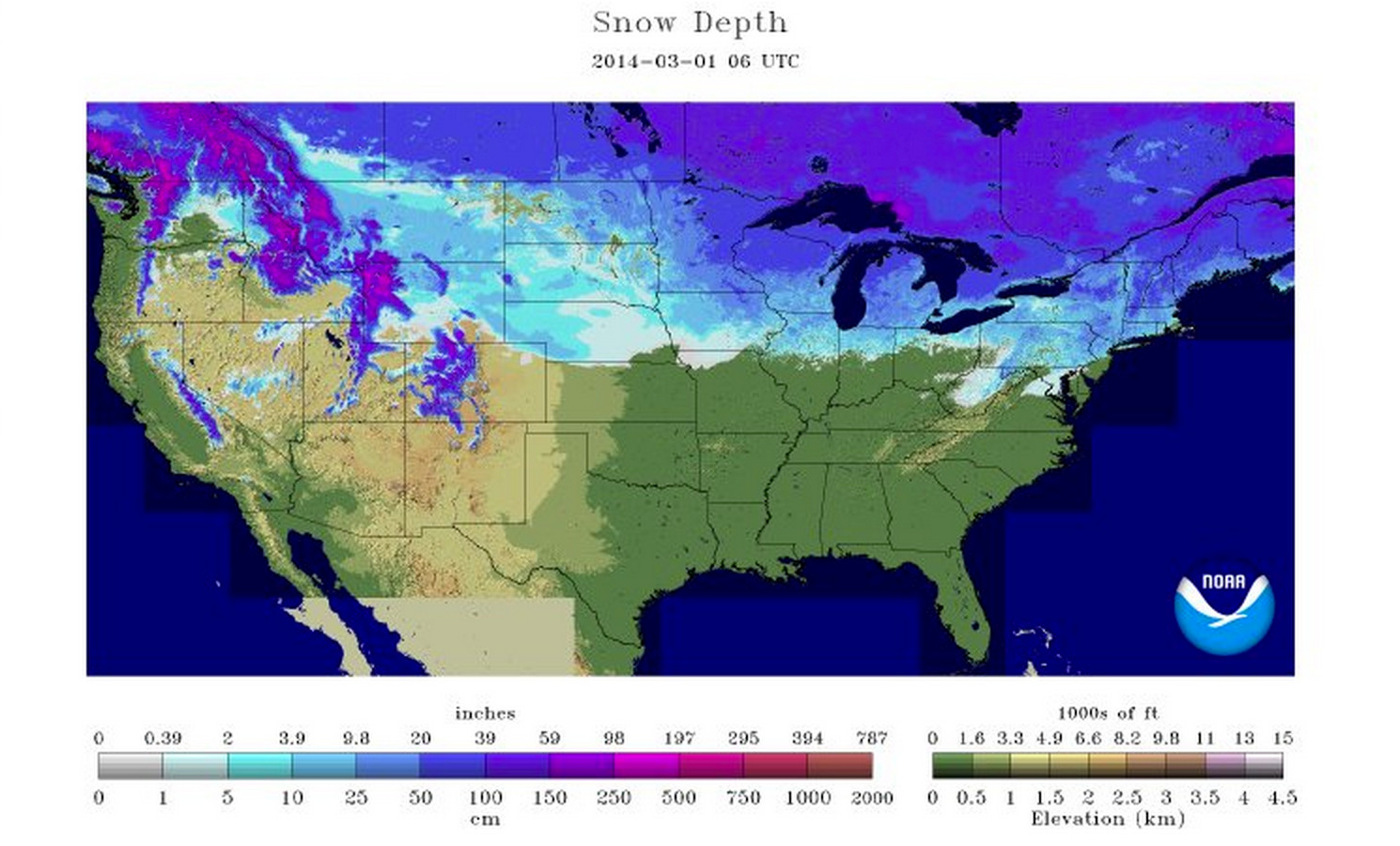 Meanwhile the first week of March is forecast to remain well below normal across most of the CONUS, with another cold shot of air for the middle of the country this week. Here's the forecast average temperature departure from normal over the next six days.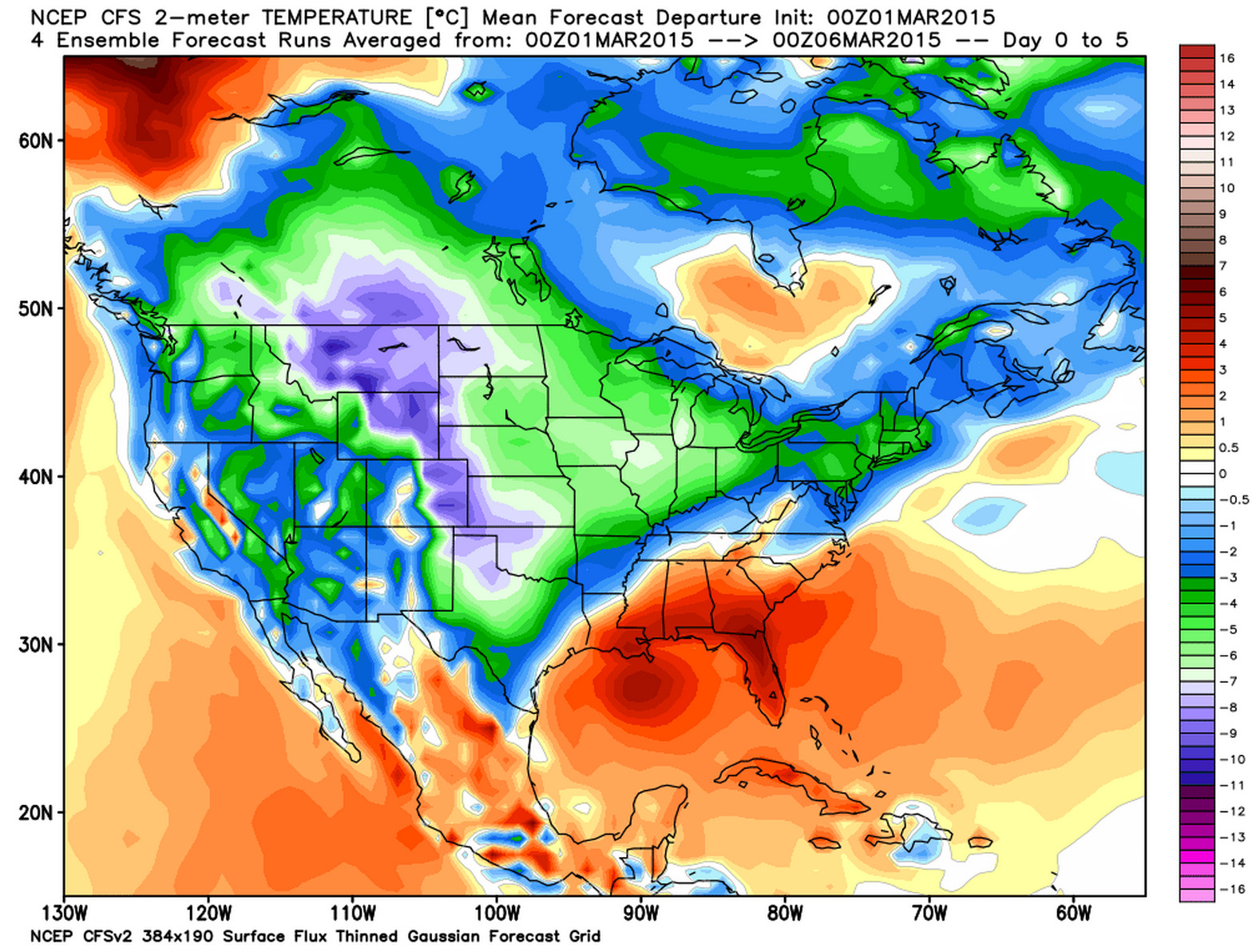 Heavy mountain snow
Good news, at least for now, is that the mountains have seen some incredible snow over the last week, and will continue to do so through Tuesday.
Since last weekend, Wolf Creek Pass has received over 80" of snow, including 25" in 24 hours last Monday, and an additional 13" (at press time) today. While this won't eradicate the snowpack deficit in southwest Colorado, it's a great step in the right direction.
Here's a great wintry look at Aspen earlier this afternoon, where a Winter Storm Warning remains in effect until 5pm Tuesday, with 1 to 2 feet of snow in the forecast.

Eastern Colorado
Across eastern Colorado the weekend has been much quieter than we've seen in recent weeks, albeit cold. Today Denver International Airport recorded a high of 26°, making this the fourth day in a row we haven't made it above freezing -- very impressive given the fact that the average high for the date is now 50°.
While we may very well warm into the mid 30s Monday, our cold and unsettled pattern sticks with us through midweek. We'll keep a chance of snow for Denver in the forecast tonight, though the greatest chances should stay south of Denver, with portions of the Colorado Springs area seeing 1 - 3". Snow chances will be lesser on Monday, but then increase again across eastern Colorado late Monday night, Tuesday, and Tuesday night into Wednesday.
It looks like the best chance for accumulating snow this week will come during the day Tuesday and overnight into Wednesday morning. For now, snowfall totals with this next disturbance do not look too impressive, largely due to an unfavorable storm track. There is still some wobbling between the models, so we'll leave this one open for adjustments, and generally introduce a chance for a few inches of snow up and down the I-25 urban corridor where upslope will be most favorable.
Behind Tuesday's cold front temperatures will be very cold once more. Wednesday looks like the coldest day of the week, with some models keeping highs in the single digits across northeast Colorado. Even the GFS is forecasting temperatures 20 to 30 degrees below normal Wednesday: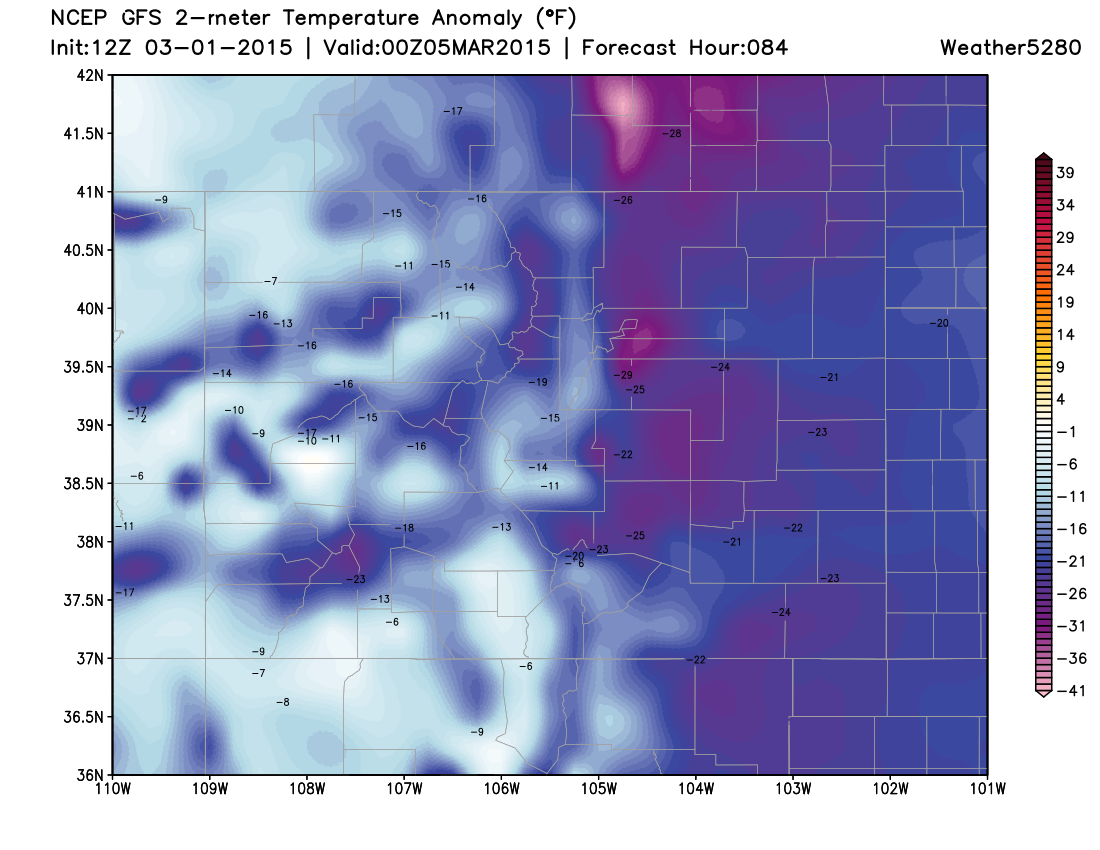 Beyond Wednesday, global models show our pattern returning to a warmer (or at least more seasonal) and drier one. Both the GFS and EURO show another little disturbance by next weekend, but unconvincingly so. Overall, our very active pattern we've seen over the last two weeks looks to come to a close, for a least a little while, by the next weekend and into next week.
We'll offer additional updates on Tuesday's snow chances as we get closer to the event. For now, stay warm and enjoy your Sunday evening!
note: for those of you who have been looking at our beta model page this weekend, NCEP has been having serious server issues, which means many models have been unavailable, late, or incomplete